Standing Room Only Tickets at Citizens Bank Park
Standing Room Only Seat Views
Features & Amenities
Standing room only tickets at Citizens Bank Park are some of the cheapest seats in the house. There won't be any seats though, this section is designed exactly how it sounds, standing room only.
For a Phillies game this section is located in Left Center field near the big Left Field scoreboard. The section is mainly first-come, first-serve. This means that everyone with a standing room only ticket can stand wherever they want as long as they are within the Standing Room Only area.
Fans who purchase these tickets will be located close to the Phillies and Visiting team bullpen, which will allow you to see some of the pitchers warming up. These tickets are value seats. They are designed for someone who wants to experience the awesome atmosphere of Citizens Bank Park for a Phillies game, but wants to save a bit of money.
Note: These seats are highlighted on the map
Interactive Seating Chart
Standing Room Only Seating Chart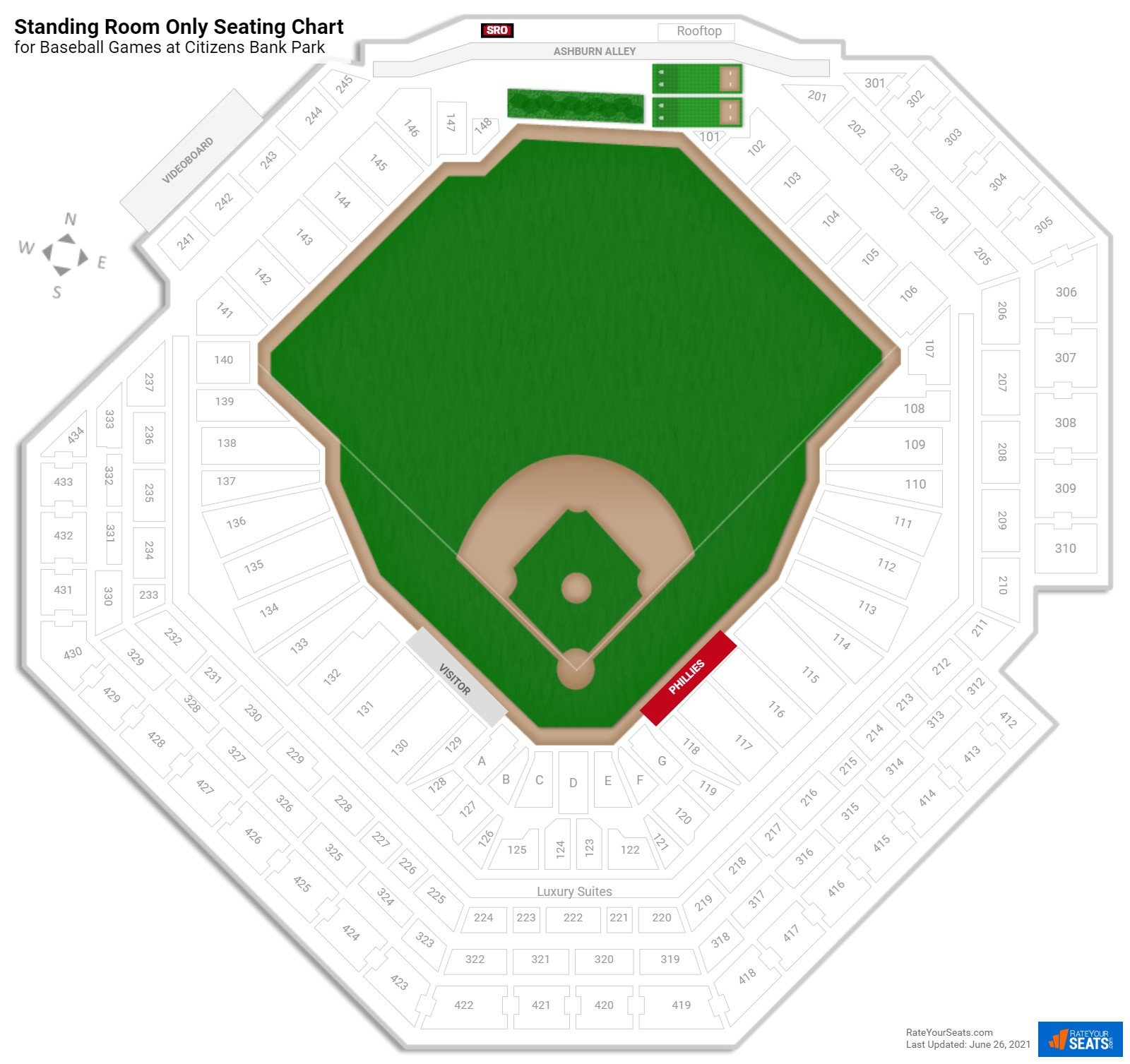 Standing Room Only Reviews
More Seating at Citizens Bank Park
Event Schedule
25Sep

Atlanta Braves at Philadelphia Phillies

Citizens Bank Park - Philadelphia, PA

Sunday, September 25 at 1:05 PM

7Oct

NL Wild Card: TBD at Philadelphia Phillies

Citizens Bank Park - Philadelphia, PA

Friday, October 7 at Time TBA

8Oct

NL Wild Card: TBD at Philadelphia Phillies

Citizens Bank Park - Philadelphia, PA

Saturday, October 8 at Time TBA

9Oct

NL Wild Card: TBD at Philadelphia Phillies

Citizens Bank Park - Philadelphia, PA

Sunday, October 9 at Time TBA

11Oct

NLDS: TBD at Philadelphia Phillies

Citizens Bank Park - Philadelphia, PA

Tuesday, October 11 at Time TBA

12Oct

NLDS: TBD at Philadelphia Phillies

Citizens Bank Park - Philadelphia, PA

Wednesday, October 12 at Time TBA

16Oct

NLDS: TBD at Philadelphia Phillies

Citizens Bank Park - Philadelphia, PA

Sunday, October 16 at Time TBA

18Oct

NLCS: TBD at Philadelphia Phillies

Citizens Bank Park - Philadelphia, PA

Tuesday, October 18 at Time TBA

19Oct

NLCS: TBD at Philadelphia Phillies

Citizens Bank Park - Philadelphia, PA

Wednesday, October 19 at Time TBA

24Oct

NLCS: TBD at Philadelphia Phillies

Citizens Bank Park - Philadelphia, PA

Monday, October 24 at Time TBA

25Oct

NLCS: TBD at Philadelphia Phillies

Citizens Bank Park - Philadelphia, PA

Tuesday, October 25 at Time TBA

28Oct

World Series: TBD at Philadelphia Phillies

Citizens Bank Park - Philadelphia, PA

Friday, October 28 at Time TBA

29Oct

World Series: TBD at Philadelphia Phillies

Citizens Bank Park - Philadelphia, PA

Saturday, October 29 at Time TBA

4Nov

World Series: TBD at Philadelphia Phillies

Citizens Bank Park - Philadelphia, PA

Friday, November 4 at Time TBA

5Nov

World Series: TBD at Philadelphia Phillies

Citizens Bank Park - Philadelphia, PA

Saturday, November 5 at Time TBA

6Apr

Cincinnati Reds at Philadelphia Phillies

Citizens Bank Park - Philadelphia, PA

Thursday, April 6 at 3:05 PM

8Apr

Cincinnati Reds at Philadelphia Phillies

Citizens Bank Park - Philadelphia, PA

Saturday, April 8 at 4:05 PM

9Apr

Cincinnati Reds at Philadelphia Phillies

Citizens Bank Park - Philadelphia, PA

Sunday, April 9 at 1:05 PM

10Apr

Miami Marlins at Philadelphia Phillies

Citizens Bank Park - Philadelphia, PA

Monday, April 10 at 6:40 PM

11Apr

Miami Marlins at Philadelphia Phillies

Citizens Bank Park - Philadelphia, PA

Tuesday, April 11 at 6:40 PM

12Apr

Miami Marlins at Philadelphia Phillies

Citizens Bank Park - Philadelphia, PA

Wednesday, April 12 at 4:05 PM

20Apr

Colorado Rockies at Philadelphia Phillies

Citizens Bank Park - Philadelphia, PA

Thursday, April 20 at 6:40 PM

21Apr

Colorado Rockies at Philadelphia Phillies

Citizens Bank Park - Philadelphia, PA

Friday, April 21 at 7:05 PM

22Apr

Colorado Rockies at Philadelphia Phillies

Citizens Bank Park - Philadelphia, PA

Saturday, April 22 at 4:05 PM

23Apr

Colorado Rockies at Philadelphia Phillies

Citizens Bank Park - Philadelphia, PA

Sunday, April 23 at 1:05 PM

25Apr

Seattle Mariners at Philadelphia Phillies

Citizens Bank Park - Philadelphia, PA

Tuesday, April 25 at 6:40 PM

26Apr

Seattle Mariners at Philadelphia Phillies

Citizens Bank Park - Philadelphia, PA

Wednesday, April 26 at 6:40 PM

27Apr

Seattle Mariners at Philadelphia Phillies

Citizens Bank Park - Philadelphia, PA

Thursday, April 27 at 1:05 PM

5May

Boston Red Sox at Philadelphia Phillies

Citizens Bank Park - Philadelphia, PA

Friday, May 5 at 7:05 PM

6May

Boston Red Sox at Philadelphia Phillies

Citizens Bank Park - Philadelphia, PA

Saturday, May 6 at 6:05 PM

7May

Boston Red Sox at Philadelphia Phillies

Citizens Bank Park - Philadelphia, PA

Sunday, May 7 at 2:05 PM

9May

Toronto Blue Jays at Philadelphia Phillies

Citizens Bank Park - Philadelphia, PA

Tuesday, May 9 at 6:40 PM

10May

Toronto Blue Jays at Philadelphia Phillies

Citizens Bank Park - Philadelphia, PA

Wednesday, May 10 at 4:05 PM

19May

Chicago Cubs at Philadelphia Phillies

Citizens Bank Park - Philadelphia, PA

Friday, May 19 at 7:05 PM

20May

Chicago Cubs at Philadelphia Phillies

Citizens Bank Park - Philadelphia, PA

Saturday, May 20 at 4:05 PM

21May

Chicago Cubs at Philadelphia Phillies

Citizens Bank Park - Philadelphia, PA

Sunday, May 21 at 1:35 PM

22May

Arizona Diamondbacks at Philadelphia Phillies

Citizens Bank Park - Philadelphia, PA

Monday, May 22 at 6:40 PM

23May

Arizona Diamondbacks at Philadelphia Phillies

Citizens Bank Park - Philadelphia, PA

Tuesday, May 23 at 6:40 PM

24May

Arizona Diamondbacks at Philadelphia Phillies

Citizens Bank Park - Philadelphia, PA

Wednesday, May 24 at 1:05 PM

5Jun

Detroit Tigers at Philadelphia Phillies

Citizens Bank Park - Philadelphia, PA

Monday, June 5 at 6:40 PM

6Jun

Detroit Tigers at Philadelphia Phillies

Citizens Bank Park - Philadelphia, PA

Tuesday, June 6 at 6:40 PM

7Jun

Detroit Tigers at Philadelphia Phillies

Citizens Bank Park - Philadelphia, PA

Wednesday, June 7 at 6:05 PM

9Jun

Los Angeles Dodgers at Philadelphia Phillies

Citizens Bank Park - Philadelphia, PA

Friday, June 9 at 7:05 PM

10Jun

Los Angeles Dodgers at Philadelphia Phillies

Citizens Bank Park - Philadelphia, PA

Saturday, June 10 at 4:05 PM

11Jun

Los Angeles Dodgers at Philadelphia Phillies

Citizens Bank Park - Philadelphia, PA

Sunday, June 11 at 1:35 PM

20Jun

Atlanta Braves at Philadelphia Phillies

Citizens Bank Park - Philadelphia, PA

Tuesday, June 20 at 6:40 PM

21Jun

Atlanta Braves at Philadelphia Phillies

Citizens Bank Park - Philadelphia, PA

Wednesday, June 21 at 6:40 PM

22Jun

Atlanta Braves at Philadelphia Phillies

Citizens Bank Park - Philadelphia, PA

Thursday, June 22 at 1:05 PM

23Jun

New York Mets at Philadelphia Phillies

Citizens Bank Park - Philadelphia, PA

Friday, June 23 at 7:05 PM

24Jun

New York Mets at Philadelphia Phillies

Citizens Bank Park - Philadelphia, PA

Saturday, June 24 at 4:05 PM

25Jun

New York Mets at Philadelphia Phillies

Citizens Bank Park - Philadelphia, PA

Sunday, June 25 at 1:35 PM

30Jun

Washington Nationals at Philadelphia Phillies

Citizens Bank Park - Philadelphia, PA

Friday, June 30 at 6:05 PM

1Jul

Washington Nationals at Philadelphia Phillies

Citizens Bank Park - Philadelphia, PA

Saturday, July 1 at 4:05 PM

2Jul

Washington Nationals at Philadelphia Phillies

Citizens Bank Park - Philadelphia, PA

Sunday, July 2 at 1:35 PM

14Jul

San Diego Padres at Philadelphia Phillies

Citizens Bank Park - Philadelphia, PA

Friday, July 14 at 6:05 PM

15Jul

San Diego Padres at Philadelphia Phillies

Citizens Bank Park - Philadelphia, PA

Saturday, July 15 at 1:05 PM

15Jul

San Diego Padres at Philadelphia Phillies

Citizens Bank Park - Philadelphia, PA

Saturday, July 15 at 7:05 PM

16Jul

San Diego Padres at Philadelphia Phillies

Citizens Bank Park - Philadelphia, PA

Sunday, July 16 at 1:35 PM

18Jul

Milwaukee Brewers at Philadelphia Phillies

Citizens Bank Park - Philadelphia, PA

Tuesday, July 18 at 6:40 PM

19Jul

Milwaukee Brewers at Philadelphia Phillies

Citizens Bank Park - Philadelphia, PA

Wednesday, July 19 at 6:40 PM

20Jul

Milwaukee Brewers at Philadelphia Phillies

Citizens Bank Park - Philadelphia, PA

Thursday, July 20 at 12:35 PM

24Jul

Baltimore Orioles at Philadelphia Phillies

Citizens Bank Park - Philadelphia, PA

Monday, July 24 at 6:40 PM

25Jul

Baltimore Orioles at Philadelphia Phillies

Citizens Bank Park - Philadelphia, PA

Tuesday, July 25 at 6:40 PM

26Jul

Baltimore Orioles at Philadelphia Phillies

Citizens Bank Park - Philadelphia, PA

Wednesday, July 26 at 6:05 PM

4Aug

Kansas City Royals at Philadelphia Phillies

Citizens Bank Park - Philadelphia, PA

Friday, August 4 at 7:05 PM

5Aug

Kansas City Royals at Philadelphia Phillies

Citizens Bank Park - Philadelphia, PA

Saturday, August 5 at 6:05 PM

6Aug

Kansas City Royals at Philadelphia Phillies

Citizens Bank Park - Philadelphia, PA

Sunday, August 6 at 1:35 PM

7Aug

Washington Nationals at Philadelphia Phillies

Citizens Bank Park - Philadelphia, PA

Monday, August 7 at 6:40 PM

8Aug

Washington Nationals at Philadelphia Phillies

Citizens Bank Park - Philadelphia, PA

Tuesday, August 8 at 6:40 PM

9Aug

Washington Nationals at Philadelphia Phillies

Citizens Bank Park - Philadelphia, PA

Wednesday, August 9 at 6:40 PM

10Aug

Washington Nationals at Philadelphia Phillies

Citizens Bank Park - Philadelphia, PA

Thursday, August 10 at 6:40 PM

11Aug

Minnesota Twins at Philadelphia Phillies

Citizens Bank Park - Philadelphia, PA

Friday, August 11 at 7:05 PM

12Aug

Minnesota Twins at Philadelphia Phillies

Citizens Bank Park - Philadelphia, PA

Saturday, August 12 at 6:05 PM

13Aug

Minnesota Twins at Philadelphia Phillies

Citizens Bank Park - Philadelphia, PA

Sunday, August 13 at 1:35 PM

21Aug

San Francisco Giants at Philadelphia Phillies

Citizens Bank Park - Philadelphia, PA

Monday, August 21 at 6:40 PM

22Aug

San Francisco Giants at Philadelphia Phillies

Citizens Bank Park - Philadelphia, PA

Tuesday, August 22 at 6:40 PM

23Aug

San Francisco Giants at Philadelphia Phillies

Citizens Bank Park - Philadelphia, PA

Wednesday, August 23 at 4:05 PM

25Aug

St. Louis Cardinals at Philadelphia Phillies

Citizens Bank Park - Philadelphia, PA

Friday, August 25 at 7:05 PM

26Aug

St. Louis Cardinals at Philadelphia Phillies

Citizens Bank Park - Philadelphia, PA

Saturday, August 26 at 6:05 PM

27Aug

St. Louis Cardinals at Philadelphia Phillies

Citizens Bank Park - Philadelphia, PA

Sunday, August 27 at 1:35 PM

28Aug

Los Angeles Angels at Philadelphia Phillies

Citizens Bank Park - Philadelphia, PA

Monday, August 28 at 6:40 PM

29Aug

Los Angeles Angels at Philadelphia Phillies

Citizens Bank Park - Philadelphia, PA

Tuesday, August 29 at 6:40 PM

30Aug

Los Angeles Angels at Philadelphia Phillies

Citizens Bank Park - Philadelphia, PA

Wednesday, August 30 at 1:05 PM

8Sep

Miami Marlins at Philadelphia Phillies

Citizens Bank Park - Philadelphia, PA

Friday, September 8 at 7:05 PM

9Sep

Miami Marlins at Philadelphia Phillies

Citizens Bank Park - Philadelphia, PA

Saturday, September 9 at 6:05 PM

10Sep

Miami Marlins at Philadelphia Phillies

Citizens Bank Park - Philadelphia, PA

Sunday, September 10 at 1:05 PM

12Sep

Atlanta Braves at Philadelphia Phillies

Citizens Bank Park - Philadelphia, PA

Tuesday, September 12 at 6:40 PM

13Sep

Atlanta Braves at Philadelphia Phillies

Citizens Bank Park - Philadelphia, PA

Wednesday, September 13 at 6:40 PM

14Sep

Atlanta Braves at Philadelphia Phillies

Citizens Bank Park - Philadelphia, PA

Thursday, September 14 at 4:05 PM

21Sep

New York Mets at Philadelphia Phillies

Citizens Bank Park - Philadelphia, PA

Thursday, September 21 at 6:40 PM

22Sep

New York Mets at Philadelphia Phillies

Citizens Bank Park - Philadelphia, PA

Friday, September 22 at 7:05 PM

23Sep

New York Mets at Philadelphia Phillies

Citizens Bank Park - Philadelphia, PA

Saturday, September 23 at 4:05 PM

24Sep

New York Mets at Philadelphia Phillies

Citizens Bank Park - Philadelphia, PA

Sunday, September 24 at 1:05 PM

26Sep

Pittsburgh Pirates at Philadelphia Phillies

Citizens Bank Park - Philadelphia, PA

Tuesday, September 26 at 6:40 PM

27Sep

Pittsburgh Pirates at Philadelphia Phillies

Citizens Bank Park - Philadelphia, PA

Wednesday, September 27 at 6:40 PM