Hall of Fame Club at Citizens Bank Park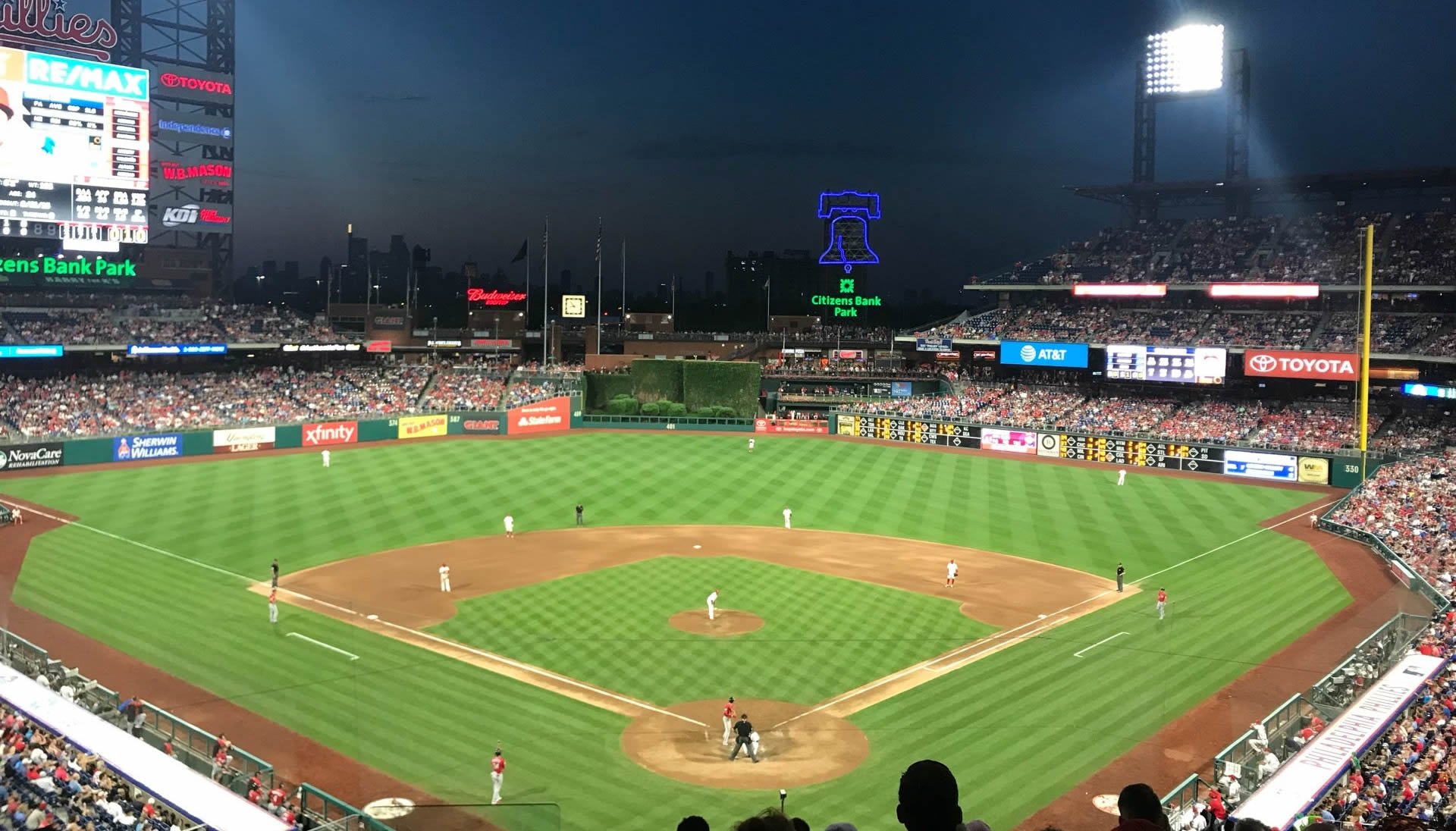 Features & Amenities
The Hall of Fame Club at Citizens Bank Park is located along the infield on the second deck of the stadium. Ticketholders will enjoy wider, padded seats with additional legroom from this exclusive level.
These are also some of the smallest sections in the ballpark, allowing for an easy retreat to the club concourse. Each section will have between 8 and 10 rows.
After entering through private entrances, the exclusive club concourse features access to climate-controlled lounge areas, bistro-style dining, private concessions and two full-service bars. Club seat holders will also be granted access to the Cooperstown Gallery - a tribute to Philadelphia baseball legends.
For Phillies Games

All club seats provide elevated views near the infield. Due to the height, views to all areas of the field are comfortable. The most desirable seats will be near sections 220-224 due to their location directly behind home plate.
For day games, sections 225-232 will see more shade.
Club Level Seats For Concerts
Sitting in the Hall of Fame Club seats are a great option for concerts at Citizens Bank Park as well. The elevation gives clear sightlines to the stage over any fans or equipment on the field.
Of course views will be further away due to the size of the stadium and the location of the level to the stage. For this reason, we recommend sections down the sides in 212-216 and 228-232. These sections will move you closer to the stage without sacrificing the viewing angle.
Please note: Due to health and safety protocols in 2022, food availability, club access, wait service and other amenities are subject to change without notice.
Note: These seats are highlighted on the map
Interactive Seating Chart
Hall of Fame Club Seating Charts
Hall of Fame Club Reviews
Ratings & Reviews From Similar Seats

"Colorado Rockies at Philadelphia Phillies - May 19, 2019"

(Section 216) -

"Phillies"

(Section 228) - -

Hot night at the phillies!

"San Diego Padres at Philadelphia Phillies - Aug 16, 2019"

(Section 225) -
Hall of Fame Club Sections
More Seating at Citizens Bank Park
Event Schedule
25Sep

Atlanta Braves at Philadelphia Phillies

Citizens Bank Park - Philadelphia, PA

Sunday, September 25 at 1:05 PM

7Oct

NL Wild Card: TBD at Philadelphia Phillies

Citizens Bank Park - Philadelphia, PA

Friday, October 7 at Time TBA

8Oct

NL Wild Card: TBD at Philadelphia Phillies

Citizens Bank Park - Philadelphia, PA

Saturday, October 8 at Time TBA

9Oct

NL Wild Card: TBD at Philadelphia Phillies

Citizens Bank Park - Philadelphia, PA

Sunday, October 9 at Time TBA

11Oct

NLDS: TBD at Philadelphia Phillies

Citizens Bank Park - Philadelphia, PA

Tuesday, October 11 at Time TBA

12Oct

NLDS: TBD at Philadelphia Phillies

Citizens Bank Park - Philadelphia, PA

Wednesday, October 12 at Time TBA

16Oct

NLDS: TBD at Philadelphia Phillies

Citizens Bank Park - Philadelphia, PA

Sunday, October 16 at Time TBA

18Oct

NLCS: TBD at Philadelphia Phillies

Citizens Bank Park - Philadelphia, PA

Tuesday, October 18 at Time TBA

19Oct

NLCS: TBD at Philadelphia Phillies

Citizens Bank Park - Philadelphia, PA

Wednesday, October 19 at Time TBA

24Oct

NLCS: TBD at Philadelphia Phillies

Citizens Bank Park - Philadelphia, PA

Monday, October 24 at Time TBA

25Oct

NLCS: TBD at Philadelphia Phillies

Citizens Bank Park - Philadelphia, PA

Tuesday, October 25 at Time TBA

28Oct

World Series: TBD at Philadelphia Phillies

Citizens Bank Park - Philadelphia, PA

Friday, October 28 at Time TBA

29Oct

World Series: TBD at Philadelphia Phillies

Citizens Bank Park - Philadelphia, PA

Saturday, October 29 at Time TBA

4Nov

World Series: TBD at Philadelphia Phillies

Citizens Bank Park - Philadelphia, PA

Friday, November 4 at Time TBA

5Nov

World Series: TBD at Philadelphia Phillies

Citizens Bank Park - Philadelphia, PA

Saturday, November 5 at Time TBA

6Apr

Cincinnati Reds at Philadelphia Phillies

Citizens Bank Park - Philadelphia, PA

Thursday, April 6 at 3:05 PM

8Apr

Cincinnati Reds at Philadelphia Phillies

Citizens Bank Park - Philadelphia, PA

Saturday, April 8 at 4:05 PM

9Apr

Cincinnati Reds at Philadelphia Phillies

Citizens Bank Park - Philadelphia, PA

Sunday, April 9 at 1:05 PM

10Apr

Miami Marlins at Philadelphia Phillies

Citizens Bank Park - Philadelphia, PA

Monday, April 10 at 6:40 PM

11Apr

Miami Marlins at Philadelphia Phillies

Citizens Bank Park - Philadelphia, PA

Tuesday, April 11 at 6:40 PM

12Apr

Miami Marlins at Philadelphia Phillies

Citizens Bank Park - Philadelphia, PA

Wednesday, April 12 at 4:05 PM

20Apr

Colorado Rockies at Philadelphia Phillies

Citizens Bank Park - Philadelphia, PA

Thursday, April 20 at 6:40 PM

21Apr

Colorado Rockies at Philadelphia Phillies

Citizens Bank Park - Philadelphia, PA

Friday, April 21 at 7:05 PM

22Apr

Colorado Rockies at Philadelphia Phillies

Citizens Bank Park - Philadelphia, PA

Saturday, April 22 at 4:05 PM

23Apr

Colorado Rockies at Philadelphia Phillies

Citizens Bank Park - Philadelphia, PA

Sunday, April 23 at 1:05 PM

25Apr

Seattle Mariners at Philadelphia Phillies

Citizens Bank Park - Philadelphia, PA

Tuesday, April 25 at 6:40 PM

26Apr

Seattle Mariners at Philadelphia Phillies

Citizens Bank Park - Philadelphia, PA

Wednesday, April 26 at 6:40 PM

27Apr

Seattle Mariners at Philadelphia Phillies

Citizens Bank Park - Philadelphia, PA

Thursday, April 27 at 1:05 PM

5May

Boston Red Sox at Philadelphia Phillies

Citizens Bank Park - Philadelphia, PA

Friday, May 5 at 7:05 PM

6May

Boston Red Sox at Philadelphia Phillies

Citizens Bank Park - Philadelphia, PA

Saturday, May 6 at 6:05 PM

7May

Boston Red Sox at Philadelphia Phillies

Citizens Bank Park - Philadelphia, PA

Sunday, May 7 at 2:05 PM

9May

Toronto Blue Jays at Philadelphia Phillies

Citizens Bank Park - Philadelphia, PA

Tuesday, May 9 at 6:40 PM

10May

Toronto Blue Jays at Philadelphia Phillies

Citizens Bank Park - Philadelphia, PA

Wednesday, May 10 at 4:05 PM

19May

Chicago Cubs at Philadelphia Phillies

Citizens Bank Park - Philadelphia, PA

Friday, May 19 at 7:05 PM

20May

Chicago Cubs at Philadelphia Phillies

Citizens Bank Park - Philadelphia, PA

Saturday, May 20 at 4:05 PM

21May

Chicago Cubs at Philadelphia Phillies

Citizens Bank Park - Philadelphia, PA

Sunday, May 21 at 1:35 PM

22May

Arizona Diamondbacks at Philadelphia Phillies

Citizens Bank Park - Philadelphia, PA

Monday, May 22 at 6:40 PM

23May

Arizona Diamondbacks at Philadelphia Phillies

Citizens Bank Park - Philadelphia, PA

Tuesday, May 23 at 6:40 PM

24May

Arizona Diamondbacks at Philadelphia Phillies

Citizens Bank Park - Philadelphia, PA

Wednesday, May 24 at 1:05 PM

5Jun

Detroit Tigers at Philadelphia Phillies

Citizens Bank Park - Philadelphia, PA

Monday, June 5 at 6:40 PM

6Jun

Detroit Tigers at Philadelphia Phillies

Citizens Bank Park - Philadelphia, PA

Tuesday, June 6 at 6:40 PM

7Jun

Detroit Tigers at Philadelphia Phillies

Citizens Bank Park - Philadelphia, PA

Wednesday, June 7 at 6:05 PM

9Jun

Los Angeles Dodgers at Philadelphia Phillies

Citizens Bank Park - Philadelphia, PA

Friday, June 9 at 7:05 PM

10Jun

Los Angeles Dodgers at Philadelphia Phillies

Citizens Bank Park - Philadelphia, PA

Saturday, June 10 at 4:05 PM

11Jun

Los Angeles Dodgers at Philadelphia Phillies

Citizens Bank Park - Philadelphia, PA

Sunday, June 11 at 1:35 PM

20Jun

Atlanta Braves at Philadelphia Phillies

Citizens Bank Park - Philadelphia, PA

Tuesday, June 20 at 6:40 PM

21Jun

Atlanta Braves at Philadelphia Phillies

Citizens Bank Park - Philadelphia, PA

Wednesday, June 21 at 6:40 PM

22Jun

Atlanta Braves at Philadelphia Phillies

Citizens Bank Park - Philadelphia, PA

Thursday, June 22 at 1:05 PM

23Jun

New York Mets at Philadelphia Phillies

Citizens Bank Park - Philadelphia, PA

Friday, June 23 at 7:05 PM

24Jun

New York Mets at Philadelphia Phillies

Citizens Bank Park - Philadelphia, PA

Saturday, June 24 at 4:05 PM

25Jun

New York Mets at Philadelphia Phillies

Citizens Bank Park - Philadelphia, PA

Sunday, June 25 at 1:35 PM

30Jun

Washington Nationals at Philadelphia Phillies

Citizens Bank Park - Philadelphia, PA

Friday, June 30 at 6:05 PM

1Jul

Washington Nationals at Philadelphia Phillies

Citizens Bank Park - Philadelphia, PA

Saturday, July 1 at 4:05 PM

2Jul

Washington Nationals at Philadelphia Phillies

Citizens Bank Park - Philadelphia, PA

Sunday, July 2 at 1:35 PM

14Jul

San Diego Padres at Philadelphia Phillies

Citizens Bank Park - Philadelphia, PA

Friday, July 14 at 6:05 PM

15Jul

San Diego Padres at Philadelphia Phillies

Citizens Bank Park - Philadelphia, PA

Saturday, July 15 at 1:05 PM

15Jul

San Diego Padres at Philadelphia Phillies

Citizens Bank Park - Philadelphia, PA

Saturday, July 15 at 7:05 PM

16Jul

San Diego Padres at Philadelphia Phillies

Citizens Bank Park - Philadelphia, PA

Sunday, July 16 at 1:35 PM

18Jul

Milwaukee Brewers at Philadelphia Phillies

Citizens Bank Park - Philadelphia, PA

Tuesday, July 18 at 6:40 PM

19Jul

Milwaukee Brewers at Philadelphia Phillies

Citizens Bank Park - Philadelphia, PA

Wednesday, July 19 at 6:40 PM

20Jul

Milwaukee Brewers at Philadelphia Phillies

Citizens Bank Park - Philadelphia, PA

Thursday, July 20 at 12:35 PM

24Jul

Baltimore Orioles at Philadelphia Phillies

Citizens Bank Park - Philadelphia, PA

Monday, July 24 at 6:40 PM

25Jul

Baltimore Orioles at Philadelphia Phillies

Citizens Bank Park - Philadelphia, PA

Tuesday, July 25 at 6:40 PM

26Jul

Baltimore Orioles at Philadelphia Phillies

Citizens Bank Park - Philadelphia, PA

Wednesday, July 26 at 6:05 PM

4Aug

Kansas City Royals at Philadelphia Phillies

Citizens Bank Park - Philadelphia, PA

Friday, August 4 at 7:05 PM

5Aug

Kansas City Royals at Philadelphia Phillies

Citizens Bank Park - Philadelphia, PA

Saturday, August 5 at 6:05 PM

6Aug

Kansas City Royals at Philadelphia Phillies

Citizens Bank Park - Philadelphia, PA

Sunday, August 6 at 1:35 PM

7Aug

Washington Nationals at Philadelphia Phillies

Citizens Bank Park - Philadelphia, PA

Monday, August 7 at 6:40 PM

8Aug

Washington Nationals at Philadelphia Phillies

Citizens Bank Park - Philadelphia, PA

Tuesday, August 8 at 6:40 PM

9Aug

Washington Nationals at Philadelphia Phillies

Citizens Bank Park - Philadelphia, PA

Wednesday, August 9 at 6:40 PM

10Aug

Washington Nationals at Philadelphia Phillies

Citizens Bank Park - Philadelphia, PA

Thursday, August 10 at 6:40 PM

11Aug

Minnesota Twins at Philadelphia Phillies

Citizens Bank Park - Philadelphia, PA

Friday, August 11 at 7:05 PM

12Aug

Minnesota Twins at Philadelphia Phillies

Citizens Bank Park - Philadelphia, PA

Saturday, August 12 at 6:05 PM

13Aug

Minnesota Twins at Philadelphia Phillies

Citizens Bank Park - Philadelphia, PA

Sunday, August 13 at 1:35 PM

21Aug

San Francisco Giants at Philadelphia Phillies

Citizens Bank Park - Philadelphia, PA

Monday, August 21 at 6:40 PM

22Aug

San Francisco Giants at Philadelphia Phillies

Citizens Bank Park - Philadelphia, PA

Tuesday, August 22 at 6:40 PM

23Aug

San Francisco Giants at Philadelphia Phillies

Citizens Bank Park - Philadelphia, PA

Wednesday, August 23 at 4:05 PM

25Aug

St. Louis Cardinals at Philadelphia Phillies

Citizens Bank Park - Philadelphia, PA

Friday, August 25 at 7:05 PM

26Aug

St. Louis Cardinals at Philadelphia Phillies

Citizens Bank Park - Philadelphia, PA

Saturday, August 26 at 6:05 PM

27Aug

St. Louis Cardinals at Philadelphia Phillies

Citizens Bank Park - Philadelphia, PA

Sunday, August 27 at 1:35 PM

28Aug

Los Angeles Angels at Philadelphia Phillies

Citizens Bank Park - Philadelphia, PA

Monday, August 28 at 6:40 PM

29Aug

Los Angeles Angels at Philadelphia Phillies

Citizens Bank Park - Philadelphia, PA

Tuesday, August 29 at 6:40 PM

30Aug

Los Angeles Angels at Philadelphia Phillies

Citizens Bank Park - Philadelphia, PA

Wednesday, August 30 at 1:05 PM

8Sep

Miami Marlins at Philadelphia Phillies

Citizens Bank Park - Philadelphia, PA

Friday, September 8 at 7:05 PM

9Sep

Miami Marlins at Philadelphia Phillies

Citizens Bank Park - Philadelphia, PA

Saturday, September 9 at 6:05 PM

10Sep

Miami Marlins at Philadelphia Phillies

Citizens Bank Park - Philadelphia, PA

Sunday, September 10 at 1:05 PM

12Sep

Atlanta Braves at Philadelphia Phillies

Citizens Bank Park - Philadelphia, PA

Tuesday, September 12 at 6:40 PM

13Sep

Atlanta Braves at Philadelphia Phillies

Citizens Bank Park - Philadelphia, PA

Wednesday, September 13 at 6:40 PM

14Sep

Atlanta Braves at Philadelphia Phillies

Citizens Bank Park - Philadelphia, PA

Thursday, September 14 at 4:05 PM

21Sep

New York Mets at Philadelphia Phillies

Citizens Bank Park - Philadelphia, PA

Thursday, September 21 at 6:40 PM

22Sep

New York Mets at Philadelphia Phillies

Citizens Bank Park - Philadelphia, PA

Friday, September 22 at 7:05 PM

23Sep

New York Mets at Philadelphia Phillies

Citizens Bank Park - Philadelphia, PA

Saturday, September 23 at 4:05 PM

24Sep

New York Mets at Philadelphia Phillies

Citizens Bank Park - Philadelphia, PA

Sunday, September 24 at 1:05 PM

26Sep

Pittsburgh Pirates at Philadelphia Phillies

Citizens Bank Park - Philadelphia, PA

Tuesday, September 26 at 6:40 PM

27Sep

Pittsburgh Pirates at Philadelphia Phillies

Citizens Bank Park - Philadelphia, PA

Wednesday, September 27 at 6:40 PM