Alpine Valley Music Theatre 200 Level
Features & Amenities
The 200 Level at Alpine Valley is often your only option when looking to purchase tickets in a reserved seating area (Box Seats are your other option). These are large sloping sections that begin about 15 rows from the stage.
Stadium-style chairback seats run from single-lettered rows at the front, and end with triple-lettered rows at the back (Row CCC is the last row in each section).
Some of the best views in this area will be found in the single-lettered rows of Section 202, where fans will be near the front of the section and have great head-on views of the stage.
About half of the seats in the 200 Level are under cover. Specifically, look for tickets in rows QQQ and lower to be underneath the roof and protected from the elements.
Note: These seats are highlighted on the map
Interactive Seating Chart
200 Level Seating Chart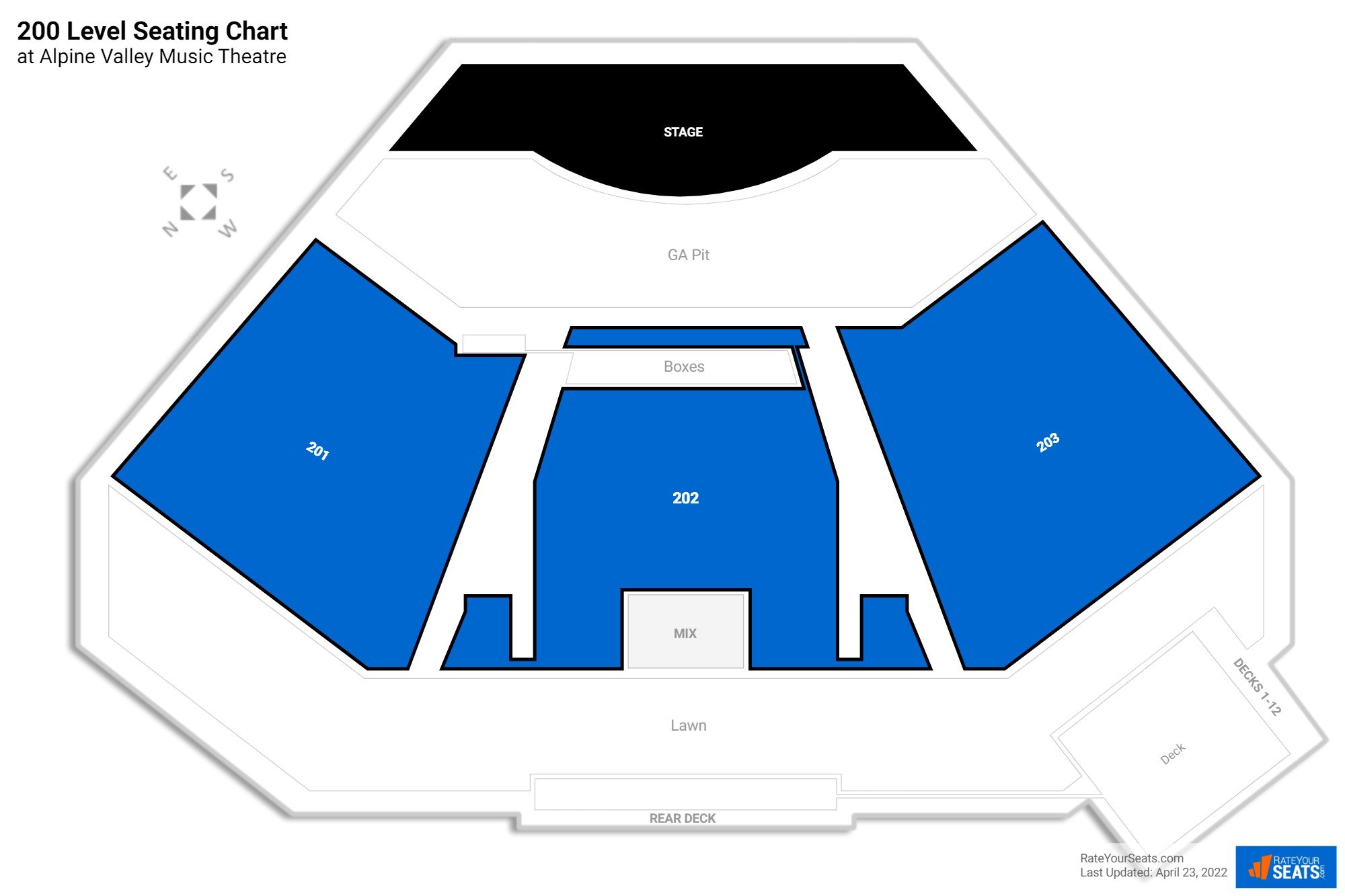 200 Level Reviews
Ratings & Reviews From Similar Seats

"So close"

(Section 203) - -

You are seated off to the side a bit but you can see everything. The pit is right in front of you so you have no visual blocks as they are further down from you. You also have access to "seated guests only" food options and drinks. Lines are way shorter in this area.

"Not as bad as expected since there is an obstruction from a pole"

(Section 202) - -

You can actually see quite well.

"Outlaw Music Festival - Willie Nelson, Robert Plant & Alison Krauss, Trampled By Turtles - Jun 24, 2023"

(Section 202) - -

We loved the seats location was perfect. Just wish that people buying seats would sit down in front of you instead of standing and dancing. They should buy lawn tickets instead!
More Seating at Alpine Valley Music Theatre