The Pavilion at Star Lake Reserved Sections
Features & Amenities
Reserved seating at The Pavilion at Star Lake consists of nine sections numbered 1-9. Sections 1-3 are in a prime location near the stage while 4-9 are much larger sections with varying experiences.
Lower Pavilion

Sections 1-3 are sandwiched between the pit area and Dream Seats. For shows without a GA Pit, these sections are extended to the stage and are the closest seating option.
Near the stage
Under cover
Recommend rows A-R

Upper Pavilion
The largest reserved sections are 4-9 in the back half of the pavilion. Due to their size, experiences can vary. Some aspects to consider - besides price - include viewing angle to the stage and whether or not the seats are covered.
Recommendations:
Centered Views: Sections 6 and 7
Under Cover: Rows A-T
Note: These seats are highlighted on the map
Interactive Seating Chart
Reserved Sections Seating Chart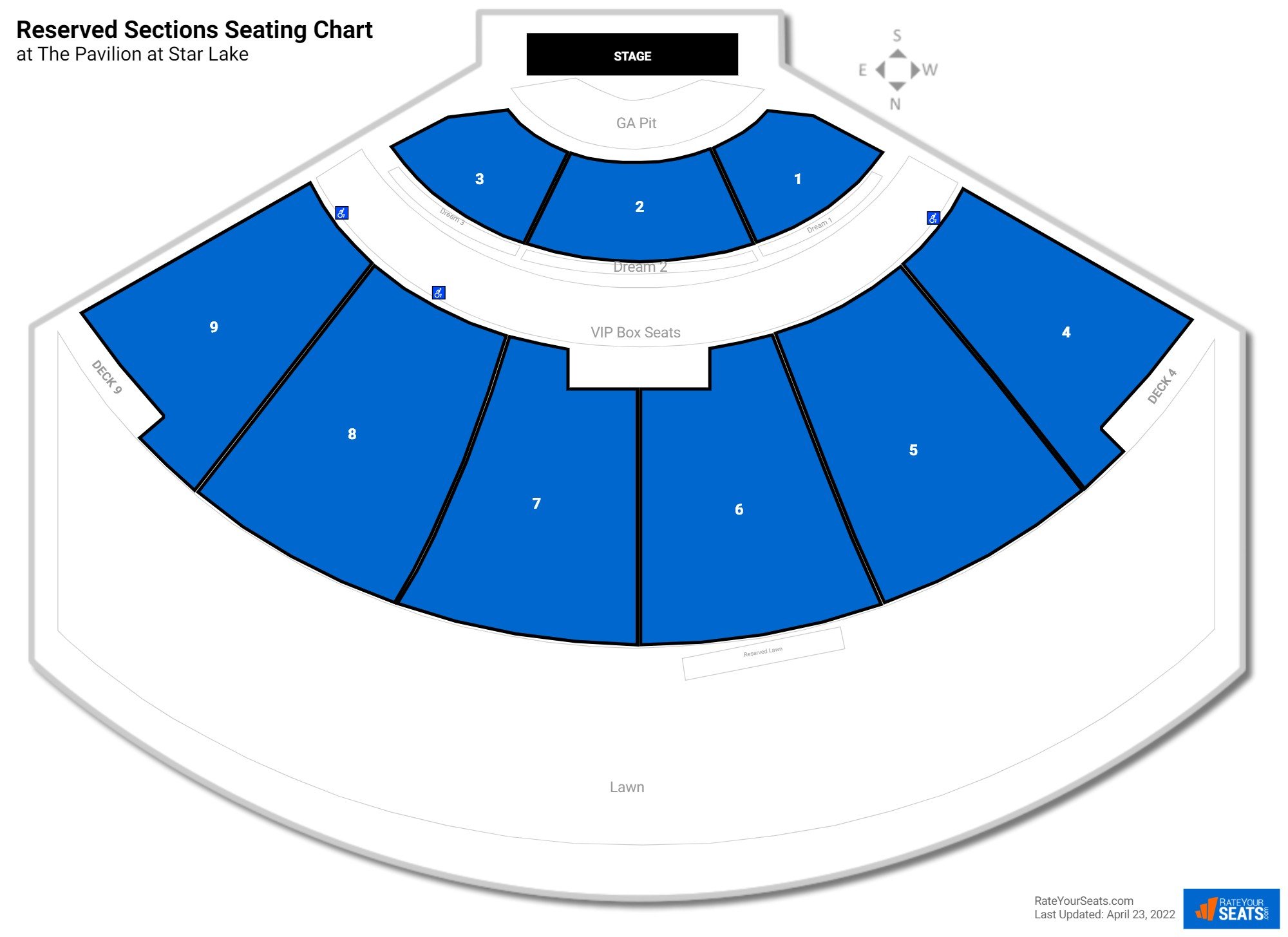 Reserved Sections Reviews
Ratings & Reviews From Similar Seats

"Could barely see through everyone"

(Section 9) - -

The way the seating is set up at this venue is atrocious, at least in my personal experience. There isn't enough elevation, so it feels like everything is ground level. Because of this, you can't see past people standing in front of you at ALL, unless you happen to find tiny gaps and cracks in betwe...

"Close to the stage. About 100 ft back."

(Section 2) - -

Nice view of the stage. Close to restrooms and concessions.

"Jason Aldean and Kane Brown - Sep 14, 2019"

(Section 6) -
More Seating at The Pavilion at Star Lake