Shoreline Amphitheatre Lower Concourse Sections
Features & Amenities
Lower Concourse seating is home to the best views for a performance at Shoreline Amphitheatre. Located close to the stage and featuring stadium-style elevated seating, fans stay close to all the action with excellent sitelines to all areas of the performance.
While the seats in Section 102 provide the best views from the center, this section has the least amount of protection from over-head canopy. If you don't mind sacrificing the head-on view, most seats in Section 101 and 103 have good coverage, and will be protected from the sun or rain.
Rows and Seat Numbers

Lower Concourse sections have double-letter rows (e.g.: AA) at the very front (except for Section 102 which has a few triple-letter rows in front), followed by single-letter rows at the back.
As a general rule, the closer you are to the stage, the fewer seats there are in each row. For example, the front row of Section 102 has just 8 seats, while the last row has 50.
Note: These seats are highlighted on the map
Interactive Seating Chart
Lower Concourse Sections Seating Chart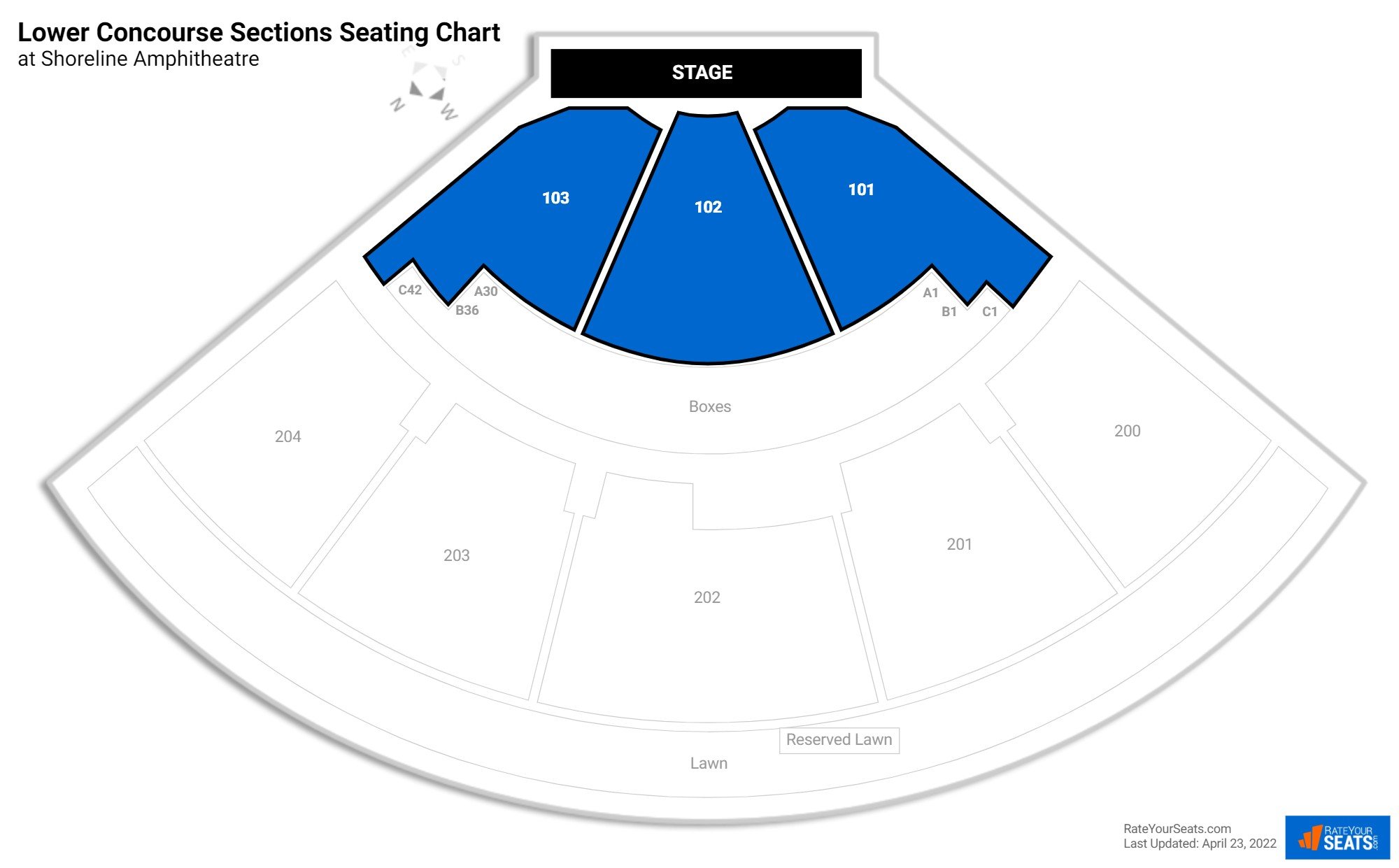 Lower Concourse Sections Reviews
Ratings & Reviews From Similar Seats

"Great view of the stages."

(Section 102) - -

Could easily see the main stage as well as the smaller stage in the lawn area. Easy access to the seat. Accoustics was fabulous.

"Perfect! "

(Section 101) - -

I was a bit nervous since my seat was more to the side than the center but there weren't any obstructions to my view! It was honestly was closer than i expected even though there was no pit. Best show by far!

"Super Sunny Early On"

(Section 103) - -

Pretty easy seats to get to and I really liked the view! But on a sunny 80 degree day, this section gets hot!
More Seating at Shoreline Amphitheatre