Music Hall at Fair Park Balcony
Features & Amenities
The Balcony at the Music Hall at Fair Park makes up the entire upper level. There are three levels within the balcony.
Fans will enter the level between the single and double lettered sections. Those with tickets in the double lettered sections will walk up steps to their seats while those in single lettered will have a short walk down a few steps to view the performance.
All balcony seats are padded and comfortable like the rest of the venue.
Front Balcony

The front balcony is all single lettered sections A-I. These sections are smaller with only six lettered rows of seating.
The venue is well designed to give all fans in the balcony a view of the stage, however Row A will be the only row without any other fans sitting in front of it giving it the best views of the level.
Rear Balcony

All double lettered sections will make up the rear balcony. These are some of the highest and furthest views to the stage. These seats typically will come at a much lower price compared to the Pit and Orchestra for this reason.
Rows are continuous throughout the balcony. The second level of seating will start with Row G and the third level will begin at Row M.
Note: These seats are highlighted on the map
Interactive Seating Chart
Balcony Seating Chart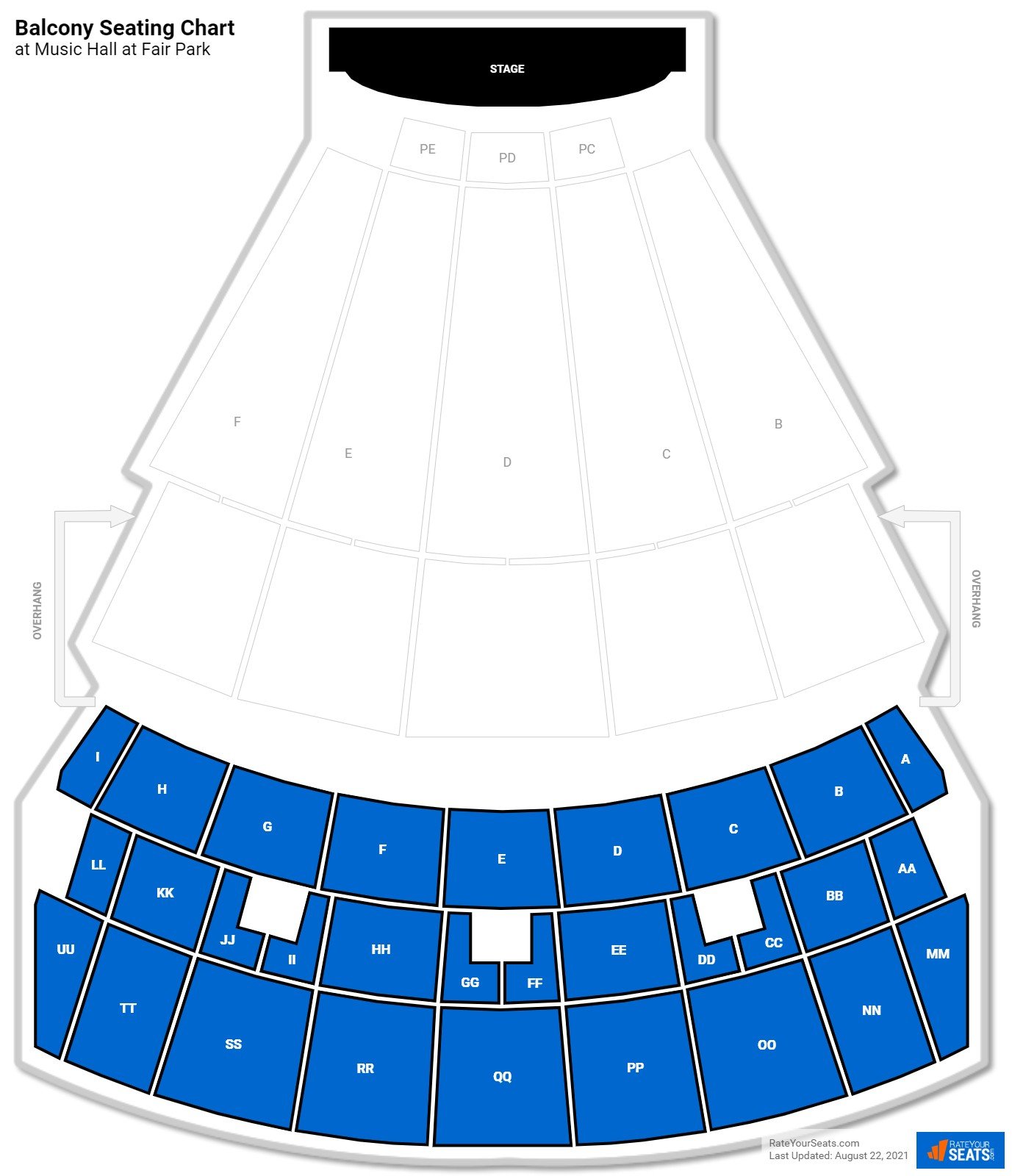 Balcony Reviews
Ratings & Reviews From Similar Seats

"Amazing! Front Row of Balcony"

(Balcony D) - -

Exceptional seats in the front row. I was a little worried of a blocked view from a railing when sitting down but this theater was well planned and the view is as clear as can be. These seats were amazing and so was the show!

"Nose Bleeds"

(Balcony PP) - -

For theatrical fans you will not see the details in the actors faces, props, or other things the average theater goer wouldn't notice. These are fine seats to get in the door. You can see the whole stage and they have boosters for children. It just depends on what kind of experience you're looking f...

"Side View but Clear View"

(Balcony AA) - -

This section is so small. There are maybe 15 seats total so that was nice. The seats were all the way to the side against the wall. We saw the show fine despite being far and to the side. Would have liked to be closer but price was a factor.
More Seating at Music Hall at Fair Park