Midflorida Credit Union Amphitheatre Seating Chart
Interactive Seating Chart
Explore the Interactive Map
Morgan Wallen

May 6

Hank Williams Jr

May 19

Noel Gallaghers High Flying Birds and Garbage

Jun 22

The Original Misfits

Jun 24

Matchbox Twenty

Jul 8

Foreigner

Jul 9

Dierks Bentley

Jul 14

Mudvayne

Jul 21

Fall Out Boy

Jul 25

Nickelback

Jul 29

Bret Michaels

Aug 4

Disturbed

Aug 5

Counting Crows with Dashboard Confessional

Aug 9

Pentatonix

Aug 10

Snoop Dogg, Wiz Khalifa, and Too Short

Aug 12

The Offspring with Sum 41 and Simple Plan

Aug 16

Rob Zombie and Alice Cooper

Aug 26

Ghost with Amon Amarth

Aug 31

Sam Hunt

Sep 7

3 Doors Down

Sep 15

Eric Church with Whiskey Myers

Sep 30

Jelly Roll

Oct 14

Jason Aldean

Oct 28

Zac Brown Band

2 Shows
Seating Chart for Concerts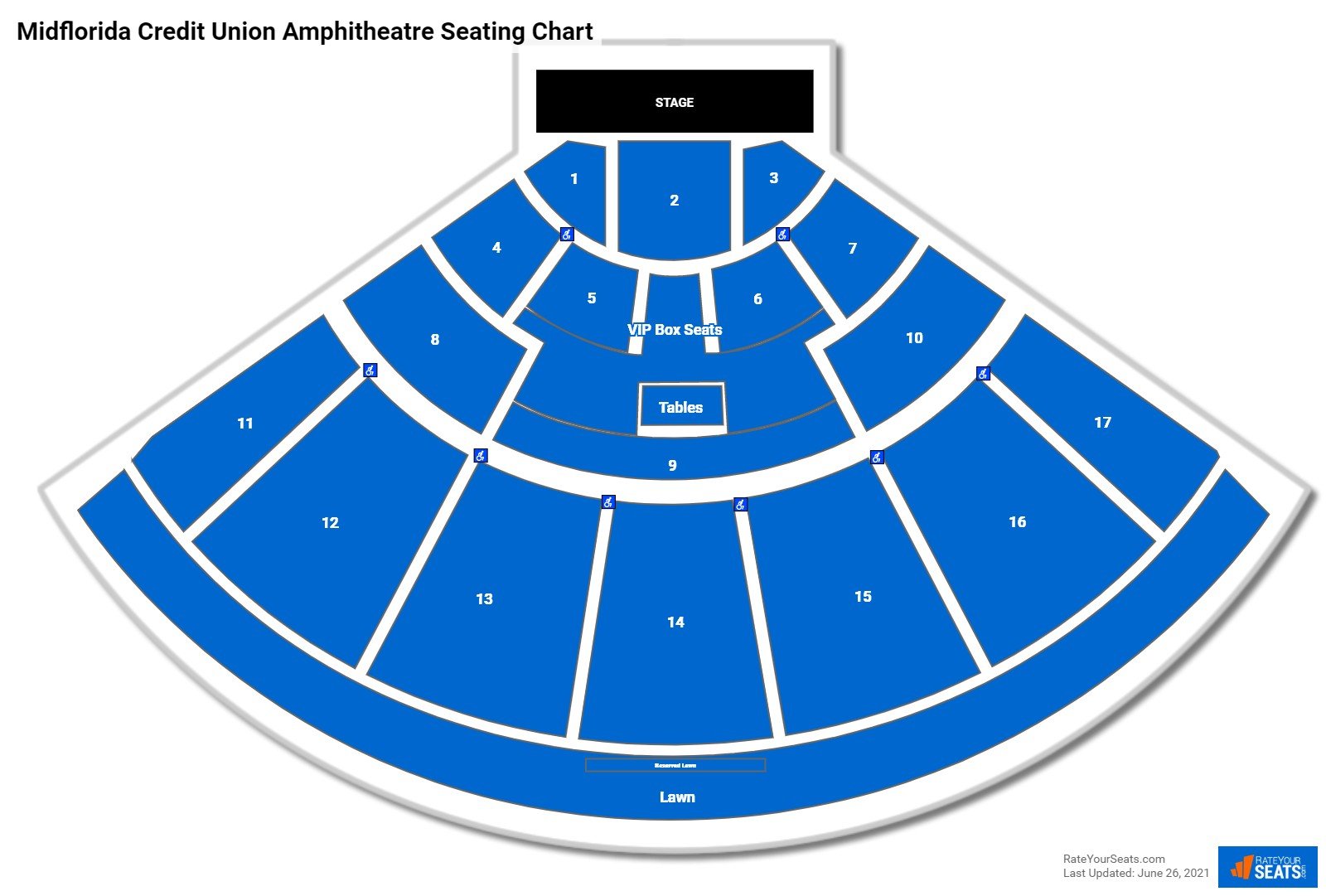 Midflorida Credit Union Amphitheatre concert seating charts vary by performance. This chart represents the most common setup for concerts at Midflorida Credit Union Amphitheatre, but some sections may be removed or altered for individual shows. Check out the seating chart for your show for the most accurate layout.
Midflorida Credit Union Amphitheatre Seating Chart With Row Numbers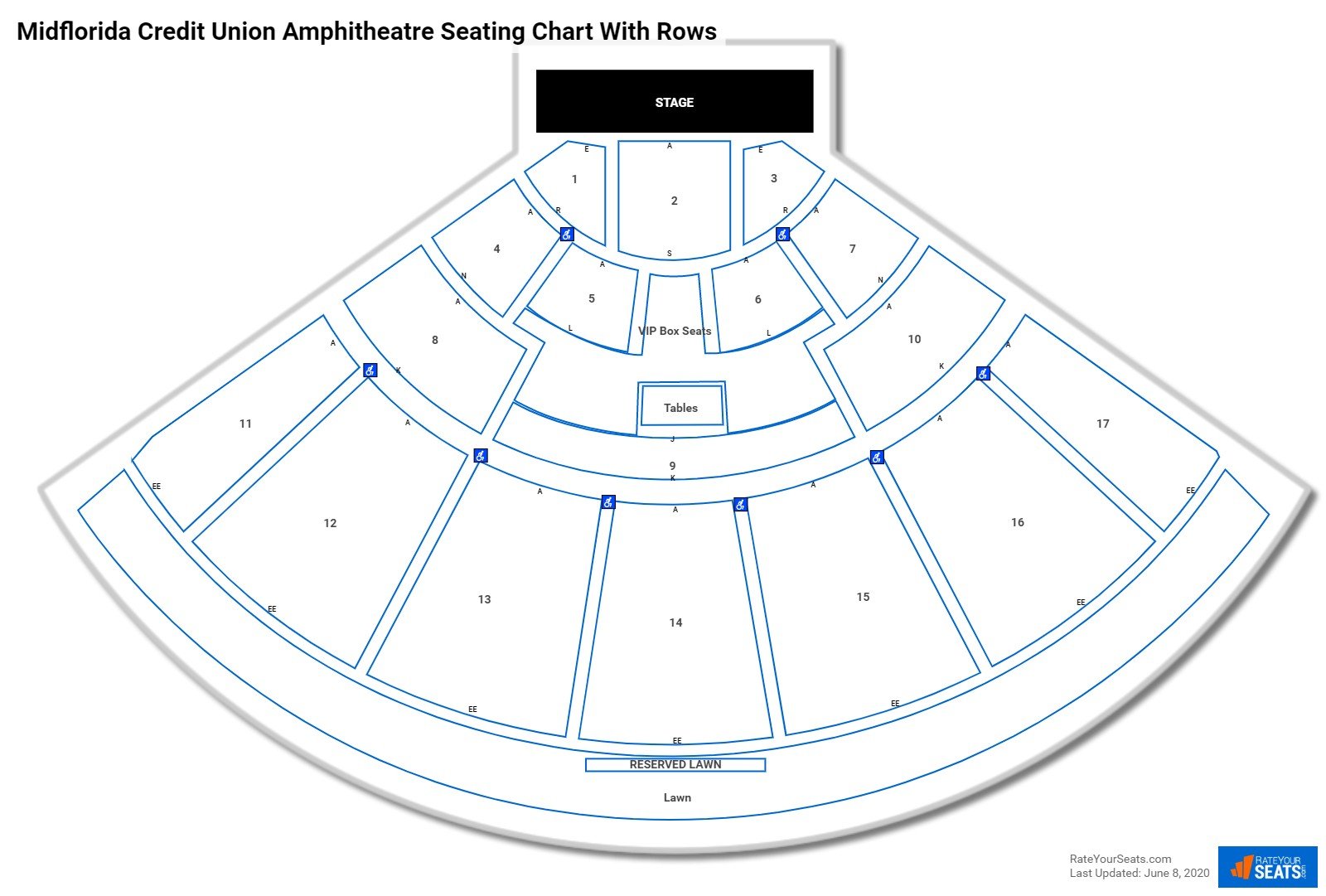 Midflorida Credit Union Amphitheatre Seat Numbers
Seat numbers at Midflorida Credit Union Amphitheatre go from left-to-right. When seated looking at the stage, the lowest number seat (typically seat 1) will be on the far left of each section.

In the very front of stage ORCH1 and ORCH3 each have 26 seats. While in the middle ORCH2 has 28 seats.

Right behind the ORCH seats in the front, sections 4-7 all have 26 seats.

Behind sections 4-7, Section 8 and 10 in the towards the outside of the venue have 46 seats starting with seat 1. In the very middle of the venue, section 9 is unique. Section 9 consists of seat 1-29 on the left side. There is a gap in the middle. Then it picks up with seat 55-83.

In the back area of the reserved sections, section 11 and 17 have 19 seats. Sections 12 and 16 have either 46 or 47 seats depending on which section you are sitting in. All sections start with seat number 1.

Seating Charts for Upcoming Shows
May 6, 2023 at 7:00 PM
Morgan Wallen
May 19, 2023 at 7:00 PM
Hank Williams Jr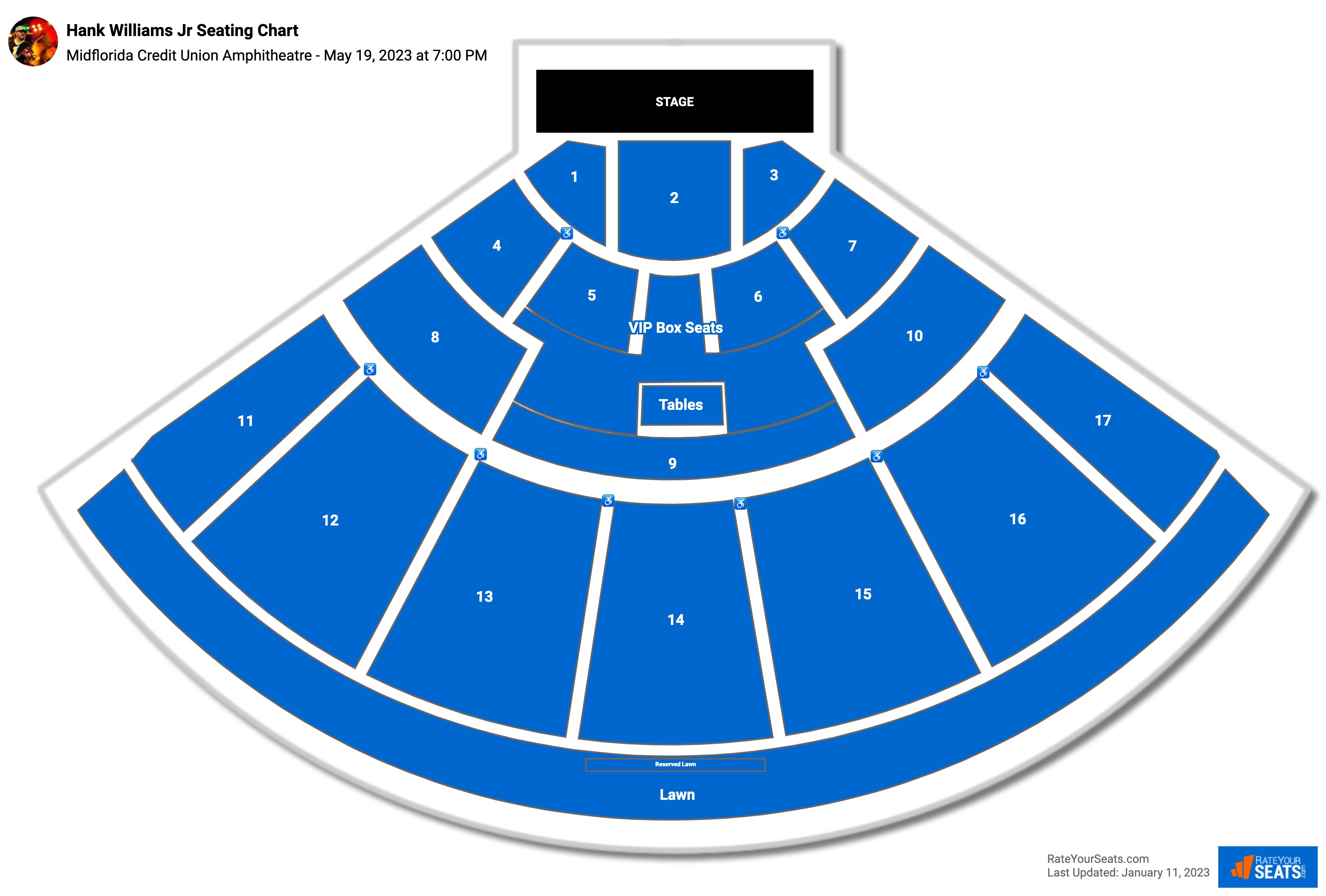 Jun 22, 2023 at 7:00 PM
Noel Gallaghers High Flying Birds and Garbage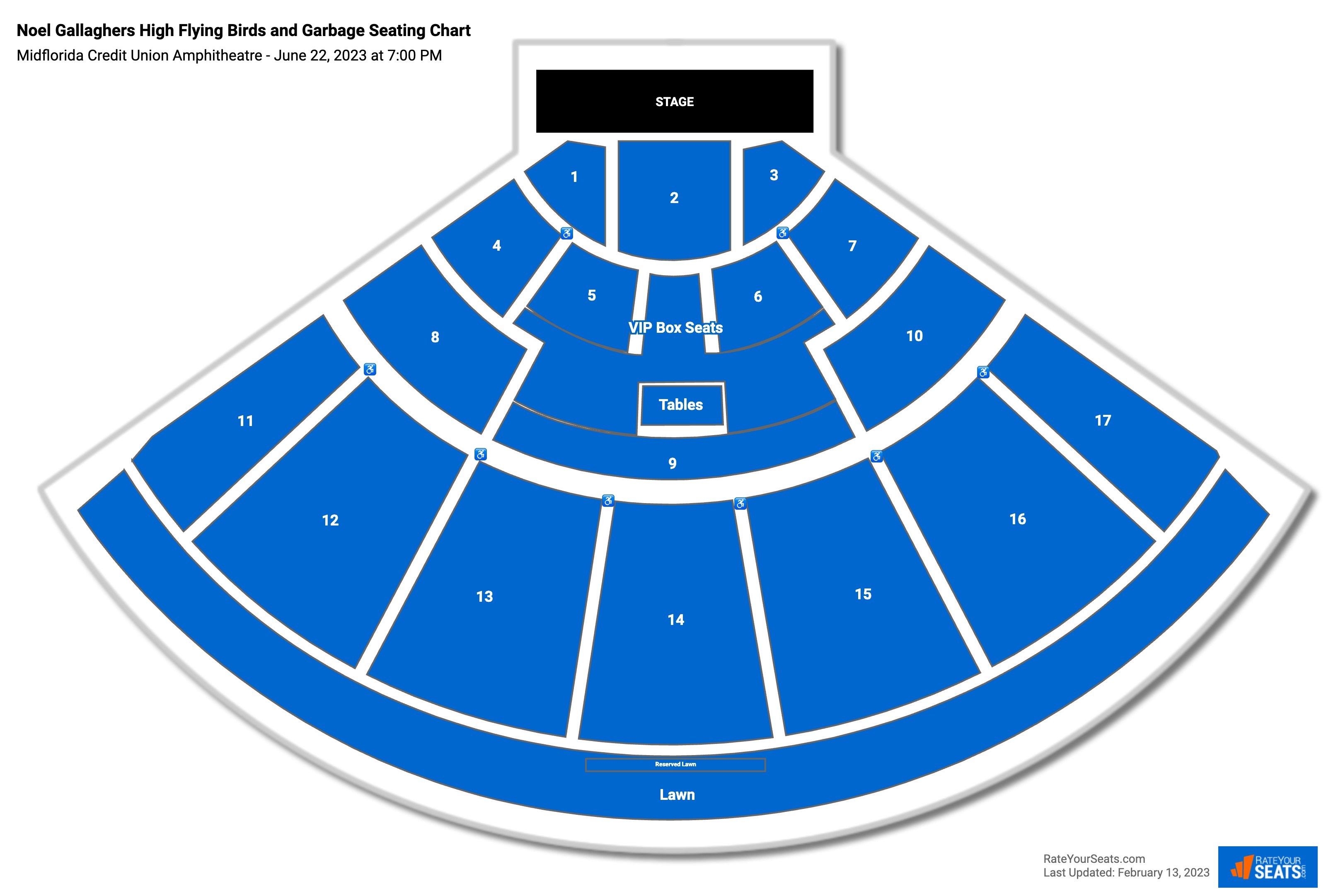 Jul 8, 2023 at 7:30 PM
Matchbox Twenty (Rescheduled from 8/7/2020, 8/6/2021, 7/9/2022)
Jul 9, 2023 at 7:00 PM
Foreigner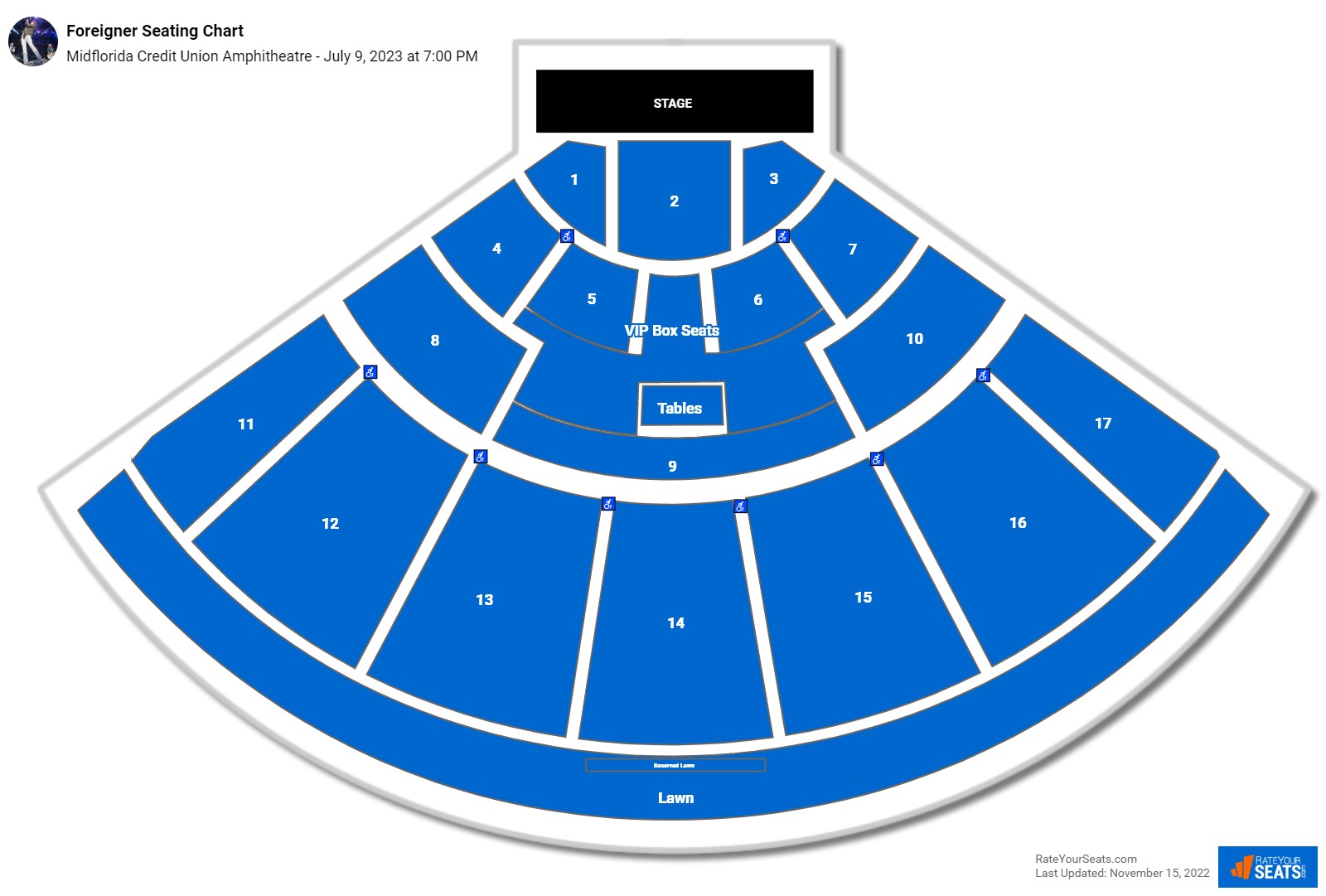 Jul 14, 2023 at 7:00 PM
Dierks Bentley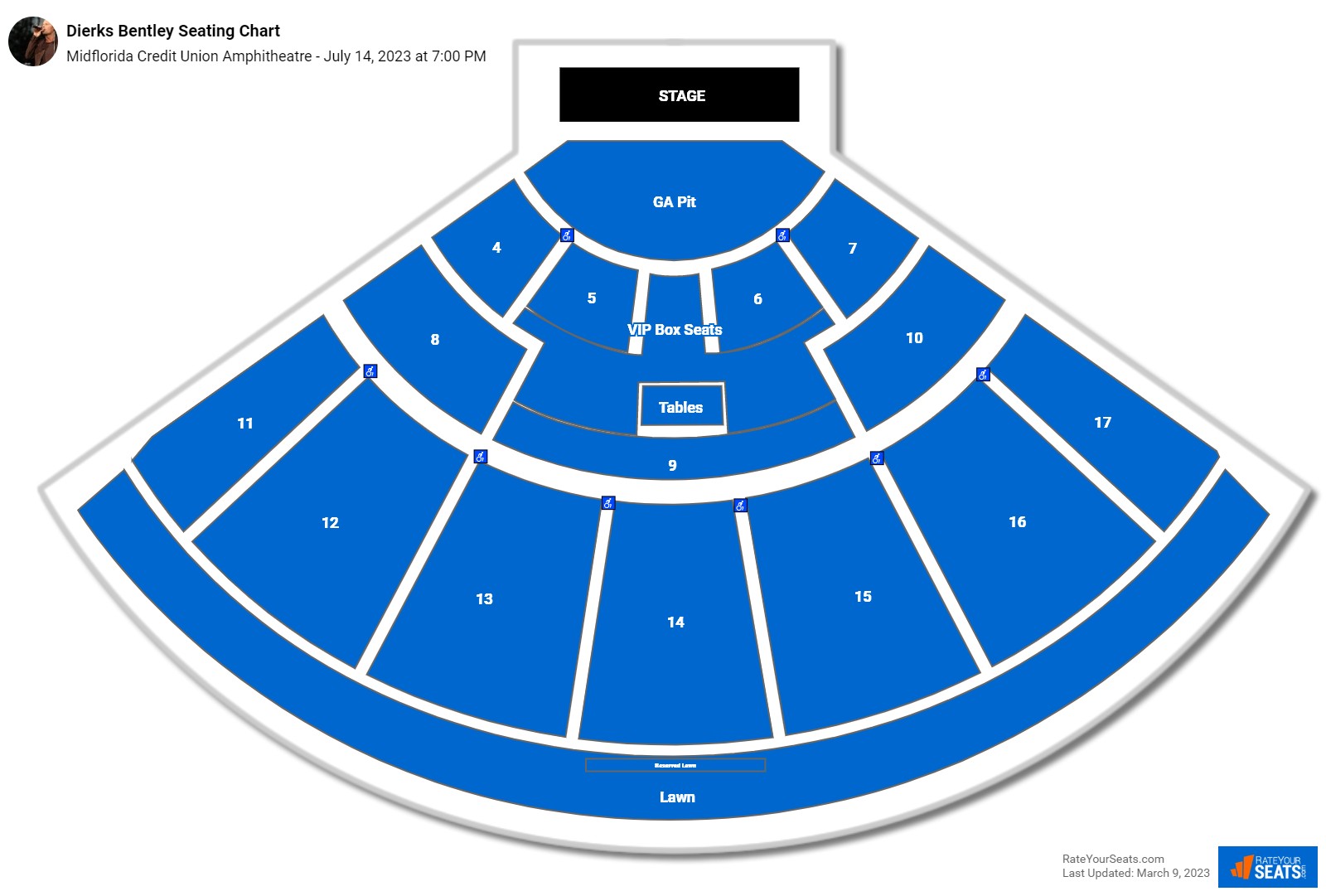 Jul 25, 2023 at 6:30 PM
Fall Out Boy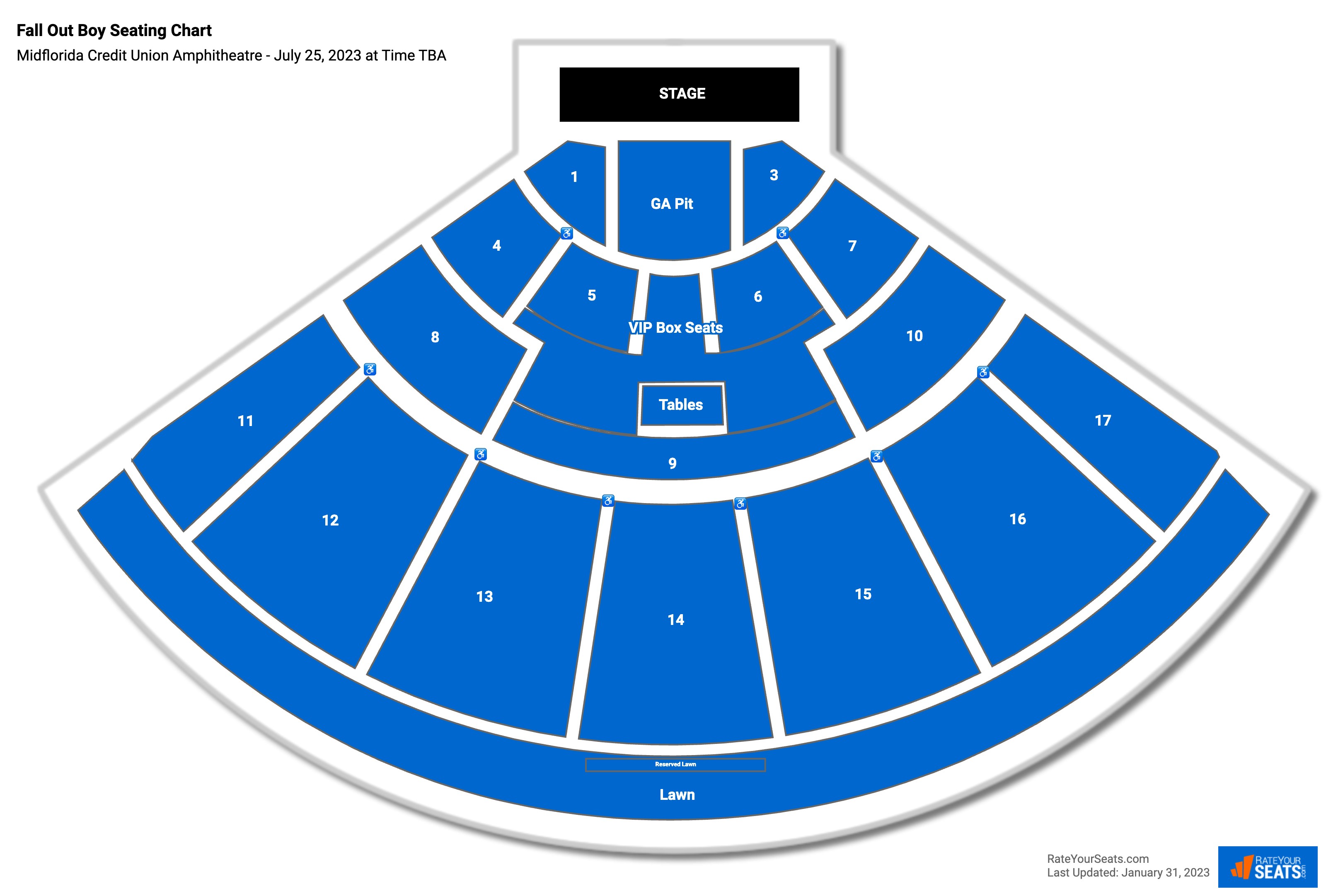 Jul 29, 2023 at 6:30 PM
Nickelback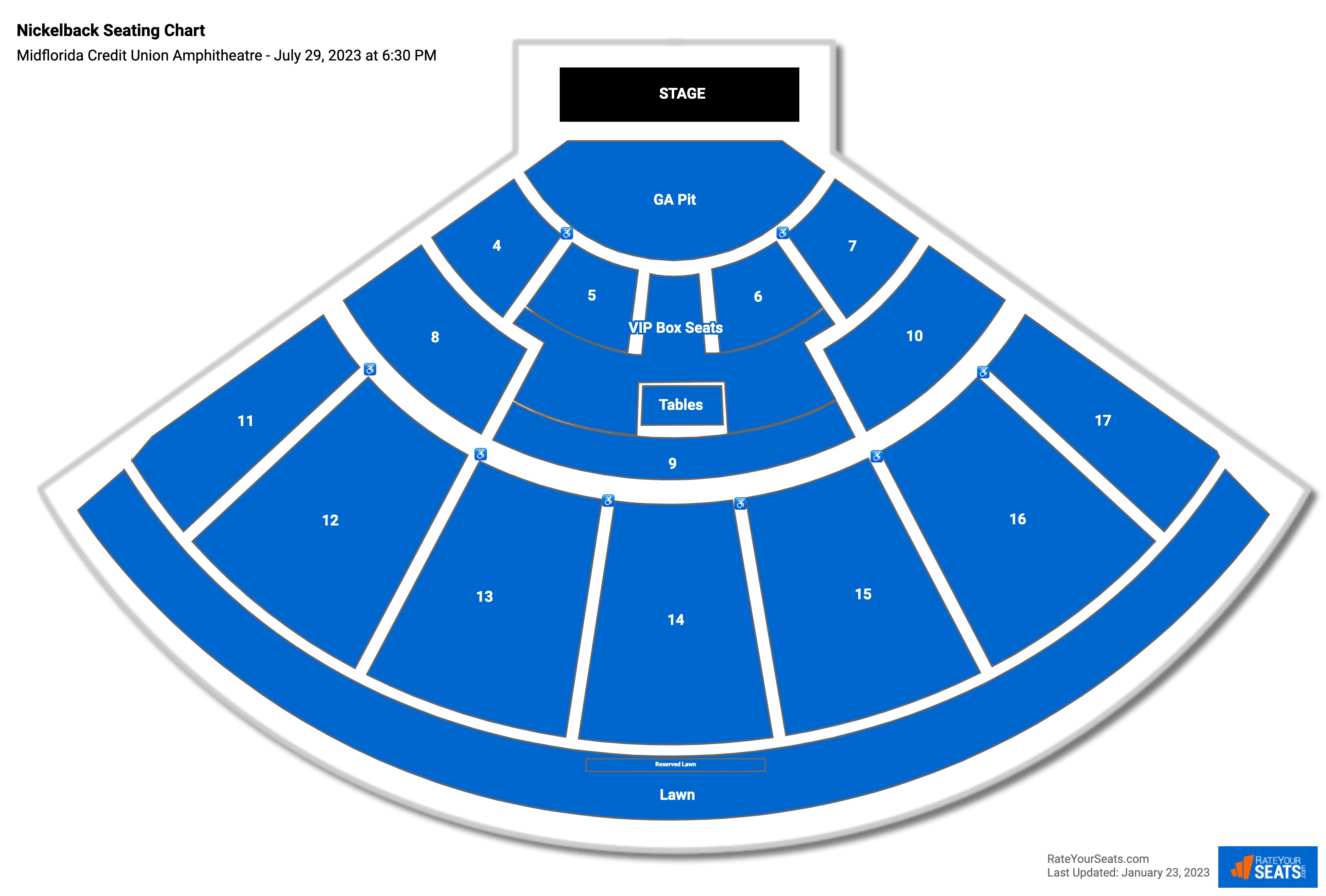 Aug 4, 2023 at 7:00 PM
Bret Michaels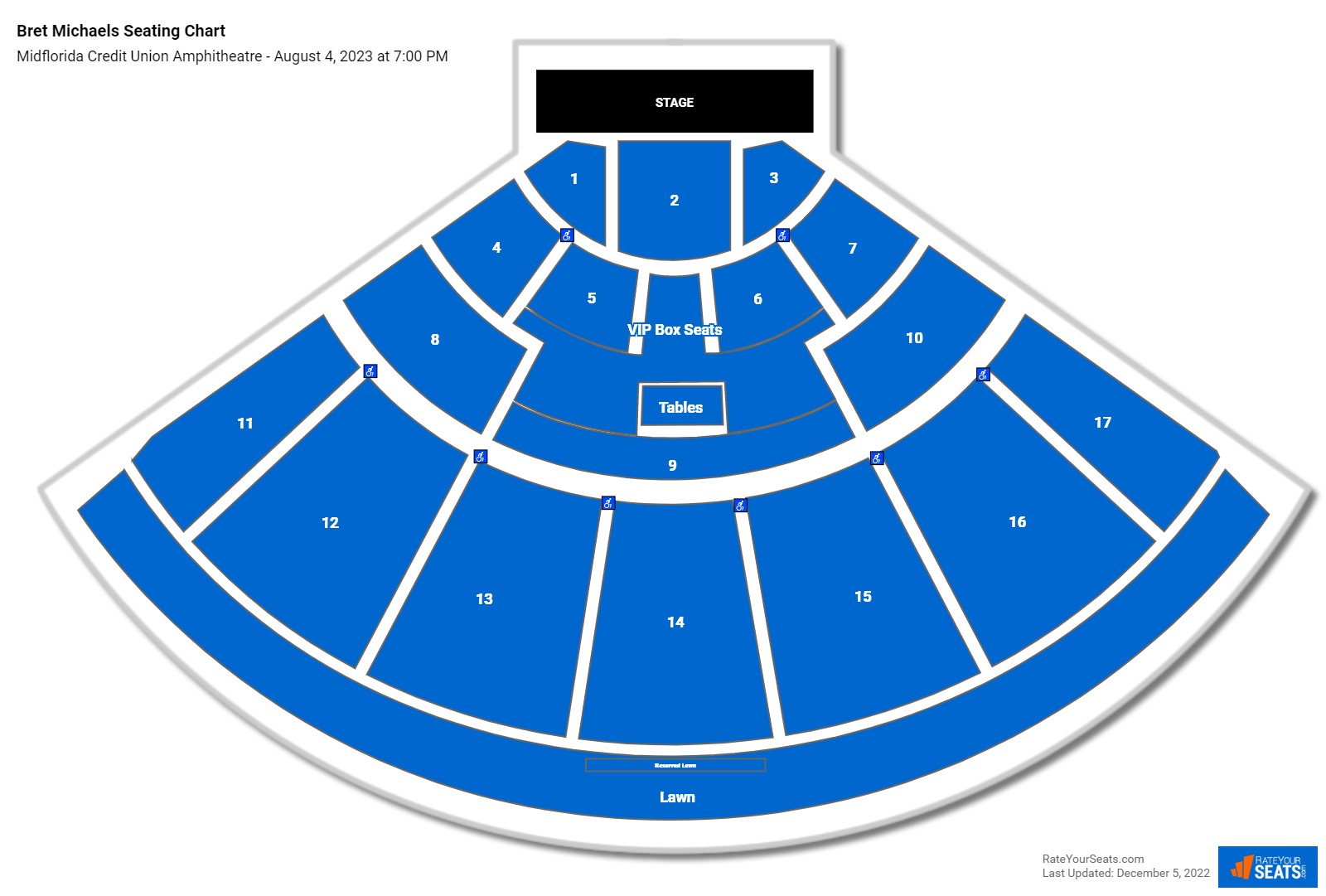 Aug 5, 2023 at 6:30 PM
Disturbed
Aug 9, 2023 at 7:30 PM
Counting Crows with Dashboard Confessional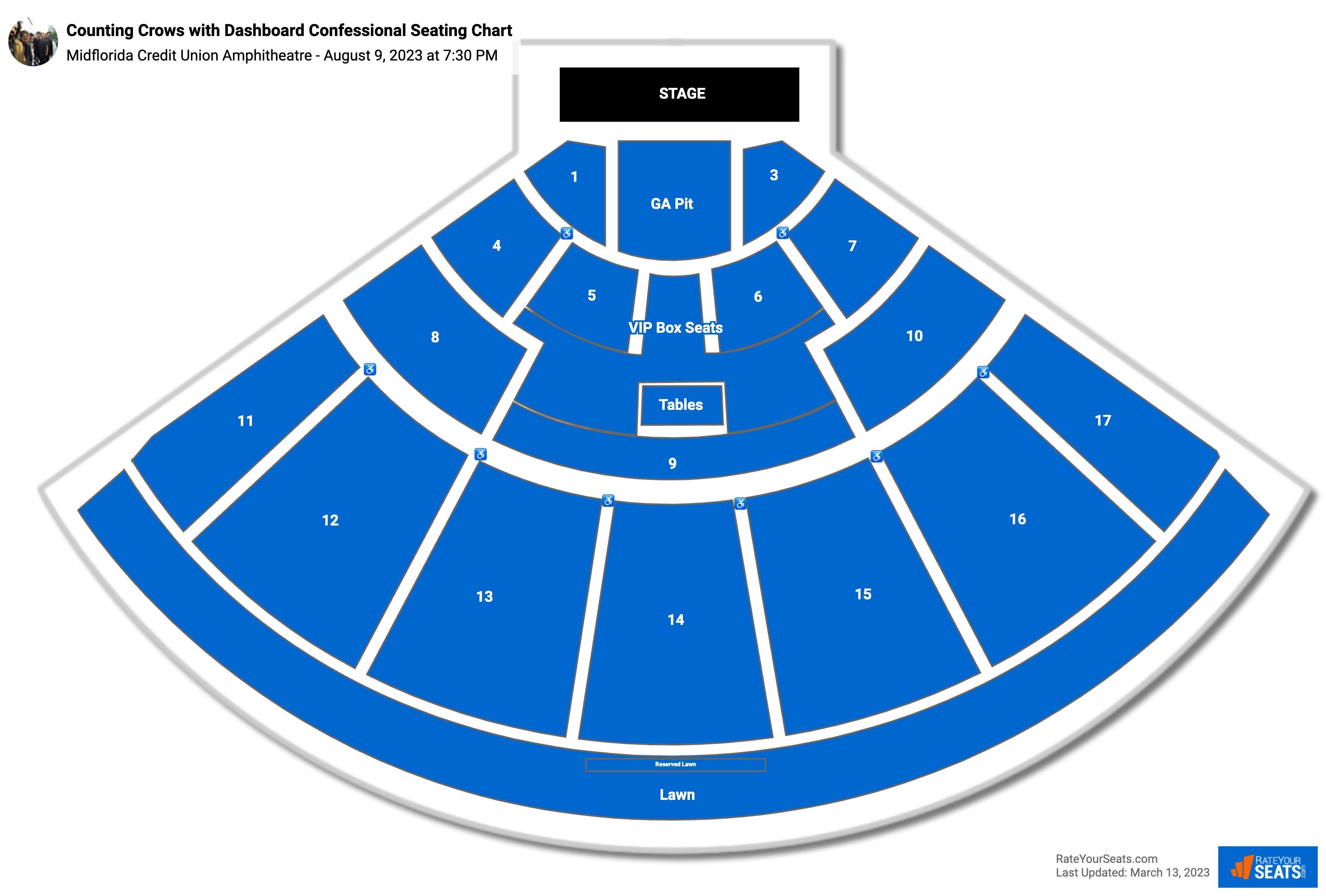 Aug 10, 2023 at 8:00 PM
Pentatonix
Aug 12, 2023 at 6:00 PM
Snoop Dogg, Wiz Khalifa, and Too Short
Aug 16, 2023 at 7:00 PM
The Offspring with Sum 41 and Simple Plan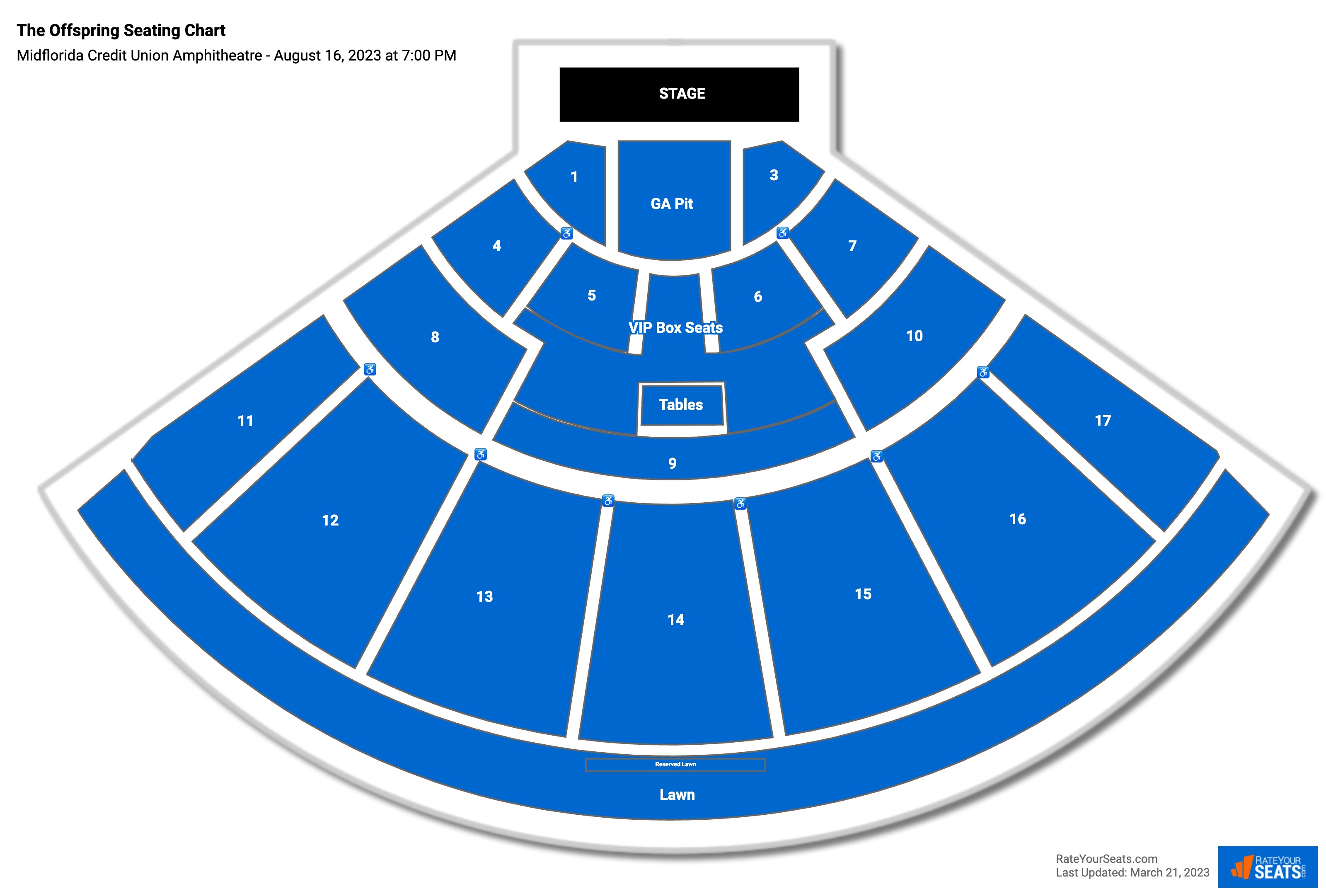 Aug 26, 2023 at 6:00 PM
Rob Zombie and Alice Cooper
Aug 31, 2023 at 7:30 PM
Ghost with Amon Amarth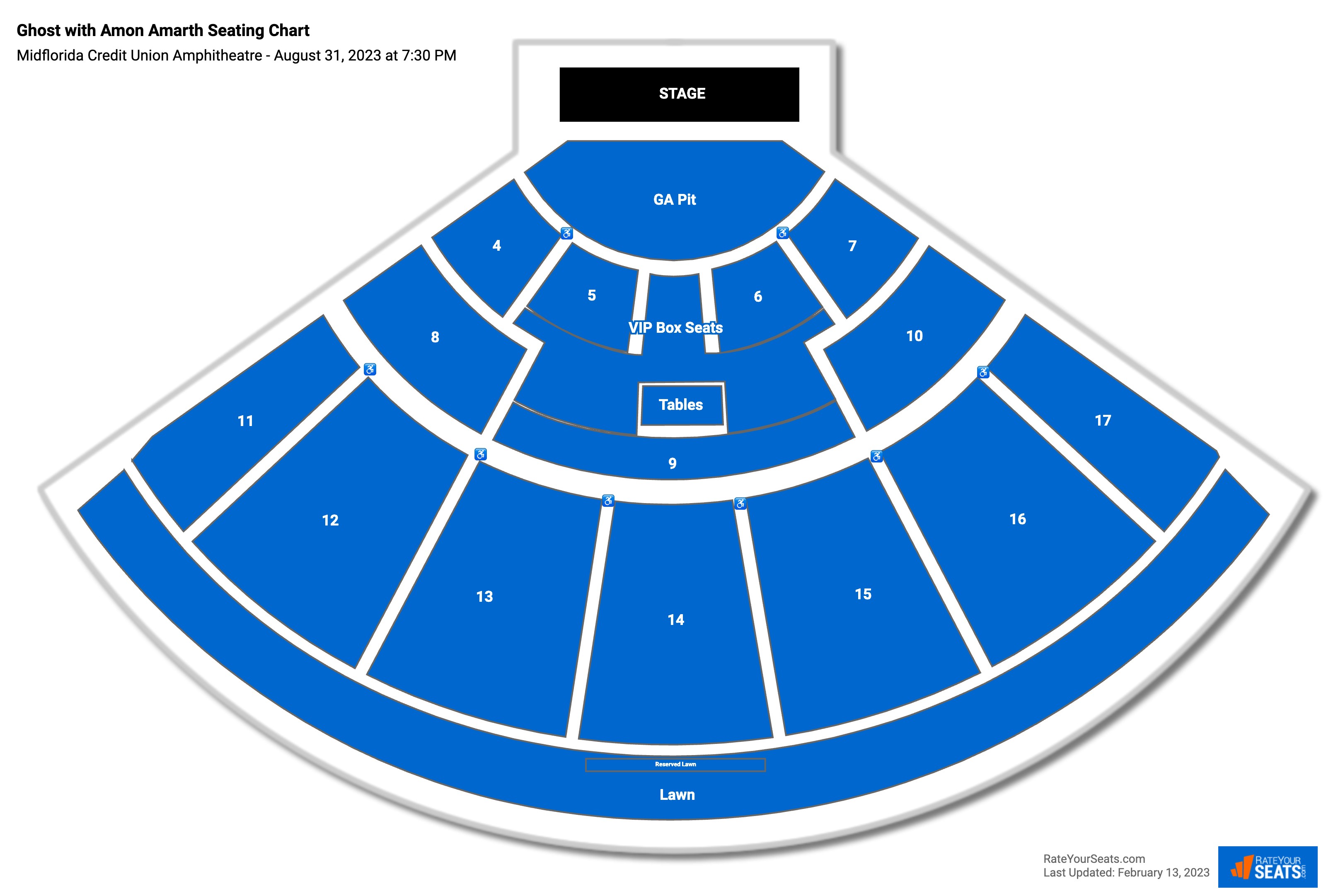 Sep 7, 2023 at 7:30 PM
Sam Hunt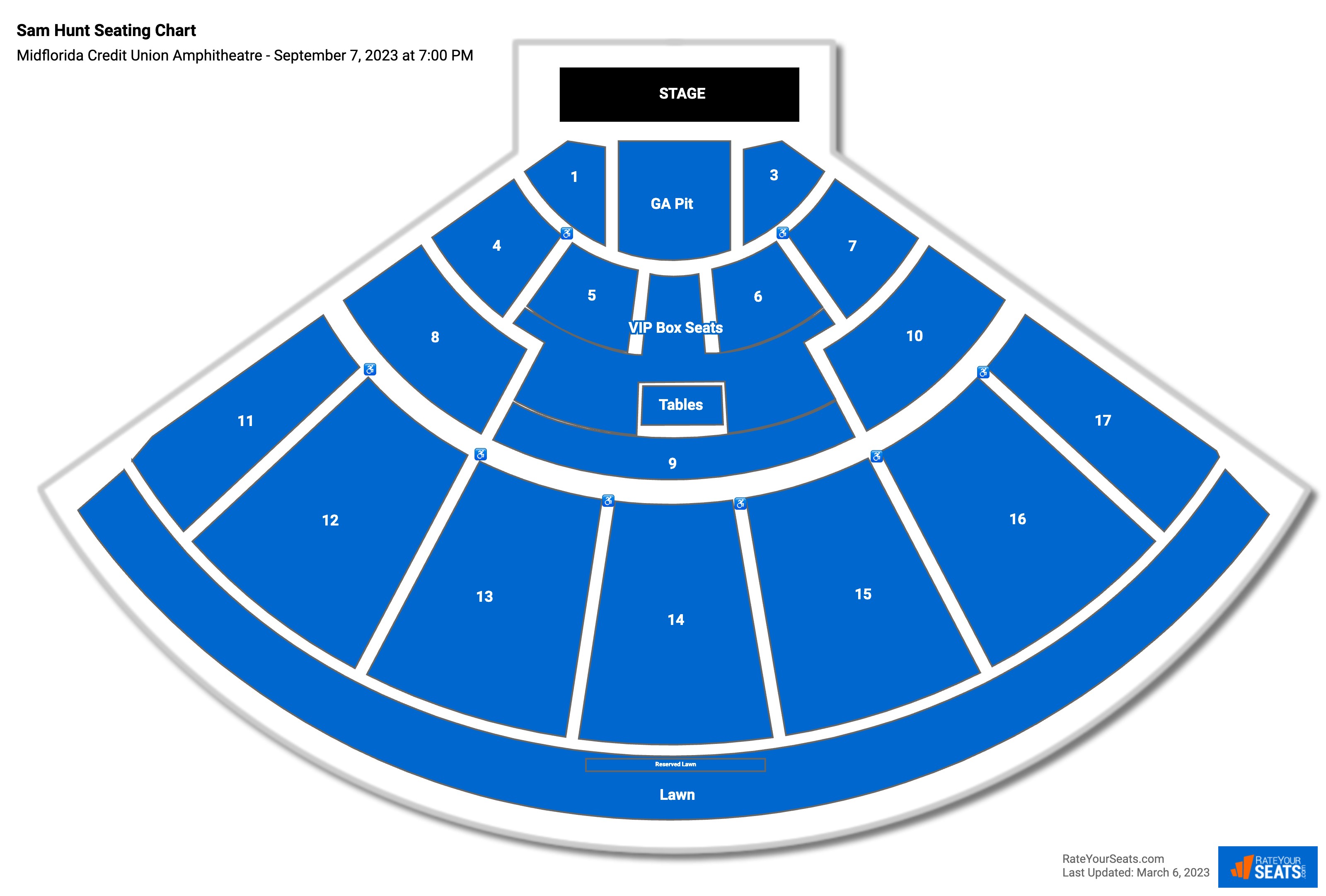 Sep 30, 2023 at 7:30 PM
Eric Church with Whiskey Myers
Oct 14, 2023 at 7:00 PM
Jelly Roll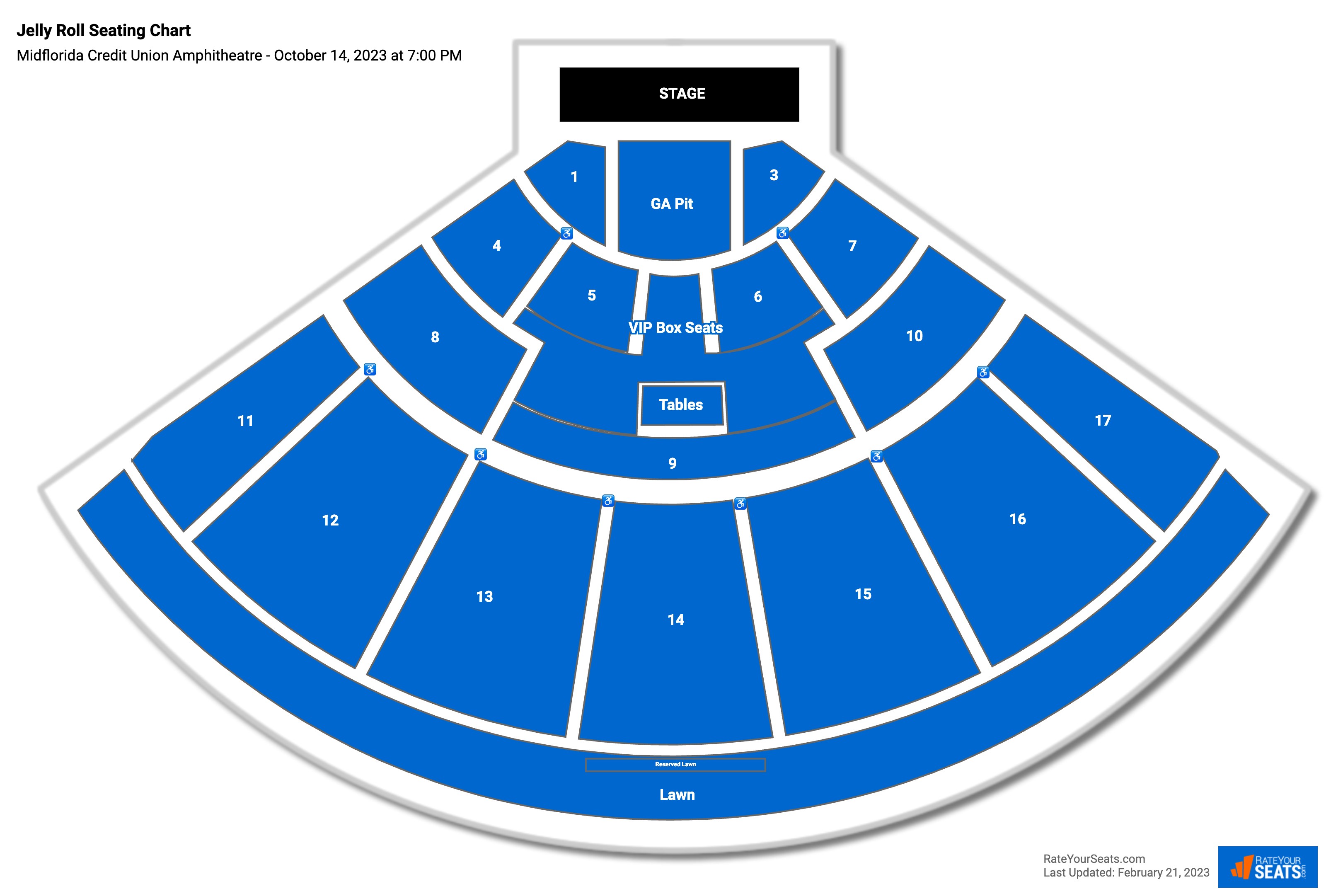 Oct 28, 2023 at 7:30 PM
Jason Aldean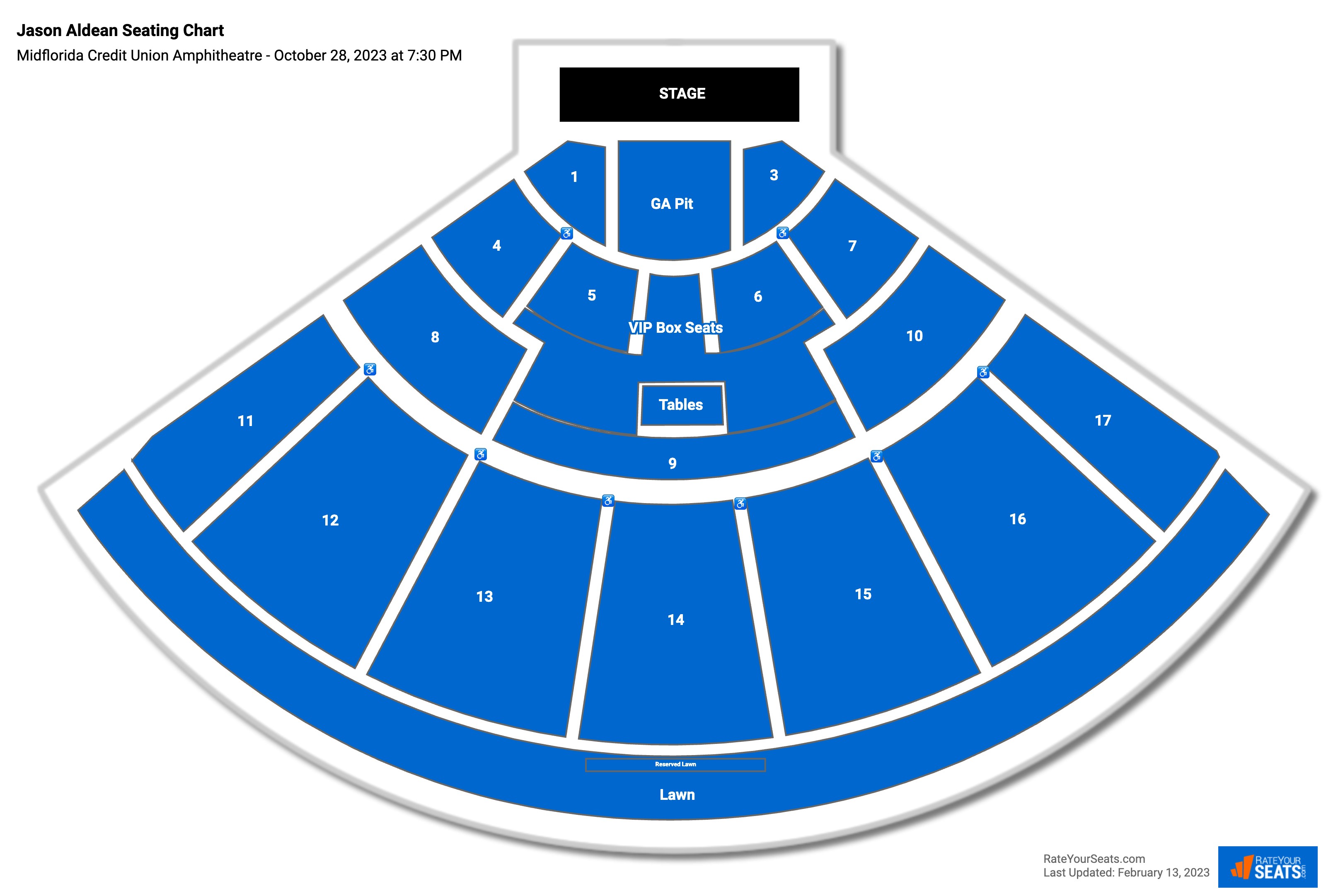 Multiple Dates
Zac Brown Band