Merriweather Post Pavilion Reserved Seating
Features & Amenities
When looking at the Merriweather Post Pavilion seating chart, all numbered sections 100-304 have reserved seating. Sitting here brings fans closer to the stage without having to arrive early to get a good view to the stage.
All seats are located on the same level with a slight slope between rows as you move further from the stage. Seats are segmented into the 100, 200, and 300 levels with walkways between each group of seats.
100 Level

The closest seats to the stage are the 100 level seats. This is the only area that does not have permanent seating. The level can be reserved or a General Admission Pit without any seats.
When this area is assigned seating, chairs are brought out onto the floor. The chairs are foldable and not stadium-style seats like in the other levels.
Section 100 is centered to the stage with 101 to the right and 102 to the left.
Rows are triple-lettered (e.g.: AAA)
All seats are within 12 rows of the stage
Under cover from roof
200 Level
The majority of reserved seating is located on the 200 level. For shows with a Pit, the 200 level sections are the closest reserved seats to the stage.
For the best views, look for tickets in sections 200, 201, and 202.
Rows are single-lettered A-Z
Under cover from roof
300 Level

The final group of reserved seating are the 300 level seats at the back of the pavilion. Views from these sections are unobstructed- although the backs of sections 301, 302, 303, and 304 will have a lower overhang from sky suites above.
Rows are double-lettered (e.g.: BB)
Mostly under cover
Note: These seats are highlighted on the map
Interactive Seating Chart
Reserved Seating Seating Chart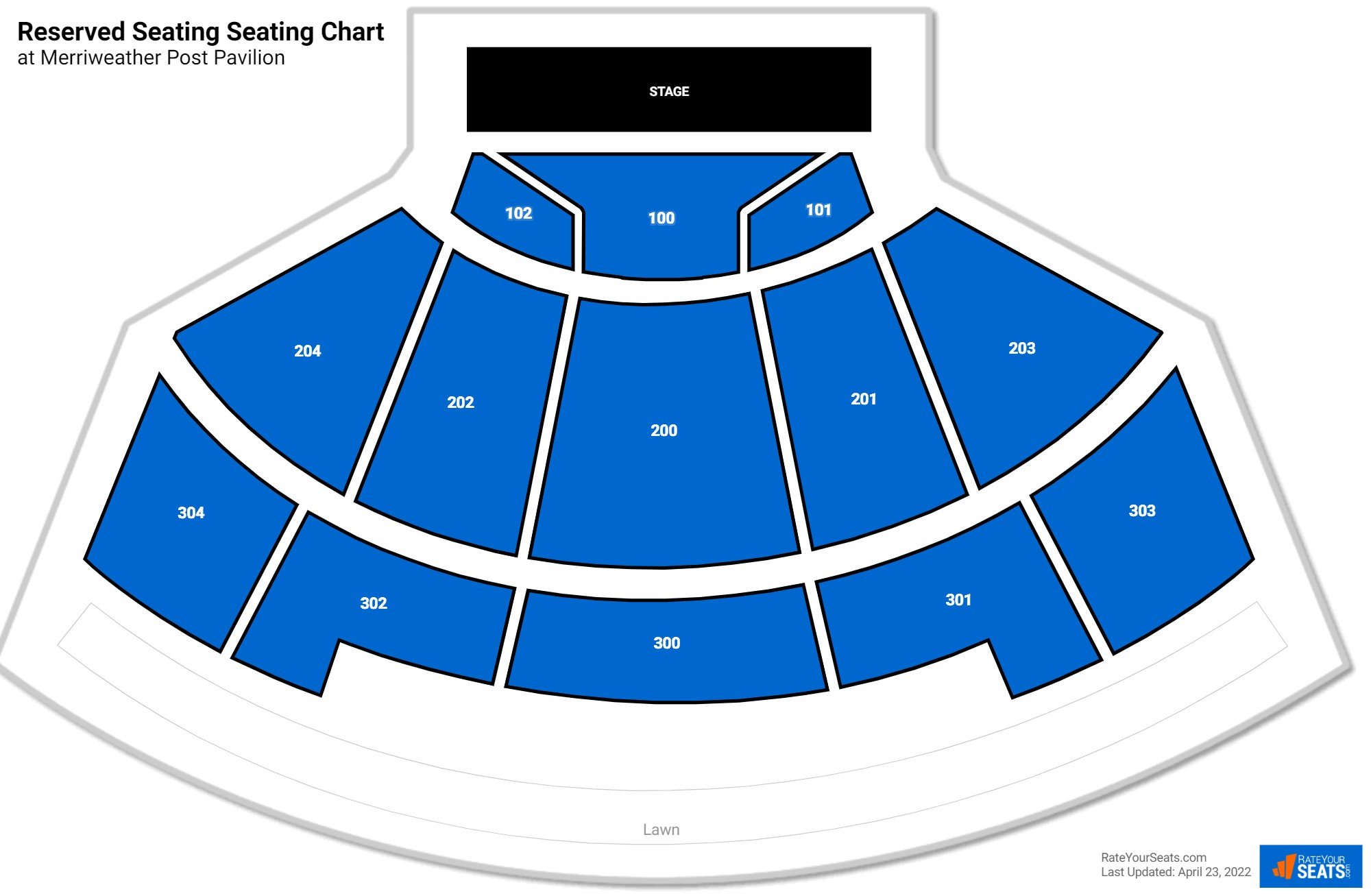 Reserved Seating Reviews
Ratings & Reviews From Similar Seats

"Awesome seats "

(Section 100) - -

Could see every angle of the stage. Would have given 5 stars but those chairs are hard. VIP seating should have cushioned seats and backs.

"Brandi Carlile - Jun 14, 2019"

(Section 100) - -

Perfect, center so close!
Reserved Seating Sections
More Seating at Merriweather Post Pavilion