Finding Shade in the Early Afternoon
Especially in the summertime, Kansas City is well known for its heat. Look no further than in 2014 when the temperature on the field (turf) at UMKC's Durwood Stadium reached 159 degrees. Yes, almost 160 degrees. While it's unlikely to be that hot on the grass surface of Kauffman Stadium, if you don't choose the right seats for an early afternoon game, it sure might feel like it.
Select seats on all three levels of Kauffman Stadium are covered and will be shaded when the sun is overhead for a 1:10 game. Among these are the back rows of the 200 level in fair territory and the back rows of sections 409-431. On the 300 level you don't need to be so selective as all seats are substantially covered and well shaded.
Best Shaded Seats For a 1:10 First Pitch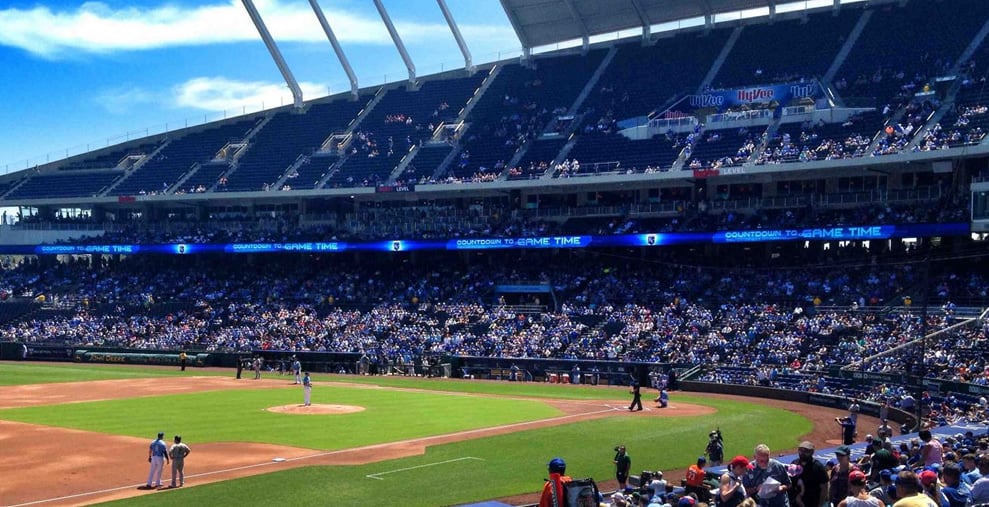 Among seats that are shaded for an early afternoon start, the best of the bunch are the loge seats in sections 301-325. In addition to being much cooler than the rest of the ballpark, these sections are the smallest in the ballpark which makes it easy to get to and from the concourse and with its ice cold beers and refreshing waters.
Avoid 100 Level Seats When the Heat Is On
While it may be tempting to purchase tickets near the field in the lowest seating bowl, these seats aren't worth the price tag if you want to stay out of the sun. All 100 level sections are exposed to the sun until at least 3:00, at which time some seats on the third base side will start to see relief.
Other areas to avoid include the edges of the upper deck (401-408 and 432-439) where the roof does not reach and all seats in the outfield.