Huntington Bank Pavilion (at Northerly Island) VIP Box Seats
Features & Amenities
The Huntington Bank Pavilion at Northerly Island features two distinct VIP seating areas above Sections 301 through 305. Seating ranges from folding-style chairs to table-style seating on comfortable chairs.
Whether you're sitting at a VIP table or in one of the VIP boxes, you'll have an elevated view of the stage from a side angle. The elevation of these seats makes it easy to see the stage - something that the floor does not guarantee. However, the side angle doesn't provide the best sightlines and may leave you yearning for something with a more head-on view.
Overall, the VIP seats at Northerly Island are a great way to get comfortable seating and exclusive amenities in a venue notorious for large crowds and long lines.
When purchasing tickets here, please see the seller notes to ensure VIP amenities are available for your concert.
Club Access and Amenities for Boxes A-Z
For most shows, VIP seats are located within the VIP Club and offer full access to the covered two-story club lounge. The lounge features a buffet and modern outdoor furniture in an elevated area with views of the stage.
An outdoor patio with tables is another part of the exclusive club and is the perfect hangout for drinks or snacks before or after the show. Private air-conditioned restrooms are also attached to the VIP Club.
In addition to club access, box seats and tables typically come with in-seat wait service, a VIP entrance and VIP parking opportunities.
Boxes 1-4

On the west side of the venue are Box sections 1-4. These boxes seat four guests with a well padded seat. It is a great option for a small group that wants a dedicated space. Amenities for these boxes vary by show.
Please note: Due to health and safety protocols in 2023, food availability, club access, wait service and other amenities are subject to change without notice.
Note: These seats are highlighted on the map
Interactive Seating Chart
VIP Box Seats Seating Chart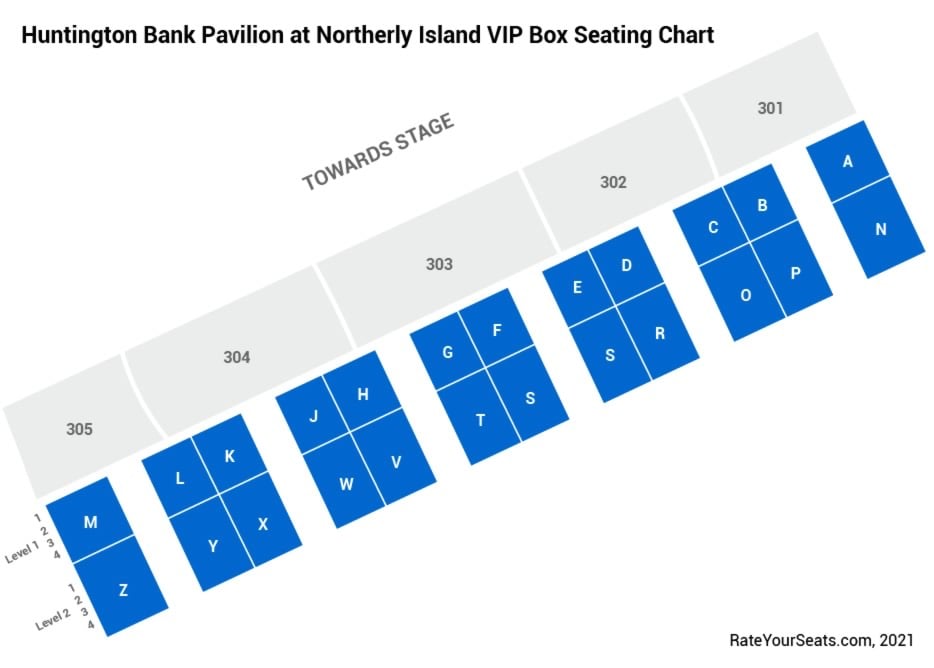 More Seating at Huntington Bank Pavilion
Event Schedule
10Jun

Heatwave Music Festival - 2 Day Pass

Huntington Bank Pavilion - Chicago, IL

Saturday, June 10 at Time TBA

10Jun

Heatwave Music Festival - Saturday

Huntington Bank Pavilion - Chicago, IL

Saturday, June 10 at 2:00 PM

11Jun

Heatwave Music Festival - Sunday

Huntington Bank Pavilion - Chicago, IL

Sunday, June 11 at 2:00 PM

27Jun

Noel Gallaghers High Flying Birds and Garbage

Huntington Bank Pavilion - Chicago, IL

Tuesday, June 27 at 7:00 PM

28Jul

Sublime with Rome and Slightly Stoopid

Huntington Bank Pavilion - Chicago, IL

Friday, July 28 at 5:00 PM

30Jul

Q101 Piqniq - Incubus, Badflower

Huntington Bank Pavilion - Chicago, IL

Sunday, July 30 at 4:00 PM