Huntington Bank Pavilion (at Northerly Island) Floor Seats
Features & Amenities
Floor tickets at Huntington Bank Pavilion make up the majority of seating for a concert. Due to its versatility, the floor can take on a variety of different setups including reserved and general admission variations.
Main Floor 101-207

The main floor area is located in front of the grandstands. Temporary folding chairs are placed on the floor to create twelve seated sections.
Sections 101-105 are the first group of sections near the stage. Tickets in these sections will have the closest views to the performance on stage. Behind them is sections 201-207. Sight lines from these sections are similar to those in front but from slightly further away.
Angles to the stage get stronger in sections close to the side of the venue. For the best views, choose sections in, or close to 103 and 204.
General Admission Tickets

Many shows at Huntington Bank Pavilion have general admission sections on the floor. For these instances, the seats are removed creating an open area for fans to stand.
The section will be called a GA Pit when it is smaller and near the stage. When all seats are removed it becomes a General Admission Floor. Some shows will combine the two with an exclusive pit up front and floor in the back.
Back Floor 306-309

Seats in sections 306-309 are the least desirable place to sit on the floor. Since the it is a flat surface, there is no elevation between rows making the views to the stage more difficult the further back you sit. We recommend comparing seats here to those with elevated views in the grandstands.
Sitting here is still a good option for a cheaper reserved seat and also better than being on the lawn.
Note: These seats are highlighted on the map
Interactive Seating Chart
Floor Seats Seating Chart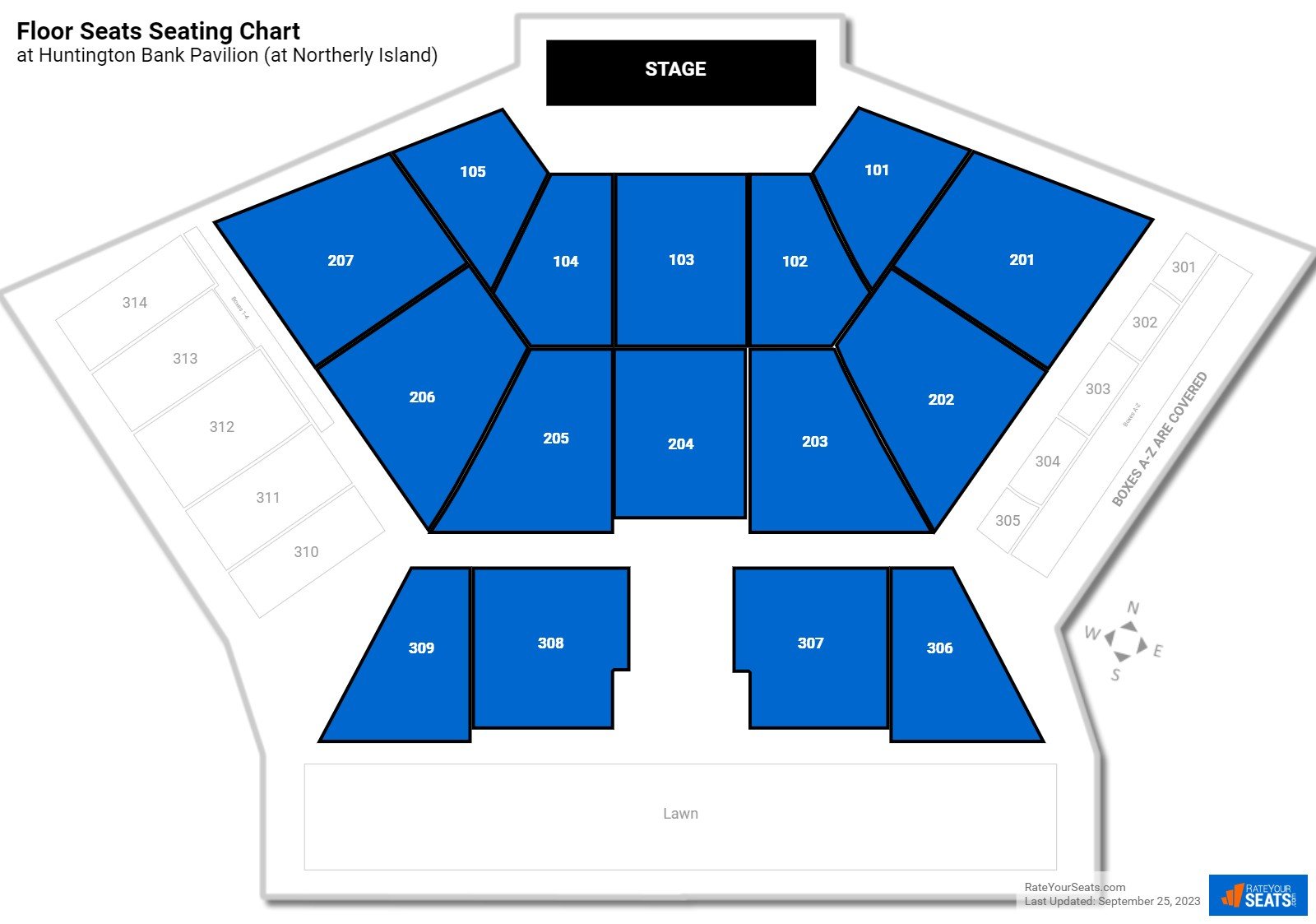 Floor Seats Reviews
Ratings & Reviews From Similar Seats

"The Avett Brothers - Sep 20, 2019"

(Section 207) -
More Seating at Huntington Bank Pavilion
Event Schedule
10Jun

Heatwave Music Festival - 2 Day Pass

Huntington Bank Pavilion - Chicago, IL

Saturday, June 10 at Time TBA

10Jun

Heatwave Music Festival - Saturday

Huntington Bank Pavilion - Chicago, IL

Saturday, June 10 at 2:00 PM

11Jun

Heatwave Music Festival - Sunday

Huntington Bank Pavilion - Chicago, IL

Sunday, June 11 at 2:00 PM

27Jun

Noel Gallaghers High Flying Birds and Garbage

Huntington Bank Pavilion - Chicago, IL

Tuesday, June 27 at 7:00 PM

28Jul

Sublime with Rome and Slightly Stoopid

Huntington Bank Pavilion - Chicago, IL

Friday, July 28 at 5:00 PM

30Jul

Q101 Piqniq - Incubus, Badflower

Huntington Bank Pavilion - Chicago, IL

Sunday, July 30 at 4:00 PM