Huntington Bank Pavilion (at Northerly Island) Lawn Seats
Features & Amenities
The best thing about the lawn seats at Northerly Island is that they're the cheapest tickets to any show. The next best thing about the lawn seats is that you may be able to see the lake or the skyline.
If you're looking for a cheap place to listen, dance, socialize and say you went to the show, the Lawn will suffice. Just keep in mind that you can't bring any lawn chairs or umbrellas and that you must enter through Gate 2 or 3. Blankets are allowed and encouraged.
Views from the Lawn

In terms of actually seeing the stage and getting quality sound, you're going to want to pony up some extra cash and choose a spot in reserved seating for floor seats or in the grandstands. The views from the lawn to the stage are almost non-existent. For this reason, large video screens are placed in the lawn to show you what you're missing.
Note: These seats are highlighted on the map
Interactive Seating Chart
Lawn Seats Seating Chart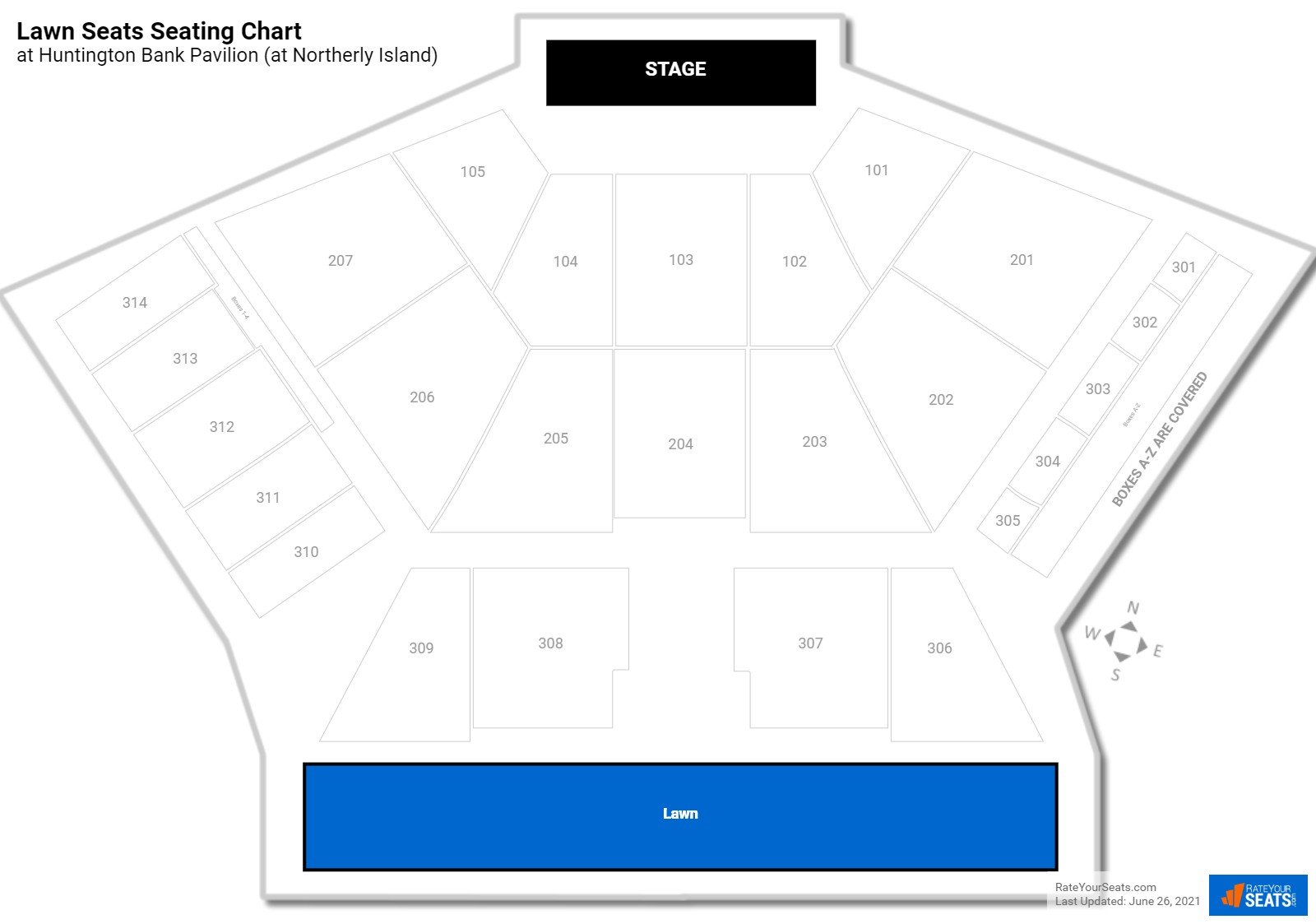 More Seating at Huntington Bank Pavilion
Event Schedule
Heatwave Music Festival - 2 Day Pass

Huntington Bank Pavilion - Chicago, IL

Saturday, June 10 at Time TBA

Heatwave Music Festival - Saturday

Huntington Bank Pavilion - Chicago, IL

Saturday, June 10 at 2:00 PM

Heatwave Music Festival - Sunday

Huntington Bank Pavilion - Chicago, IL

Sunday, June 11 at 2:00 PM

Noel Gallaghers High Flying Birds and Garbage

Huntington Bank Pavilion - Chicago, IL

Tuesday, June 27 at 7:00 PM

Sublime with Rome and Slightly Stoopid

Huntington Bank Pavilion - Chicago, IL

Friday, July 28 at 5:00 PM

Q101 Piqniq - Incubus, Badflower

Huntington Bank Pavilion - Chicago, IL

Sunday, July 30 at 4:00 PM