East and West Field Clubs at Hard Rock Stadium
Features & Amenities
Field Club Boxes provide fans with the closest seating of any option at Hard Rock Stadium. Premium amenities include a private entrance, access to a private lounge with TV monitors, private restrooms, and all-inclusive food and beverage (beer and wine included).
Each four person Field Club Box contains some of the most comfortable chairs in all of football - living room recliner-style seats. These chairs have their own personal table and are just steps from the back of the endzone.
Field Club Sections

There are two different field club sections, although their amenities are almost identical. The primary difference between the West Field Club and the East Field Club is that the West club has views of the Dolphins locker room.
Amenities available for football games. For other events, some amenities may not be available or offered.
Please note: Due to health and safety protocols in 2022, food availability, club access, wait service and other amenities are subject to change without notice.
Note: These seats are highlighted on the map
Interactive Seating Chart
East and West Field Clubs Seating Chart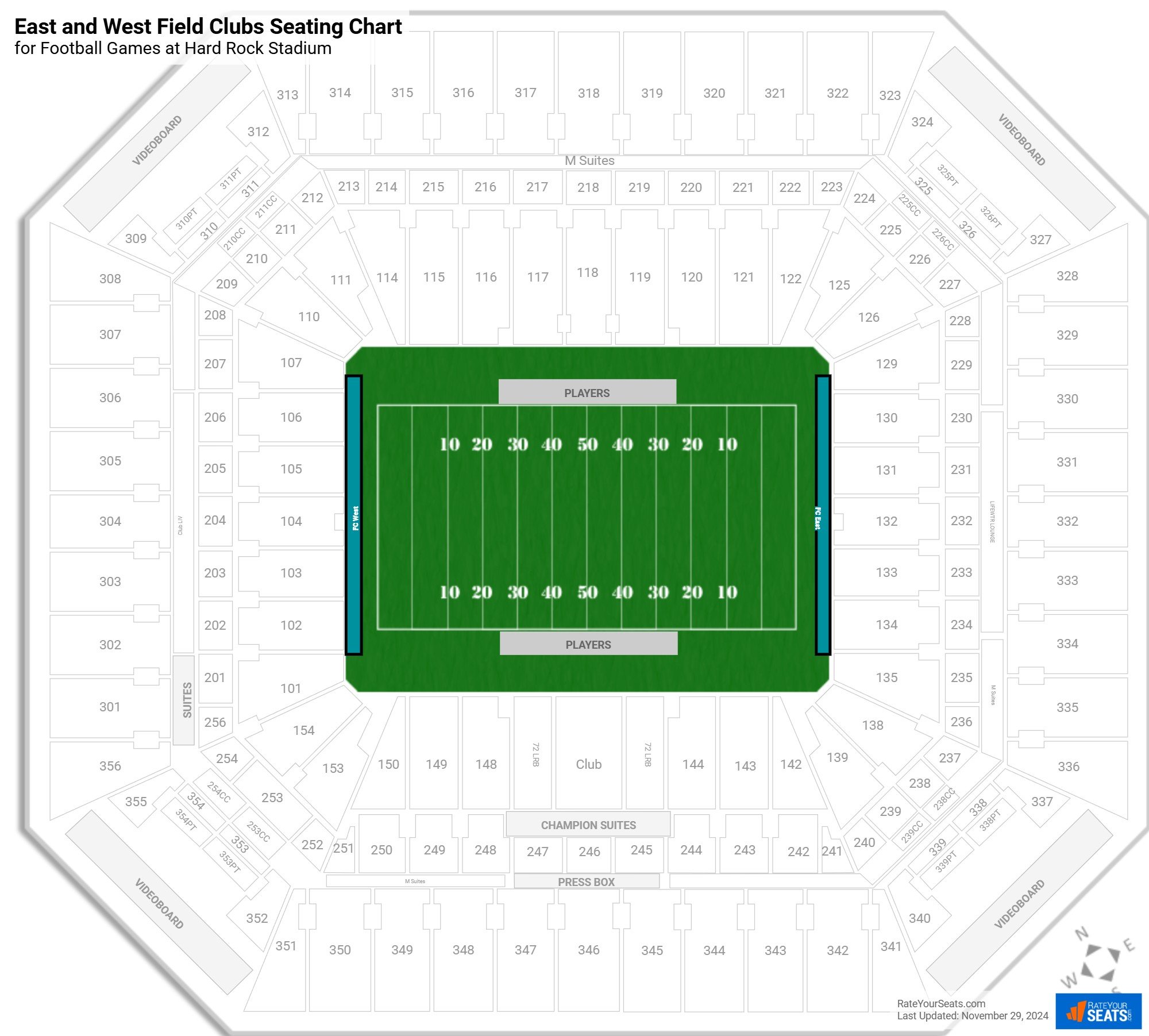 More Seating at Hard Rock Stadium
Event Schedule
Dolphins
Miami FL
Other Football
Concert
Other
NFL Preseason - Las Vegas Raiders at Miami Dolphins

Hard Rock Stadium - Miami, FL

Saturday, August 20 at 7:00 PM

NFL Preseason - Philadelphia Eagles at Miami Dolphins

Hard Rock Stadium - Miami, FL

Saturday, August 27 at 7:00 PM

2022 Miami Dolphins Season Tickets

Hard Rock Stadium - Miami, FL

Saturday, September 10 at 12:55 PM

New England Patriots at Miami Dolphins

Hard Rock Stadium - Miami, FL

Sunday, September 11 at 1:00 PM

Pittsburgh Steelers at Miami Dolphins

Hard Rock Stadium - Miami, FL

Sunday, October 23 at 8:20 PM