Gas South Arena Club Level
Features & Amenities
The Club Level at Gas South Arena includes all 200 level sections. These sections are off-limits to guests with tickets in other areas of the stadium, making it one of the most exclusive areas of the arena.
Club Level seats are extra-comfortable chairs with plenty of padding for staying put for three hours.
Because the club level is so small compared to the lower level, tickets are hard to come by. However, if you have the chance to purchase seats, we recommend not letting them pass by.
Side Sections on the Club Level
Looking for the best seats at Infinite Gas South Arena? There's a good chance people will direct you to the 100 level or to the floor. But we think the side sections in the 200 level are a hidden gem.
If you don't mind a side view, this is a fantastic spot to take in a show. Each 200 level section has just four rows of seats - making them the smallest sections in the arena. This means easier in and out and very few stairs to traverse.
End Sections
End sections on the 200 level will have a comfortable view of the stage from a padded leather chair. We also recommend checking out the lounge area behind section 200 which includes concessions, a bar, table seating and views of the stage.
Note: These seats are highlighted on the map
Interactive Seating Chart
Club Level Seating Chart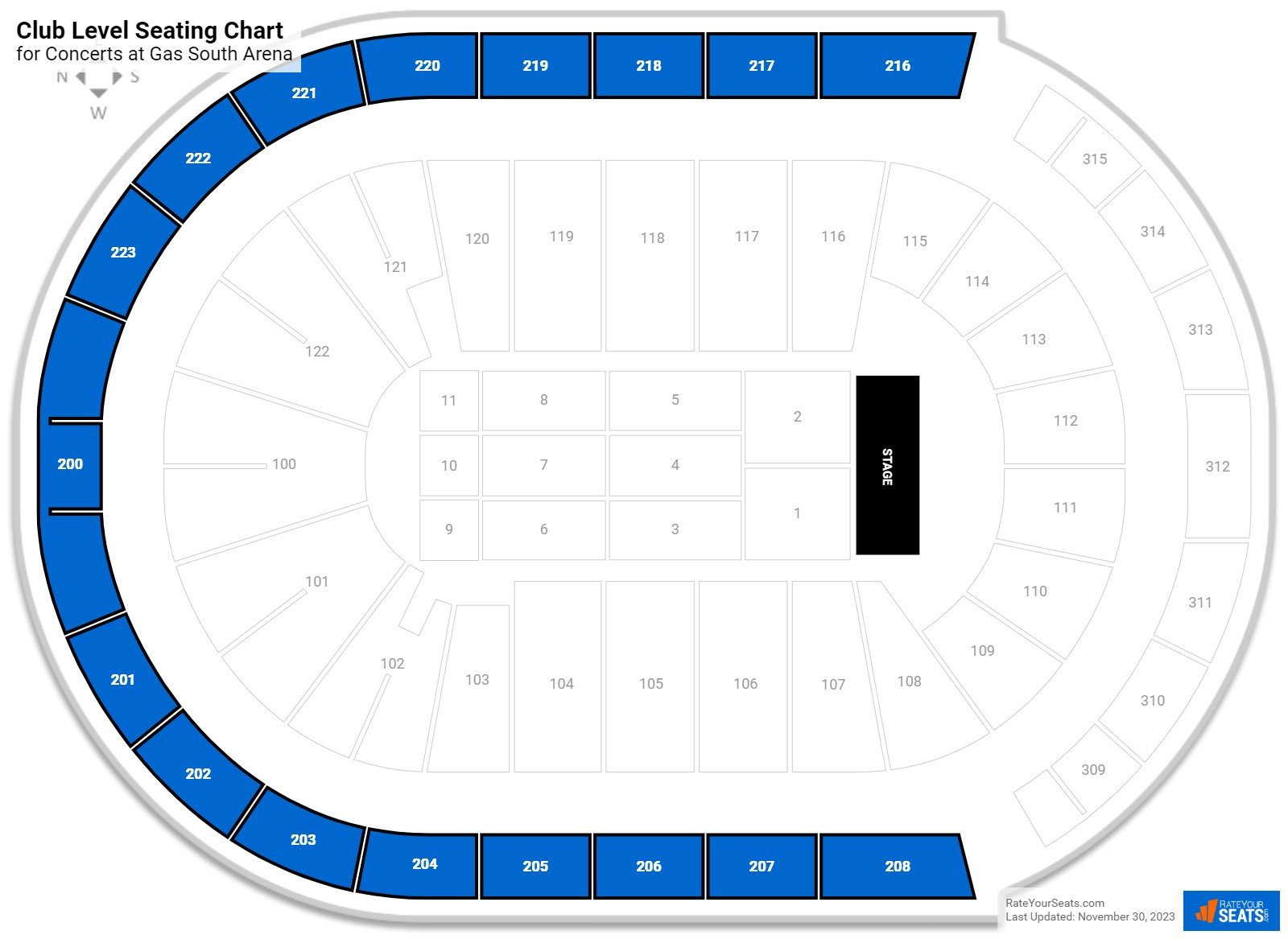 Club Level Reviews
Ratings & Reviews From Similar Seats

"Club Level Side View"

(Section 216) - -

This section was empty. I guess they weren't selling these seats. Maybe they thought the view from the side wasn't any good? At any rate, it was a super comfortable spot with the padded chairs of the club level and I didn't mind the side view!
More Seating at Gas South Arena