Empower Field (at Mile High) 500 Level
Features & Amenities
For most Broncos games, the cheapest tickets are found in the 500 Level. Also known as the upper deck, this is the farthest area from the field. The front rows in these sections are about 70 rows from the field.
Lower Rows vs. Upper Rows

When purchasing tickets in the 500 Level, you'll notice a big difference in pricing between the lower and upper rows. There are as many as 35 rows in the upper deck with row 1 at the front.
If you purchase tickets in a higher row (20 and above), expect long walks up and down the stairs when accessing amenities. If this doesn't bother you, you'll save a lot of money by purchasing seats in a higher row.
The advantages of the lower rows are better views of the game and quicker access to the concourse, concessions and restrooms.
Weather Considerations in the Upper Deck

These seats are heavily exposed to the elements
Seats on the west side (503-513) will be shaded first
Sections near the open end of the stadium (500/542, etc.) can become very windy
Note: These seats are highlighted on the map
Interactive Seating Chart
500 Level Seating Chart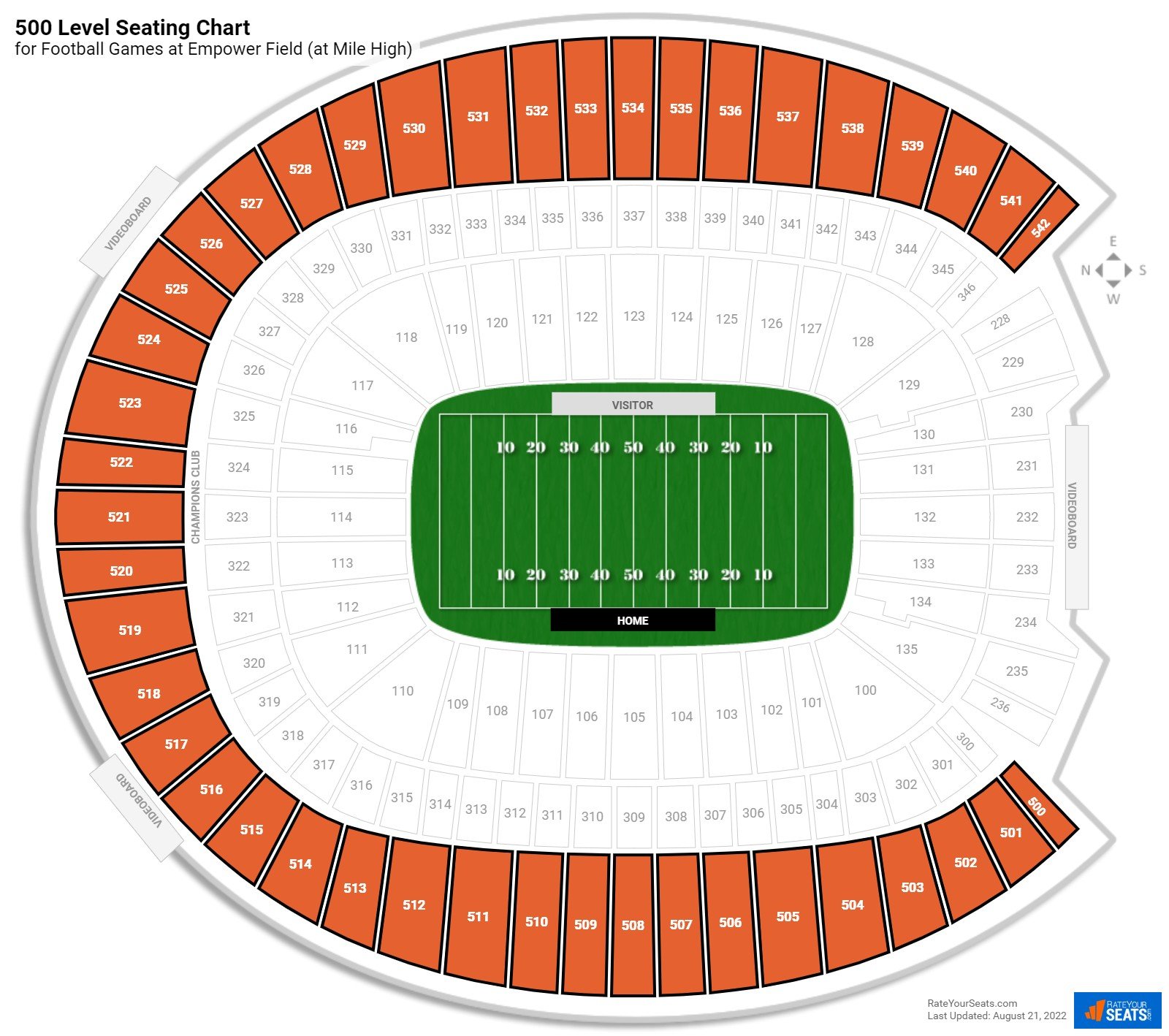 500 Level Reviews
Ratings & Reviews From Similar Seats

"Not bad seats at all!"

(Section 507) - -

This was the first time I had ever sat up that high at Sports Authority Field. I was worried the seats wouldn't be that great but I was wrong. You have a great view of the entire field. The only problem is when people stand or sit forward in their seat your view gets blocked. But the price I pai...

"Good view but in the sun"

(Section 518) -

"High Up But Good View"

(Section 518) -
More Seating at Empower Field
Event Schedule
Broncos
Other Football
Other