Empower Field (at Mile High) 100 Level
Features & Amenities
The 100 Level sections at Empower Field are the seats closest to the field. On the Broncos seating chart, these sections may also be known as Field Level or Lower Level seats.
Row and Seat Numbers

Most lower level sections have 40 rows of seats with row 1 closest to the field. Accessible seating is typically found near row 21 where the section tunnels are located.
As you look towards the field from these sections, seat 1 is on the right aisle.
Best Lower Level Seats
Our favorite seats in the 100 level are near row 30. These are conveniently located near the entrance tunnel, and their elevation offers great sightlines.
Of course, many fans will also argue that being closer to the field - especially on the sidelines and behind the endzones - is an awesome place to sit because the atmosphere is unrivaled.
Note: These seats are highlighted on the map
Interactive Seating Chart
100 Level Seating Chart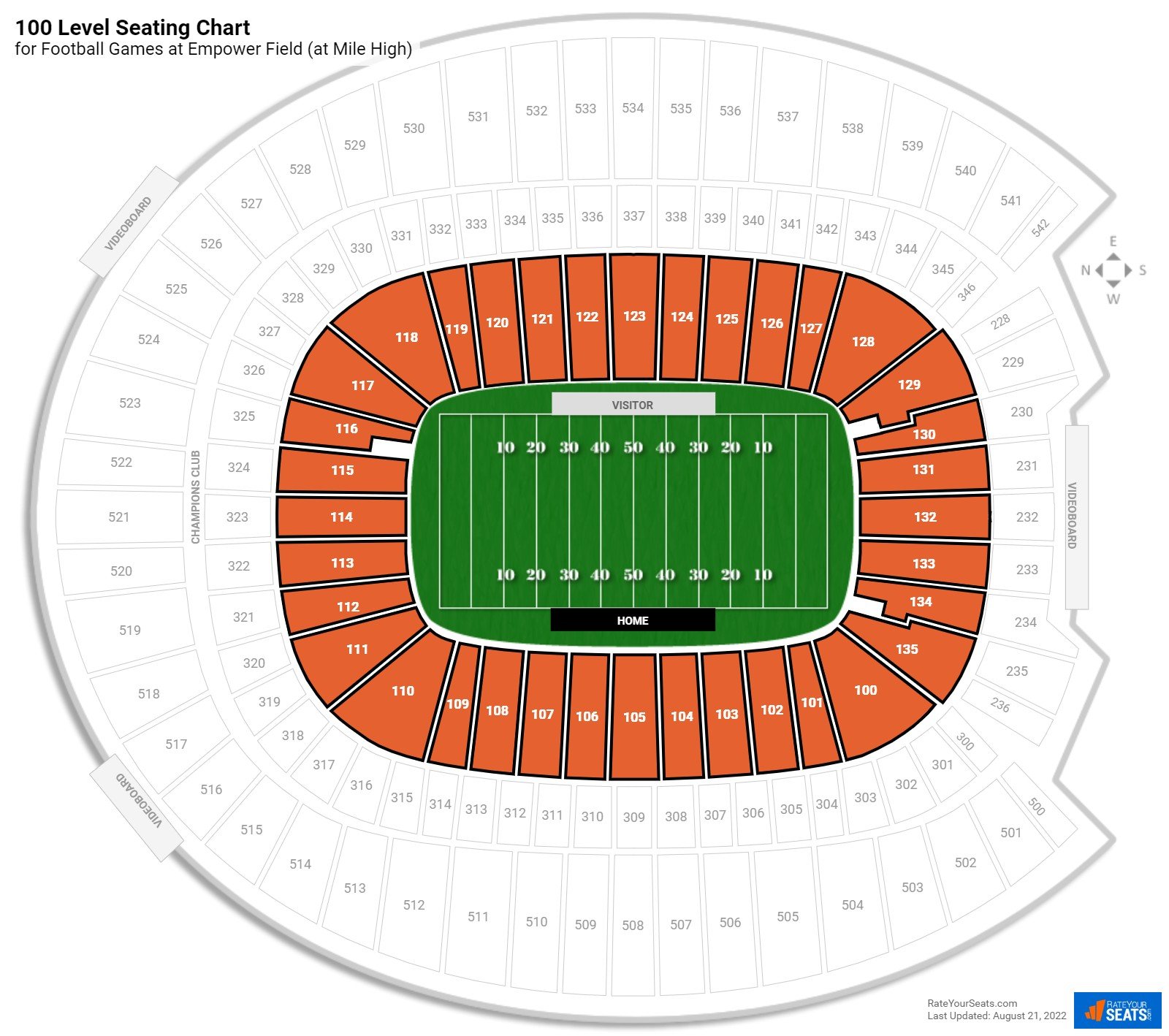 100 Level Reviews
Ratings & Reviews From Similar Seats

"Wow!!"

(Section 127) - -

What a great view, it was worth paying for!!

"New York Jets at Denver Broncos - Oct 23, 2022"

(Section 123) -

"South Stands"

(Section 129) - -

View of the field was excellent and the crowd atmosphere was electric. The seats are the same as other seats in the lower level, comfortable enough. Crowd was loud and having fun, so did we. The only drawback was limited concessions, but adequate on the upper level walkway. The lower level had mor...
More Seating at Empower Field
Event Schedule
Broncos
Other Football
Other