Where to Find Shaded Seats at Coors Field
Owing to its mile-high elevation, Coors Field is as susceptible to sun as any stadium in the big leagues. You can fight off the sun by donning some sunglasses and a Rockies hat - or you can avoid the sun altogether by sitting in a shaded area.
Here are some simple rules for staying out of the sun at Coors Field:
Choose seats on the third base side of the field
Choose seats in the highest row possible
Avoid the outfield at all costs
Why Sit on the Third Base Side?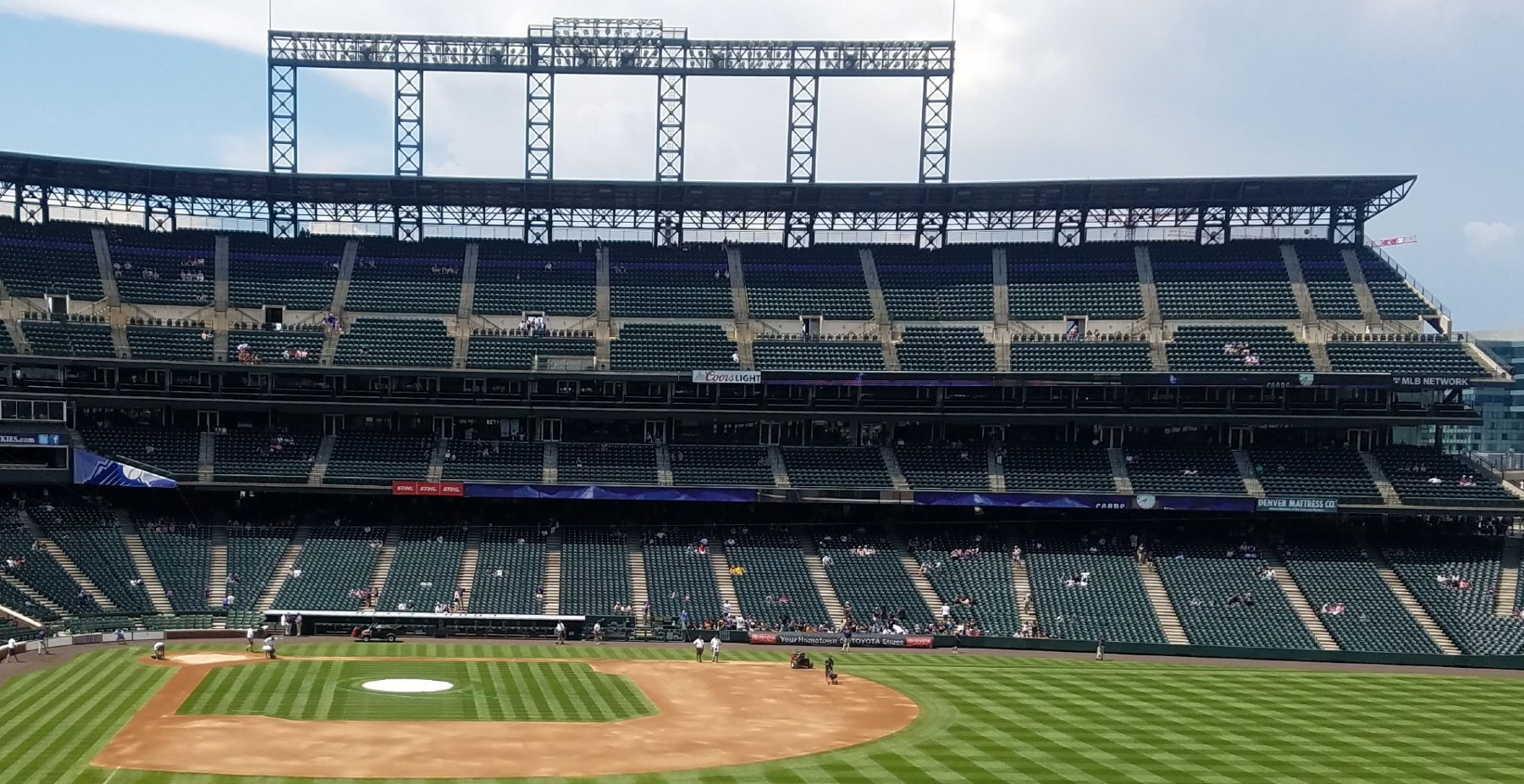 At Coors Field, home plate faces north. In turn, the sun sets behind seats on the third base side of the field. As it begins to set, seats on this side of the field will be the first to receive shade. Meanwhile, seats on the first base side and in right field will be staring at the sun.
The best seats for shade on the third base side? Easy - it's club level sections 234 - 237. Most rows in these sections are shaded by first pitch for a 1pm game. And by 3pm all seats in these sections are safely out of the sun. As an added bonus, you can escape to the indoor club when the weather us unbearable or when you're still waiting for your seats to become shaded.
A quick warning about club seats on the other side. Sections 214 - 227 are usually shaded for the first few innings (depending on the time of year). But these sections start to become very exposed as the day wears on. By 3 p.m. (the sixth inning for a 1 p.m. start), only the back few rows are still shaded.
How Do I Know If My Seats Will Be Shaded?
There are a number of factors that determine if your seats will be in the shade. Among these are the time of game and month of year. For example, there are sections in the outfield that rarely see sun in early April and late September. But in June and July, these are the sunniest seats in the ballpark.
To make things simple, purchase tickets in the highest row possible in your section. If you choose seats in a high row on the third base side, you'll never have to worry about the sun.
So which rows are high enough? Here's a quick list for 1pm games:
Sections 118 - 127: Row 36+
Sections 134 - 147: Rows 32+
Sections 214 - 227: Rows 11+
Sections 234 - 247: Rows 8+
Sections 315 - 330: Rows 23+
Sections 331 - 347 : Rows 19+
The rows listed above are shaded between 1 and 4 p.m. all year. Seats on the third base side will have more rows in the shade as the game moves along. For example, sections 331 - 347 are in the upper deck and sitting in rows 19 and above guarantees you shade. But if you don't mind sitting in the sun for an inning or two, you can sit in a lower row and wait for the sun to move and the shade to arrive.
Are the Outfield Seats Shaded?
There are some right field seats at Coors Field that are shaded at first pitch for a 1 p.m. game. However, use caution when purchasing tickets here. There's a good chance that by the third or fourth inning the sun starts shining on your knees. And an inning or two later you might find that your entire body is lit up by the sun. This frequently happens to fans at the front of sections 105 - 109 and 201 - 209.
There are only a few rows of seats in the outfield that are always shaded. As a result, we recommend that fans with sun sensitivity completely avoid this area.
If you're really adamant about sitting in the outfield, the following seats are your best bet for shade:
Sections 105 - 109: Rows 14+
Sections 205 - 209: Rows 12+
You can find more shade in sections 205 - 209 than what is listed - but be careful not to push the envelope for afternoon and evening games when these seats are drenched by the sun.
A Note About Shade During Night Games
The Rockies regularly play 6:40 p.m. games during the week. Although it might be tempting to ignore warnings about the sun for night games, there are some seats that are simply unbearable at this time. If you're sitting in sections 105 - 120 or 301 - 319 for a night game in June, July or August, do not forget a hat and sunglasses!