Bethel Woods Center for the Arts Reserved Seating
Features & Amenities
When looking at tickets for a Bethel Woods concert there are a few different options for reserved seating. Besides for the upscale Box Seats, numbered sections in the Pavilion have assigned seating.
Orchestra Sections

Bethel Woods features two levels of Orchestra seating. The first level includes Sections 1-5 which are the closest seats to the stage. Row AA is the first row in each section, directly followed by Row A.
For some concerts a general admission Pit is placed in front of Sections 1-5. When this is the case, the first row in these sections gets pushed back.
Sections 6-11 and 100 are the second tier of Orchestra seats. Sections at the center start at Row G behind the Box Seats and sections on the edge start at Row A.
All Orchestra sections are completely covered and well-shaded.
Bench Sections

Sections 12-18 are at the rear of the pavilion in front of the Lawn. These are the cheapest way to get a reserved seat under the roof. Among these, sections 16 and 18 are the last to be completely in the shade.
As the name suggests, seats in these sections are bench-style and not the stadium-style seats found in the rest of the venue.
Note: These seats are highlighted on the map
Interactive Seating Chart
Reserved Seating Seating Chart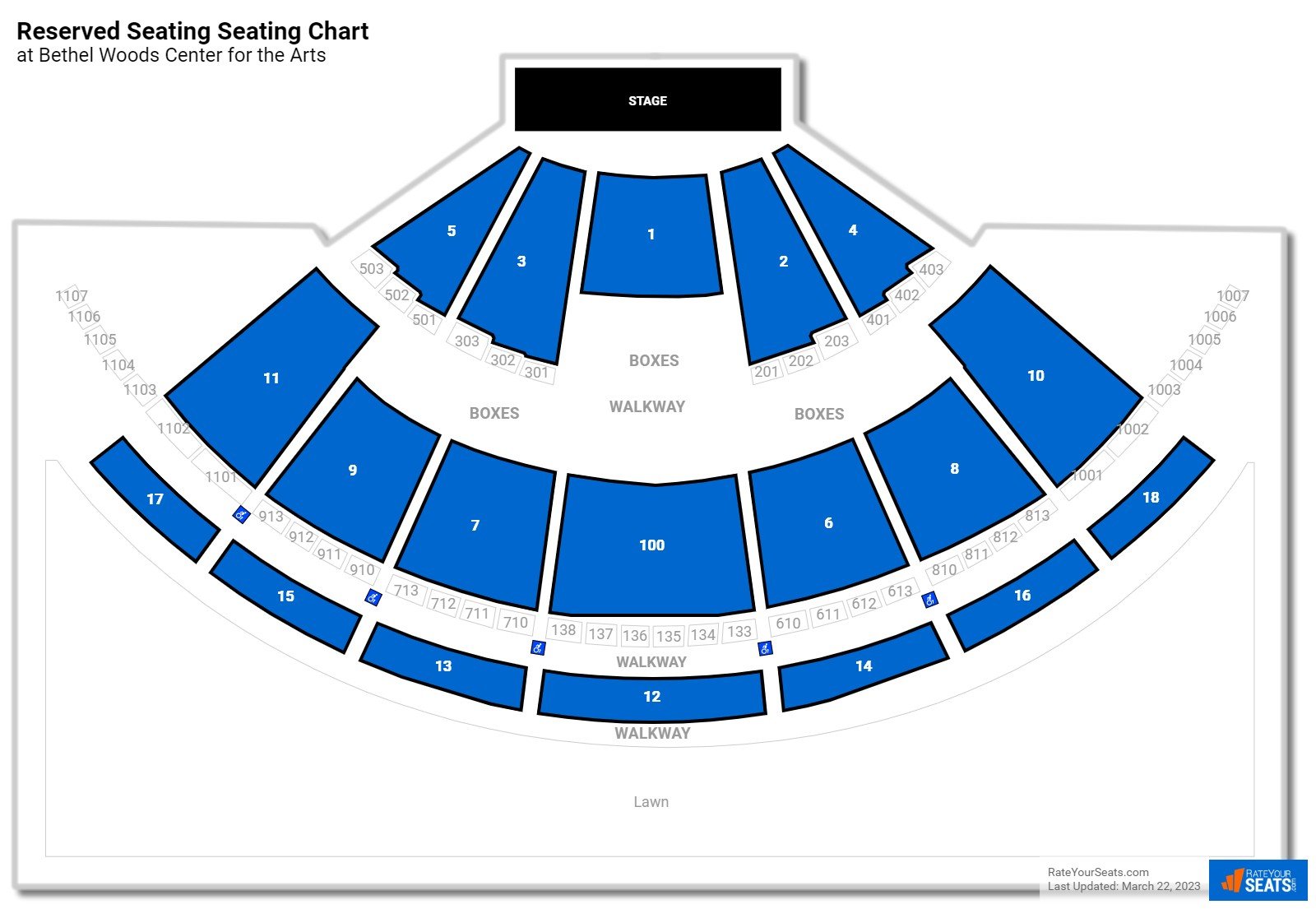 Reserved Seating Reviews
Ratings & Reviews From Similar Seats

"James Taylor - Jun 29, 2023"

(Section 5) - -

Was perfect.
More Seating at Bethel Woods Center for the Arts
Event Schedule
7Oct

The Big Sip - 2 Day Pass

Bethel Woods Center for the Arts - Bethel, NY

Saturday, October 7 at Time TBA

13Oct

Peace Love and Pumpkins

Bethel Woods Center for the Arts - Bethel, NY

Friday, October 13 at 6:30 PM

14Oct

Peace Love and Pumpkins

Bethel Woods Center for the Arts - Bethel, NY

Saturday, October 14 at 6:30 PM

15Oct

Peace Love and Pumpkins

Bethel Woods Center for the Arts - Bethel, NY

Sunday, October 15 at 6:30 PM

16Oct

Peace Love and Pumpkins

Bethel Woods Center for the Arts - Bethel, NY

Monday, October 16 at 6:30 PM

17Oct

Peace Love and Pumpkins

Bethel Woods Center for the Arts - Bethel, NY

Tuesday, October 17 at 6:30 PM

18Oct

Peace Love and Pumpkins

Bethel Woods Center for the Arts - Bethel, NY

Wednesday, October 18 at 6:30 PM

19Oct

Peace Love and Pumpkins

Bethel Woods Center for the Arts - Bethel, NY

Thursday, October 19 at 6:30 PM

21Oct

Peace Love and Pumpkins

Bethel Woods Center for the Arts - Bethel, NY

Saturday, October 21 at 6:30 PM

22Oct

Peace Love and Pumpkins

Bethel Woods Center for the Arts - Bethel, NY

Sunday, October 22 at 6:30 PM

23Oct

Peace Love and Pumpkins

Bethel Woods Center for the Arts - Bethel, NY

Monday, October 23 at 4:30 PM

23Oct

Peace Love and Pumpkins

Bethel Woods Center for the Arts - Bethel, NY

Monday, October 23 at 6:30 PM

24Oct

Peace Love and Pumpkins

Bethel Woods Center for the Arts - Bethel, NY

Tuesday, October 24 at 6:30 PM

25Oct

Peace Love and Pumpkins

Bethel Woods Center for the Arts - Bethel, NY

Wednesday, October 25 at 6:30 PM

26Oct

Peace Love and Pumpkins

Bethel Woods Center for the Arts - Bethel, NY

Thursday, October 26 at 6:30 PM

28Oct

Peace Love and Pumpkins

Bethel Woods Center for the Arts - Bethel, NY

Saturday, October 28 at 6:30 PM

29Oct

Peace Love and Pumpkins

Bethel Woods Center for the Arts - Bethel, NY

Sunday, October 29 at 6:30 PM

24Nov

Peace, Love and Lights

Bethel Woods Center for the Arts - Bethel, NY

Friday, November 24 at 5:00 PM

27Nov

Peace, Love and Lights

Bethel Woods Center for the Arts - Bethel, NY

Monday, November 27 at 5:00 PM

4Dec

Peace, Love and Lights

Bethel Woods Center for the Arts - Bethel, NY

Monday, December 4 at 5:00 PM

7Dec

Peace, Love and Lights

Bethel Woods Center for the Arts - Bethel, NY

Thursday, December 7 at 5:00 PM

9Dec

Peace, Love and Lights

Bethel Woods Center for the Arts - Bethel, NY

Saturday, December 9 at 5:00 PM

10Dec

Peace, Love and Lights

Bethel Woods Center for the Arts - Bethel, NY

Sunday, December 10 at 5:00 PM

11Dec

Peace, Love and Lights

Bethel Woods Center for the Arts - Bethel, NY

Monday, December 11 at 5:00 PM

14Dec

Peace, Love and Lights

Bethel Woods Center for the Arts - Bethel, NY

Thursday, December 14 at 5:00 PM

15Dec

Peace, Love and Lights

Bethel Woods Center for the Arts - Bethel, NY

Friday, December 15 at 5:00 PM

16Dec

Peace, Love and Lights

Bethel Woods Center for the Arts - Bethel, NY

Saturday, December 16 at 5:00 PM

17Dec

Peace, Love and Lights

Bethel Woods Center for the Arts - Bethel, NY

Sunday, December 17 at 5:00 PM

17Dec

Gingerbread Build and Sip

Bethel Woods Center for the Arts - Bethel, NY

Sunday, December 17 at 6:30 PM

18Dec

Peace, Love and Lights

Bethel Woods Center for the Arts - Bethel, NY

Monday, December 18 at 5:00 PM

19Dec

Peace, Love and Lights

Bethel Woods Center for the Arts - Bethel, NY

Tuesday, December 19 at 5:00 PM

20Dec

Peace, Love and Lights

Bethel Woods Center for the Arts - Bethel, NY

Wednesday, December 20 at 5:00 PM

21Dec

Peace, Love and Lights

Bethel Woods Center for the Arts - Bethel, NY

Thursday, December 21 at 5:00 PM

21Dec

Santas Enchanted Workshop

Bethel Woods Center for the Arts - Bethel, NY

Thursday, December 21 at 5:00 PM

22Dec

Peace, Love and Lights

Bethel Woods Center for the Arts - Bethel, NY

Friday, December 22 at 5:00 PM

23Dec

Peace, Love and Lights

Bethel Woods Center for the Arts - Bethel, NY

Saturday, December 23 at 5:00 PM

24Dec

Peace, Love and Lights

Bethel Woods Center for the Arts - Bethel, NY

Sunday, December 24 at 5:00 PM

25Dec

Peace, Love and Lights

Bethel Woods Center for the Arts - Bethel, NY

Monday, December 25 at 5:00 PM

26Dec

Peace, Love and Lights

Bethel Woods Center for the Arts - Bethel, NY

Tuesday, December 26 at 5:00 PM

27Dec

Peace, Love and Lights

Bethel Woods Center for the Arts - Bethel, NY

Wednesday, December 27 at 5:00 PM

28Dec

Peace, Love and Lights

Bethel Woods Center for the Arts - Bethel, NY

Thursday, December 28 at 5:00 PM

29Dec

Peace, Love and Lights

Bethel Woods Center for the Arts - Bethel, NY

Friday, December 29 at 5:00 PM

30Dec

Peace, Love and Lights

Bethel Woods Center for the Arts - Bethel, NY

Saturday, December 30 at 5:00 PM