Box Seats at Bethel Woods Center for the Arts
Features & Amenities
Box Seats at Bethel Woods Center are located at the back of each section in the Pavilion. To find where your Box is located, look at the first two digits of the Box on your ticket. For example, Box 403 is directly behind Section 4, while Box 1002 is behind Section 10 (Boxes 133-138 are an exception; they're behind Section 100).
Boxes are semi-private areas that contain space for 4-6 chairs. If you purchase two tickets in a box you may be sharing it with a stranger. Boxes have a ledge or table to place drinks, concessions and other personal items.
At most shows Box Seats come with perks like in-seat wait service and access to the VIP Club Area. The club space features upscale menu items, a lounge area and full bar. These benefits aren't included with all tickets so be sure to read the seller notes for more information.
Additional Box seating is available in the center of the Pavilion but tickets in these areas are primarily made available to season-long Bethel Woods members.
Note: These seats are highlighted on the map
Interactive Seating Chart
Box Seats Seating Chart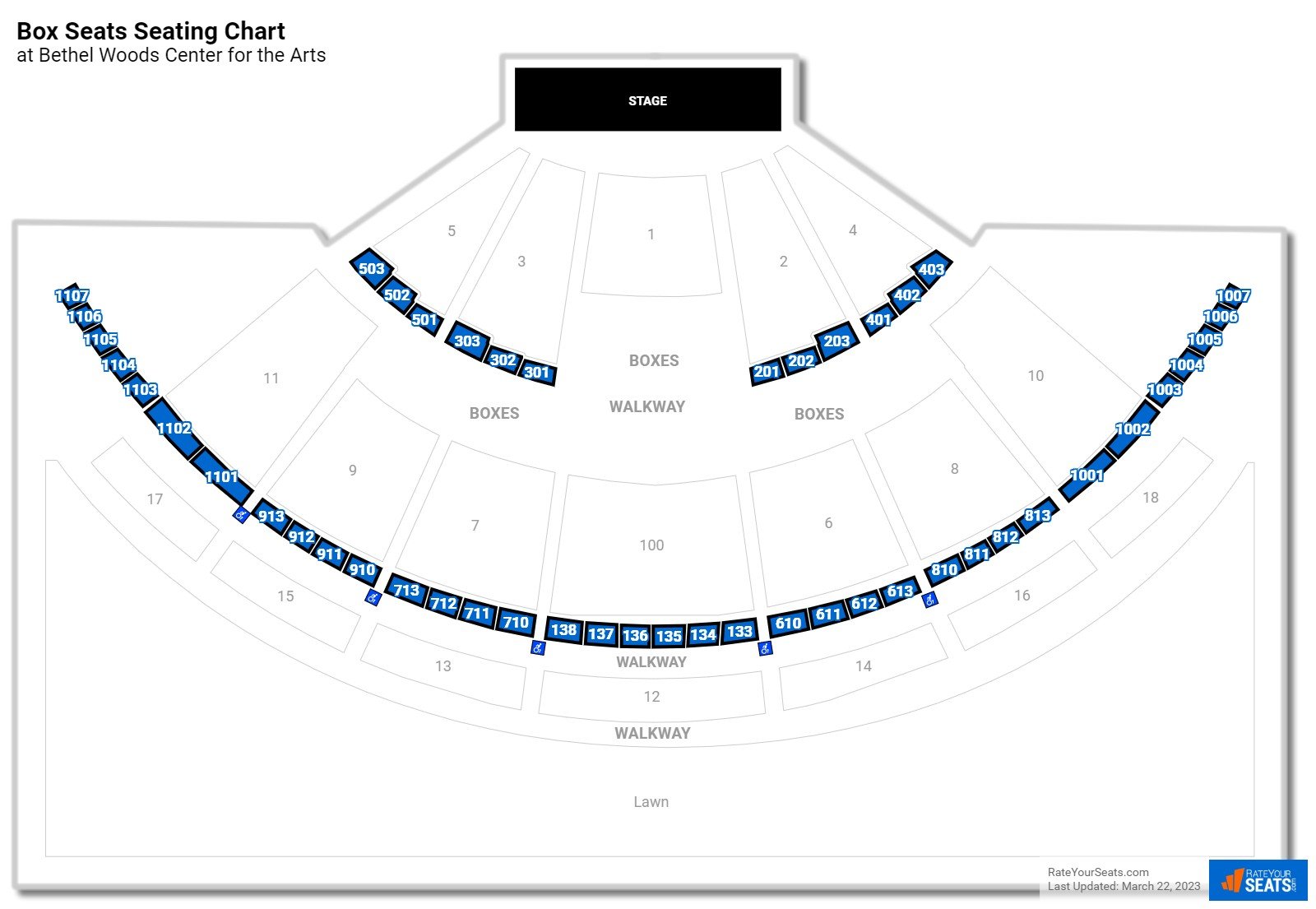 More Seating at Bethel Woods Center for the Arts
Event Schedule
The Big Sip - 2 Day Pass

Bethel Woods Center for the Arts - Bethel, NY

Saturday, October 7 at Time TBA

Peace Love and Pumpkins

Bethel Woods Center for the Arts - Bethel, NY

Friday, October 13 at 6:30 PM

Peace Love and Pumpkins

Bethel Woods Center for the Arts - Bethel, NY

Saturday, October 14 at 6:30 PM

Peace Love and Pumpkins

Bethel Woods Center for the Arts - Bethel, NY

Sunday, October 15 at 6:30 PM

Peace Love and Pumpkins

Bethel Woods Center for the Arts - Bethel, NY

Monday, October 16 at 6:30 PM

Peace Love and Pumpkins

Bethel Woods Center for the Arts - Bethel, NY

Tuesday, October 17 at 6:30 PM

Peace Love and Pumpkins

Bethel Woods Center for the Arts - Bethel, NY

Wednesday, October 18 at 6:30 PM

Peace Love and Pumpkins

Bethel Woods Center for the Arts - Bethel, NY

Thursday, October 19 at 6:30 PM

Peace Love and Pumpkins

Bethel Woods Center for the Arts - Bethel, NY

Saturday, October 21 at 6:30 PM

Peace Love and Pumpkins

Bethel Woods Center for the Arts - Bethel, NY

Sunday, October 22 at 6:30 PM

Peace Love and Pumpkins

Bethel Woods Center for the Arts - Bethel, NY

Monday, October 23 at 4:30 PM

Peace Love and Pumpkins

Bethel Woods Center for the Arts - Bethel, NY

Monday, October 23 at 6:30 PM

Peace Love and Pumpkins

Bethel Woods Center for the Arts - Bethel, NY

Tuesday, October 24 at 6:30 PM

Peace Love and Pumpkins

Bethel Woods Center for the Arts - Bethel, NY

Wednesday, October 25 at 6:30 PM

Peace Love and Pumpkins

Bethel Woods Center for the Arts - Bethel, NY

Thursday, October 26 at 6:30 PM

Peace Love and Pumpkins

Bethel Woods Center for the Arts - Bethel, NY

Saturday, October 28 at 6:30 PM

Peace Love and Pumpkins

Bethel Woods Center for the Arts - Bethel, NY

Sunday, October 29 at 6:30 PM

Peace, Love and Lights

Bethel Woods Center for the Arts - Bethel, NY

Friday, November 24 at 5:00 PM

Peace, Love and Lights

Bethel Woods Center for the Arts - Bethel, NY

Monday, November 27 at 5:00 PM

Peace, Love and Lights

Bethel Woods Center for the Arts - Bethel, NY

Monday, December 4 at 5:00 PM

Peace, Love and Lights

Bethel Woods Center for the Arts - Bethel, NY

Thursday, December 7 at 5:00 PM

Peace, Love and Lights

Bethel Woods Center for the Arts - Bethel, NY

Saturday, December 9 at 5:00 PM

Peace, Love and Lights

Bethel Woods Center for the Arts - Bethel, NY

Sunday, December 10 at 5:00 PM

Peace, Love and Lights

Bethel Woods Center for the Arts - Bethel, NY

Monday, December 11 at 5:00 PM

Peace, Love and Lights

Bethel Woods Center for the Arts - Bethel, NY

Thursday, December 14 at 5:00 PM

Peace, Love and Lights

Bethel Woods Center for the Arts - Bethel, NY

Friday, December 15 at 5:00 PM

Peace, Love and Lights

Bethel Woods Center for the Arts - Bethel, NY

Saturday, December 16 at 5:00 PM

Peace, Love and Lights

Bethel Woods Center for the Arts - Bethel, NY

Sunday, December 17 at 5:00 PM

Gingerbread Build and Sip

Bethel Woods Center for the Arts - Bethel, NY

Sunday, December 17 at 6:30 PM

Peace, Love and Lights

Bethel Woods Center for the Arts - Bethel, NY

Monday, December 18 at 5:00 PM

Peace, Love and Lights

Bethel Woods Center for the Arts - Bethel, NY

Tuesday, December 19 at 5:00 PM

Peace, Love and Lights

Bethel Woods Center for the Arts - Bethel, NY

Wednesday, December 20 at 5:00 PM

Peace, Love and Lights

Bethel Woods Center for the Arts - Bethel, NY

Thursday, December 21 at 5:00 PM

Santas Enchanted Workshop

Bethel Woods Center for the Arts - Bethel, NY

Thursday, December 21 at 5:00 PM

Peace, Love and Lights

Bethel Woods Center for the Arts - Bethel, NY

Friday, December 22 at 5:00 PM

Peace, Love and Lights

Bethel Woods Center for the Arts - Bethel, NY

Saturday, December 23 at 5:00 PM

Peace, Love and Lights

Bethel Woods Center for the Arts - Bethel, NY

Sunday, December 24 at 5:00 PM

Peace, Love and Lights

Bethel Woods Center for the Arts - Bethel, NY

Monday, December 25 at 5:00 PM

Peace, Love and Lights

Bethel Woods Center for the Arts - Bethel, NY

Tuesday, December 26 at 5:00 PM

Peace, Love and Lights

Bethel Woods Center for the Arts - Bethel, NY

Wednesday, December 27 at 5:00 PM

Peace, Love and Lights

Bethel Woods Center for the Arts - Bethel, NY

Thursday, December 28 at 5:00 PM

Peace, Love and Lights

Bethel Woods Center for the Arts - Bethel, NY

Friday, December 29 at 5:00 PM

Peace, Love and Lights

Bethel Woods Center for the Arts - Bethel, NY

Saturday, December 30 at 5:00 PM