Bethel Woods Center for the Arts Lawn Seats
Features & Amenities
The Lawn Seats at Bethel Woods are open-air and open seating. Ticketholders are encouraged to arrive early in order to secure the best spots on the grass. Pillars supporting the pavilion roof cause obstructed views in some lawn locations so you'll want to choose a spot that has a clear siteline. The lawn is very well sloped so you can find good seats in both the front and the back.
Blankets, factory-sealed bottled water soft-sided coolers and small umbrellas are among the items that are allowed on the lawn. Lawn chairs, on the other hand, must be left at home. They are available for rental from the venue on the day of the show for a fee.
While nothing will capture the magic of Woodstock, the Lawn at Bethel Woods can get pretty amped up if the right band is playing and the weather complies. Expect a good time and a cheaper ticket price.
Note: These seats are highlighted on the map
Interactive Seating Chart
Lawn Seats Seating Chart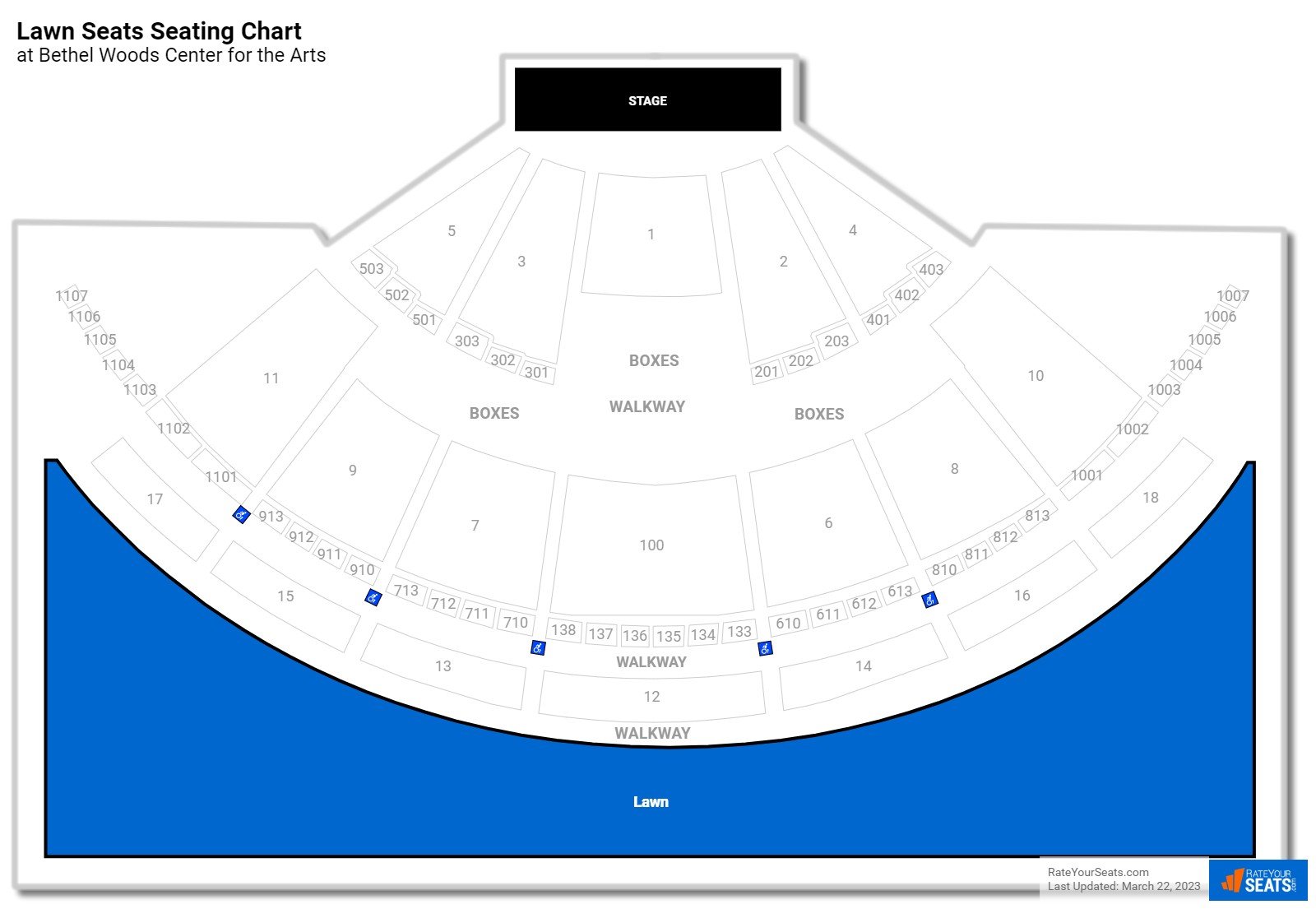 More Seating at Bethel Woods Center for the Arts
Event Schedule
The Big Sip - 2 Day Pass

Bethel Woods Center for the Arts - Bethel, NY

Saturday, October 7 at Time TBA

Peace Love and Pumpkins

Bethel Woods Center for the Arts - Bethel, NY

Friday, October 13 at 6:30 PM

Peace Love and Pumpkins

Bethel Woods Center for the Arts - Bethel, NY

Saturday, October 14 at 6:30 PM

Peace Love and Pumpkins

Bethel Woods Center for the Arts - Bethel, NY

Sunday, October 15 at 6:30 PM

Peace Love and Pumpkins

Bethel Woods Center for the Arts - Bethel, NY

Monday, October 16 at 6:30 PM

Peace Love and Pumpkins

Bethel Woods Center for the Arts - Bethel, NY

Tuesday, October 17 at 6:30 PM

Peace Love and Pumpkins

Bethel Woods Center for the Arts - Bethel, NY

Wednesday, October 18 at 6:30 PM

Peace Love and Pumpkins

Bethel Woods Center for the Arts - Bethel, NY

Thursday, October 19 at 6:30 PM

Peace Love and Pumpkins

Bethel Woods Center for the Arts - Bethel, NY

Saturday, October 21 at 6:30 PM

Peace Love and Pumpkins

Bethel Woods Center for the Arts - Bethel, NY

Sunday, October 22 at 6:30 PM

Peace Love and Pumpkins

Bethel Woods Center for the Arts - Bethel, NY

Monday, October 23 at 4:30 PM

Peace Love and Pumpkins

Bethel Woods Center for the Arts - Bethel, NY

Monday, October 23 at 6:30 PM

Peace Love and Pumpkins

Bethel Woods Center for the Arts - Bethel, NY

Tuesday, October 24 at 6:30 PM

Peace Love and Pumpkins

Bethel Woods Center for the Arts - Bethel, NY

Wednesday, October 25 at 6:30 PM

Peace Love and Pumpkins

Bethel Woods Center for the Arts - Bethel, NY

Thursday, October 26 at 6:30 PM

Peace Love and Pumpkins

Bethel Woods Center for the Arts - Bethel, NY

Saturday, October 28 at 6:30 PM

Peace Love and Pumpkins

Bethel Woods Center for the Arts - Bethel, NY

Sunday, October 29 at 6:30 PM

Peace, Love and Lights

Bethel Woods Center for the Arts - Bethel, NY

Friday, November 24 at 5:00 PM

Peace, Love and Lights

Bethel Woods Center for the Arts - Bethel, NY

Monday, November 27 at 5:00 PM

Peace, Love and Lights

Bethel Woods Center for the Arts - Bethel, NY

Monday, December 4 at 5:00 PM

Peace, Love and Lights

Bethel Woods Center for the Arts - Bethel, NY

Thursday, December 7 at 5:00 PM

Peace, Love and Lights

Bethel Woods Center for the Arts - Bethel, NY

Saturday, December 9 at 5:00 PM

Peace, Love and Lights

Bethel Woods Center for the Arts - Bethel, NY

Sunday, December 10 at 5:00 PM

Peace, Love and Lights

Bethel Woods Center for the Arts - Bethel, NY

Monday, December 11 at 5:00 PM

Peace, Love and Lights

Bethel Woods Center for the Arts - Bethel, NY

Thursday, December 14 at 5:00 PM

Peace, Love and Lights

Bethel Woods Center for the Arts - Bethel, NY

Friday, December 15 at 5:00 PM

Peace, Love and Lights

Bethel Woods Center for the Arts - Bethel, NY

Saturday, December 16 at 5:00 PM

Peace, Love and Lights

Bethel Woods Center for the Arts - Bethel, NY

Sunday, December 17 at 5:00 PM

Gingerbread Build and Sip

Bethel Woods Center for the Arts - Bethel, NY

Sunday, December 17 at 6:30 PM

Peace, Love and Lights

Bethel Woods Center for the Arts - Bethel, NY

Monday, December 18 at 5:00 PM

Peace, Love and Lights

Bethel Woods Center for the Arts - Bethel, NY

Tuesday, December 19 at 5:00 PM

Peace, Love and Lights

Bethel Woods Center for the Arts - Bethel, NY

Wednesday, December 20 at 5:00 PM

Peace, Love and Lights

Bethel Woods Center for the Arts - Bethel, NY

Thursday, December 21 at 5:00 PM

Santas Enchanted Workshop

Bethel Woods Center for the Arts - Bethel, NY

Thursday, December 21 at 5:00 PM

Peace, Love and Lights

Bethel Woods Center for the Arts - Bethel, NY

Friday, December 22 at 5:00 PM

Peace, Love and Lights

Bethel Woods Center for the Arts - Bethel, NY

Saturday, December 23 at 5:00 PM

Peace, Love and Lights

Bethel Woods Center for the Arts - Bethel, NY

Sunday, December 24 at 5:00 PM

Peace, Love and Lights

Bethel Woods Center for the Arts - Bethel, NY

Monday, December 25 at 5:00 PM

Peace, Love and Lights

Bethel Woods Center for the Arts - Bethel, NY

Tuesday, December 26 at 5:00 PM

Peace, Love and Lights

Bethel Woods Center for the Arts - Bethel, NY

Wednesday, December 27 at 5:00 PM

Peace, Love and Lights

Bethel Woods Center for the Arts - Bethel, NY

Thursday, December 28 at 5:00 PM

Peace, Love and Lights

Bethel Woods Center for the Arts - Bethel, NY

Friday, December 29 at 5:00 PM

Peace, Love and Lights

Bethel Woods Center for the Arts - Bethel, NY

Saturday, December 30 at 5:00 PM