Visitor Section at Ben Hill Griffin Stadium
In the north endzone, visiting team fans can find seats designated for the opponents in the upper rows of sections 318-329.
On the lower tier near at the south east corner, designated visitor seating is found in the first 19 rows of sections A and B.
The closest designated visiting team seating to the opponent sideline is located in the front rows of sections 36, 38, and 40. All seats in the lower rows of sections 36 and 38 will be for the visitors, while the same can be said for only for the seats on the right side of section 40 (seat numbers 15 and higher).
Upper tier sections 47 and 49 behind the south endzone feature designated seating for visiting team fans in rows 59 and higher. Additional nearby visitor seating options are also available in similar rows of section 51, however only in the higher numbered seats (26 and above).
Visitor seating can be found in all seating rows of section 45. Additional nearby options for opponent fans can also be found on the left side of section 43 (seat numbers 1-14), as well as the left side of section 44 (seat numbers 1-26).
Note: These seats are highlighted on the map
Interactive Seating Chart
Visitor Section Seating Chart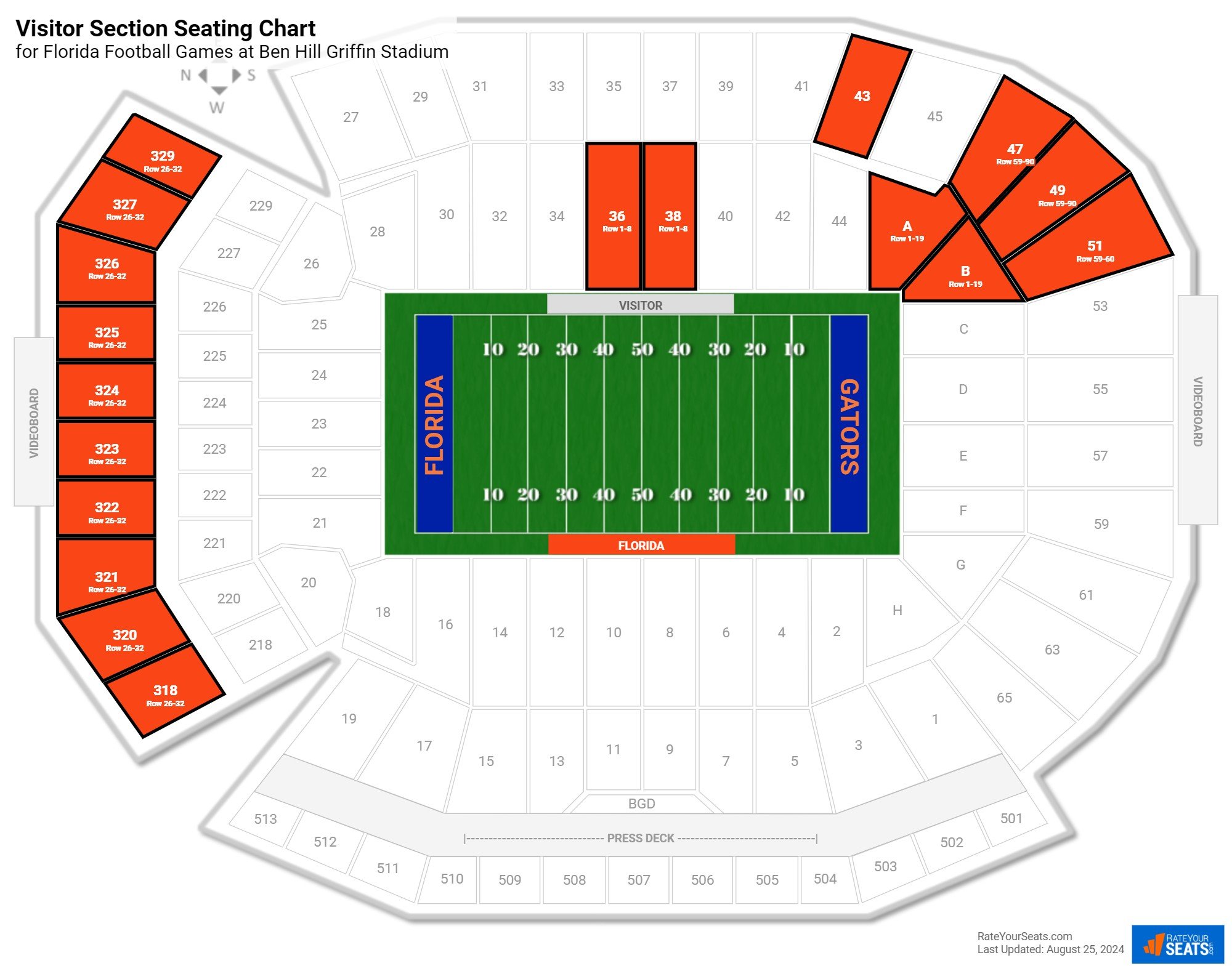 Visitor Section Reviews
Ratings & Reviews From Similar Seats

"Seats are ok, had hip replacement causing issues"

(Section 325) - -

We are season ticket holders and have been for years, but my husband has had hip replacement, and minor heart issues, so We'd like to find seats in the south endzone. Is there a handicap elevator there? We prefer upper deck, not in front of the big speakers. We're kinda old school and don't care fo...

"Vanderbilt Commodores at Florida Gators - Nov 9, 2019"

(Section 45) -

"Vanderbilt Commodores at Florida Gators - Nov 9, 2019"

(Section 36) -
More Seating at Ben Hill Griffin Stadium