Club Level at Arrowhead Stadium
Features & Amenities
Club Level seating gives ticketholders access to premium amenities not available anywhere else at Arrowhead Stadium. Consisting of the Sideline Select, Redzone, and Touchdown Zone Club seating areas on the second level of Arrowhead Stadium, fans will find seats situated at an ideal elevation for the best sitelines. In addition to premier amenities and great views, most club level seats are covered - providing protection in the case of hot temperatures, rain or wind. Club Level ticketholders will enjoy early access to the stadium on gameday (2.5 hours prior to kickoff), private entry and escalator access and resort-style restrooms. The club level includes upscale food and beverage options with premium liquor available and a climate-controlled space with lounges, bars, and high definition monitors with NFL Sunday Ticket. Finally, concierge desks are available throughout the club level for game day assistance and to help you feel like a VIP.
Amenities available for Chiefs home games. For other events, some amenities may not be available or offered.
Please note: Due to health and safety protocols in 2021, food availability, club access, wait service and other amenities are subject to change without notice.
Note: These seats are highlighted on the map
Interactive Seating Chart
Club Level Seating Chart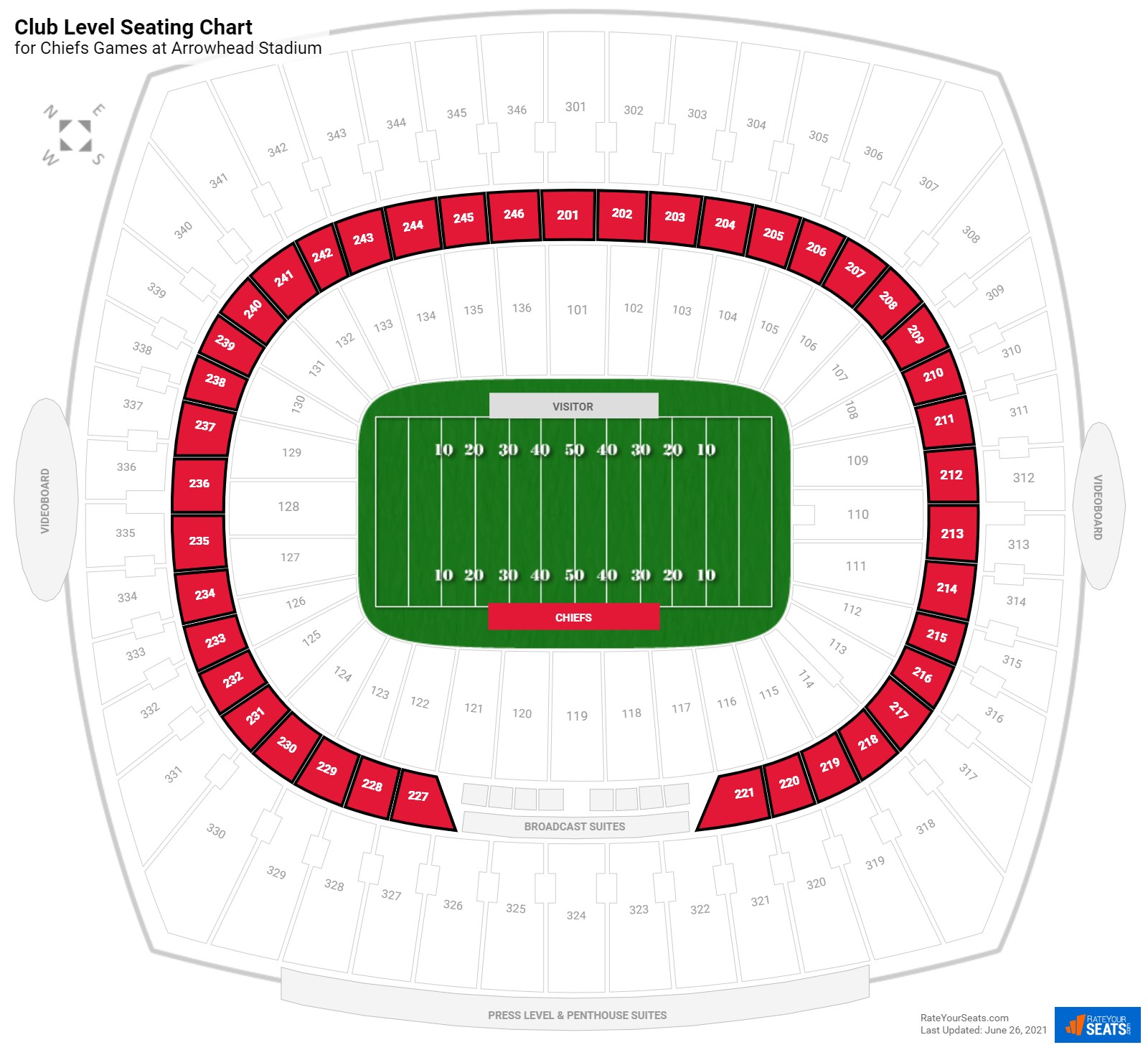 More Seating at Arrowhead Stadium
Event Schedule
27Aug

NFL Preseason - Minnesota Vikings at Kansas City Chiefs

Arrowhead Stadium - Kansas City, MO

Friday, August 27 at 7:00 PM

12Sep

Cleveland Browns at Kansas City Chiefs

Arrowhead Stadium - Kansas City, MO

Sunday, September 12 at 3:25 PM

26Sep

Los Angeles Chargers at Kansas City Chiefs

Arrowhead Stadium - Kansas City, MO

Sunday, September 26 at 12:00 PM

10Oct

Buffalo Bills at Kansas City Chiefs

Arrowhead Stadium - Kansas City, MO

Sunday, October 10 at 7:20 PM

1Nov

New York Giants at Kansas City Chiefs

Arrowhead Stadium - Kansas City, MO

Monday, November 1 at 7:15 PM

7Nov

Green Bay Packers at Kansas City Chiefs

Arrowhead Stadium - Kansas City, MO

Sunday, November 7 at 3:25 PM

21Nov

Dallas Cowboys at Kansas City Chiefs

Arrowhead Stadium - Kansas City, MO

Sunday, November 21 at 3:25 PM

5Dec

Denver Broncos at Kansas City Chiefs

Arrowhead Stadium - Kansas City, MO

Sunday, December 5 at 12:00 PM

12Dec

Las Vegas Raiders at Kansas City Chiefs

Arrowhead Stadium - Kansas City, MO

Sunday, December 12 at 12:00 PM