Arrowhead Stadium 300 Level
Features & Amenities
A majority of the seating at Arrowhead Stadium is in the massive 300-Level. The largest sections are along the sidelines and corners, with between 42 to 46 rows of seating.
300-Level Highlights

Rows 1-3 are in front of the tunnel

Closer views
Fewer steps to seats
Less fan traffic to block view

East side will see more sun
Endzone sections (310-315; 333-338)

Less seats with only 15-20 rows

Recommendations
We recommend sitting within the first ten rows in any upper deck section - even if you have to spend more money or sacrifice a sideline view.
The lower rows are so much closer to the field and so much closer to concessions and restrooms that it's worth the trade-off.
Note: These seats are highlighted on the map
Interactive Seating Chart
300 Level Seating Chart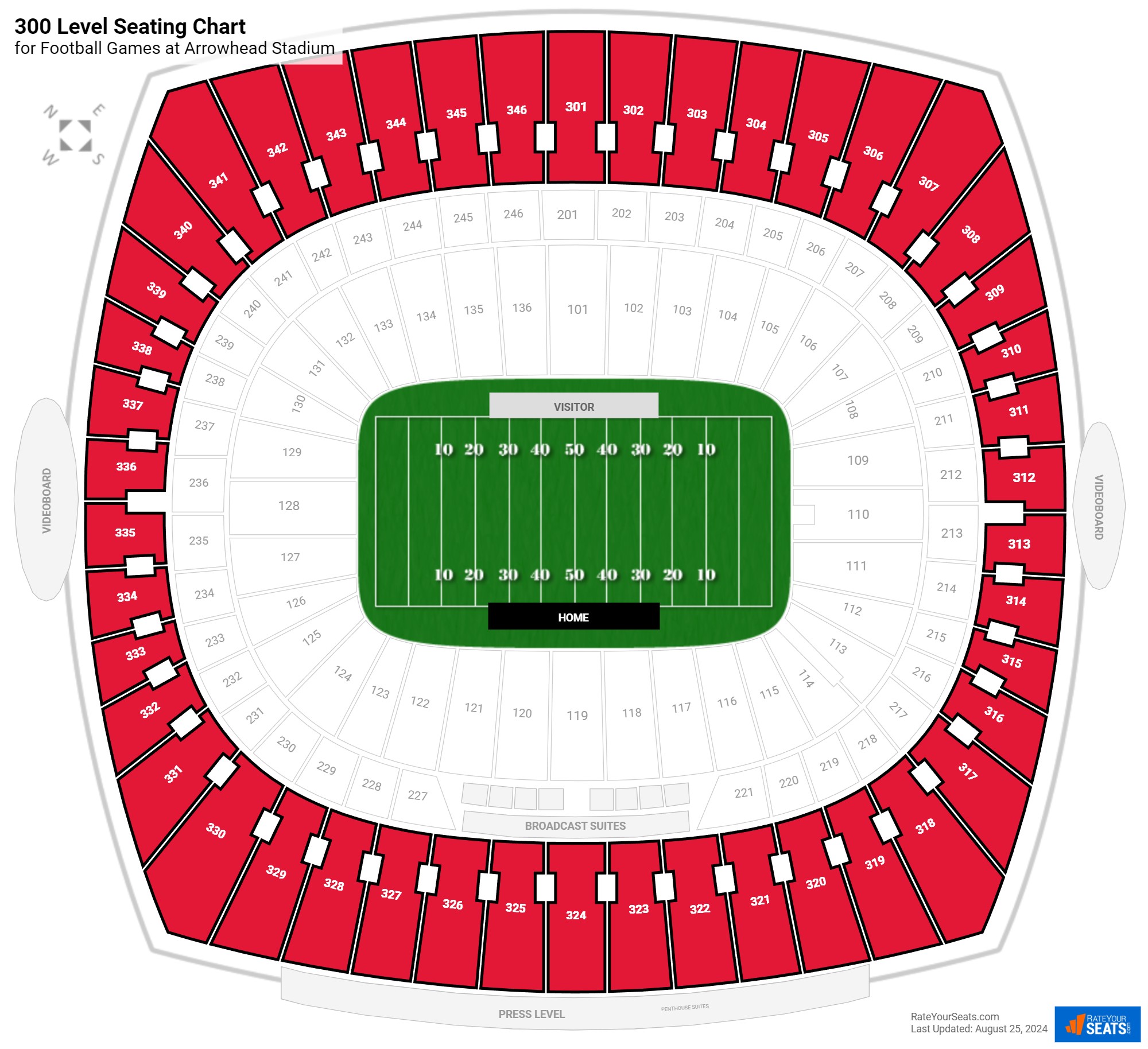 300 Level Reviews
Ratings & Reviews From Similar Seats

"Season Tickets 2013"

(Section 327) - -

Last year I was in section 309. This year section 327 which is on the chief side and out of the sun (priceless). Good view around the 20 yard line so see good action from the 40 on in. The other side of the 40 is still good. I am right at an exit and the two big food centers. Food sucks at the stadi...

"Great view, on the aisle"

(Section 343) - -

Great view of the field. Close to restrooms and concessions. On the aisle. Great seat neighbors.

"Close to overhang "

(Section 327) -
More Seating at Arrowhead Stadium