Finding Shaded and Covered Seating
With an average temperature near 85 degrees in the month of September, Columbia, SC, is one of the hottest college football cities during the first month of the season. While W-B Stadium has a number of seating areas that are protected from the heat and rain, most of these are club seats.
The 100 and 400 level seats at Williams-Brice Stadium are simply called "Covered Club". This is a fairly accurate description of these areas, as the overhang extends out above most of these sections. However, the first three rows of sections 101-109 are still exposed to the elements and may get wet on a rainy day. Other covered club sections include 201-209, which also have other titles like Champions Club and Executive Club.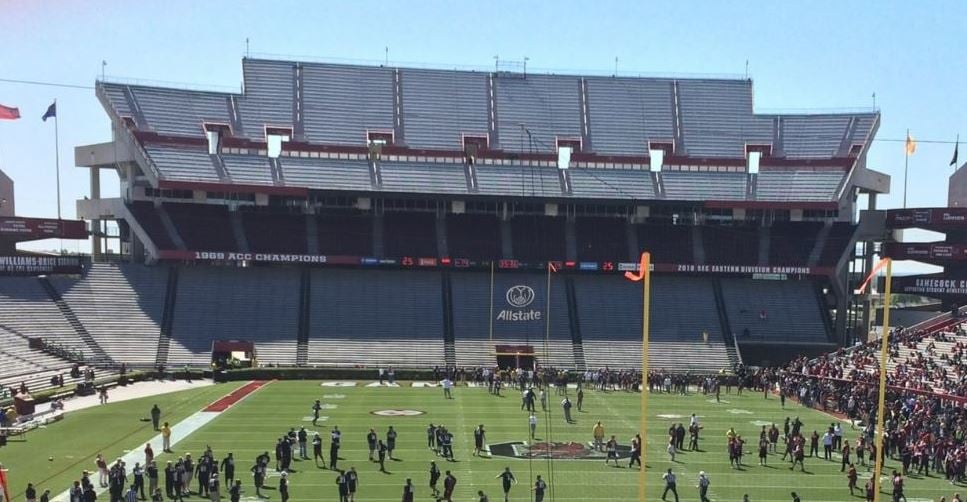 The Zone Club, which includes sections 801-812, is one of the most prestigious areas in the stadium and includes 13 rows of fully-covered seating in each section.
As for the rest of the stadium, sections 10-14 do receive cover from the over-hanging 800 deck. Specifically, rows 32 and above are covered and will keep you dry.
Best Seats for Shade
If you're after shaded seats, the 100, 200 and 800 clubs are your best bet. Located on the south and west sides of the field, respectively, the cover above these sections provides the best stadium shade.
For fans seated on the 400 level, it's best to avoid the first 5-6 rows. While the seats are covered, the sun will find its way into the front rows - especially in sections 413-419.
Among non-club seating, sections 1-14 receive shade the earliest. For your best chance at relief, choose a seat in the highest-possible row - especially for a noon kickoff.