Finding the Best Tickets for U2's iNNOCENCE + eXPERIENCE Tour
U2 starts the first leg of their Innocence and Experience Tour in Vancouver on May 14. The band will visit 36 cities in North America to support the release of their thirteenth studio album. Each stop on this tour has a unique seating chart that m​ay leave some wondering where the best seats are. We've provided an overview of these setups to help fans find the right seats in every venue.
Published April 3, 2015
Photo Credit: adapted from Wikipedia

Due to the high demand for tickets, U2 will perform for at least two nights in each city on their upcoming tour, and up to a whopping eight shows in some cities, like New York. They have also transformed each arena to fit even more fans, with a rectangular stage spanning the length of the floor and seating available on all sides.
A Different Setup Offers More Unobstructed Views
This center stage setup makes for some unexpected views from sections that would usually be blocked because of their location behind the stage. For example, U2 uses this setup for four shows at Boston's TD Garden in July, and sections 16-19 and 320-327, which would ordinarily be behind the stage, now have side views.
It should be noted, however, that even though some views are no longer obstructed, they will still not have head-on views of the stage. Also, some sections that usually do face the stage, will now have side views, like sections 5-8 and 306-311 at the TD Garden.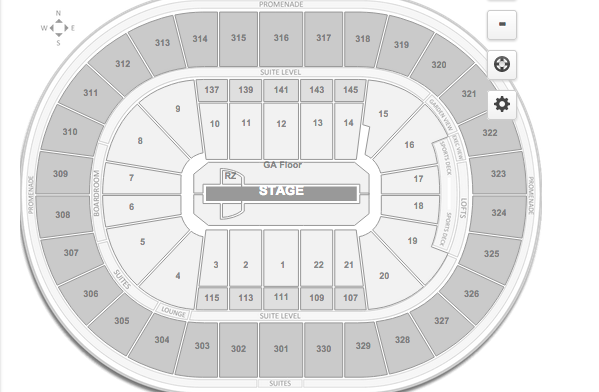 Photo Credit: Rateyourseats.com

Best Reserved Seating Options
Luckily, the setup creates more options for reserved seating that do directly face the stage. Since seating is available on all four sides of the stage, sections located in the center of the raised side levels will have the best views of the performance from reserved seats. This includes sections like 101, 111, 112 and 122 at the United Center, where U2 plays for a total of five nights this summer.
(RED) Zone Tickets
For the absolute best views of U2, fans will want a ticket for one of the (RED) Zones, two small barricaded sections adjacent to each side of the stage. Ticket holders for these sections will have a VIP Entrance to the venue, access to an exclusive refreshment stand, and have a chance to win a pre-show backstage tour.
(RED) Zone tickets are the most expensive seating option at up to $4,000, but are sure to deliver a memorable experience. A portion of the ticket proceeds also supports (RED) and the Global Fund to fight Aids in Africa.
Better Views at a Better Price
Fans who want to be as close to the stage as possible, without spending thousands of dollars, can find great views in the General Admission floor section. This section surrounds the entire stage and allows many fans to get close to the band, but is standing room only and first come, first serve. Ticket holders will want to arrive up to a few hours before the concert to get a good spot.

Photo Credit: adapted from WIkimedia

Every stop on the North American leg of the iNNOCENCE + eXPERIENCE Tour will feature this center-stage seating chart. Fans can visit http://rateyourseats.com/tickets/u2 for a full list of concert dates and to purchase tickets.
---

Tickets for all shows are available now at RateYourSeats.com or through the T!ckets App