Tim McGraw and Faith Hill - Soul2Soul Tour
After a ten-year layoff from touring together, husband and wife superstars Tim McGraw and Faith Hill have announced one of the largest tours of 2017. Discover tour dates near you, learn about the stage setup and find the best seats for the Soul2Soul Tour.
Published October 28, 2016
Venues and Tour Schedule
The Soul2Soul Tour is one of the largest tours in recent memory. Currently, the tour is scheduled to make 68 stops beginning April 7th in New Orleans (Smoothie King Center) and concluding October 27th in Brooklyn (Barclays Center).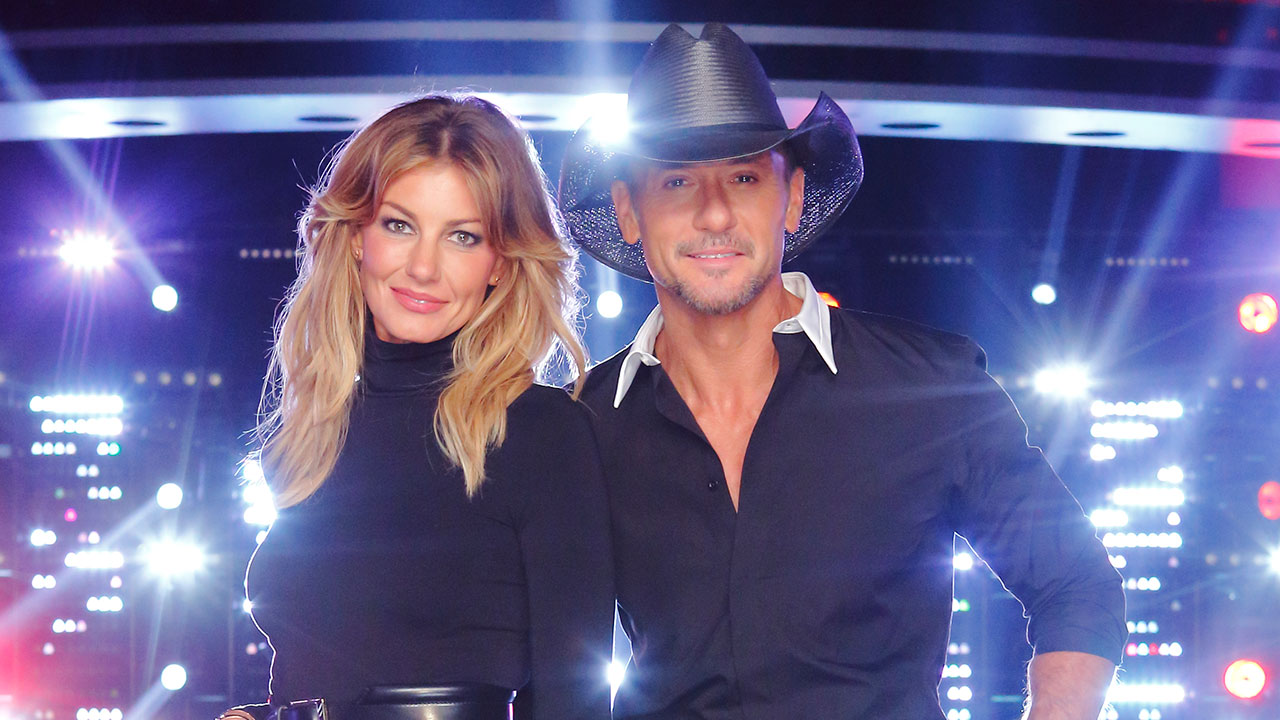 Photo Credit: etonline.com

While some of the biggest acts of 2016 made long residences at a select number of cities (we're looking at you, Adele), Tim and Faith are doing all the traveling themselves and getting as close to your hometown as possible. They'll do two shows in five different cities (Minneapolis, Nashville, L.A., Uncasville, CT, Bozeman, MT), and are visiting a number of smaller cities that barely register on the radar for most artists. For example, the second show of the tour is at BancSouth Arena in Tupelo, MS - a town of just 35,000 people. The similarly sized cities of Bozeman, MT (two shows) and Moline, IL, will also see a visit. Meanwhile, fans in Southern California will have their choice of seeing the pair in Bakersfield, Fresno, Ontario, L.A. or San Diego.
Although ticket prices for the tour begin at about $90, the wide array of cities being visited is helping to keep ticket prices relatively modest when compared to other artists (see, again, Adele in 2016).
Seating and Stage Layout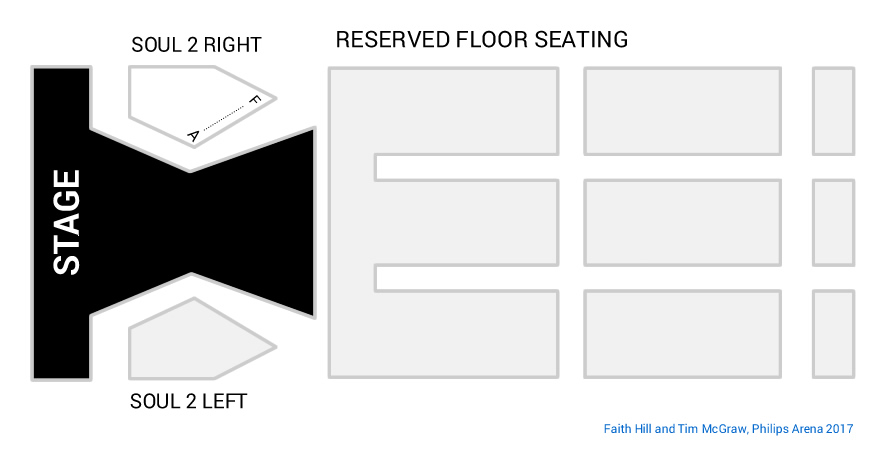 For nearly every show, the seating arrangement is a standard end-stage setup with a reserved floor. There is; however, one small wrinkle when compared to most traditional setups. The stage is larger than usual and is shaped with a small hourglass runway/catwalk. Within the notches of the hourglass are two reserved floor sections that are being sold as the most expensive tickets on the tour.
Soul 2 Left and Soul 2 Right
The small floor sections near the stage are labeled as Soul 2 Left and Soul 2 Right at most venues (some venues are using traditional floor numbering instead). These intimate sections are placed just mere feet from the stage and typically include just six rows of seating. For example, at Philips Arena in Atlanta, these sections have rows A-F with row A being the absolute closest row to the stage. Given the exclusivity of these seats, they are rarely available and are being listed for $500+ when offered for sale.
VIP Tickets and Packages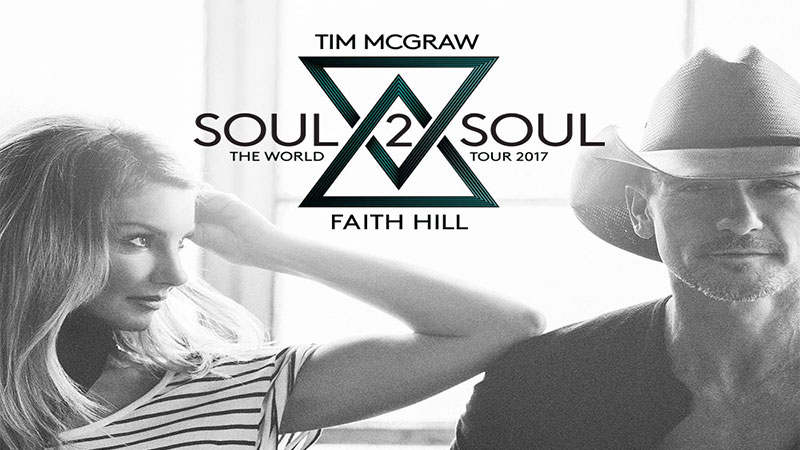 Photo Credit: faithhill.com
A number of ticket packages are being offered for the Soul2Soul Tour. There are four different levels of packages, ranging from Silver and Gold to Signature and Ultimate. For the two lower-priced options, fans will receive small gifts including a lithograph and tour lanyard - in addition to reserved tickets. For the more expensive packages, guests will have access to a private Soul2Soul Lounge with dinner buffet, full bar and a private entrance. The best tickets for the tour are also being reserved for guests who purchase one of these packages.
For fans who purchase the Ultimate package, they'll receive all the benefits of the Signature option, along with a meet and greet with Faith and Tim, a photo opportunity, and an exclusive signed lithograph. All tickets in the Ultimate Package are in the front row of their respective sections.
---

Tickets for all shows are available now at RateYourSeats.com or through the T!ckets App