Texas Trust CU Theatre Seating Chart
Interactive Seating Chart
Explore the Interactive Map
Jeezy and Michelle

May 26

Trolls Live!

4 Shows

The Boyz

Jun 8

Brit Floyd - Pink Floyd Tribute

Jun 11

T-Pain

Jun 24

Pancho Barraza y La Adictiva Banda San Jose de Mesillas

Jun 25

TXT - Tomorrow X Together

Jul 14

The Masked Singer

Jul 15

RuPauls Drag Race

Jul 20

Tracy Morgan

Jul 22

Franco Escamilla

Jul 23

Dog Days of Summer

Aug 12

Lost 80s Live

Aug 20

Trixie and Katya

Aug 30

Robert Plant and Alison Krauss

Sep 3

Disney Junior Dance Party On Tour

Sep 10

Cristian Castro

Sep 11

Ben Platt

Sep 15

Groove Fest

Sep 17

Prince Royce

Sep 22

Diana Krall

Sep 29

Carlos Vives

Oct 2

Bonnie Raitt

Oct 8

Eslabon Armado

Oct 15

Nick Mason

Oct 17

Frankie Valli

Oct 20

Jo Koy

Oct 21

Steve Martin and Martin Short

Oct 22

Amy Schumer

Oct 23

Tauren Wells

Oct 28

Zach Williams

Nov 13

Intocable

Nov 18

Blueys Big Play

4 Shows
Seating Chart for Concerts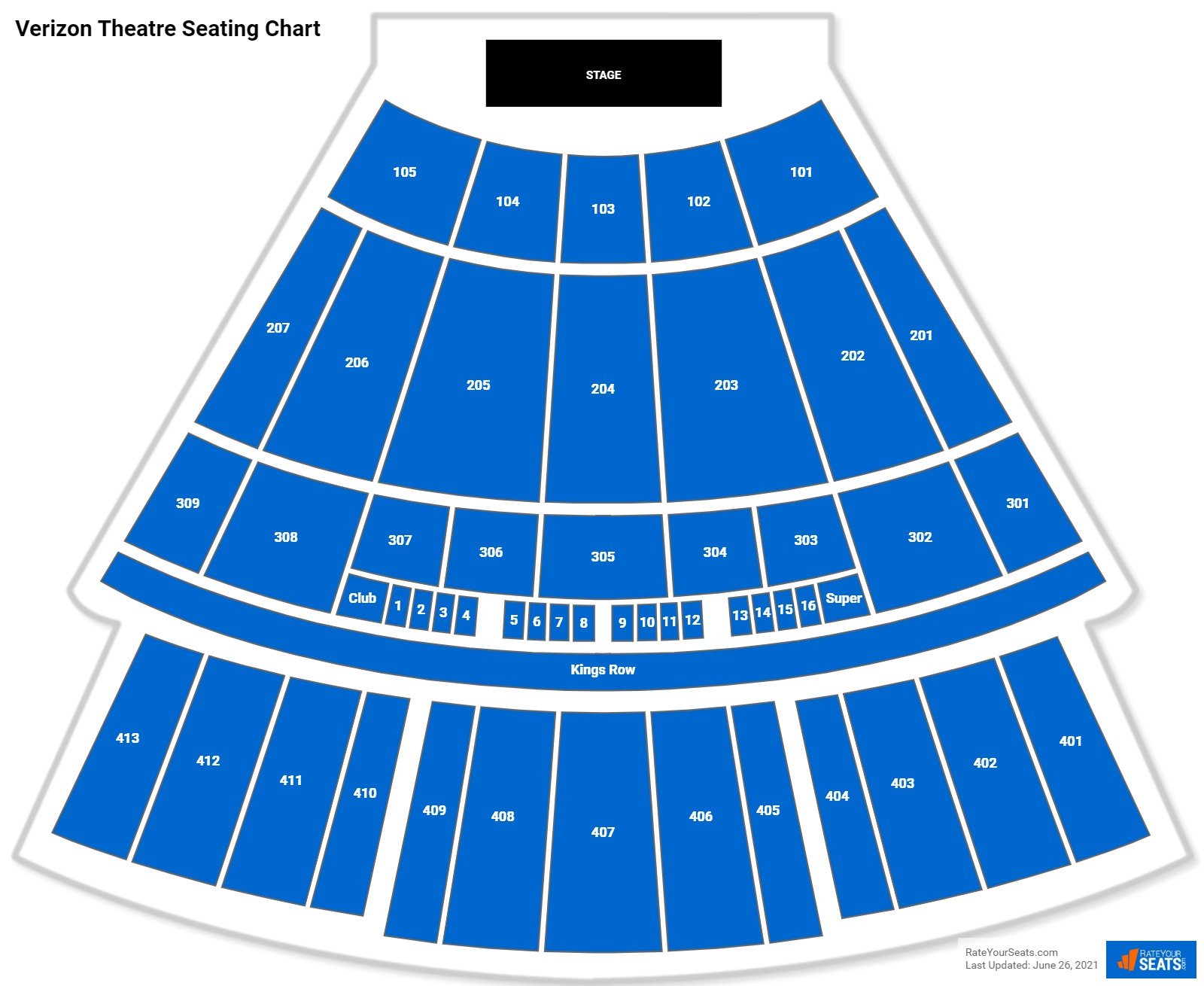 Texas Trust CU Theatre concert seating charts vary by performance. This chart represents the most common setup for concerts at Texas Trust CU Theatre, but some sections may be removed or altered for individual shows. Check out the seating chart for your show for the most accurate layout.
Texas Trust CU Theatre Seating Chart With Row Numbers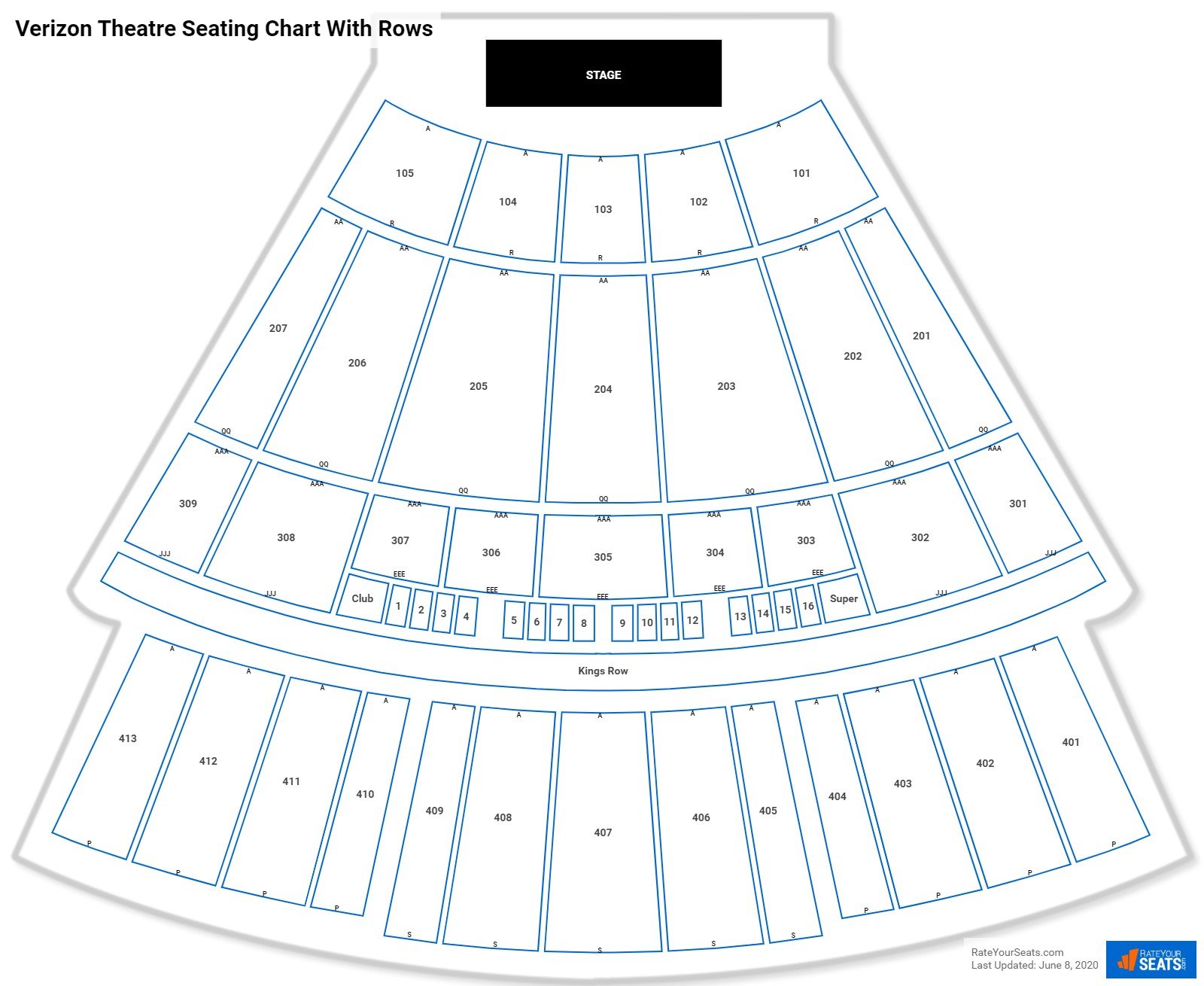 Seating Charts for Upcoming Shows
May 26, 2022 at 8:00 PM
Jeezy and Michelle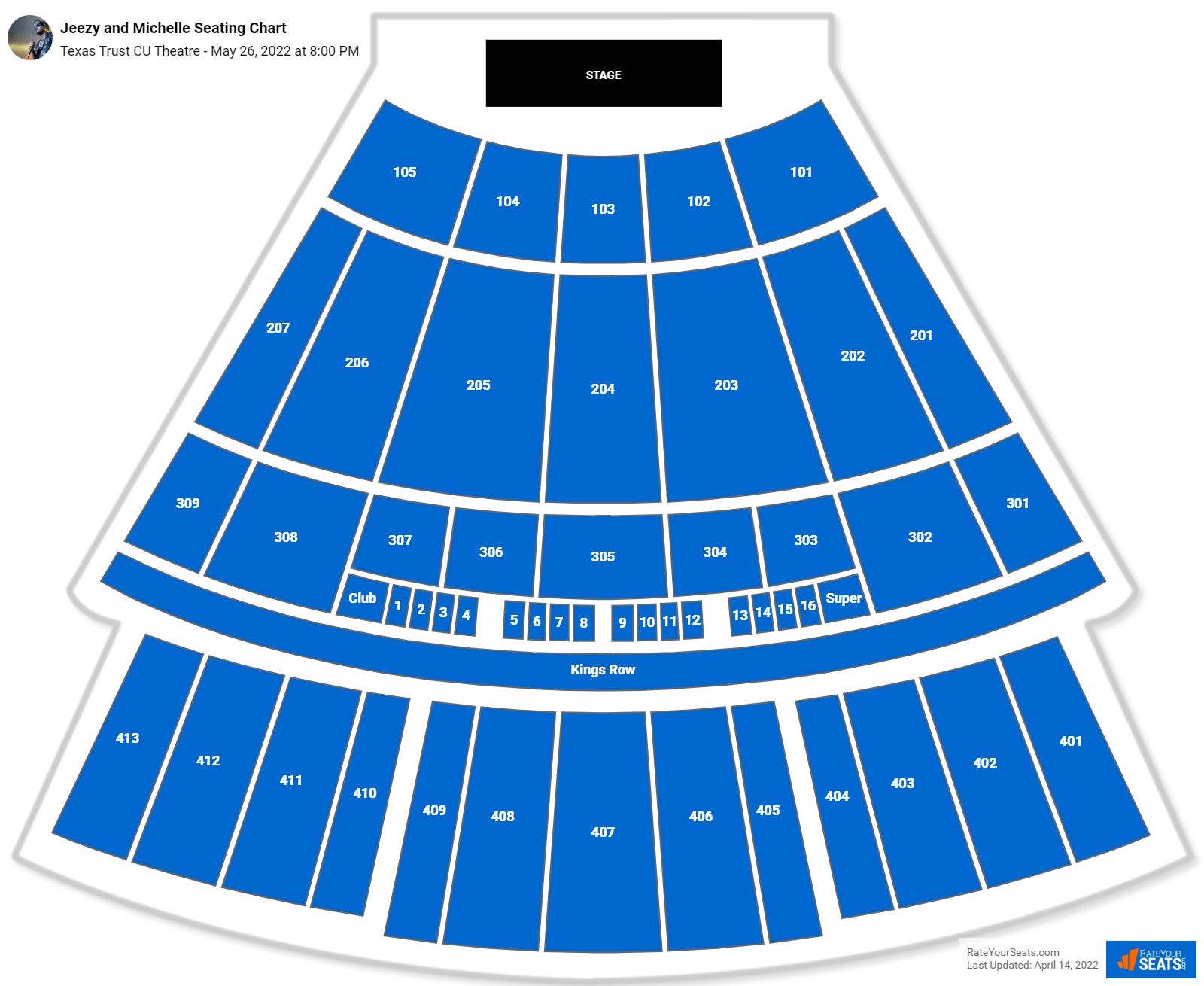 Multiple Dates
Trolls Live!
Jun 8, 2022 at 8:00 PM
The Boyz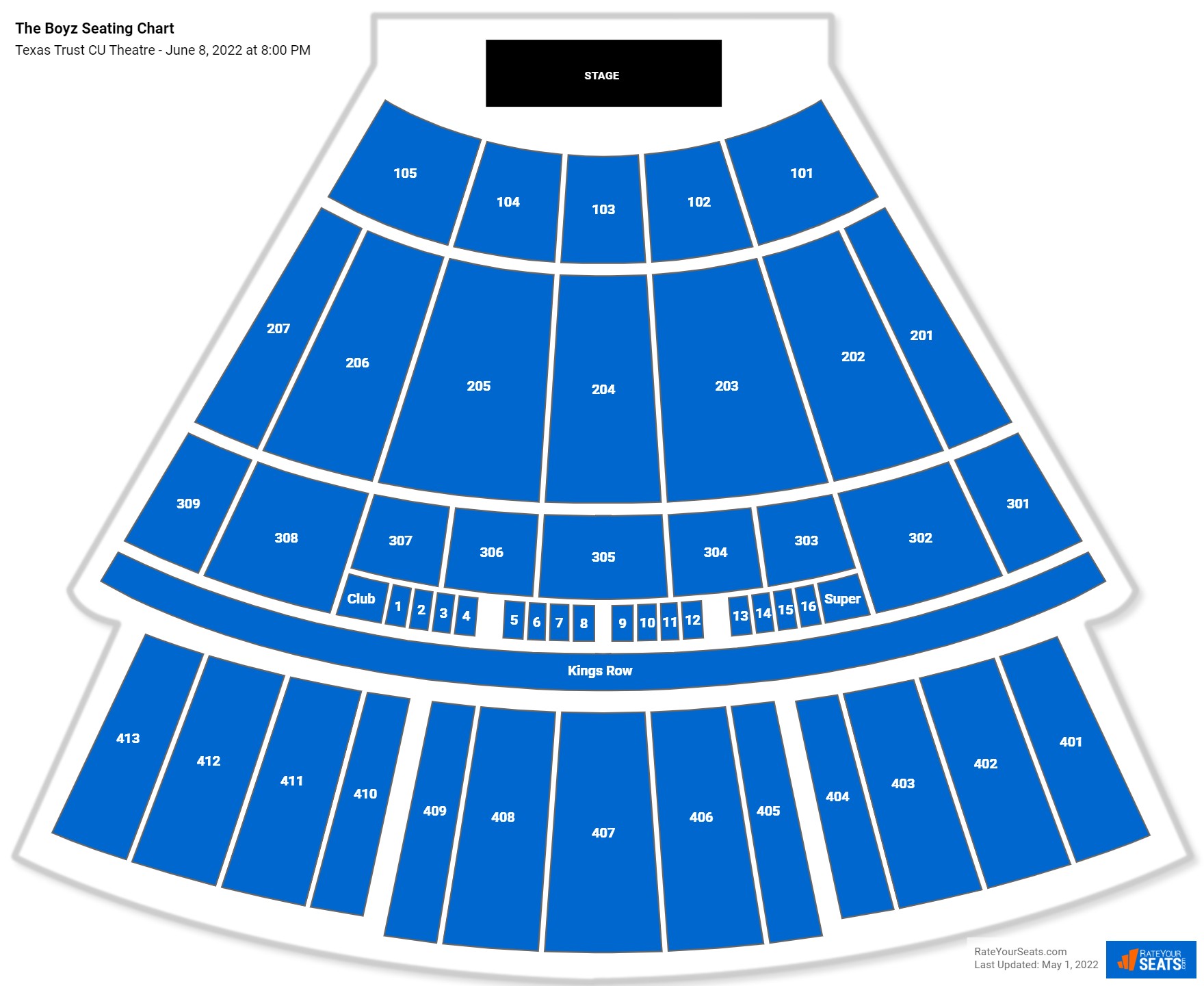 Jun 11, 2022 at 8:00 PM
Brit Floyd - Pink Floyd Tribute (Rescheduled from 6/16/2020, 6/12/2021)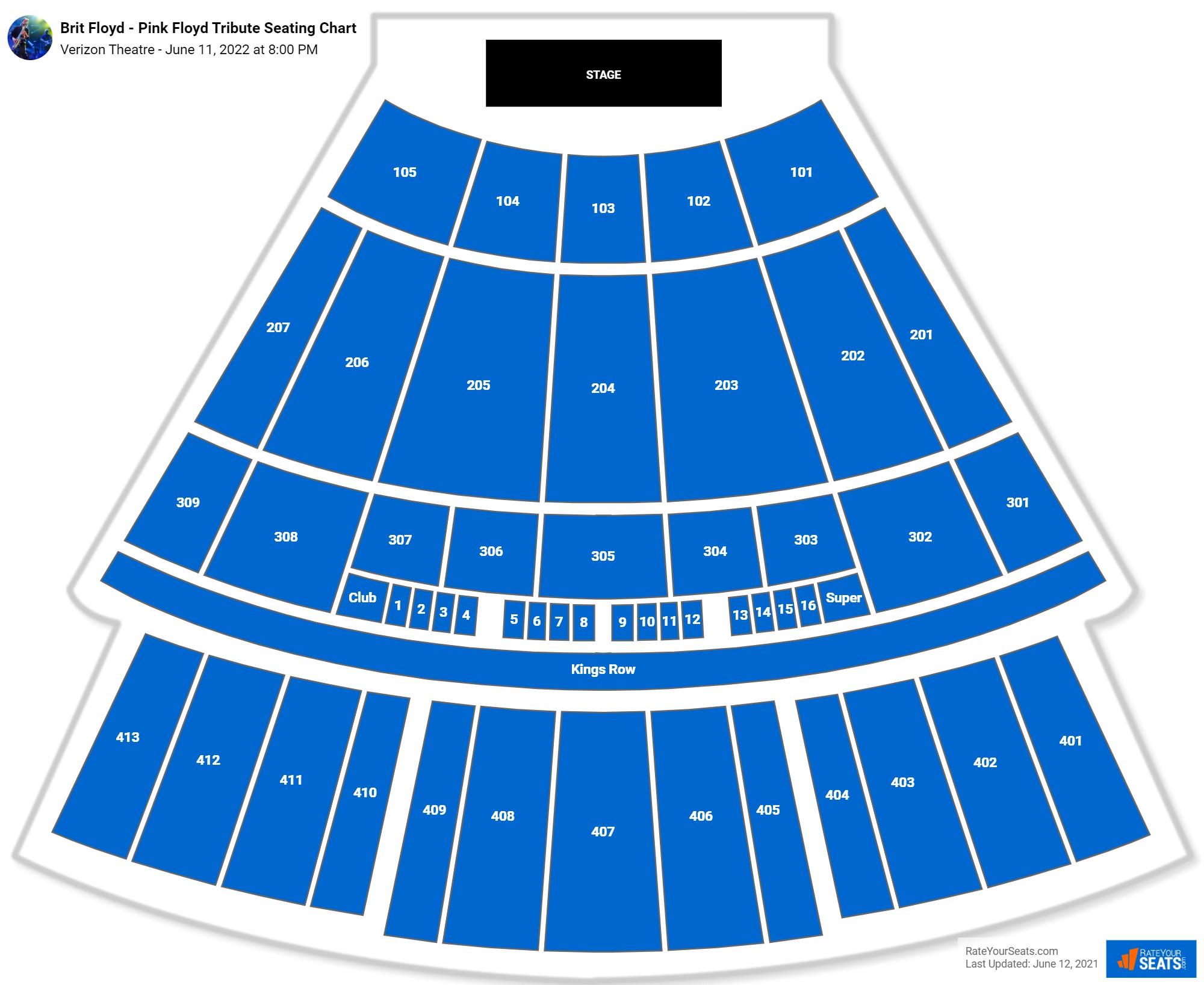 Jun 25, 2022 at 8:00 PM
Pancho Barraza y La Adictiva Banda San Jose de Mesillas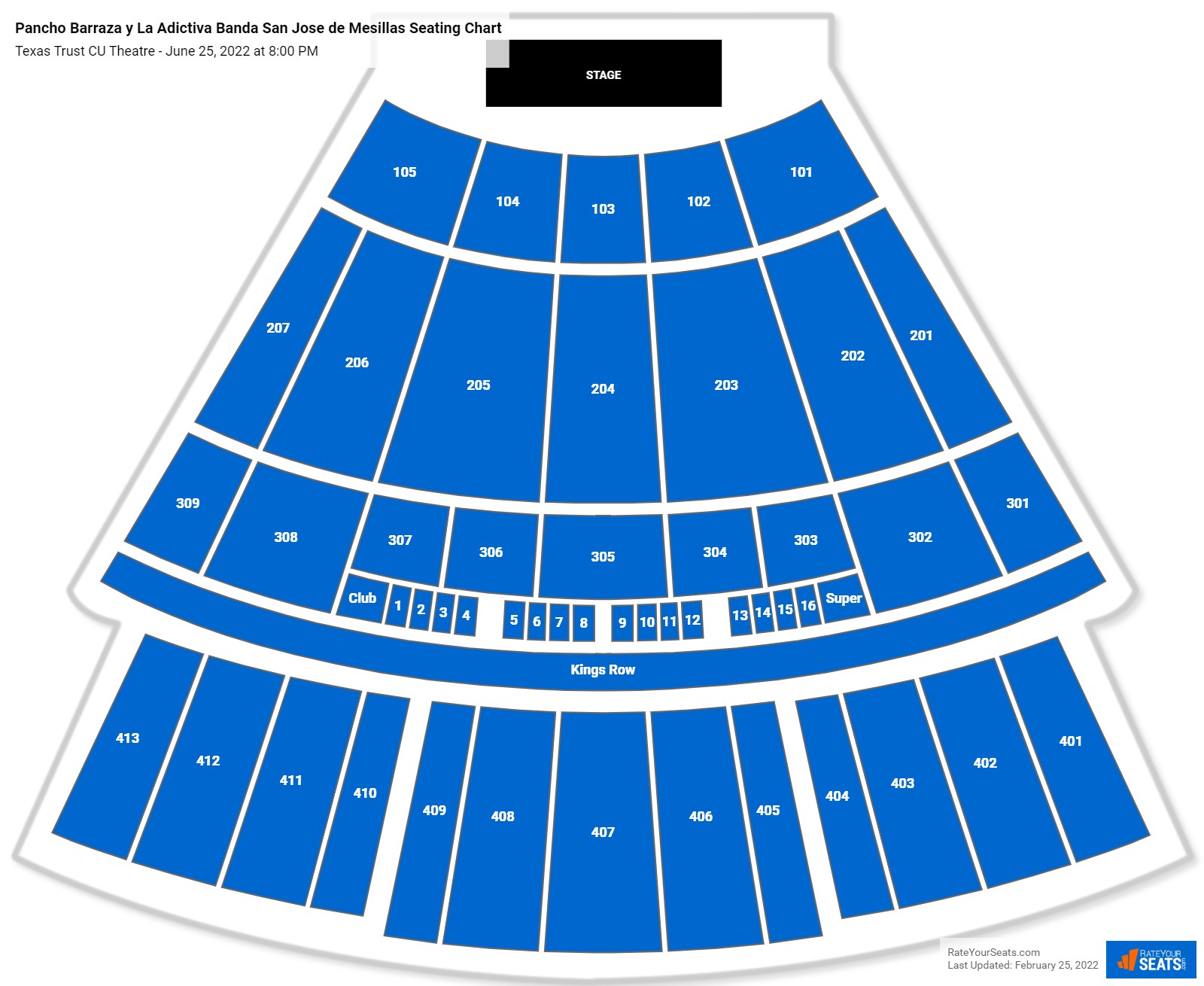 Jul 14, 2022 at 7:30 PM
TXT - Tomorrow X Together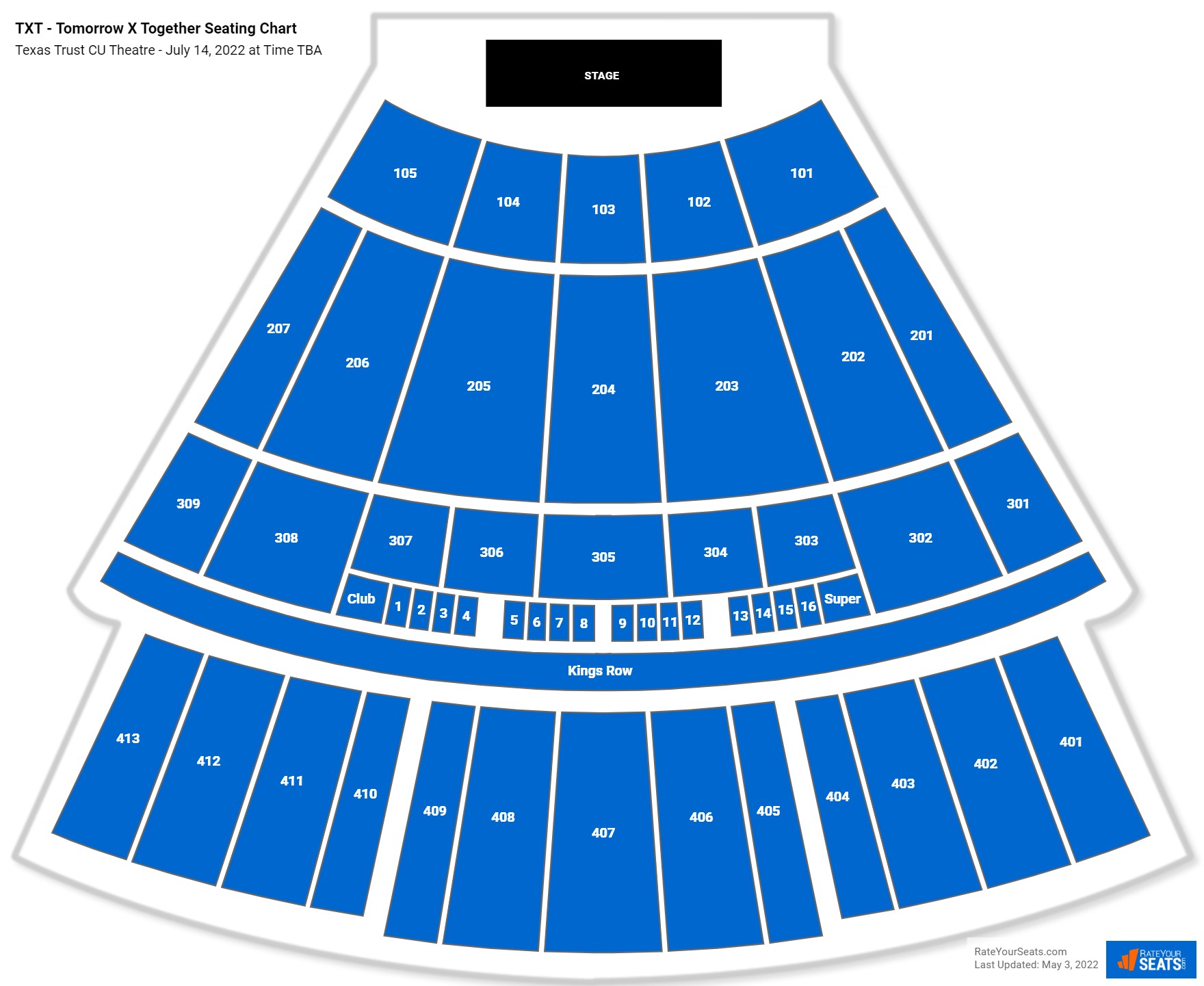 Jul 15, 2022 at 7:30 PM
The Masked Singer
Jul 20, 2022 at 8:00 PM
RuPauls Drag Race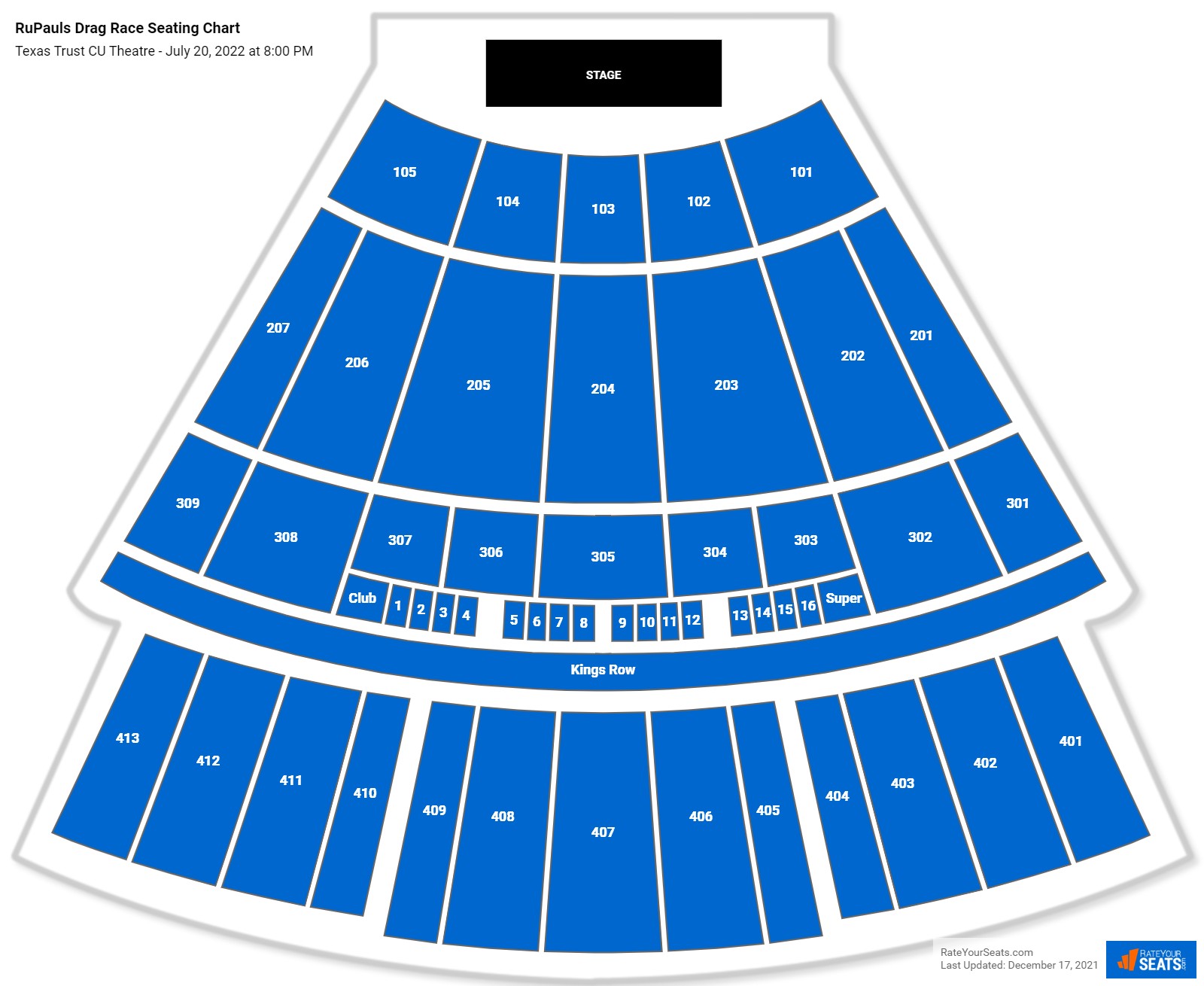 Jul 22, 2022 at 8:00 PM
Tracy Morgan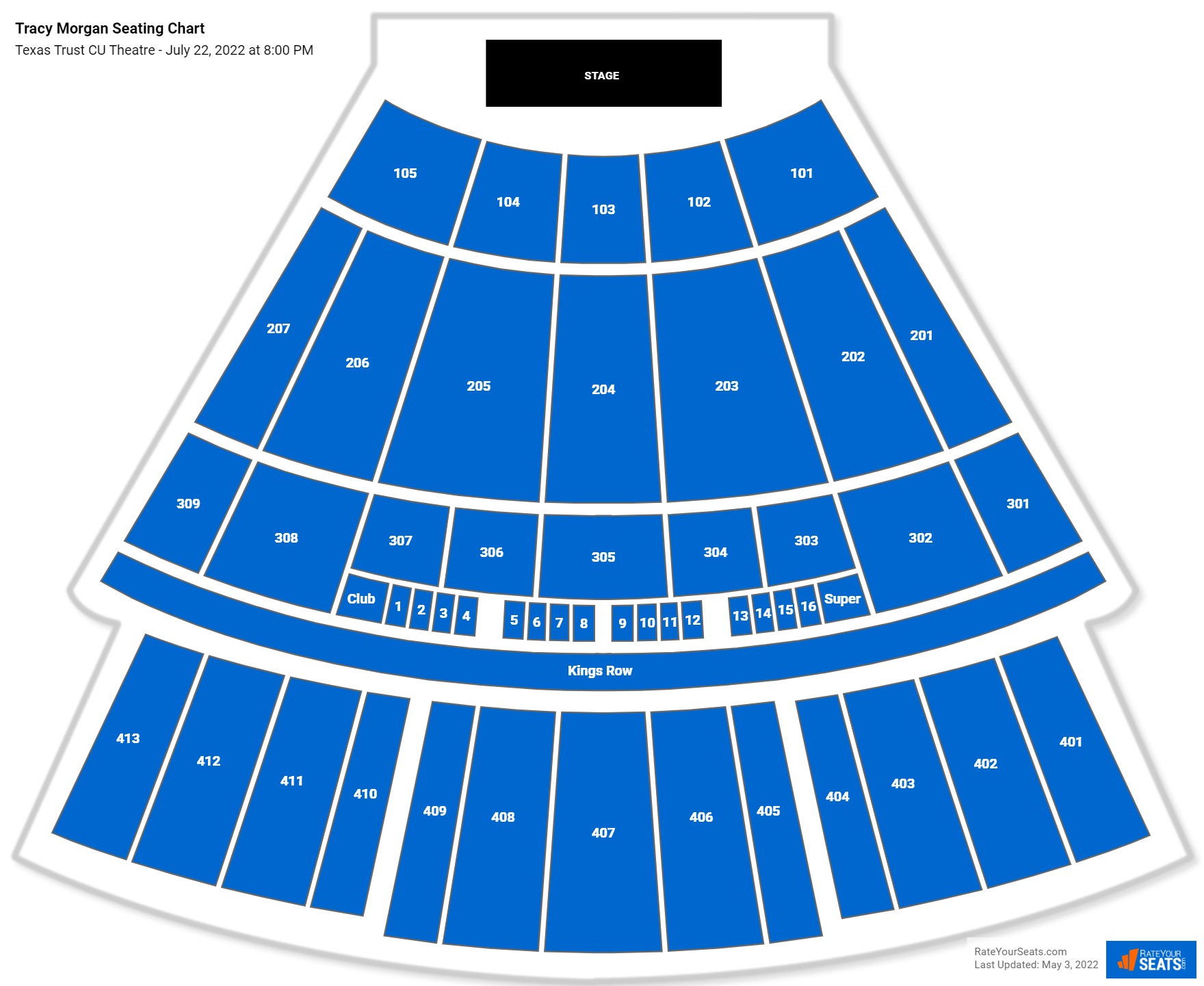 Jul 23, 2022 at 8:00 PM
Franco Escamilla
Aug 12, 2022 at 6:00 PM
Dog Days of Summer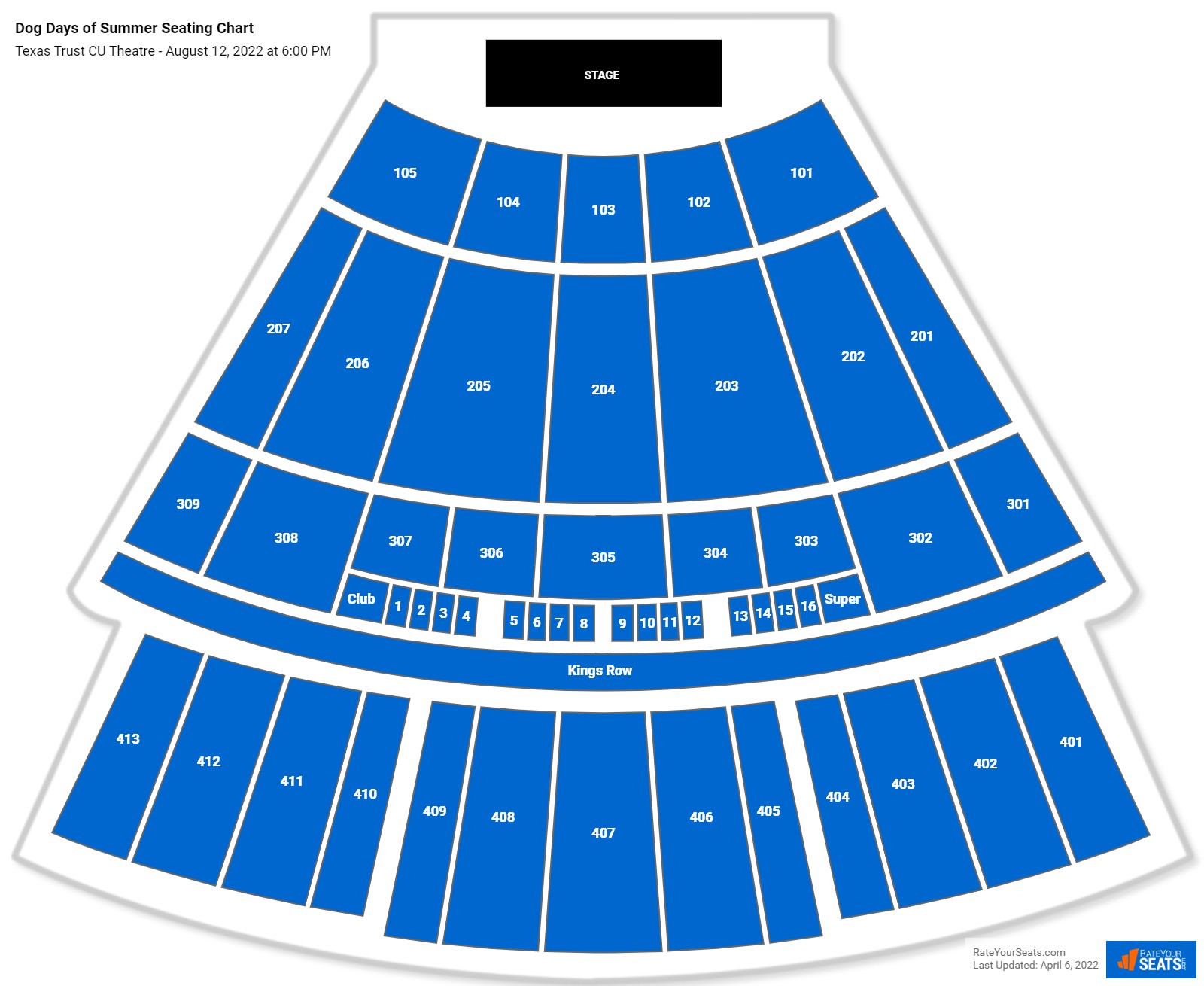 Aug 20, 2022 at 6:00 PM
Lost 80s Live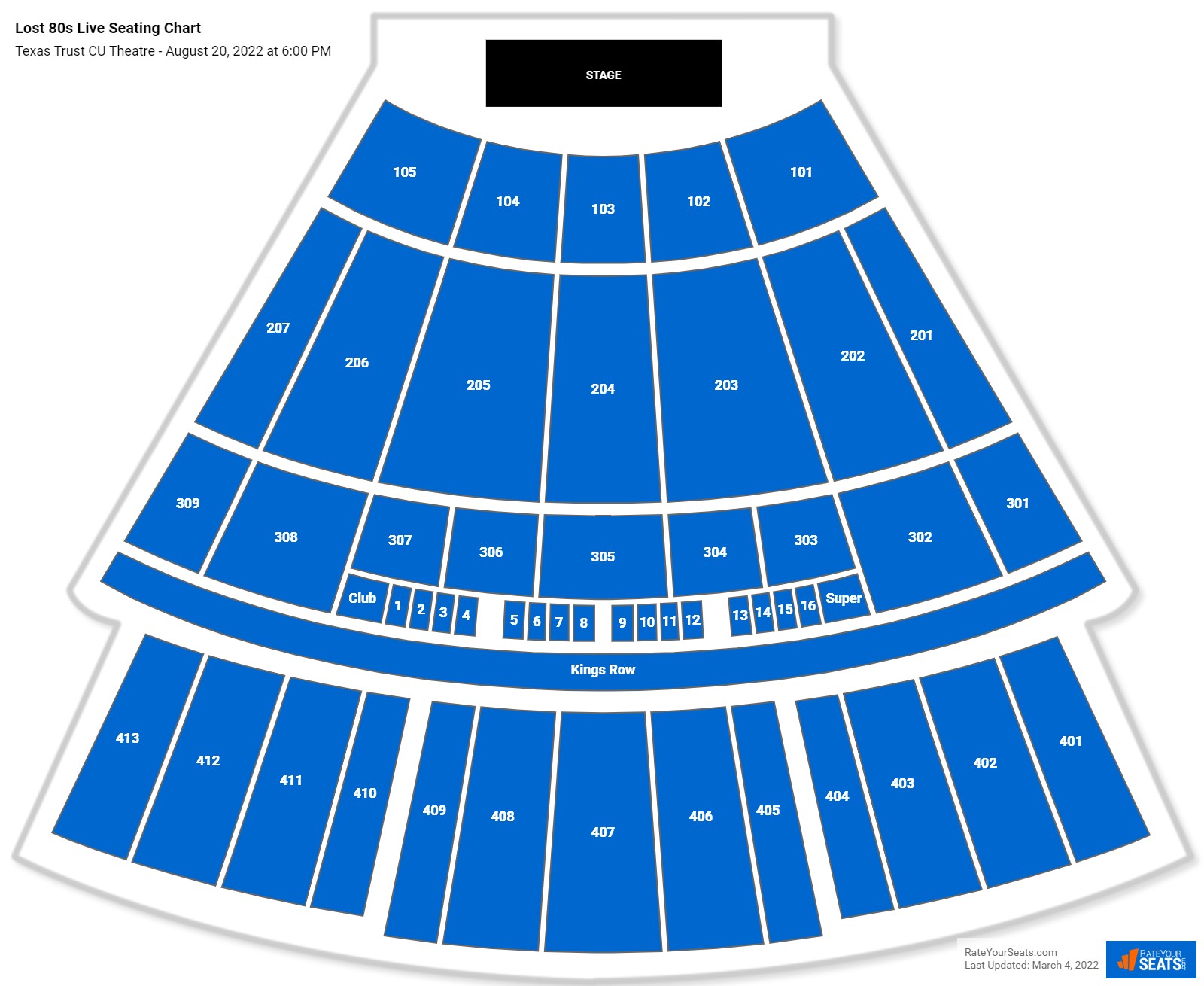 Aug 30, 2022 at 8:00 PM
Trixie and Katya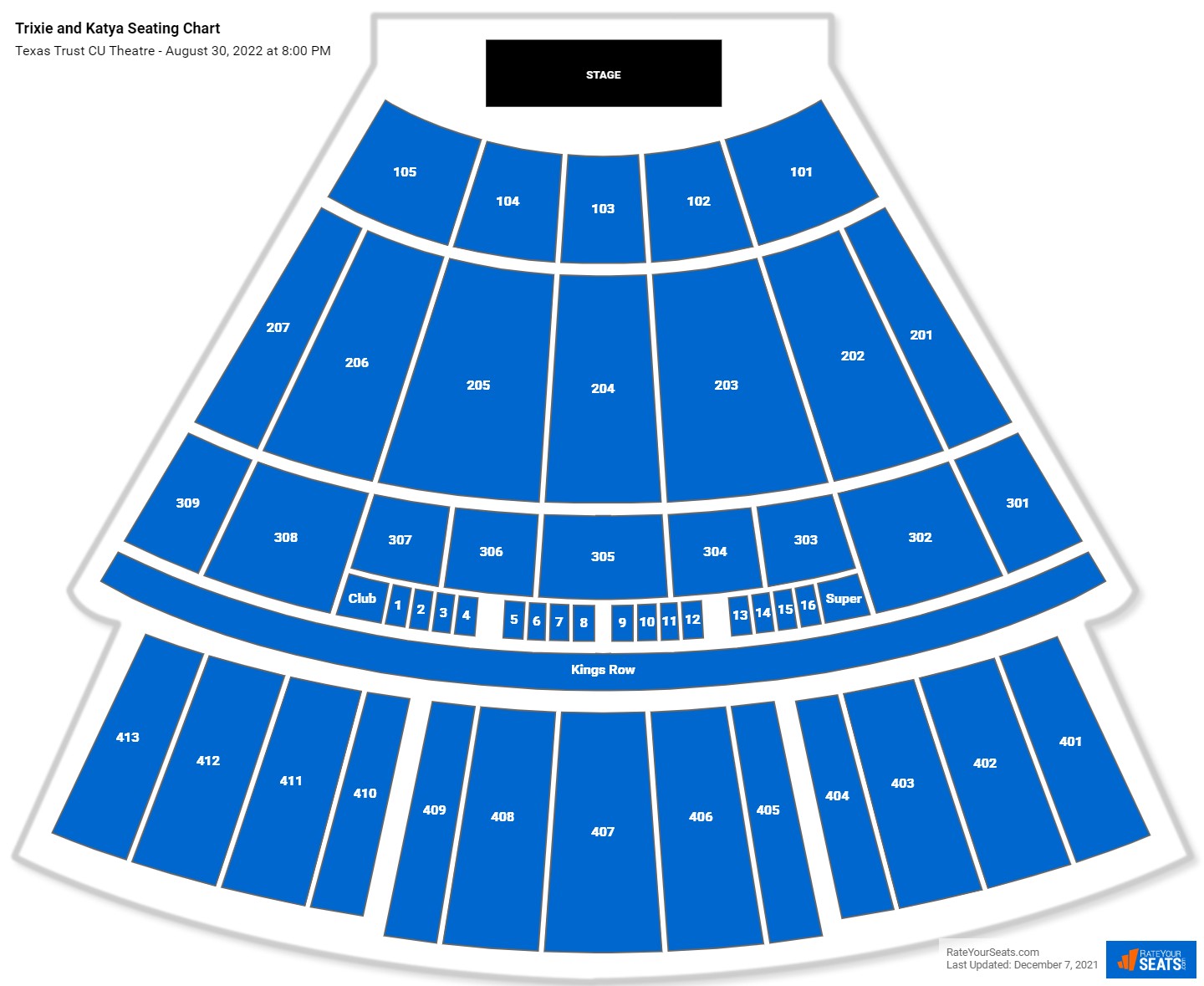 Sep 3, 2022 at 8:00 PM
Robert Plant and Alison Krauss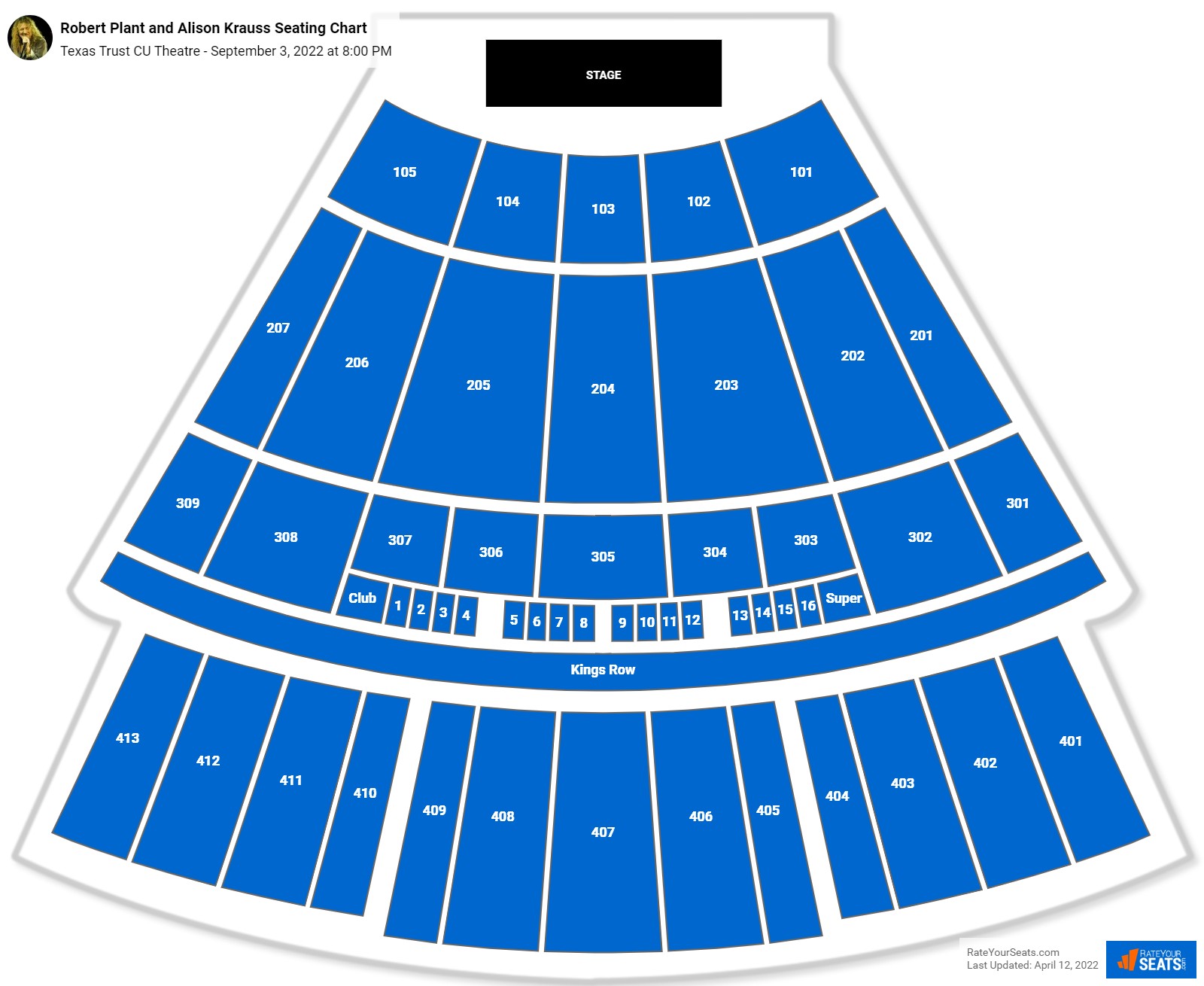 Sep 10, 2022 at 4:00 PM
Disney Junior Dance Party On Tour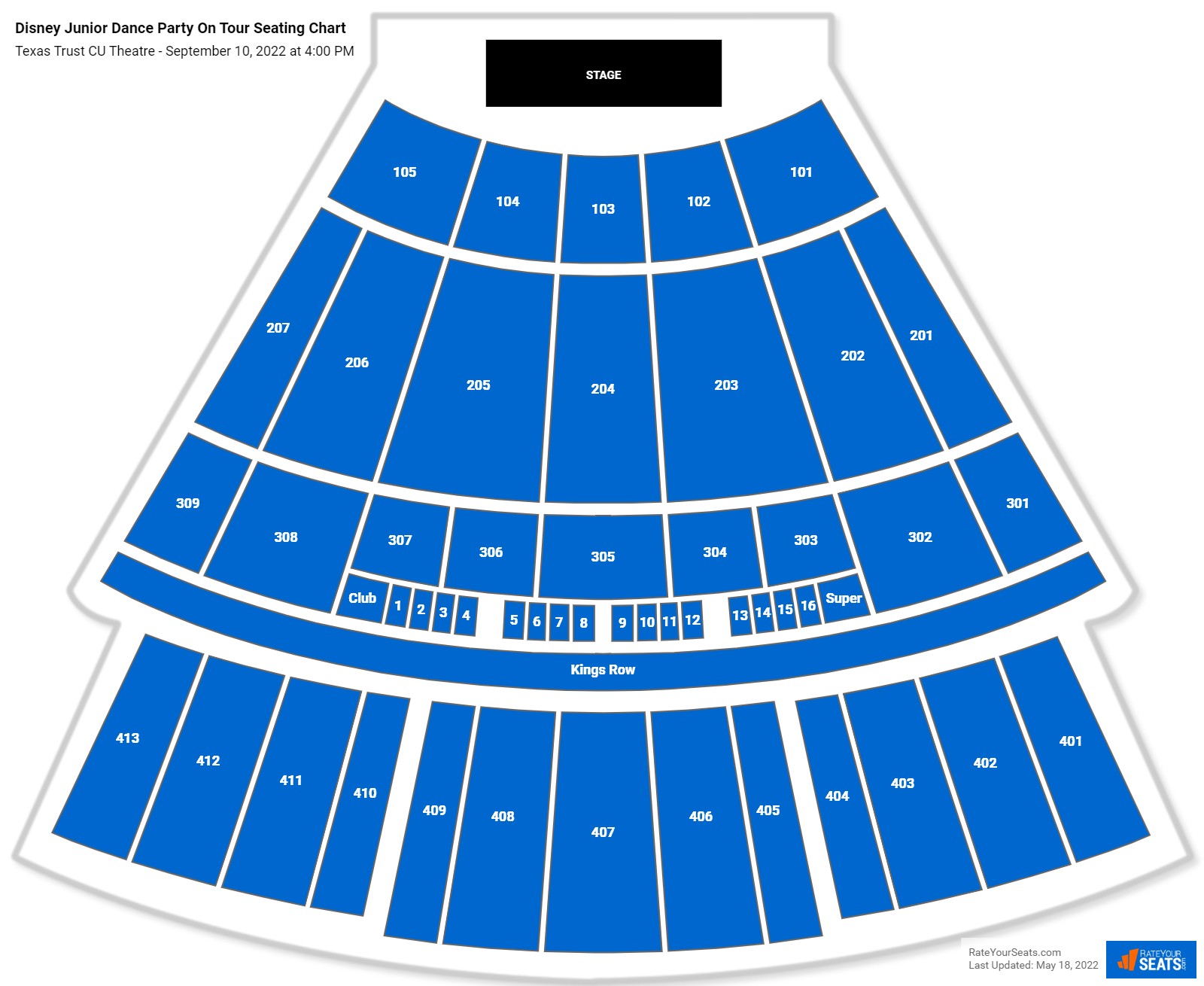 Sep 11, 2022 at 7:00 PM
Cristian Castro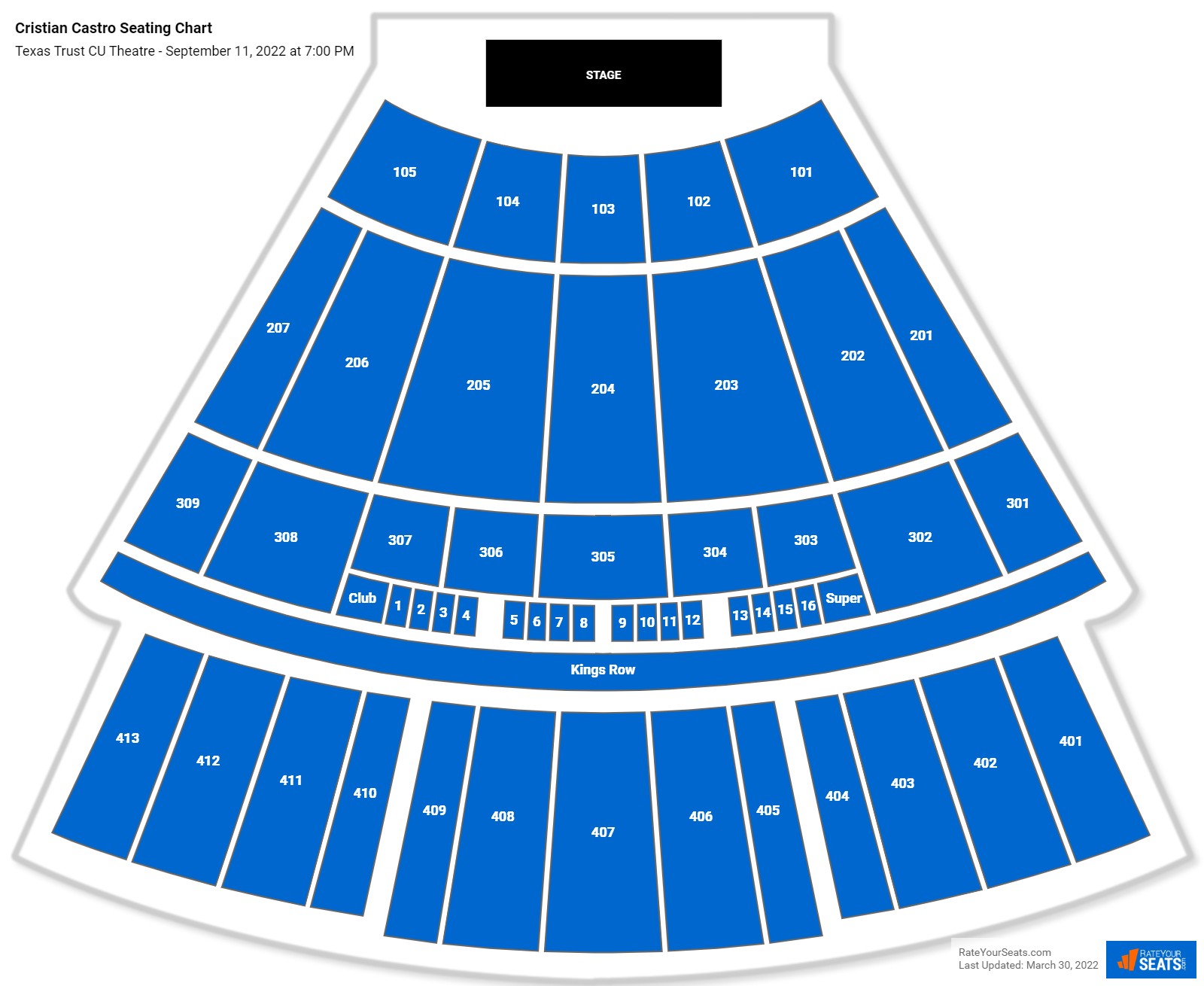 Sep 15, 2022 at 8:00 PM
Ben Platt (Rescheduled from 3/25)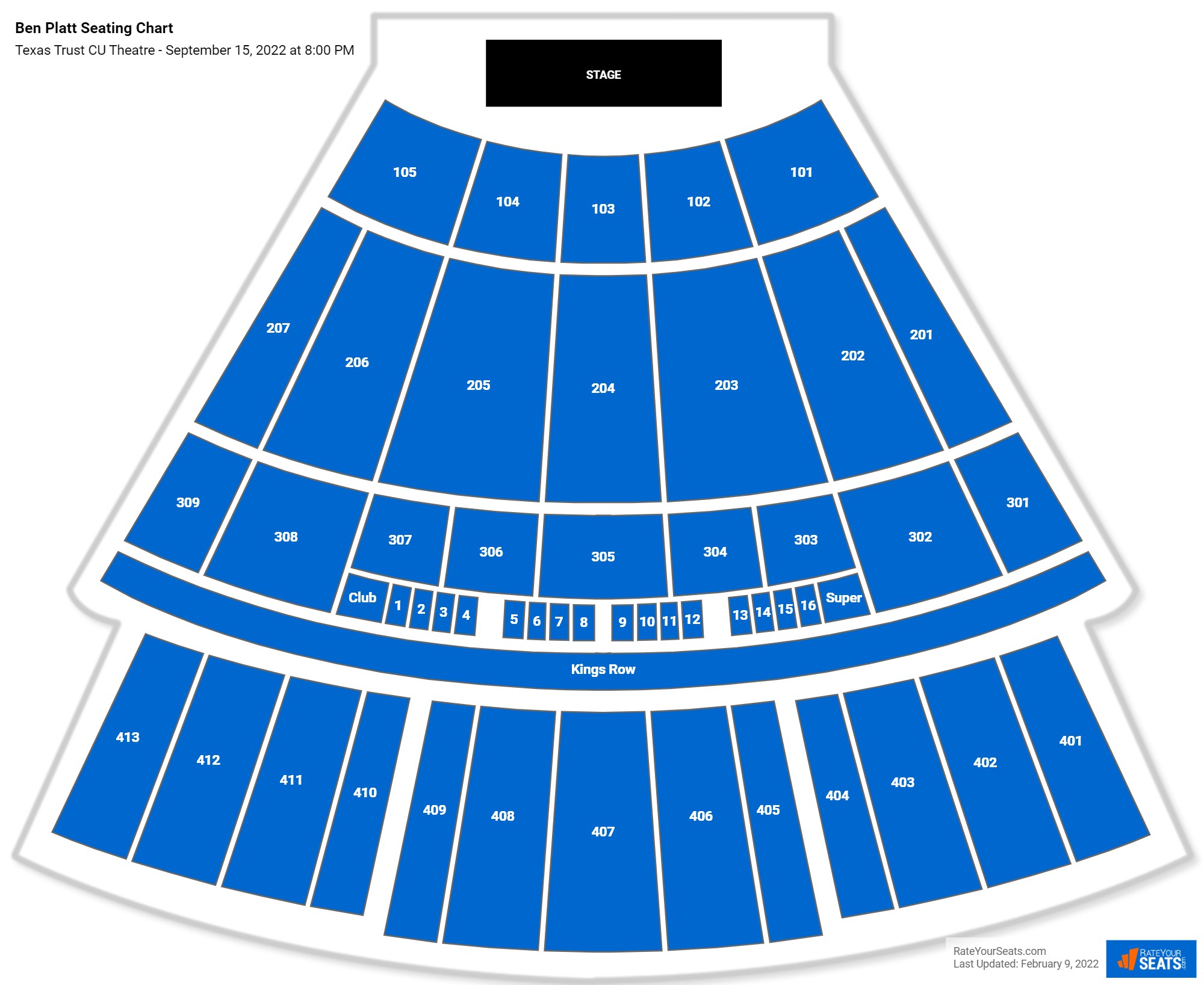 Sep 17, 2022 at 7:30 PM
Groove Fest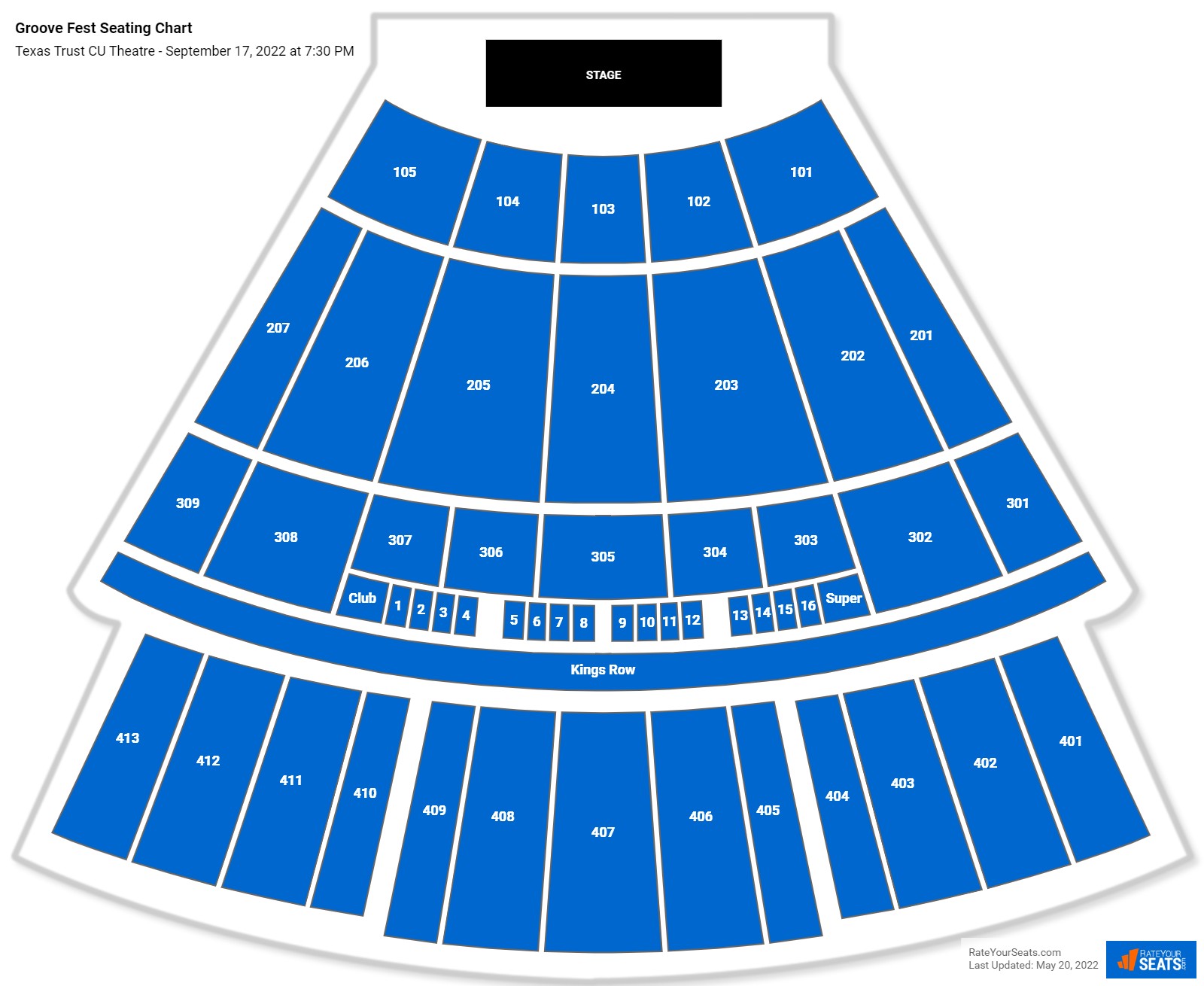 Sep 22, 2022 at 8:00 PM
Prince Royce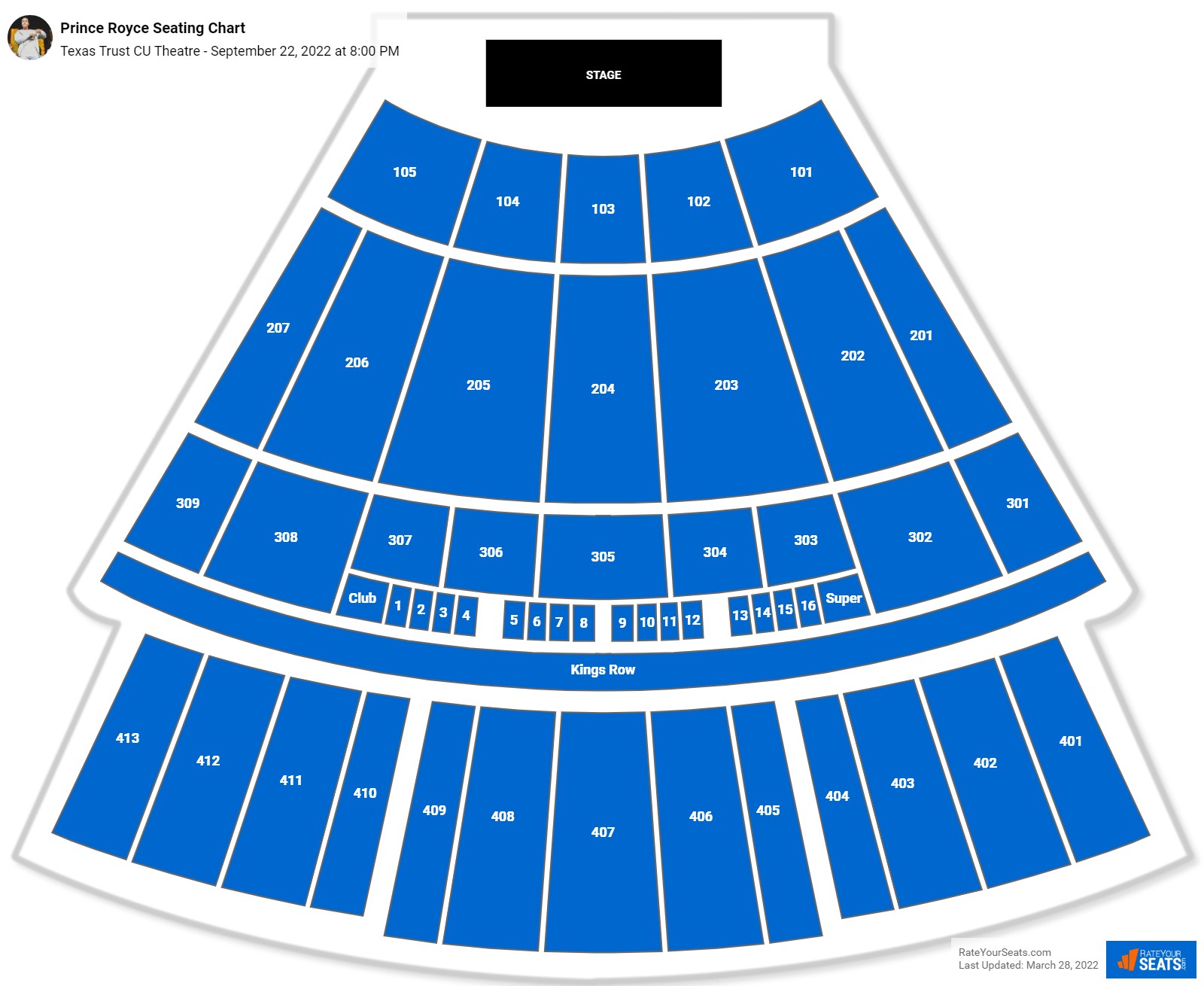 Sep 29, 2022 at 8:00 PM
Diana Krall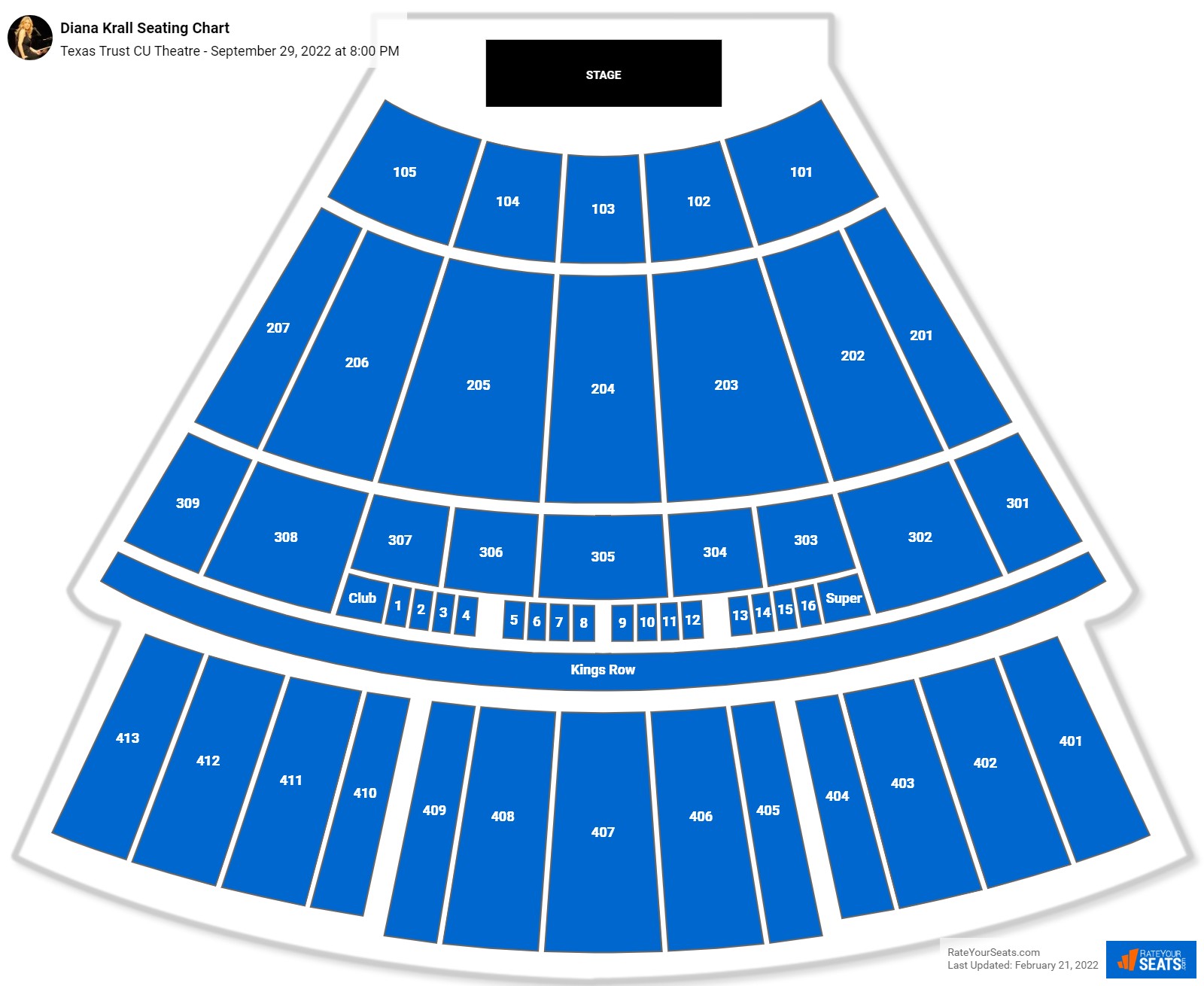 Oct 2, 2022 at 8:00 PM
Carlos Vives (Rescheduled from 1/21)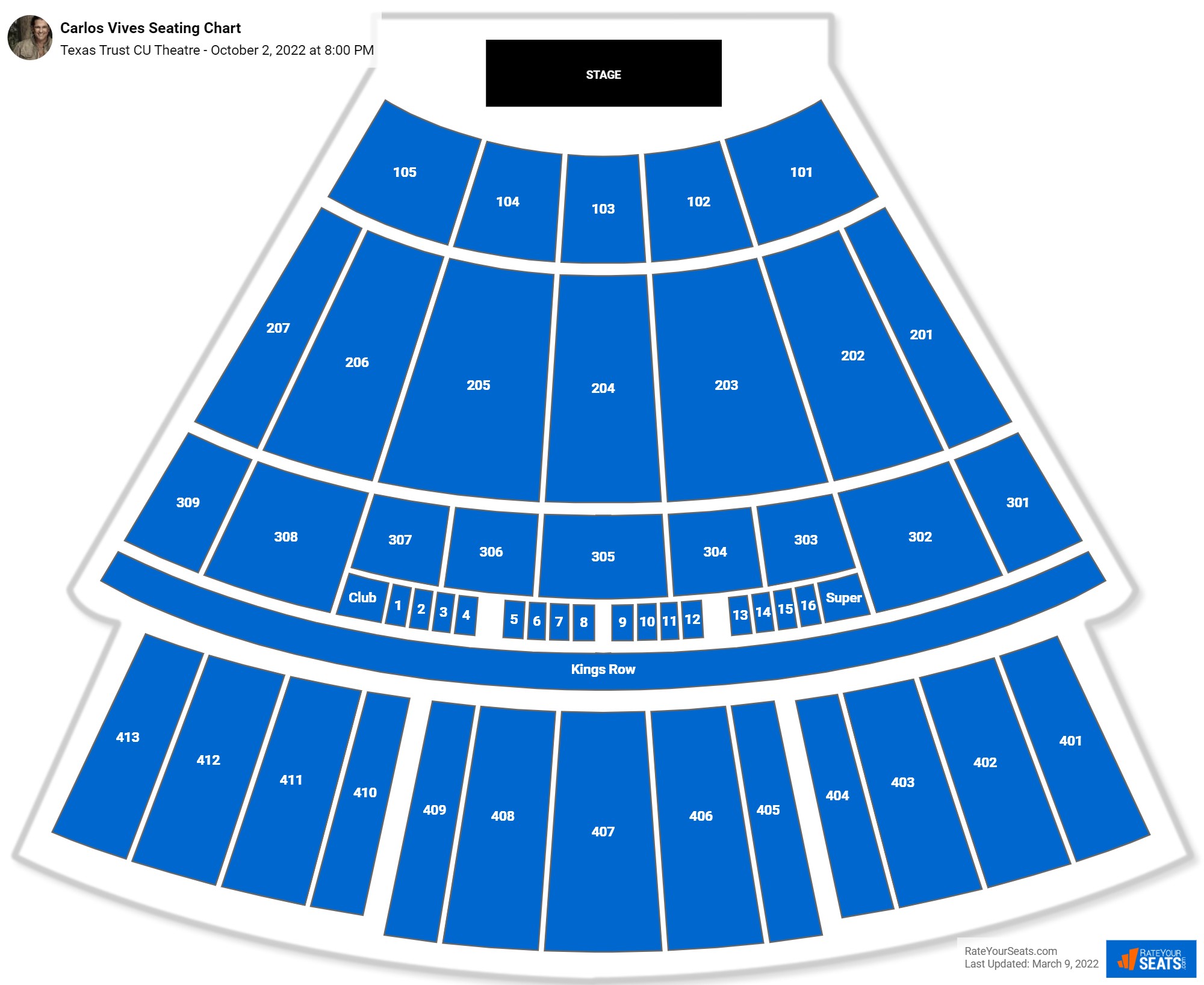 Oct 8, 2022 at 8:00 PM
Bonnie Raitt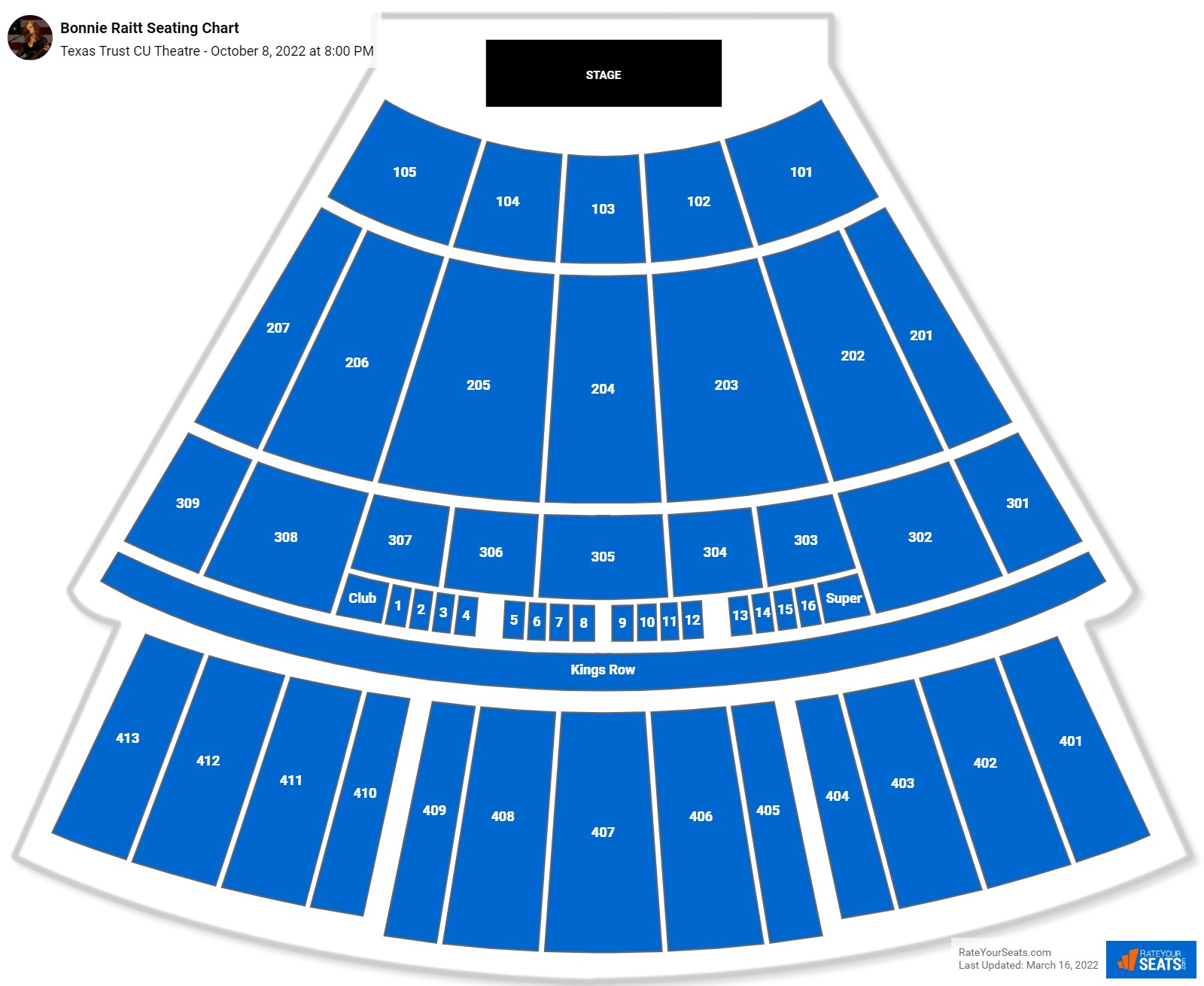 Oct 15, 2022 at 8:00 PM
Eslabon Armado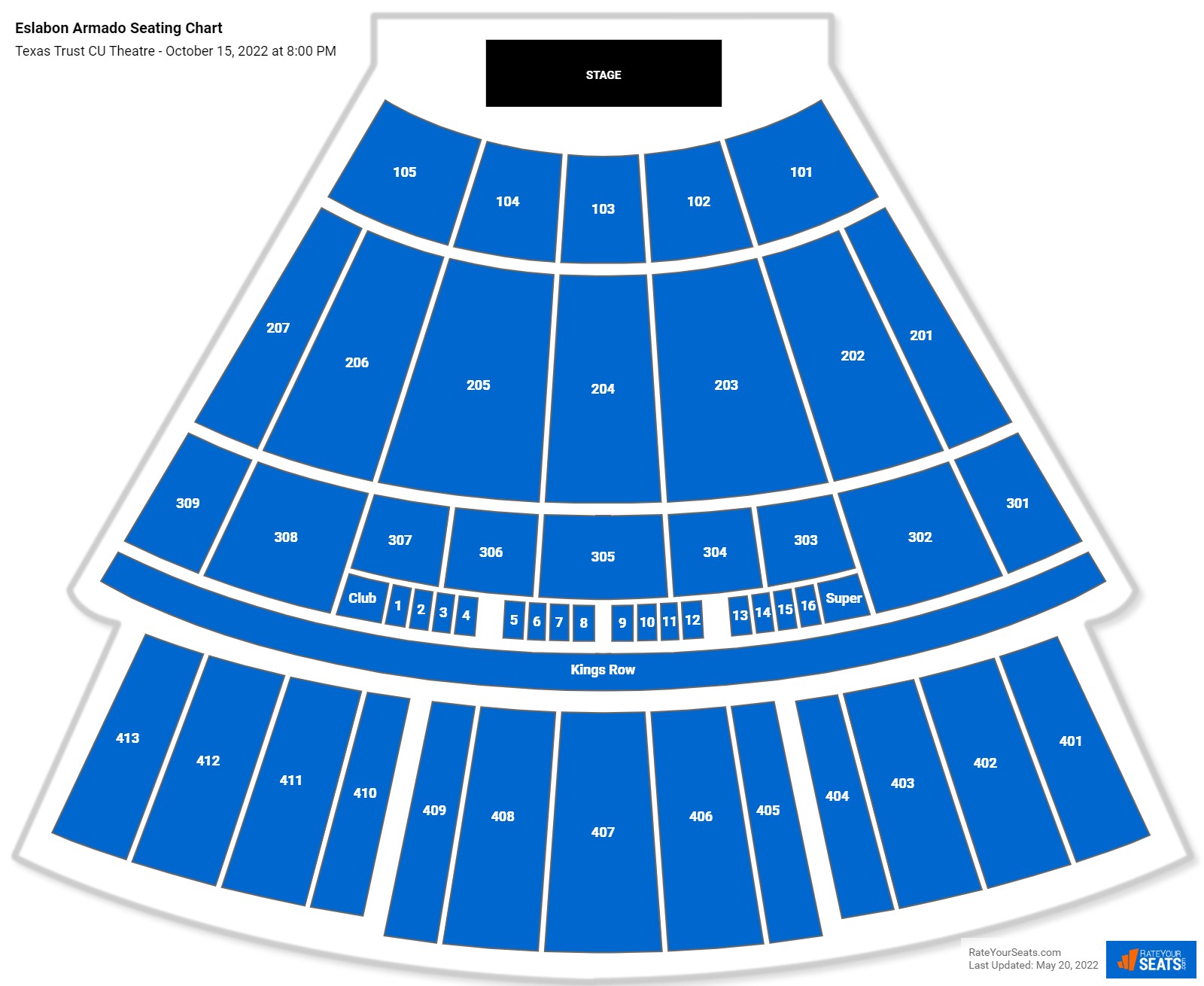 Oct 17, 2022 at 8:00 PM
Nick Mason (Rescheduled from 2/12)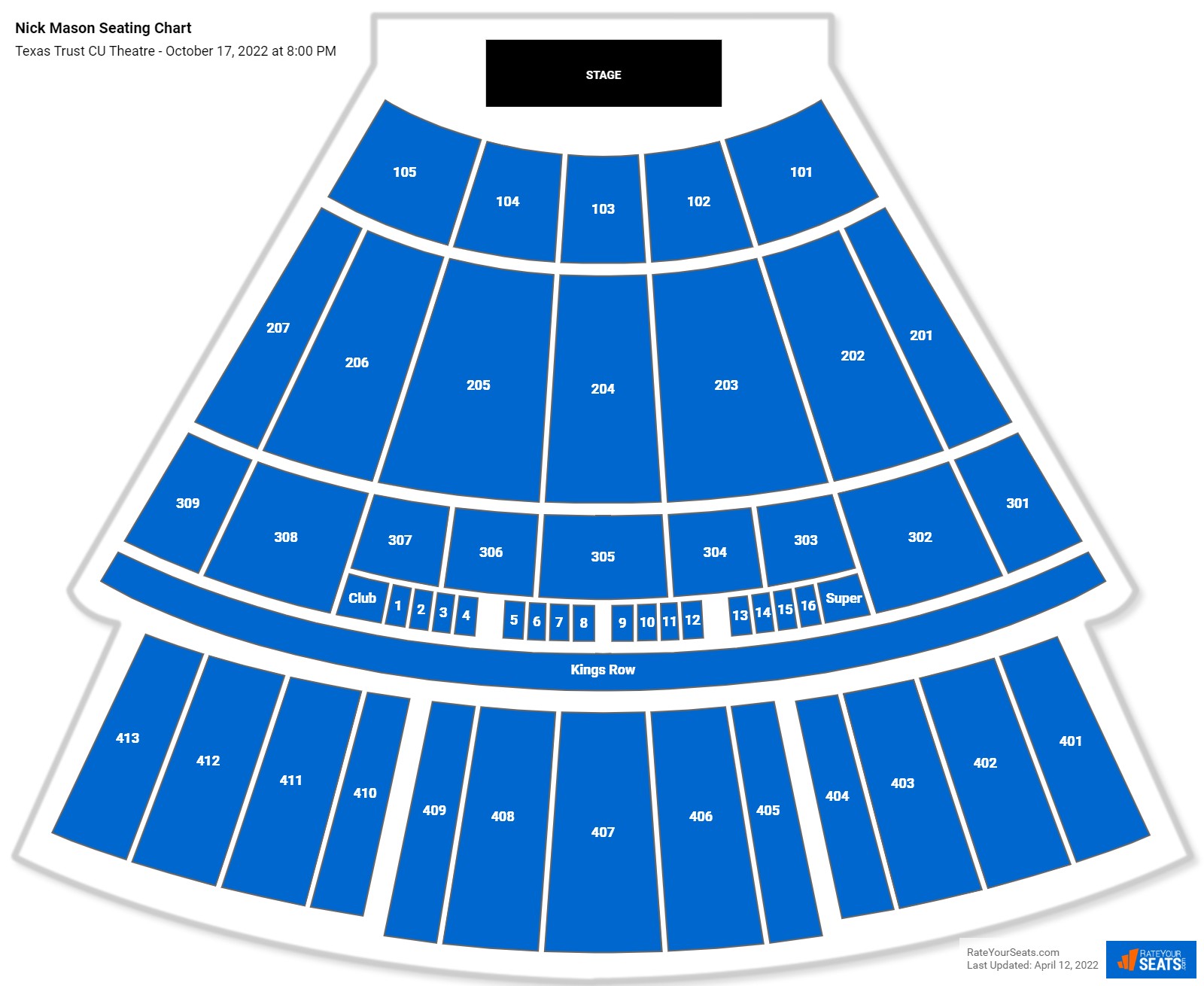 Oct 20, 2022 at 8:00 PM
Frankie Valli (Rescheduled from 12/2/2021)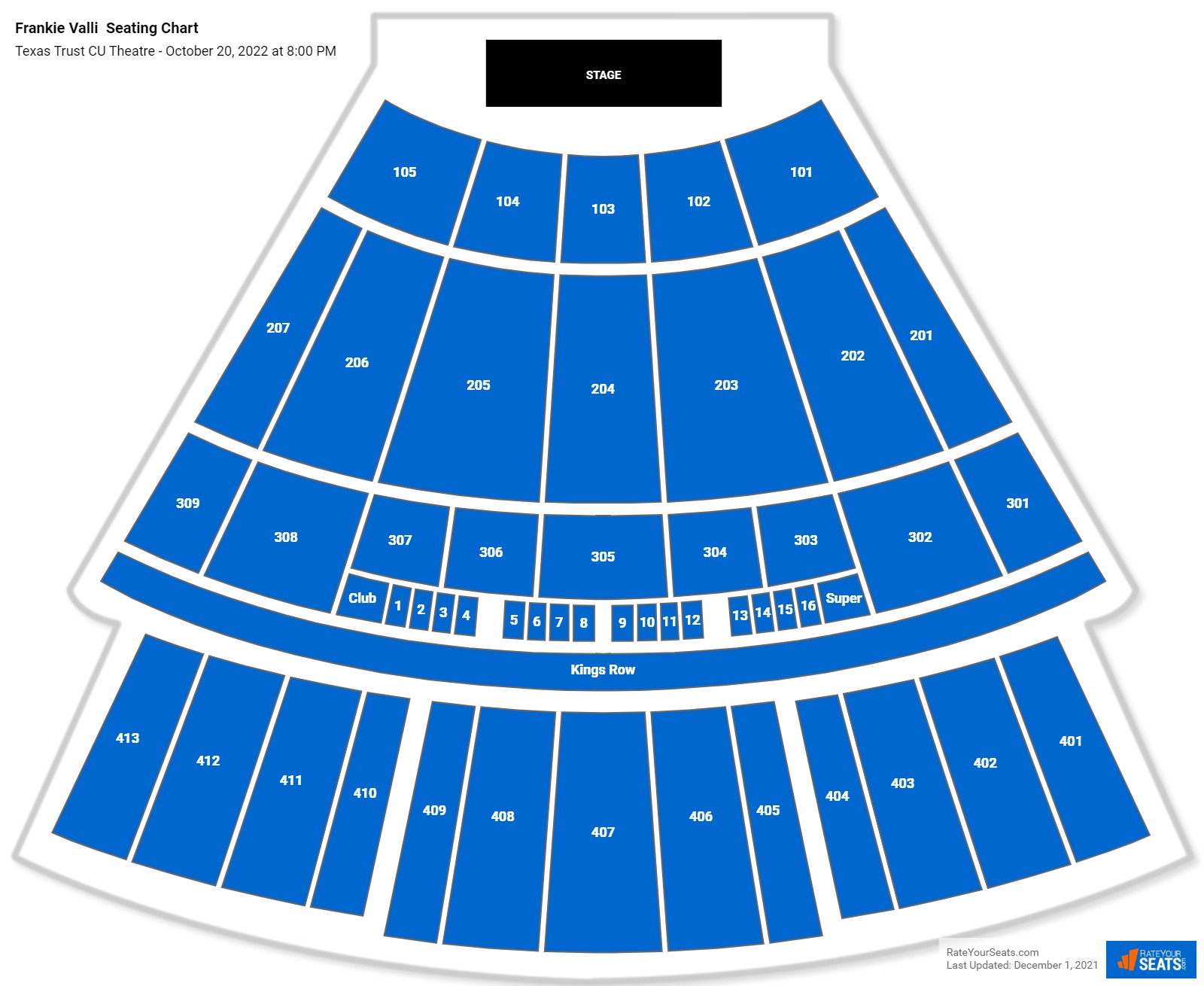 Oct 21, 2022 at 8:00 PM
Jo Koy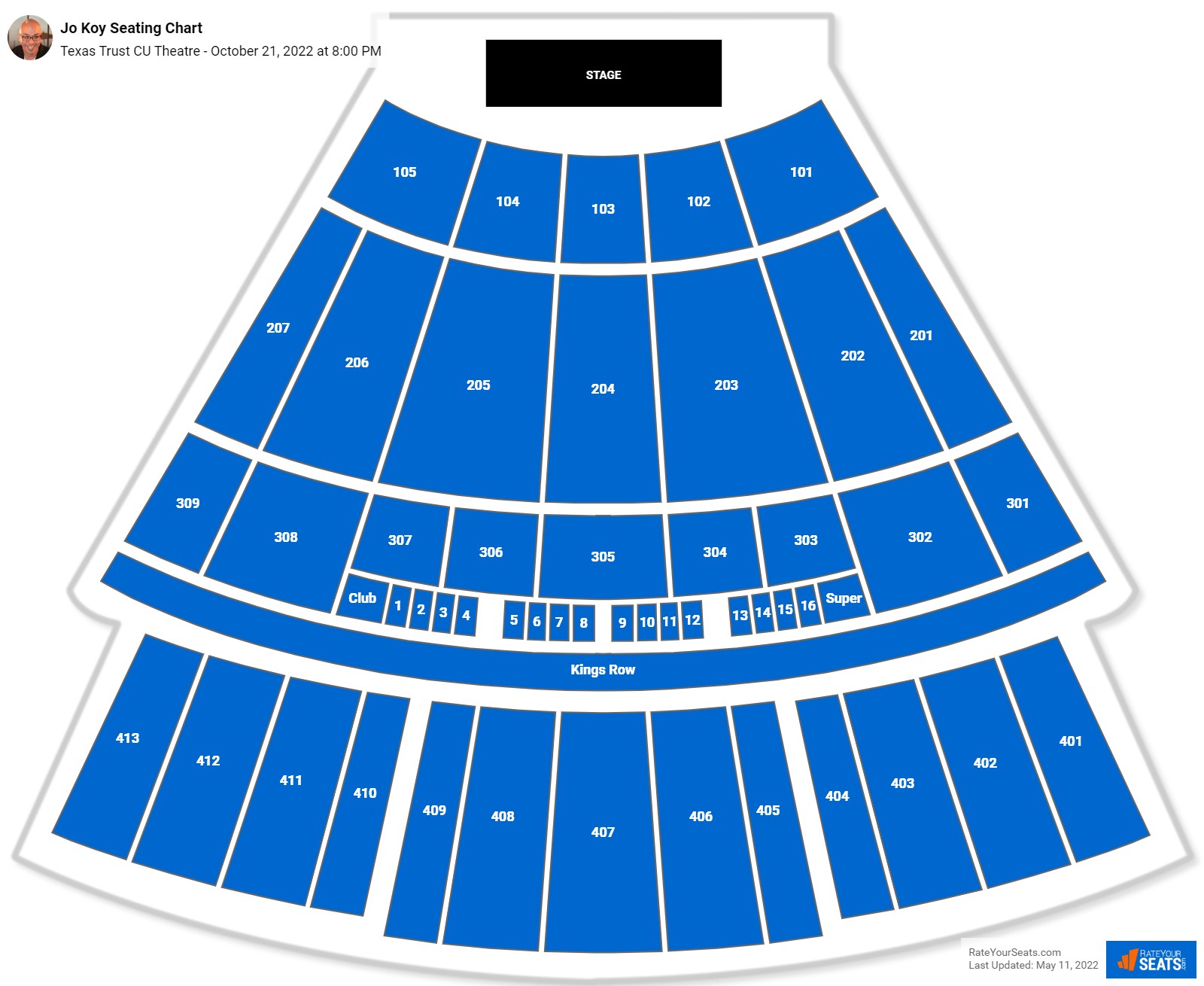 Oct 22, 2022 at 8:00 PM
Steve Martin and Martin Short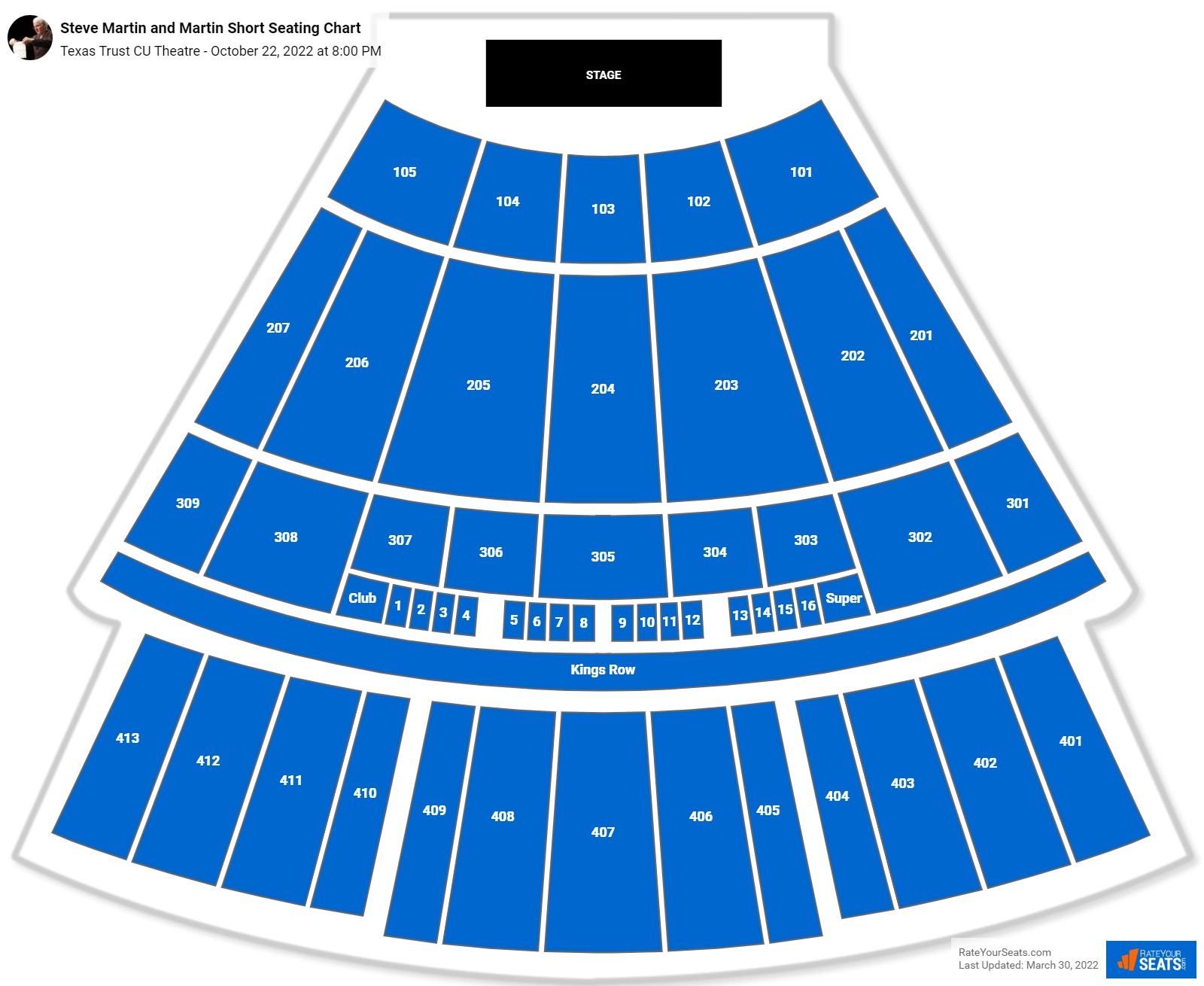 Oct 23, 2022 at 7:00 PM
Amy Schumer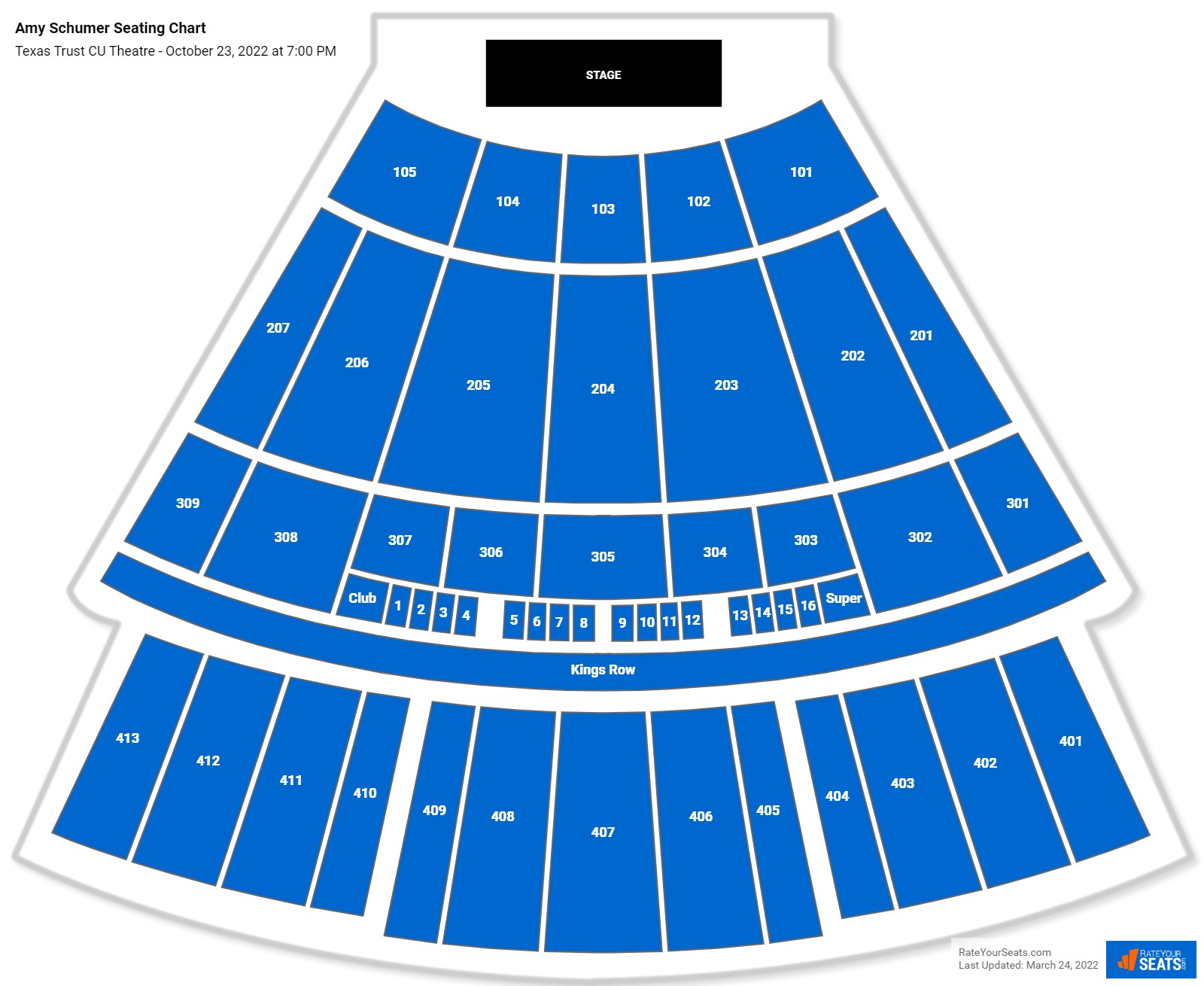 Oct 28, 2022 at 8:00 PM
Tauren Wells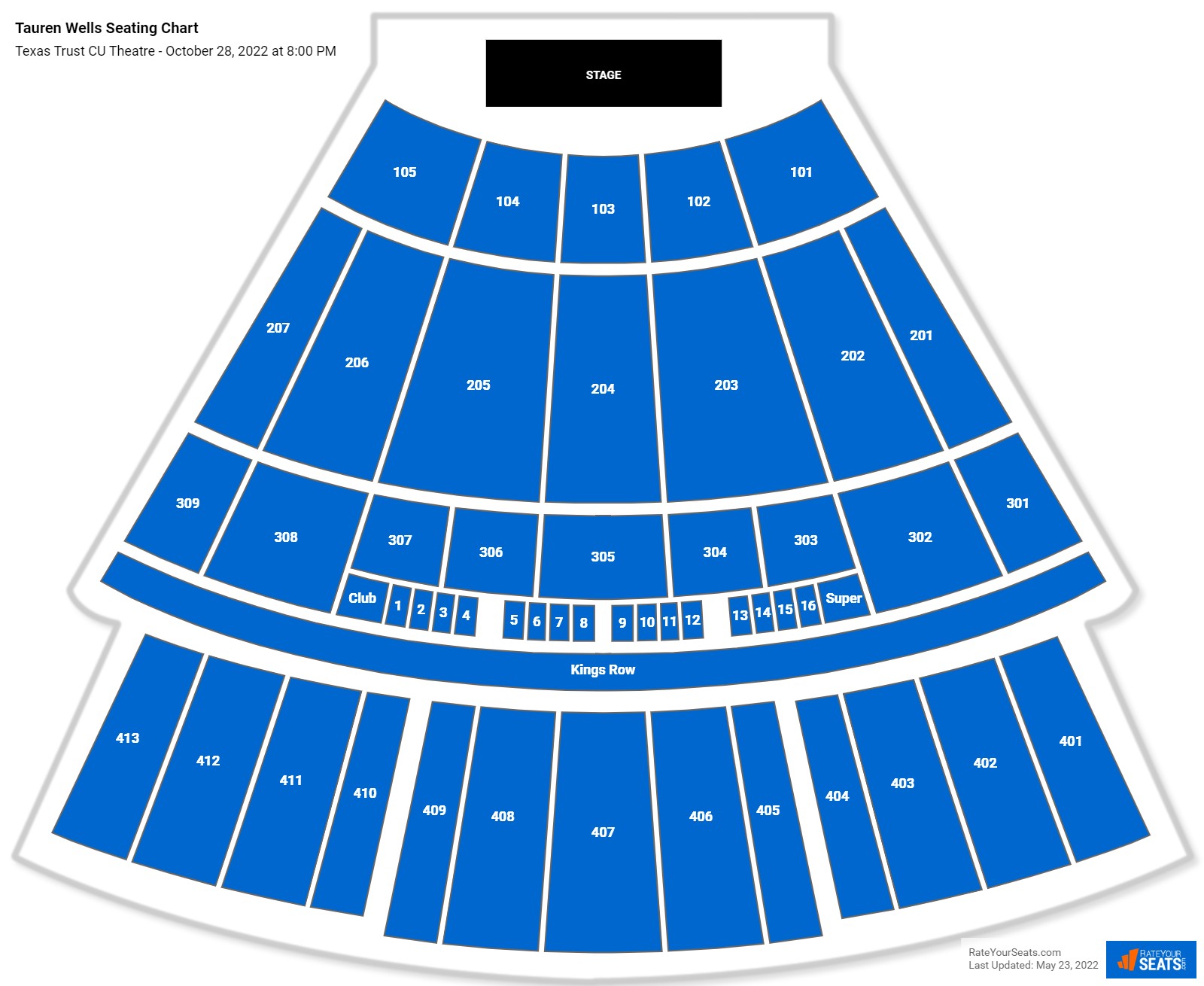 Nov 13, 2022 at 7:00 PM
Zach Williams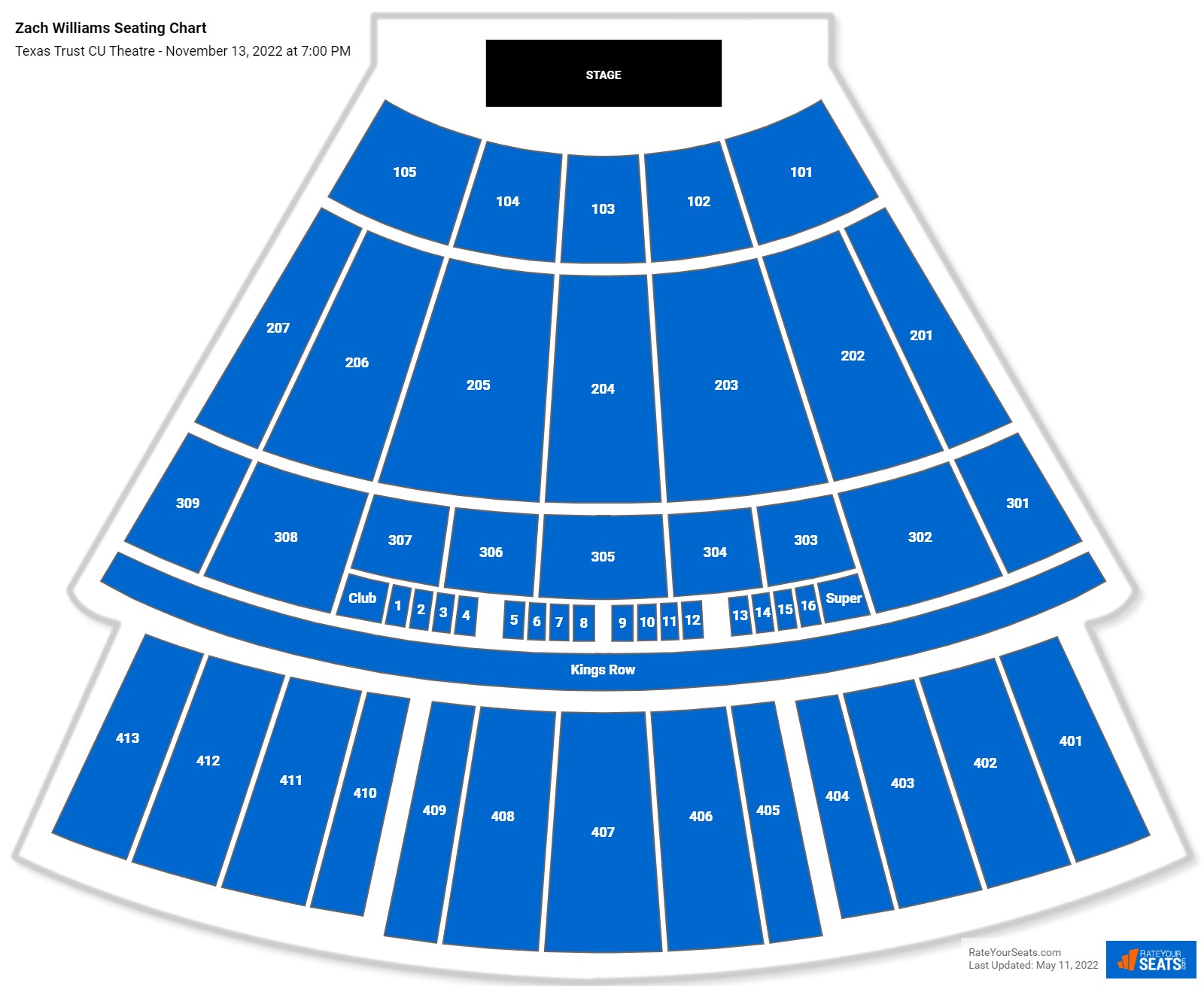 Nov 18, 2022 at 8:00 PM
Intocable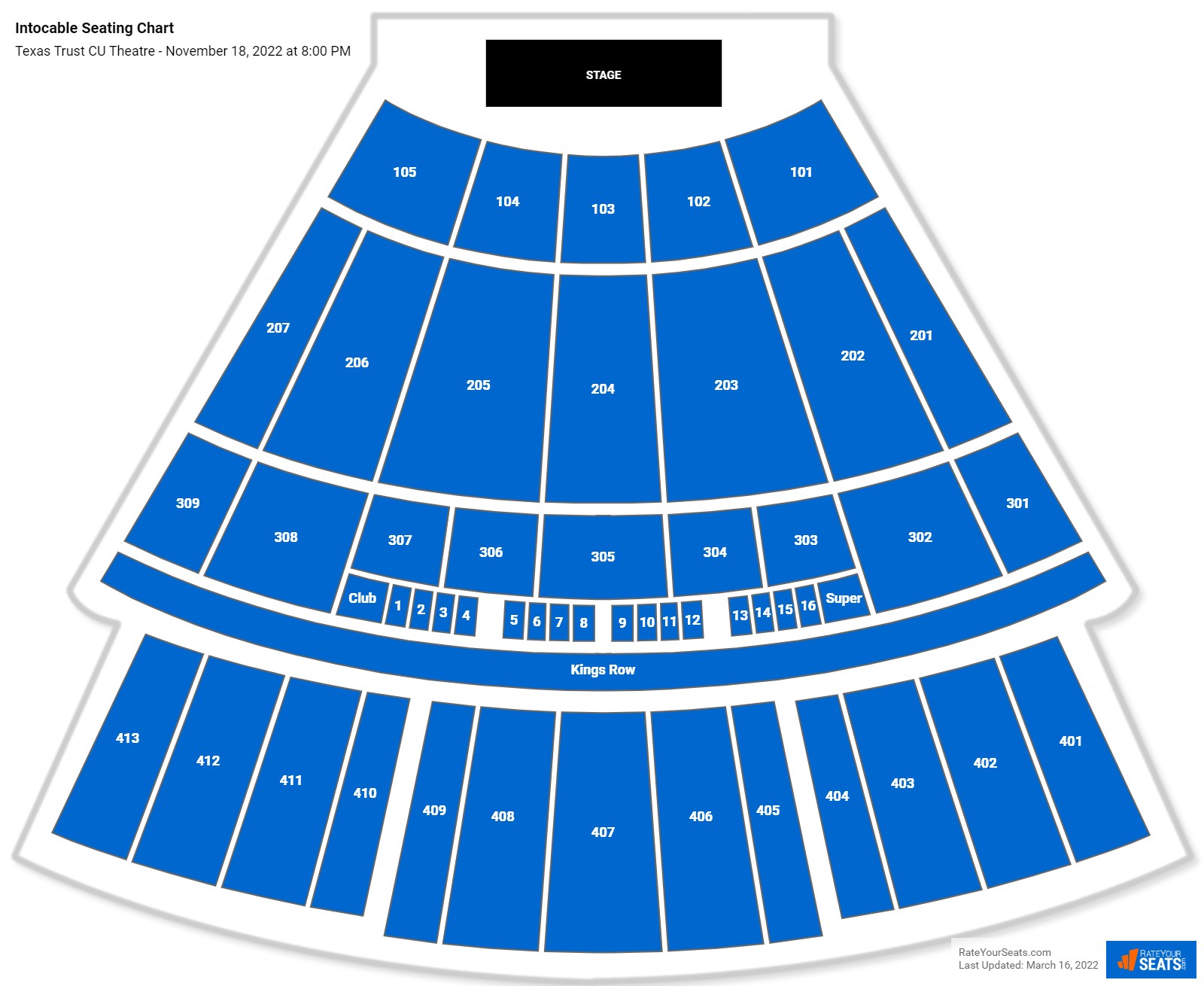 Multiple Dates
Blueys Big Play