State Farm Stadium Red Zone Seats
Features & Amenities
Sections 138-144 are a group of sections near the endzone at State Farm Stadium. These seats are not permanent and separated from the rest of the 100-level.
The sections are made from temporary bleachers with each seat being a folding chair. The Red Zone seats are certainly not the most comfortable seats in the stadium. However, with only 12 rows right near the endzone, they are some of the closest and most action-packed sections State Farm Stadium has to offer.
Getting to the Seats
The most unique aspect of these seats is how you enter. Fans take a staircase down from the main concourse and enter from inside the tunnels of the stadium at field level. While there is no access to the players, these are the same tunnels used by team personnel and other gameday operations and they have a cool behind-the-scenes look.
Once at field level, there is an open area with tables to eat and mingle. To access the sections, all fans must walk up a staircase at the back and then back down to the ticketed row.
Note: For big games, these sections are often altered and extended up to the main level concourse.

Note: These seats are highlighted on the map
Interactive Seating Chart
Red Zone Seats Seating Chart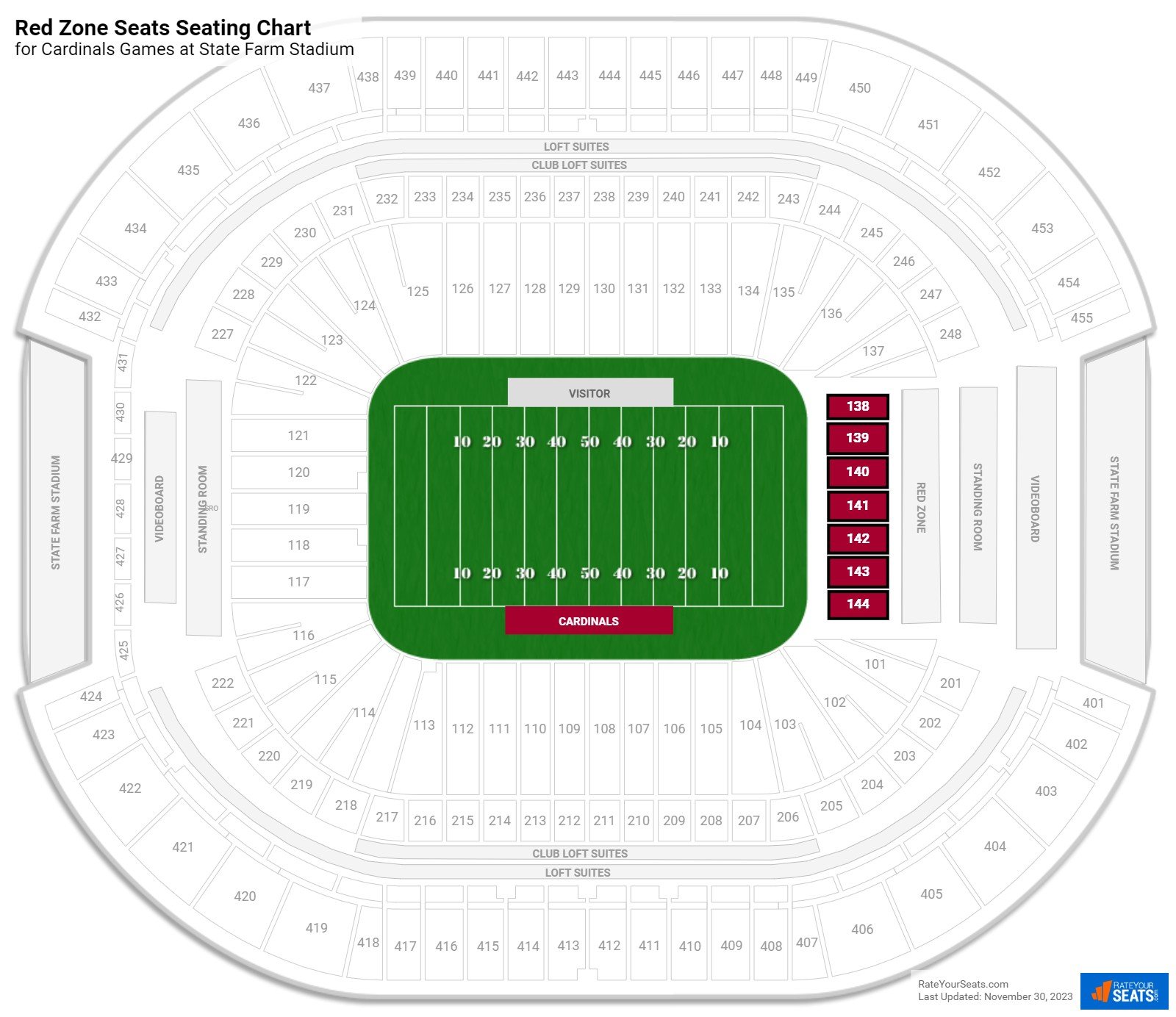 Red Zone Seats Reviews
Ratings & Reviews From Similar Seats

"End zone temporary seating"

(Section 141) - -

Although were mid way up, the view is terrible. Anytime the ball was not directly in our end zone, (within the 20), had to watch the jumbo-tron in the other end zone (and that was not easy as the camera person could not find the ball on 50% of the plays). Only three gates to enter stadium and you...
More Seating at State Farm Stadium
Event Schedule
Cardinals
Other Football
Concert
Other Basketball
Other