Stanford Stadium Seats with Backs
Chairback Seats
Seats with backs at Stanford Stadium are found in sideline sections on both sides of field and on both seating levels.
Sections 111-115 and 131-135 on the lower level are chairback seating. And Sections 211-215 and 231-235 on the upper level also have a stadium chair with armrests.
Most seating in the rest of the stadium is bench-style with back support.
Note: These seats are highlighted on the map
Interactive Seating Chart
Seats with Backs Seating Chart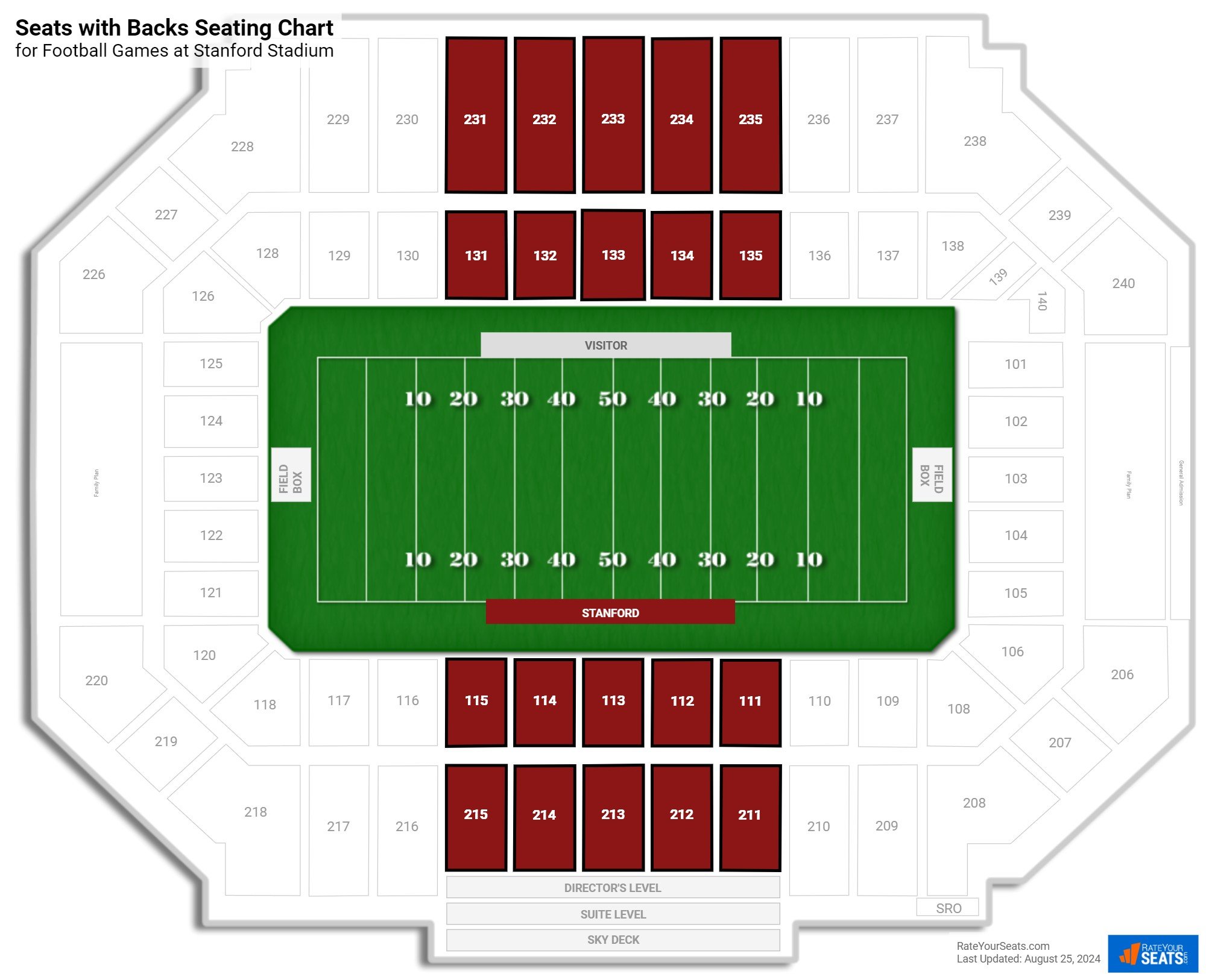 Seats with Backs Sections
More Seating at Stanford Stadium
Event Schedule
15Sep

2023 Stanford Cardinal Football Season Tickets

Stanford Stadium - Stanford, CA

Friday, September 15 at 12:55 PM

16Sep

Sacramento State Hornets at Stanford Cardinal

Stanford Stadium - Stanford, CA

Saturday, September 16 at Time TBA

23Sep

Arizona Wildcats at Stanford Cardinal

Stanford Stadium - Stanford, CA

Saturday, September 23 at Time TBA

30Sep

Oregon Ducks at Stanford Cardinal

Stanford Stadium - Stanford, CA

Saturday, September 30 at Time TBA

21Oct

UCLA Bruins at Stanford Cardinal

Stanford Stadium - Stanford, CA

Saturday, October 21 at Time TBA

28Oct

Washington Huskies at Stanford Cardinal

Stanford Stadium - Stanford, CA

Saturday, October 28 at Time TBA

18Nov

California Golden Bears at Stanford Cardinal

Stanford Stadium - Stanford, CA

Saturday, November 18 at Time TBA