Courtside Club at Smoothie King Center
Features & Amenities
Fans sitting in Pelicans Floor Seats will have their feet on the hardwood and be as close as possible to the excitement happening on the court.
When looking at the basketball seating chart at Smoothie King Center, floor sections are along the sidelines in rows AA, BB, 2, and 3 of sections 102, 111-114, and 123-124. Fans lucky enough to sit here will not only have impressive proximity to the court, but will also enjoy access to the Courtside Club which features complimentary food and beverage including alcohol.
Along the baselines floor seating is found only in rows AA and BB of sections 106-107 and 118-119. Ticket holders in these seats will still be treated to the same amenities as those along the sidelines.
Amenities available for Pelicans home games. For other events, some amenities may not be available or offered.
Please note: Due to health and safety protocols in 2023, food availability, club access, wait service and other amenities are subject to change without notice.
Note: These seats are highlighted on the map
Map Highlighting

Select rows in section are part of this seating zone
Interactive Seating Chart
Courtside Club Seating Chart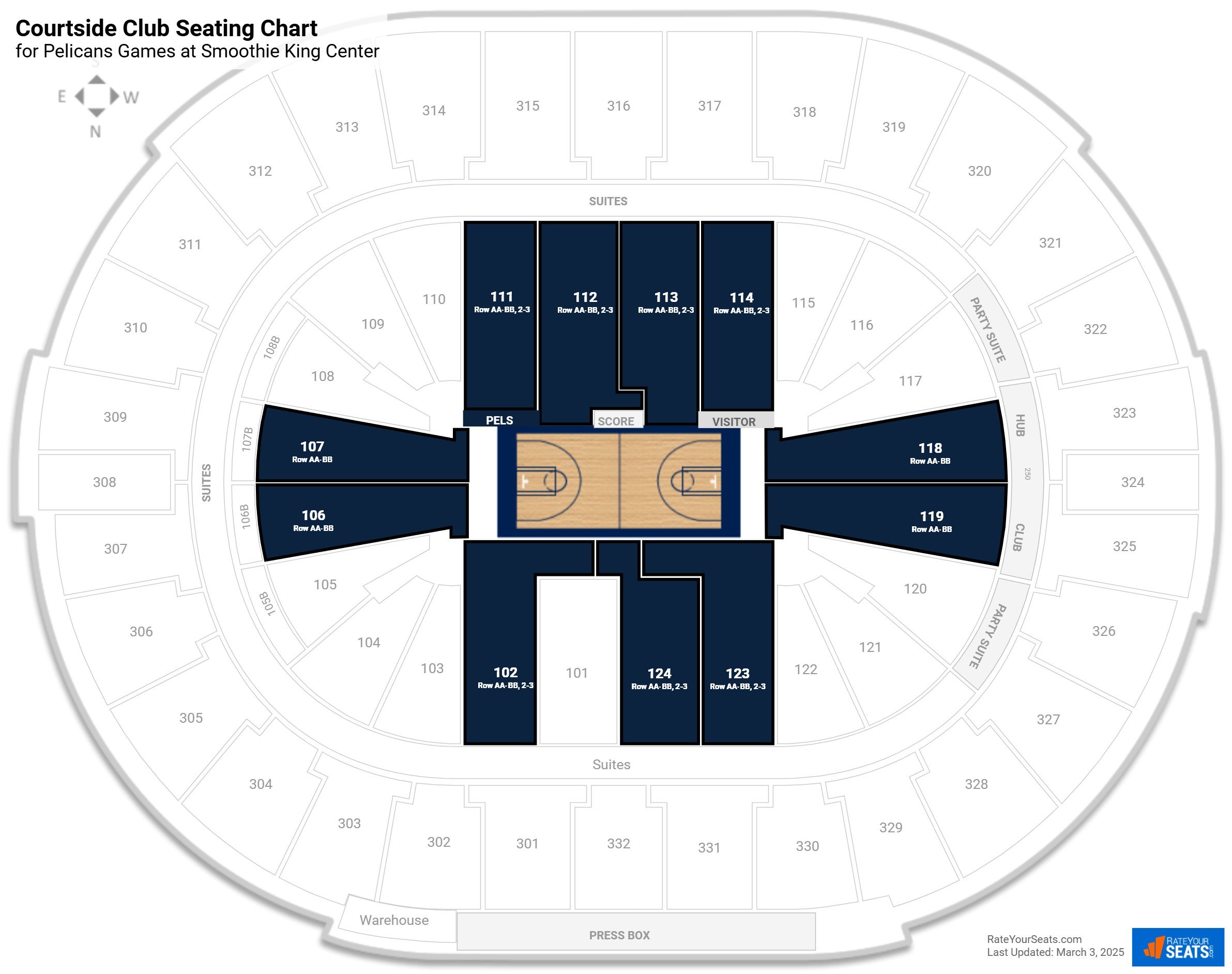 Courtside Club Reviews
Ratings & Reviews From Similar Seats

"Great"

(Section 123) -

"Great seats! "

(Section 113) - -

Close to the action, right smack in the center of the court so full visual of the game on all sides. Loved it!

"Imagine Dragons, awesome seats!"

(Section 113) - -

Seats were great! I researched a lot since it was our first time coming here and as much as I wanted floor seats, I think it would've been harder for me and my 11 year old to see over the taller people that would've been in front of us. Row 12 is good because you're elevated just enough above the st...
More Seating at Smoothie King Center
Event Schedule
Pelicans
Other Basketball
Concert
Other