VIP Box Seats at Budweiser Stage
Club seats are highlighted on the map
VIP Box Seats Features & Amenities
Box Seats at Budweiser Stage are located directly behind 200 level seating at the center of the venue. Sitelines from the box seats are second-to-none and the sound quality is often praised. The Boxes are semi-private and include additional legroom and a ledge or table for putting phones, drinks and food.

For many shows, box seat ticketholders are rewarded with VIP Club benefits. These benefits include a private entrance, in-box wait service with a menu of food and drink - and access to the exclusive VIP Lounge. The Lounge features a full bar, upscale food items and modern seating, making it a perfect hangout before or after the show.

Please check the seller notes to determine if the Box Seats you are purchasing are part of the VIP Club.
Seat View From VIP Box Seats
Interactive Seating Chart
Boxes Seating Chart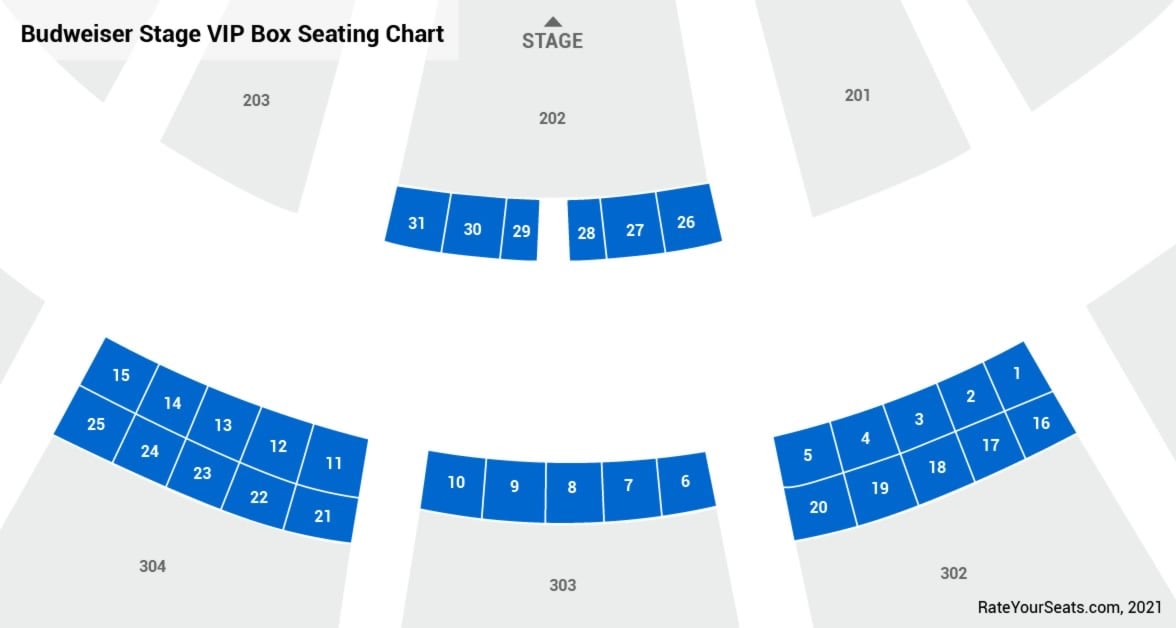 Ratings, Reviews & Recommendations
"Box seats"

(VIP Box Seats) -

"VIP Boxes are the way to go!"

(VIP Box Seats) - -

Awesome experience sitting in a box for the OneRepublic show! Loved having in-box wait service. Allowed us to order drinks have them delivered directly to us. Food menu in the box is underwhelming. I recommend grabbing food in the lounge before the main show where they have much better variety. ...

"VIP Box Seats were perfect!!"

(VIP Box Seats) - -

We were in Box #8, which is dead center to the stage just in front of the 300 section. The box had 8 seats, divided into 2 rows (A & B) of 4 seats with a big aisle/gap in the middle. It was really 4 separate sets of 2 seats so was perfect for my wife and I - we had plenty of open space around us. Th...
Other Popular Seating Choices