Best Places to Find Covered Seating
With 2-3 home games while the summer winds down, Razorback Stadium is no stranger to wild, wet and warm weather. Fortunately, the stadium does offer a few options for fans who wish to stay dry or cool when the weather plays its tricks.
Sideline Covered Seating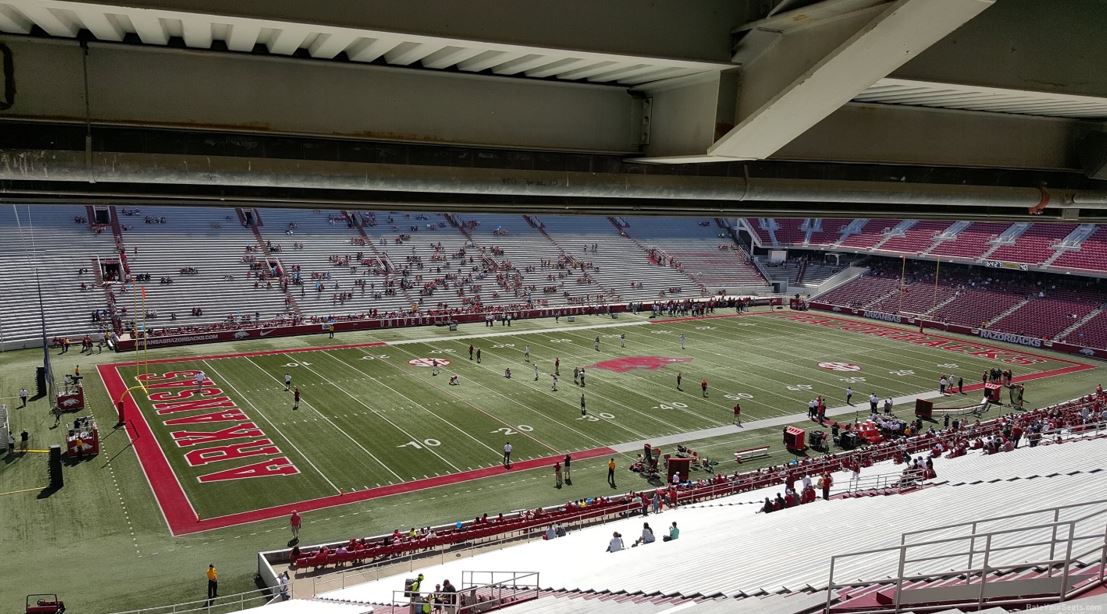 One of the best places to sit is in the last six rows (52 and higher) of sections 101-107. These top rows are covered by the Suites, which keeps them dry on a rainy day. This is also the less-sunny side of the field and the highest rows in these sections are among the first to receive shade.
On the opposite side of the field, fans will find fully-covered club seating in sections 201-218. These sections are tucked below another set of club seats and are protected from above. These seats also have some of the best shade for an 11:00 am kickoff, although the sun may sneak in as it sets during the second half of 2:30 pm games.
Covered Seating on a Budget
A less-expensive option to consider is endzone seating on the south side of the field. The top rows of sections 120-126 are covered by the overhang, and also receive excellent shade nearly all day. Sit in rows 22 and above for the best coverage. Alternatively, rows 19-23 in sections 219-227 are also covered and receive ample shade.
Indoor Club Sections
If you'd prefer to completely avoid the weather, you can head to one of the stadium's indoor club areas. Unlike most stadiums, fans can usually find tickets in the indoor club seats on a single-game basis. Sections 330-344 on the east sideline and 476-488 above the south endzone are climate-controlled environments where the sun, heat and rain are never a concern.