Rady Shell at Jacobs Park San Diego Row
Features & Amenities
The San Diego Row is a group of 19 large tables for events at The Rady Shell. The tables are in a single row with Table 1601 located on the far left and 1619 on the far right.
San Diego Row seats are slightly raised over the sections below giving them a clear view to the stage.
Exclusive Amenities

For most shows, those with SD Row tickets can pre-order from a chef-curated menu. Sitting here provides more seats and more space than the Marina seats closer to the stage. It is an ideal sport for anyone looking for an upscale evening with slightly more privacy.
A dedicated wait-staff member is also available for each table table to take drink orders (wine, beer, and liquor) which are available for purchase.
Note: Visit the Rady Shell at Jacobs Park website for pre-order details.
Note: These seats are highlighted on the map
Interactive Seating Chart
San Diego Row Seating Chart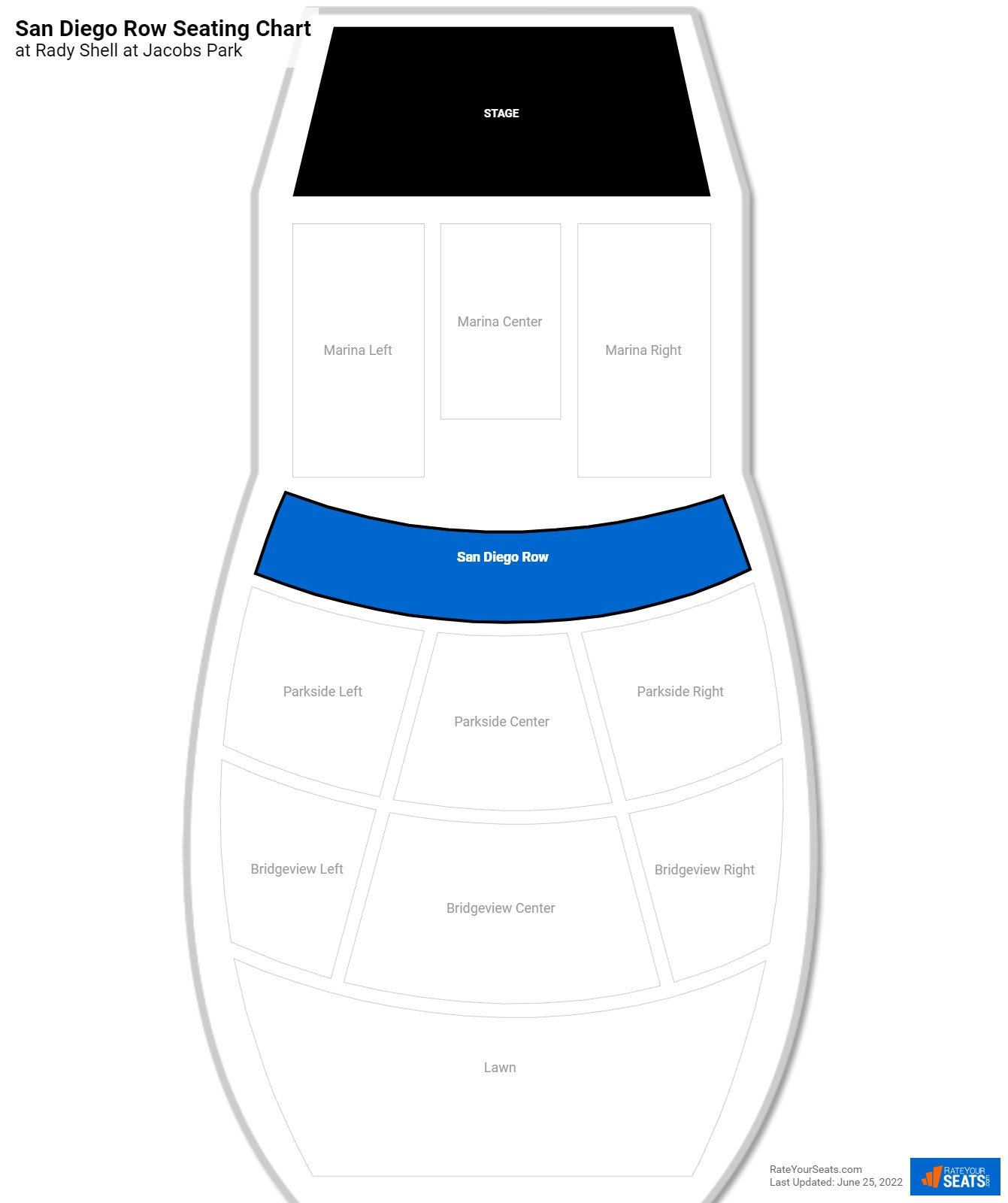 More Seating at Rady Shell at Jacobs Park
Event Schedule
San Diego Symphony - Casino Royale

Rady Shell at Jacobs Park - San Diego, CA

Saturday, March 18 at 7:00 PM

Jean-Yves Thibaudet Plays Debussy

Rady Shell at Jacobs Park - San Diego, CA

Friday, April 21 at 7:30 PM

Jean-Yves Thibaudet Plays Debussy

Rady Shell at Jacobs Park - San Diego, CA

Saturday, April 22 at 7:30 PM

Garrick Ohlsson Plays Rachmaninoff

Rady Shell at Jacobs Park - San Diego, CA

Friday, May 5 at 7:30 PM

Garrick Ohlsson Plays Rachmaninoff

Rady Shell at Jacobs Park - San Diego, CA

Saturday, May 6 at 7:30 PM

San Diego Symphony - Star Wars: A New Hope

Rady Shell at Jacobs Park - San Diego, CA

Saturday, May 13 at 7:30 PM

San Diego Symphony - Star Wars: A New Hope

Rady Shell at Jacobs Park - San Diego, CA

Sunday, May 14 at 7:30 PM

Singing with the Devil - Payare and Cantata Criolla

Rady Shell at Jacobs Park - San Diego, CA

Friday, May 26 at 7:30 PM

Singing with the Devil - Payare and Cantata Criolla

Rady Shell at Jacobs Park - San Diego, CA

Saturday, May 27 at 7:30 PM