Rady Shell at Jacobs Park Bridgeview Seats
Features & Amenities
Bridgeview Seats at Rady Shell are the last type of reserved seating before the lawn. This is the least spacious option and located furthest from the stage. However, this typically comes with a cost savings as well.
Fans looking for a reserved seat without the need for a table should look in this section. Since the chairs are closer together, most rows are able to seat over 100 people. Rows are alphabetical A-Z
Elevated Views
At the Rady Shell at Jacobs Park, every few rows increase in elevation from a step. The first row after an increase in elevation typically is slightly more valuable due to the clearer views to the stage.
The first rows with elevation for most shows are:
Note: These seats are highlighted on the map
Interactive Seating Chart
Bridgeview Seats Seating Chart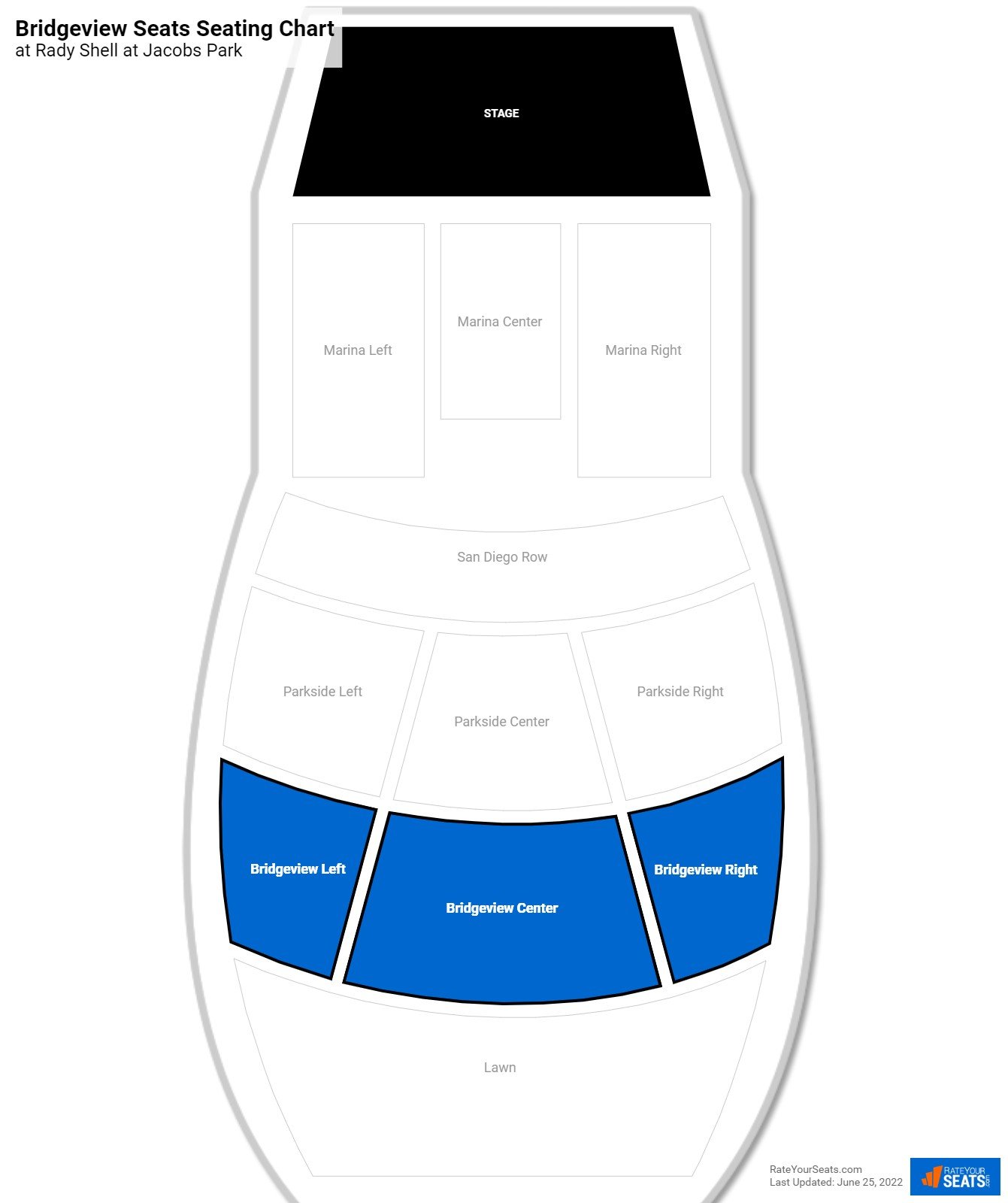 More Seating at Rady Shell at Jacobs Park
Event Schedule
San Diego Symphony - Casino Royale

Rady Shell at Jacobs Park - San Diego, CA

Saturday, March 18 at 7:00 PM

Jean-Yves Thibaudet Plays Debussy

Rady Shell at Jacobs Park - San Diego, CA

Friday, April 21 at 7:30 PM

Jean-Yves Thibaudet Plays Debussy

Rady Shell at Jacobs Park - San Diego, CA

Saturday, April 22 at 7:30 PM

Garrick Ohlsson Plays Rachmaninoff

Rady Shell at Jacobs Park - San Diego, CA

Friday, May 5 at 7:30 PM

Garrick Ohlsson Plays Rachmaninoff

Rady Shell at Jacobs Park - San Diego, CA

Saturday, May 6 at 7:30 PM

San Diego Symphony - Star Wars: A New Hope

Rady Shell at Jacobs Park - San Diego, CA

Saturday, May 13 at 7:30 PM

San Diego Symphony - Star Wars: A New Hope

Rady Shell at Jacobs Park - San Diego, CA

Sunday, May 14 at 7:30 PM

Singing with the Devil - Payare and Cantata Criolla

Rady Shell at Jacobs Park - San Diego, CA

Friday, May 26 at 7:30 PM

Singing with the Devil - Payare and Cantata Criolla

Rady Shell at Jacobs Park - San Diego, CA

Saturday, May 27 at 7:30 PM