What is the view like from Section 116 Row C at Amalie Arena?
We are in seats 17-19. Is there anything in front which affects the view? Thanks.
Jan 2013
Answered by RateYourSeats.com staff...
Section 116 Row C is located directly behind the penalty box at center ice. Seats 17-19 will be on the aisle (with seat 19 being directly on the aisle, and closer to the side of the which the Lightning defend twice).
The view will not be obstructed by any other fans, but you will have to look through two panes of glass, one which separates the ice from the penalty box, and another at the back of the penalty box which separates it from the stands. So your view will be unique as you find yourself right up against the penalty box with two layers of glass to look through, but you will be impressively close to the ice and have one of the best views of the players in the penalty box. From these seats, you might even make an appearance on TV when the camera focuses on the recently penalized players.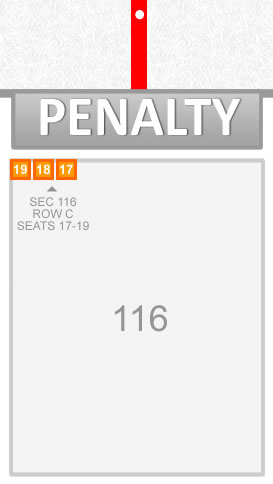 Asked January 21, 2013 for Toronto Maple Leafs at Tampa Bay Lightning on Feb 19, 2013
Interactive Seating Chart
Other Popular Seating Choices