VIP Lounge Glass Seats at Amalie Arena
Features & Amenities
For Lightning games, the first two rows (A-B) of seating on the 100 Level at Amalie Arena are considered Glass Seats. Sitting here gives guests access to two private, all-inclusive spaces.
The first private space is the VIP Lounge. This is a recently-renovated area where fans often hang out before the game and between periods. All food, drink and cocktails within the Lounge are included with the ticket price.
Ticketholders can access the VIP Lounge through a private entrance 90 minutes before the game starts. Glass Seats also provide access to the Chase Club on the stadium's second level.
Amenities available for Lightning home games. For other events, some amenities may not be available or offered.
Please note: Due to health and safety protocols in 2022, food availability, club access, wait service and other amenities are subject to change without notice.
Note: These seats are highlighted on the map
Map Highlighting

Select rows in section are part of this seating zone
Interactive Seating Chart
VIP Lounge Glass Seats Seating Chart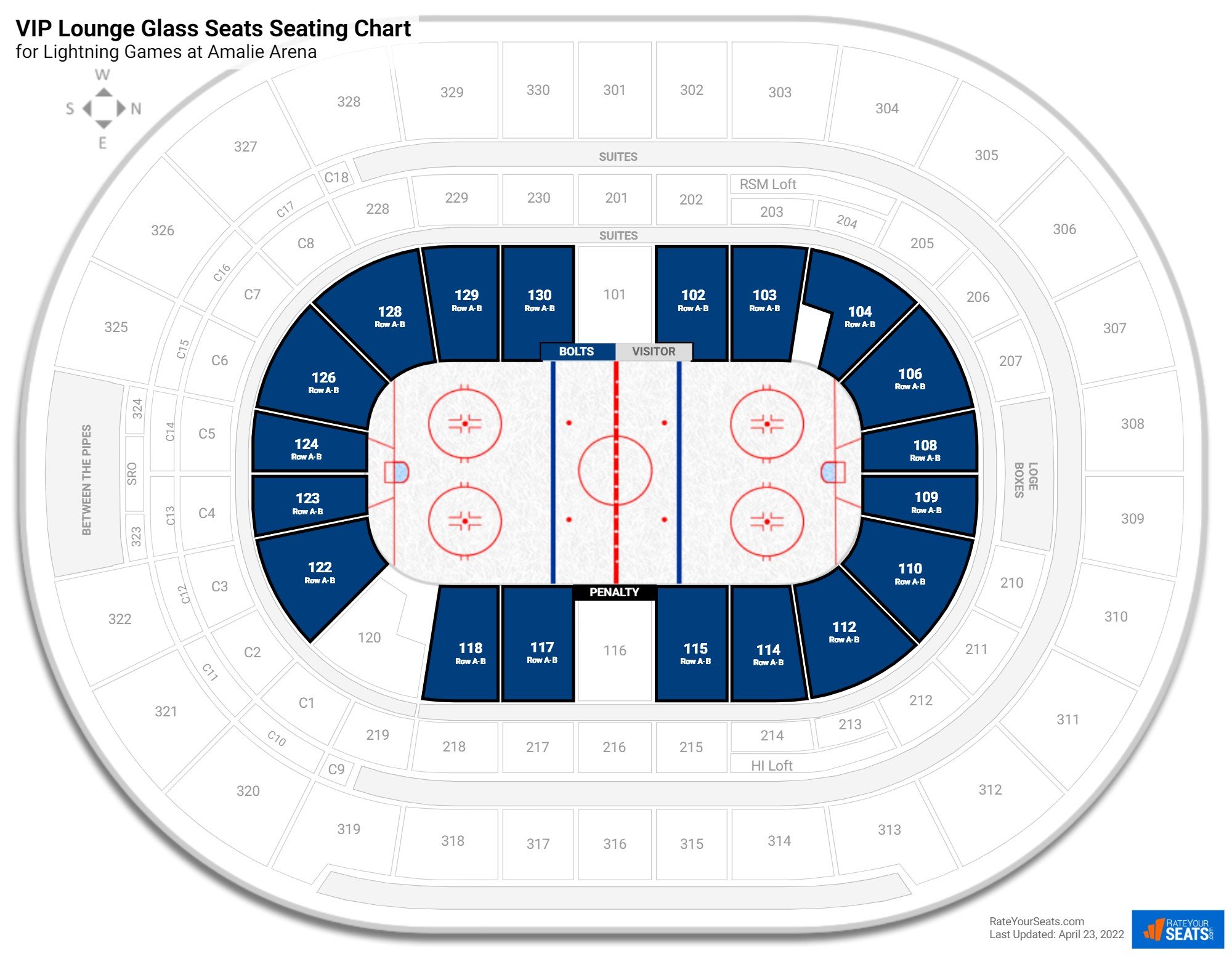 VIP Lounge Glass Seats Reviews
Ratings & Reviews From Similar Seats

"Best Valued Seats in the Arena"

(Section 110) -

"Spectacular seats!"

(Section 118) - -

Great view. Within feet of the stage and the performers!

"Great"

(Section 102) - -

Seats were right beside where the visitors walk out. Great to watch for visitors shoot twice. Hard to see anything at the other end due to players standing and being so close to the boards. Huge screen so you can see all action on it until the transition of the blue line.
VIP Lounge Glass Seats Sections
More Seating at Amalie Arena