What seats are better for Cher concert at Quicken Loans Arena?
Section C109, Row 28, Seat 8 or Section 106, Row 6, Seat 6?
Oct 2013
Answered by RateYourSeats.com staff...
Section C109 is Club Seating
Section C109 is located closer to the stage, and is also on the club level at Quicken Loans arena, which means you will have access to the Club lounge areas as well as the restaurants and bars. The view from row 28 will be high up in the section (total of 30 rows of seating in the section), but will give you good sight lines to all areas of the performance.
Row 6 is Very Close to the Floor in Section 106
Section 106 Row 6 will be much closer to the floor than in Section C109, however it is also further set back from the stage. From here you will have a very good viewing angle to the performance as you are well aligned with the center of the stage rather than off the side. The elevation between rows in the lower portion of section 106 is not as steep, which could make it difficult to see the stage if there are taller fans just in front of you.
Amenities vs. Proximity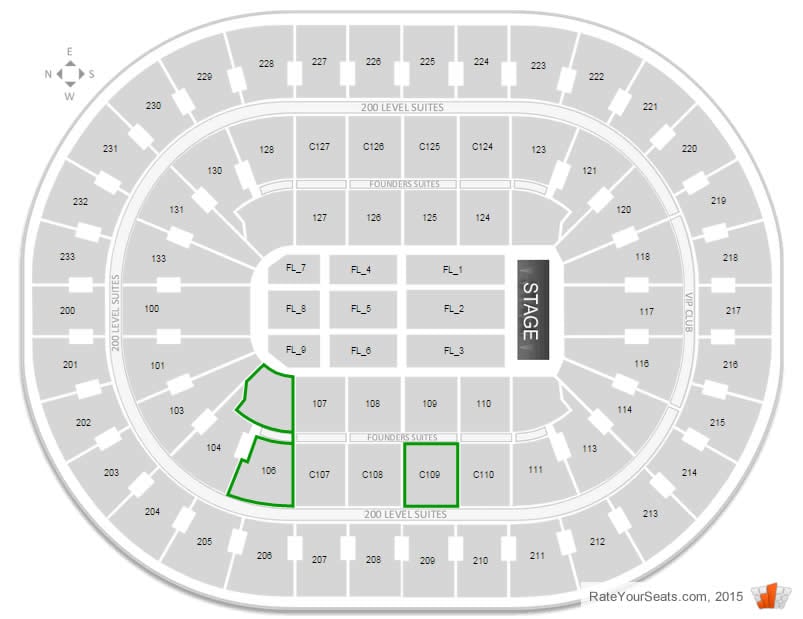 Both seating sections (C109 and 106) are good options, however if we were to recommend one over the other, we would go with section C109. You will be closer to the stage with a decent viewing angle, and will also be able to enjoy the club level amenities.
Asked October 11, 2013 for Cher on May 2, 2014
Interactive Seating Chart
Other Popular Seating Choices