Where's the best place to park at Heinz Field for a Steelers game?
Aug 2015
Answered by RateYourSeats.com staff...

Gameday is approaching and you're psyched to see your first game at Heinz Field. You've had your tickets for months but then begin to wonder about parking. Is parking for a Steelers game easy? Are there enough spots? Can I take public transportation?


Parking is often one of the most over-looked and frustrating aspects about attending a football game (especially in the NFL). Most fans who wing it end up paying absurd amounts or have to walk insanely far to the stadium. Fortunately, the Steelers and Heinz Field offer a wide array of options for gameday parking. From public transportation to water shuttles to pre-sold parking, your journey from Home to Heinz can become a little easier if you're prepared.


Best Parking Options Ranked


1. Pre-Sold parking in the North Shore


Pros: Close & Hassle-Free


Cons: Expensive & Limited Availability


If you're lucky enough to have a parking pass, it's most likely one of the 6,000+ spots closest to the stadium in the North Shore. Even if you don't have a pass, you can contact
ALCO Parking, the Carnegie Science Center (412-237-3400) or Rivers Casino (412-231-7777) to inquire about pre-sold spots.


2. Reserved third-party parking (downtown and North Shore)


Pros: Hassle-Free, Pass on your phone (some cases)


Cons: Variable pricing, Most spaces require >0.5 mile walk


This is what RateYourSeats.com employees use for most out-of-town games. There are many services, but we prefer
Parkwhiz (note: we have an affiliation with Parkwhiz, but they did not sponsor this post). These services allow you to purchase a reserved spot ahead of time. The reason we use this option (especially as out-of-towners) is that you get a specific address to put in a GPS instead of circling the stadium looking for open parking or a specific lot. Most spots can be reserved for less than $20.


3. First-come, first-serve parking downtown


Pros: Inexpensive, App shows parking availability


Cons: Unreserved, Longest Walks


Fans on a budget will want to take advantage of $5 and $7 parking downtown. There are ten lots (see the image below) all within 1.25 miles (about 30 minute walk) of Heinz Field. The farthest lots (8 and 9 on the image) do have shuttles running directly from the lot to the stadium for a small fee. If the weather is nice and you don't mind walking, this is a great way to save money. Arrive early for a chance to park in one of the closer lots and to avoid being shut out altogether. Download the ParkPGH App for real-time availability.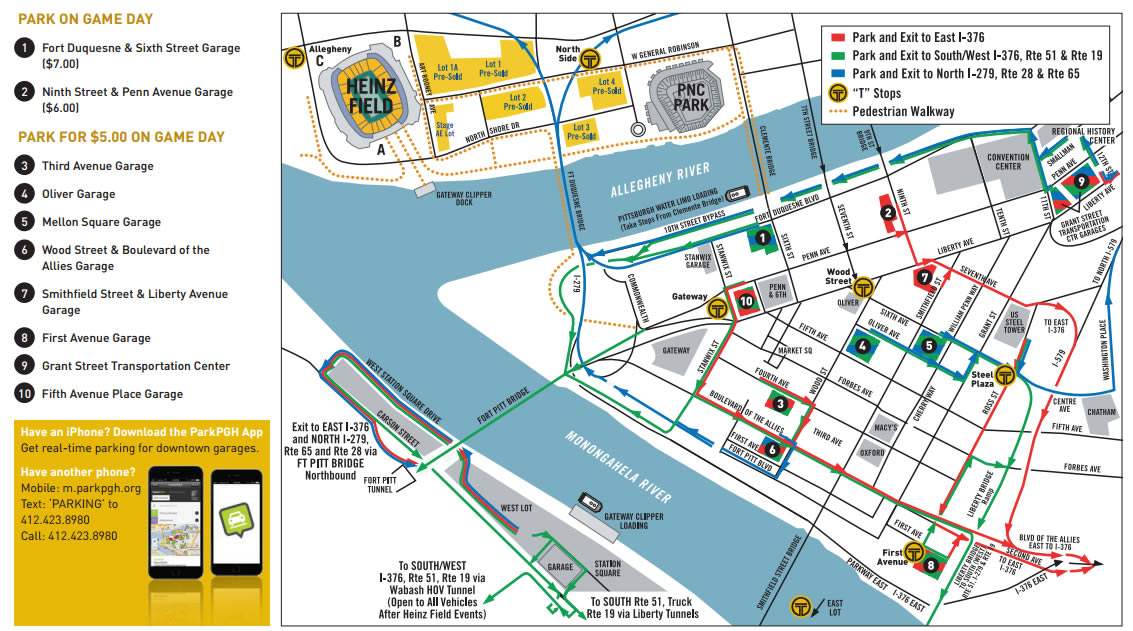 Other Considerations

Contact the Steelers directly ([email protected]/412-323-1200) if you need handicapped parking


Board the Gateway Clipper from Station Square for $10 round-trip + $10 parking


Take the "T" and get off at Allegheny Station
Consult the Heinz Field Parking Guide
Asked August 26, 2015
Interactive Seating Chart
Other Popular Seating Choices