North Club at Acrisure Stadium
Features & Amenities
On the Acrisure Stadium seating chart, sections NC1-NC15 are North Club seats. Each of these sections have two rows of outdoor seating and one row indoors (Row C).
Comparing to Club Level Seats
These sections are often compared to 200 Level Club Seats which run along the sideline. Both club options have wider, more comfortable seating and access to an indoor club space.
North Club Seats are the preferred choice when the weather is a concern. These seats are fully covered and are the best shaded seats at Acrisure Stadium.
Sideline Club Seats have closer and better views of the field, but North Club sections have the best views of the videoboard.
Please note: Due to health and safety protocols in 2022, food availability, club access, wait service and other amenities are subject to change without notice.
Note: These seats are highlighted on the map
Interactive Seating Chart
North Club Seating Chart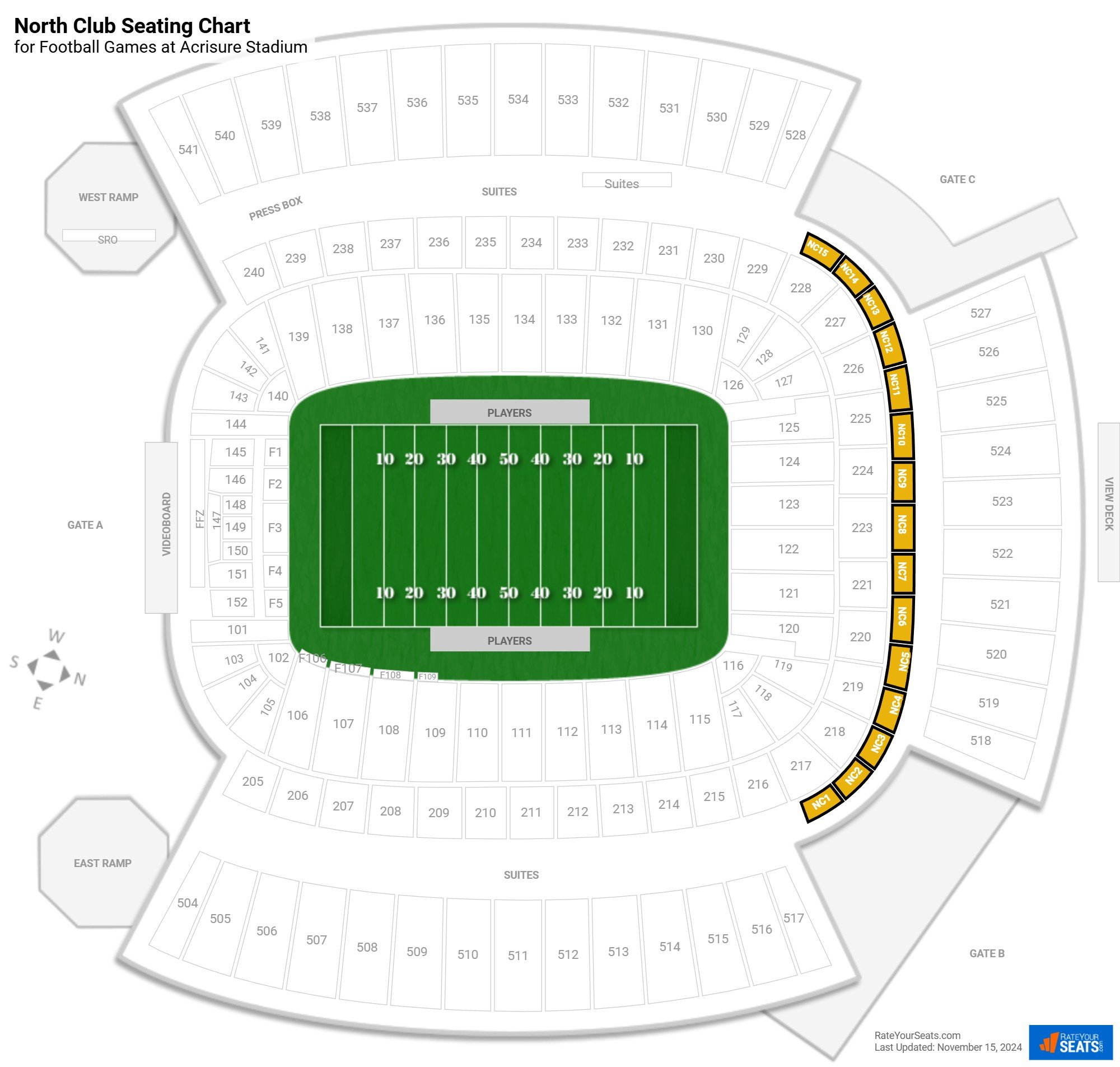 More Seating at Acrisure Stadium
Event Schedule
28Aug

NFL Preseason - Detroit Lions at Pittsburgh Steelers

Acrisure Stadium - Pittsburgh, PA

Sunday, August 28 at 4:30 PM

17Sep

2022 Pittsburgh Steelers Season Tickets

Acrisure Stadium - Pittsburgh, PA

Saturday, September 17 at 12:55 PM

18Sep

New England Patriots at Pittsburgh Steelers

Acrisure Stadium - Pittsburgh, PA

Sunday, September 18 at 1:00 PM

2Oct

New York Jets at Pittsburgh Steelers

Acrisure Stadium - Pittsburgh, PA

Sunday, October 2 at 1:00 PM

16Oct

Tampa Bay Buccaneers at Pittsburgh Steelers

Acrisure Stadium - Pittsburgh, PA

Sunday, October 16 at 1:00 PM

13Nov

New Orleans Saints at Pittsburgh Steelers

Acrisure Stadium - Pittsburgh, PA

Sunday, November 13 at 1:00 PM

20Nov

Cincinnati Bengals at Pittsburgh Steelers

Acrisure Stadium - Pittsburgh, PA

Sunday, November 20 at 8:20 PM

11Dec

Baltimore Ravens at Pittsburgh Steelers

Acrisure Stadium - Pittsburgh, PA

Sunday, December 11 at 1:00 PM

24Dec

Las Vegas Raiders at Pittsburgh Steelers

Acrisure Stadium - Pittsburgh, PA

Saturday, December 24 at 8:15 PM