Providence Park South Deck Bleachers
Features & Amenities
South Deck Bleacher Seats at Providence Park are some of the cheapest tickets on the lower level. These seats have an excellent view of the near goal and provide a video-game-like view of plays breaking out towards the other end.
This area is not under cover and is fully exposed to the elements. If you are sensitive to the sun or if rain is in the forecast, you may want to consider tickets in the main stadium bowl.
The area behind these seats is known as the Widmer Brothers Southern Front and features an patio pub.
As the name suggests, these are bleacher seats and not individual stadium chairs.
Note: These seats are highlighted on the map
Interactive Seating Chart
South Deck Bleachers Seating Chart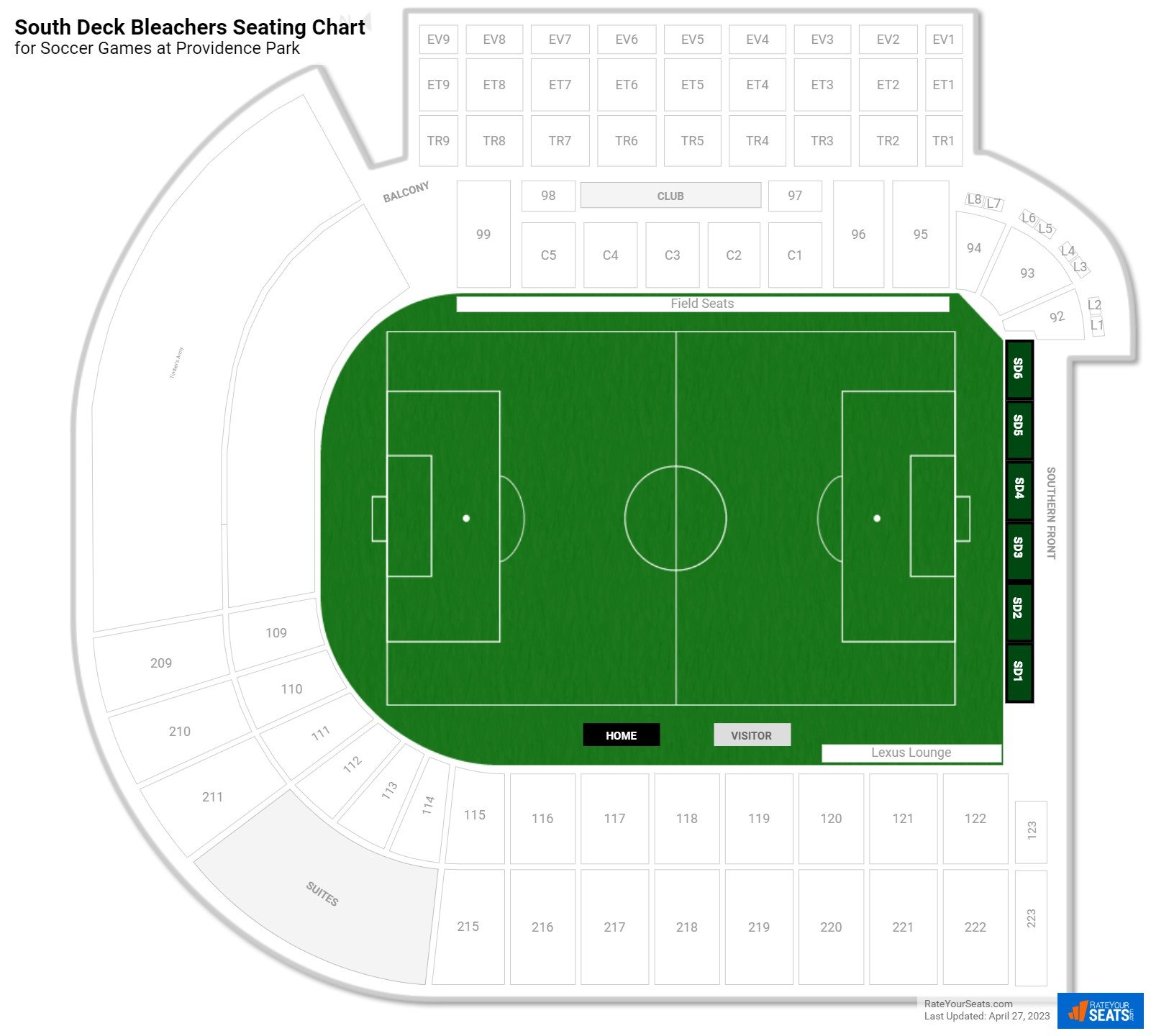 South Deck Bleachers Reviews
Ratings & Reviews From Similar Seats

"Great seats if you want to stand the whole time"

- -

This is a great location, but the group of season ticket holders in row A make it impossible to see the game unless you want to stand the entire time. Even then, if you're on the shorter side, good luck. It's mostly men on the tall side and they basically form a wall.
South Deck Bleachers Sections
More Seating at Providence Park
Event Schedule
24Feb

2023 Portland Timbers Season Tickets

Providence Park - Portland, OR

Friday, February 24 at 12:55 PM

25Feb

Sporting Kansas City at Portland Timbers

Providence Park - Portland, OR

Saturday, February 25 at 7:30 PM

11Mar

St Louis City SC at Portland Timbers

Providence Park - Portland, OR

Saturday, March 11 at 7:30 PM

25Mar

Los Angeles Galaxy at Portland Timbers

Providence Park - Portland, OR

Saturday, March 25 at 1:30 PM

15Apr

Seattle Sounders FC at Portland Timbers

Providence Park - Portland, OR

Saturday, April 15 at 7:30 PM

13May

Vancouver Whitecaps FC at Portland Timbers

Providence Park - Portland, OR

Saturday, May 13 at 7:30 PM

20May

Minnesota United FC at Portland Timbers

Providence Park - Portland, OR

Saturday, May 20 at 7:30 PM

26Aug

Vancouver Whitecaps at Portland Timbers

Providence Park - Portland, OR

Saturday, August 26 at 7:30 PM

30Aug

Real Salt Lake at Portland Timbers

Providence Park - Portland, OR

Wednesday, August 30 at 7:30 PM

9Sep

Los Angeles FC at Portland Timbers

Providence Park - Portland, OR

Saturday, September 9 at 7:30 PM

20Sep

San Jose Earthquakes at Portland Timbers

Providence Park - Portland, OR

Wednesday, September 20 at 7:30 PM

23Sep

Colorado Rapids at Portland Timbers

Providence Park - Portland, OR

Saturday, September 23 at 7:30 PM