PNC Music Pavilion Seating Chart
Interactive Seating Chart
Explore the Interactive Map
Jack Johnson

Aug 23

Rod Stewart

Aug 26

Korn and Evanescence

Aug 31

Five Finger Death Punch

Sep 6

OneRepublic

Sep 9

Outlaw Music Festival - Willie Nelson, Nathaniel Rateliff and the Night Sweats, Billy Strings

Sep 10

Nas and Wu Tang Clan

Sep 18

Suicide Boys

Sep 21

Zac Brown Band

Sep 24

Shinedown

Sep 26

Alice in Chains with Breaking Benjamin

Oct 4

Stevie Nicks

Oct 22

Matchbox Twenty

Jul 11
Seating Chart for Concerts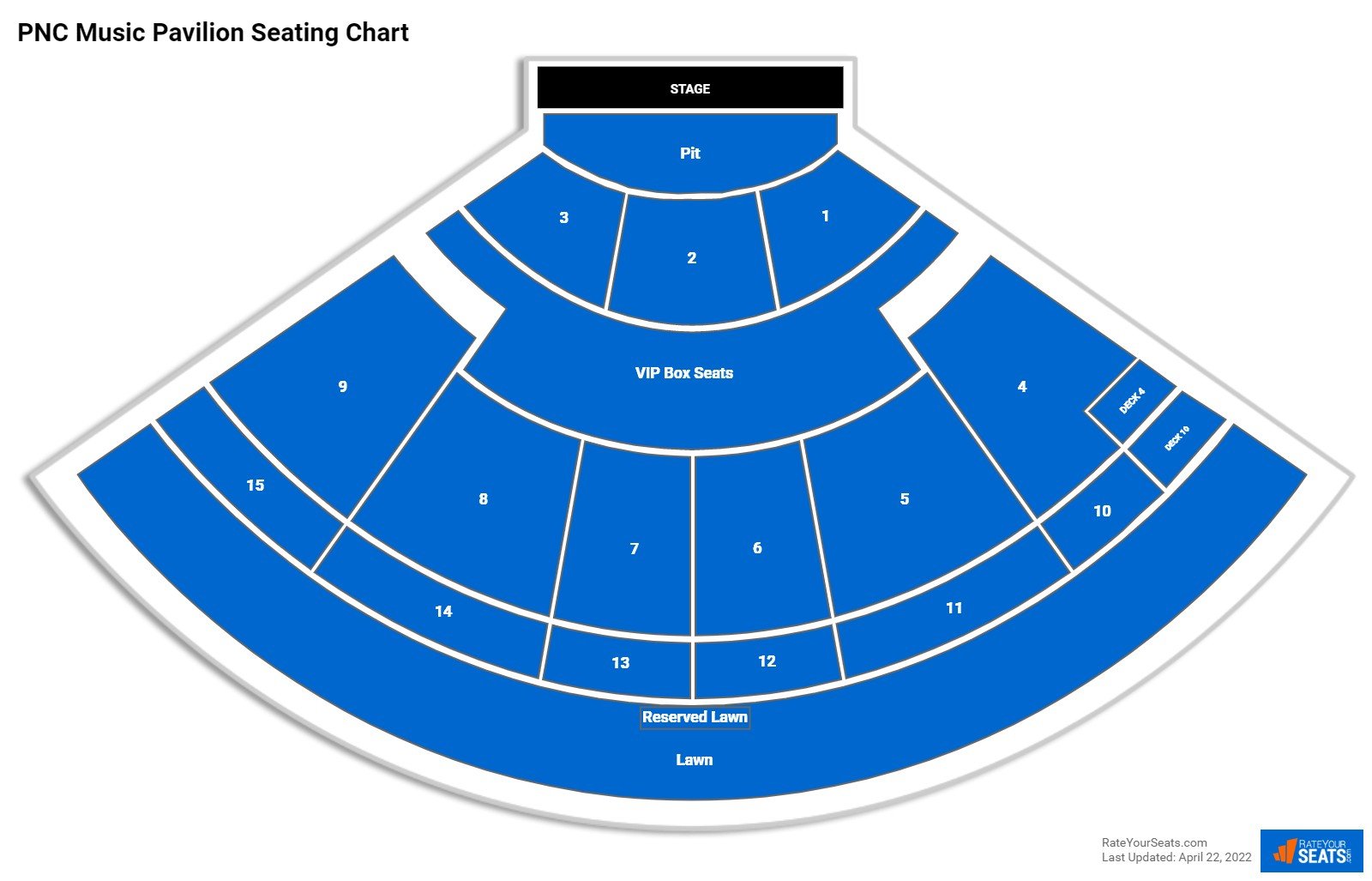 PNC Music Pavilion concert seating charts vary by performance. This chart represents the most common setup for concerts at PNC Music Pavilion, but some sections may be removed or altered for individual shows. Check out the seating chart for your show for the most accurate layout.
PNC Music Pavilion Seating Chart With Row Numbers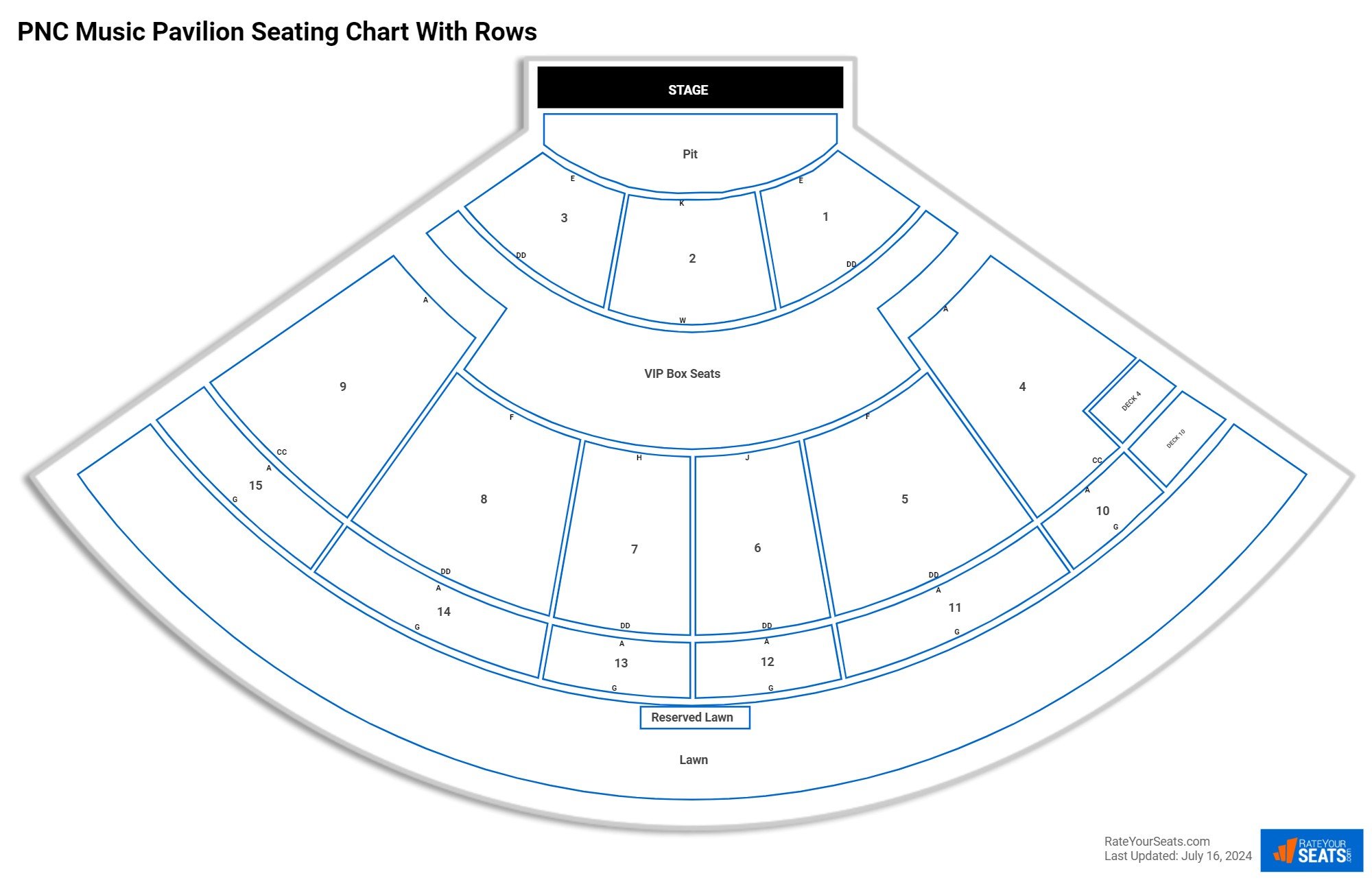 PNC Music Pavilion Seat Numbers
The seat numbers at PNC Music Pavilion go from right-to-left. When seating looking at the stage the lowest seat number (usually seat 1) will be on the far right of each section.

Sections 1 and 3 have seat numbers that go from 1-11 in the first row and up to 39 seats in the longest row. Section 2 is much different than sections 1 and 3, since the first row has 50 seats and then the last row has 40 seats. Section 2 has the first few rows closer to the stage and then as you go to the mid rows the length of the rows starts to bottleneck. Then the seat numbers increase again in the higher rows.

The number of seats in sections 4-9 will have a pretty consistent range, as most rows will have between 27-45 seats. However, section 8 is one of the largest sections at PNC Music Pavilion, as the last row has 52 seats.

Much like sections 4-9, sections 10-15 have similar ranges of seats in their rows, as most rows will have between 27-33 seats. Sections 11 and 14 are the bigger sections in the last level of reserved seating, as all the rows will have 52 seats in them.
Seating Charts for Upcoming Shows
Aug 23, 2022 at 7:00 PM
Jack Johnson
Aug 26, 2022 at 7:30 PM
Rod Stewart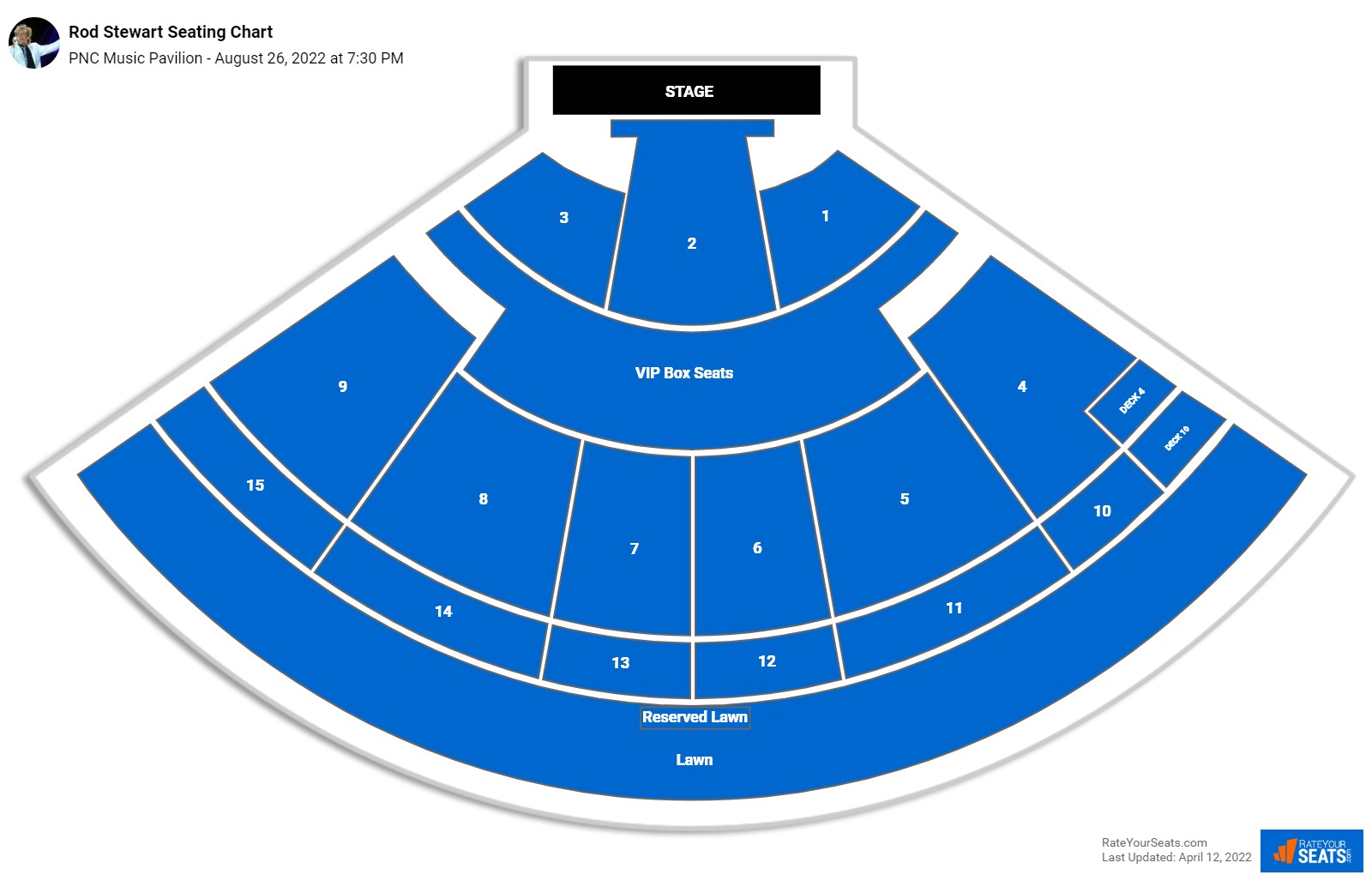 Aug 31, 2022 at 5:30 PM
Korn and Evanescence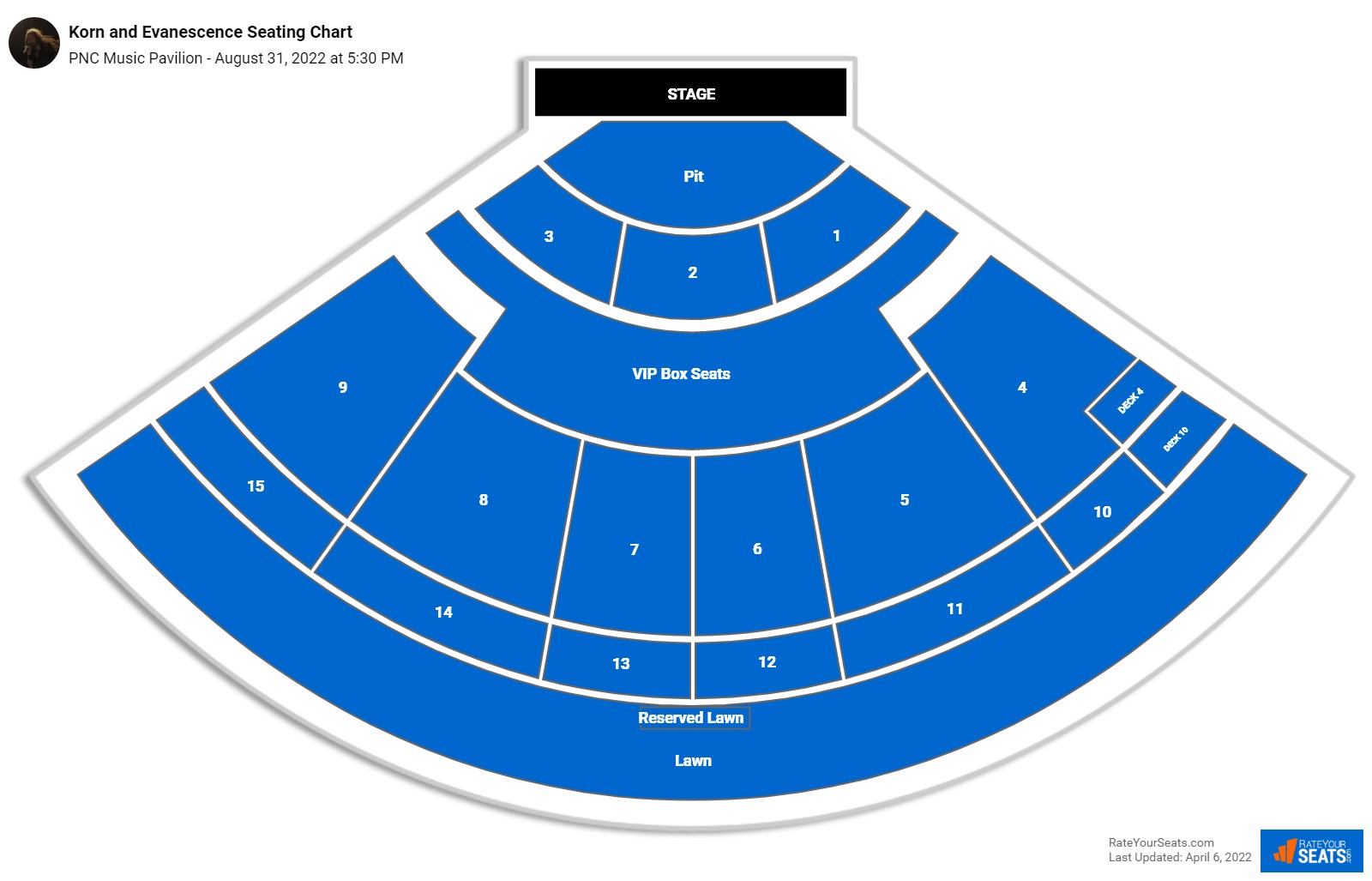 Sep 6, 2022 at 6:30 PM
Five Finger Death Punch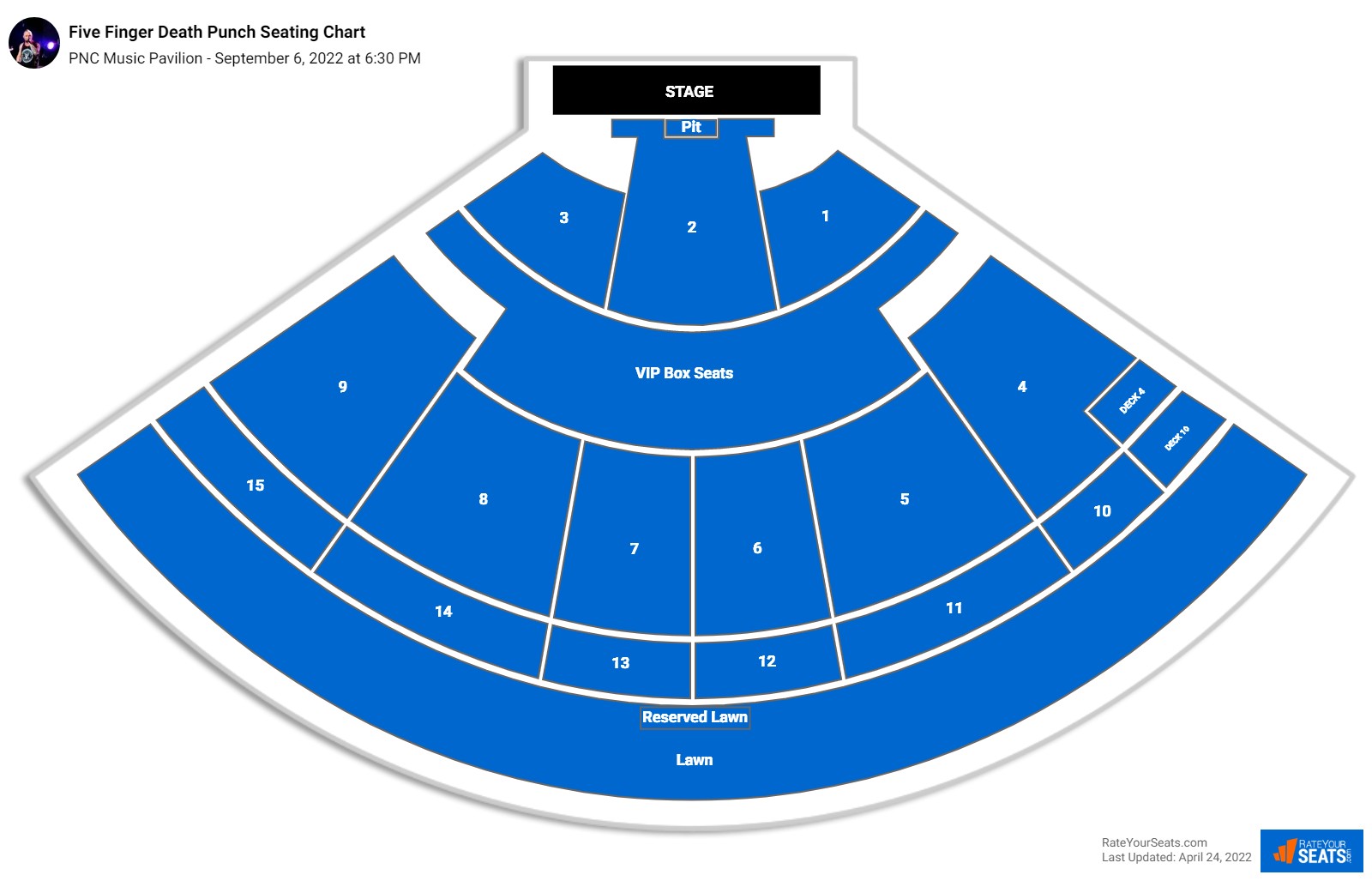 Sep 9, 2022 at 7:00 PM
OneRepublic (Rescheduled from 7/8)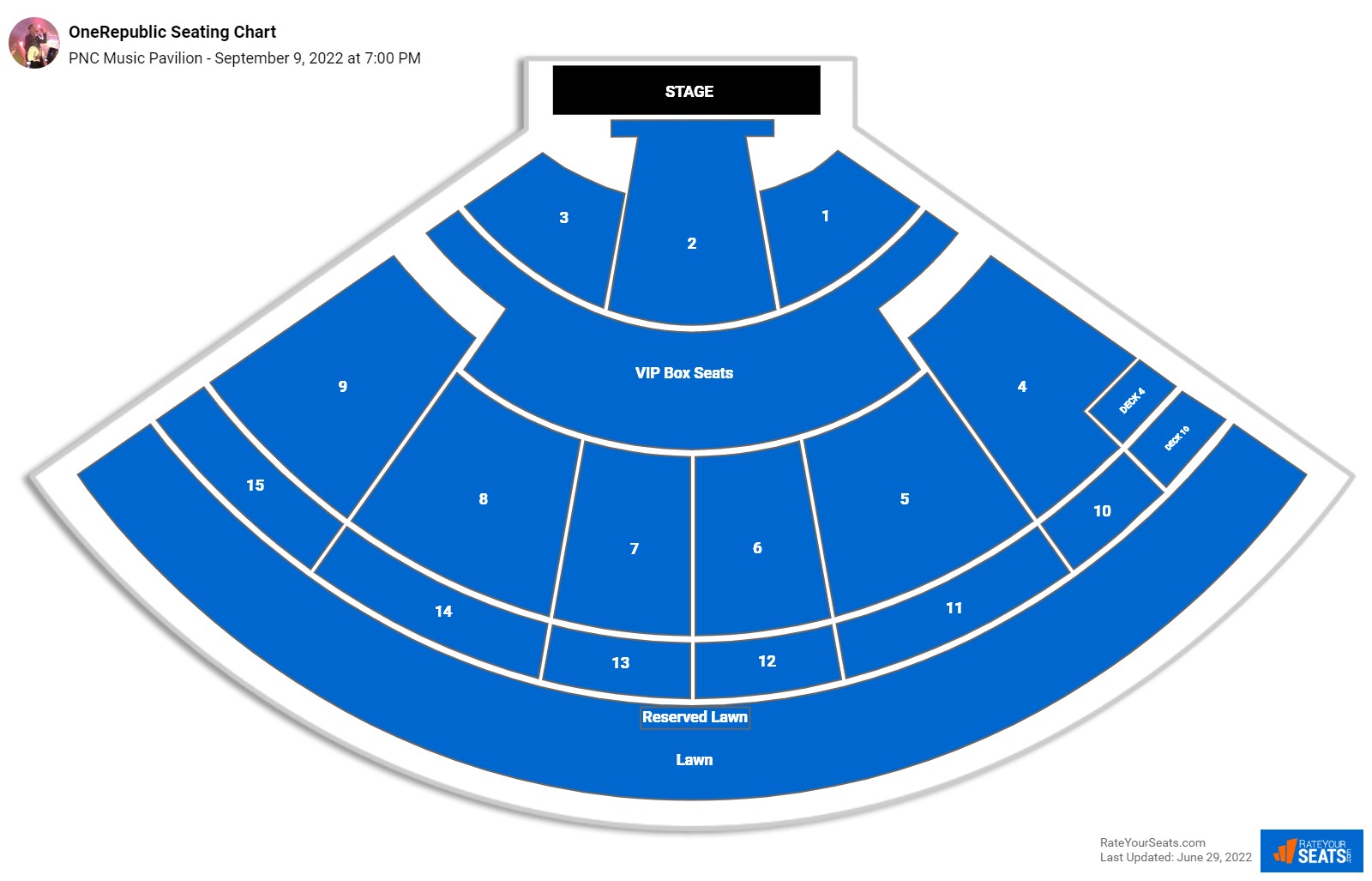 Sep 10, 2022 at 3:25 PM
Outlaw Music Festival - Willie Nelson, Nathaniel Rateliff and the Night Sweats, Billy Strings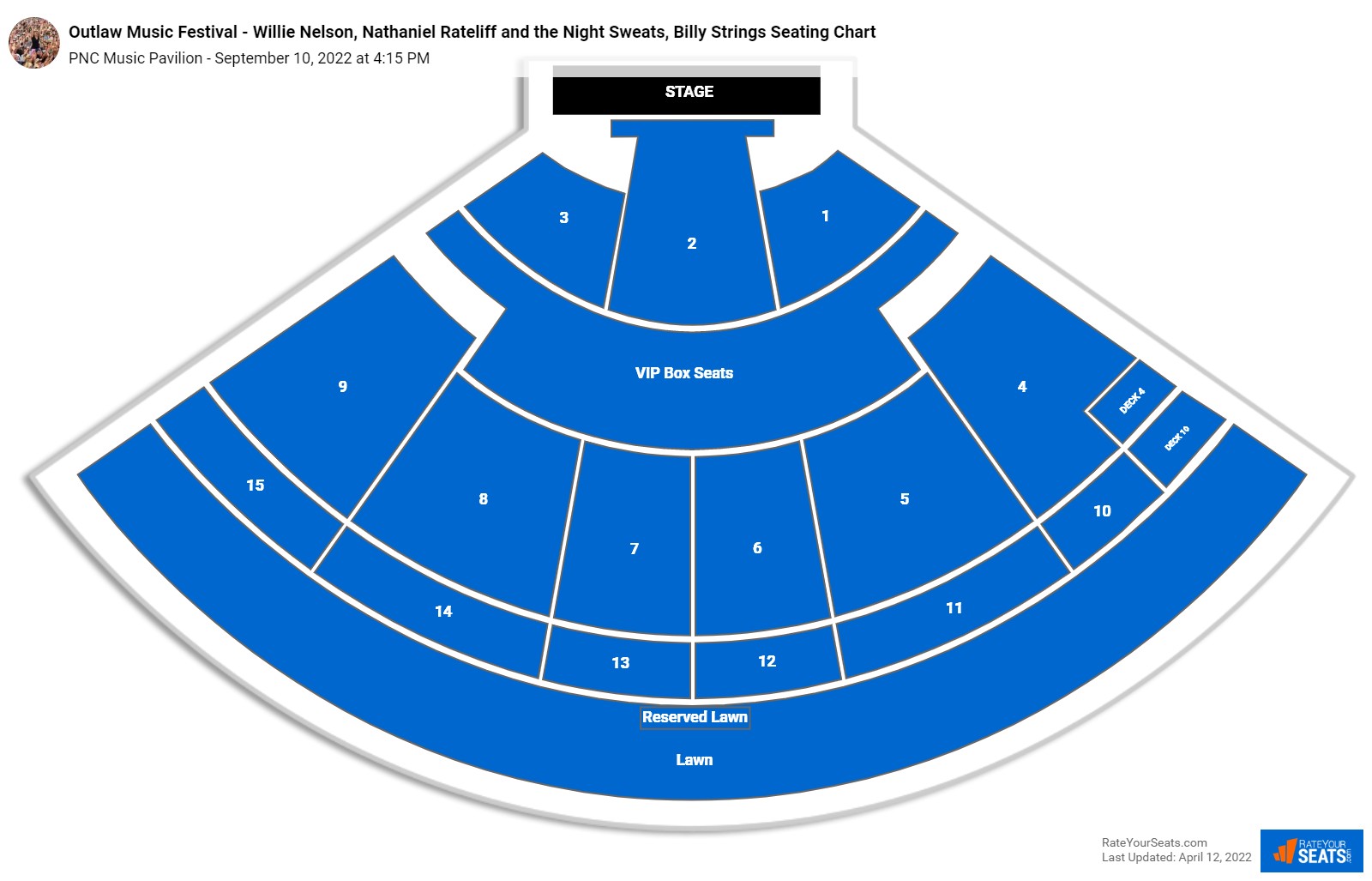 Sep 18, 2022 at 7:00 PM
Nas and Wu Tang Clan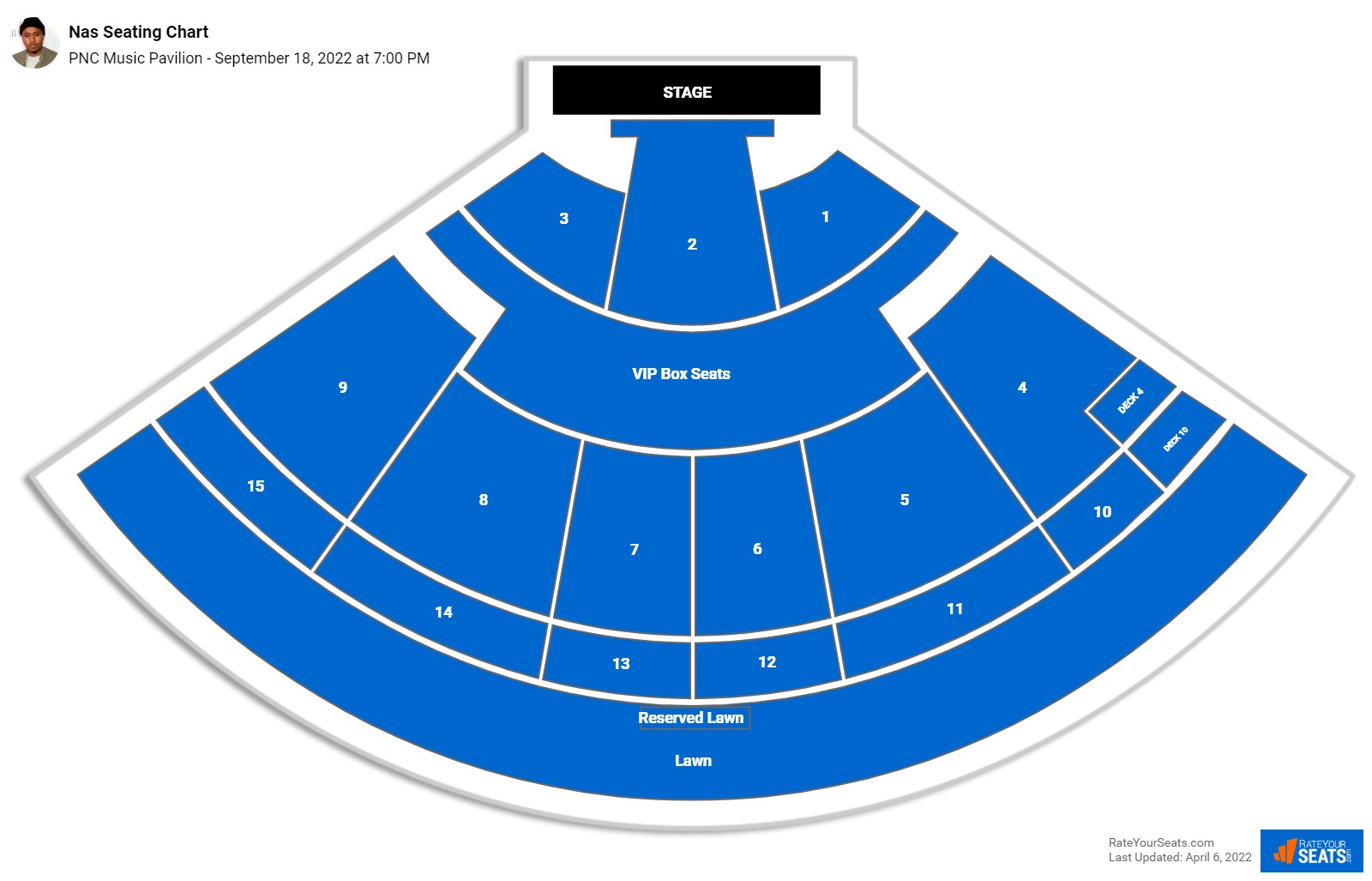 Sep 21, 2022 at 6:30 PM
Suicide Boys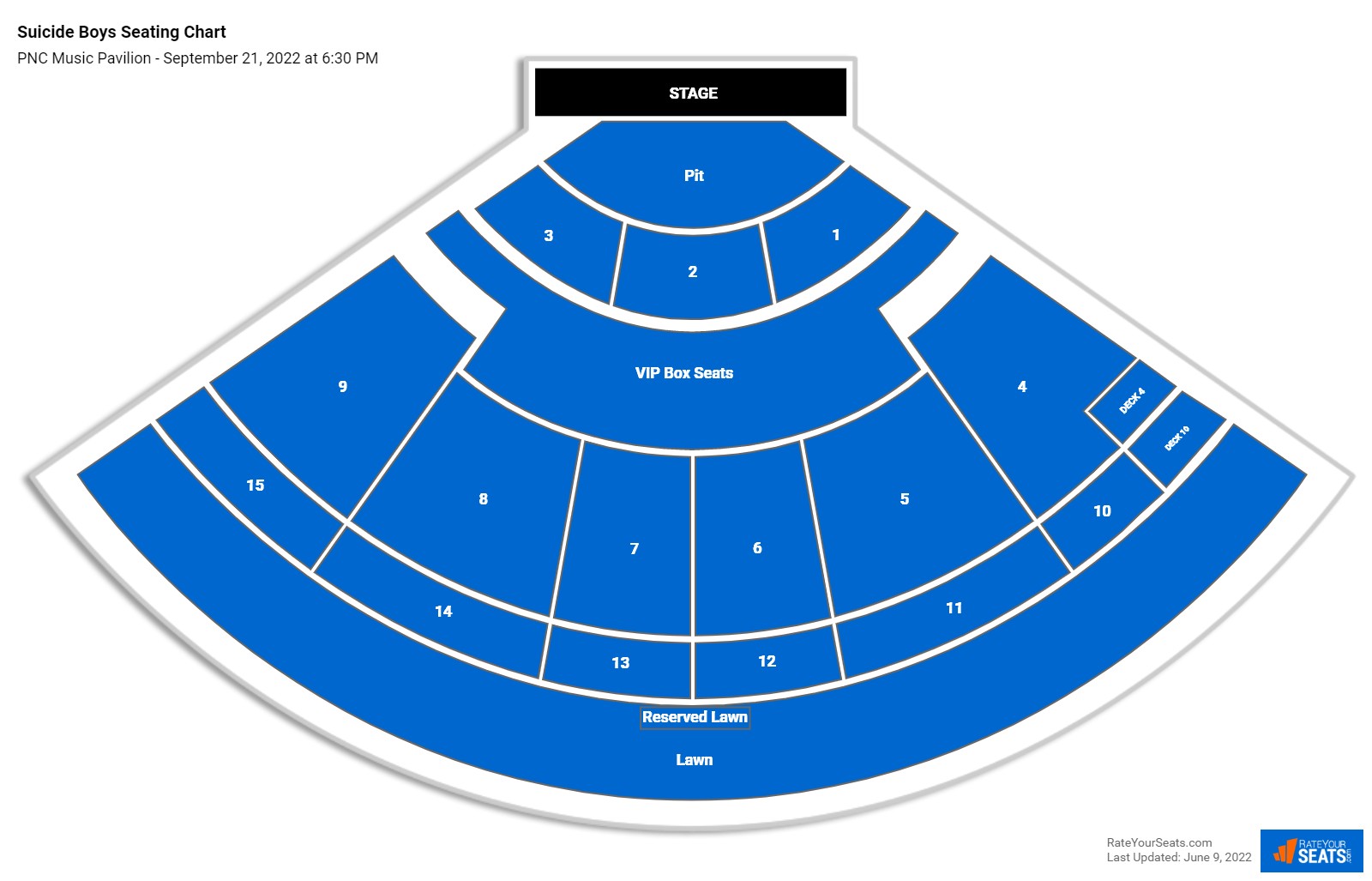 Sep 24, 2022 at 7:00 PM
Zac Brown Band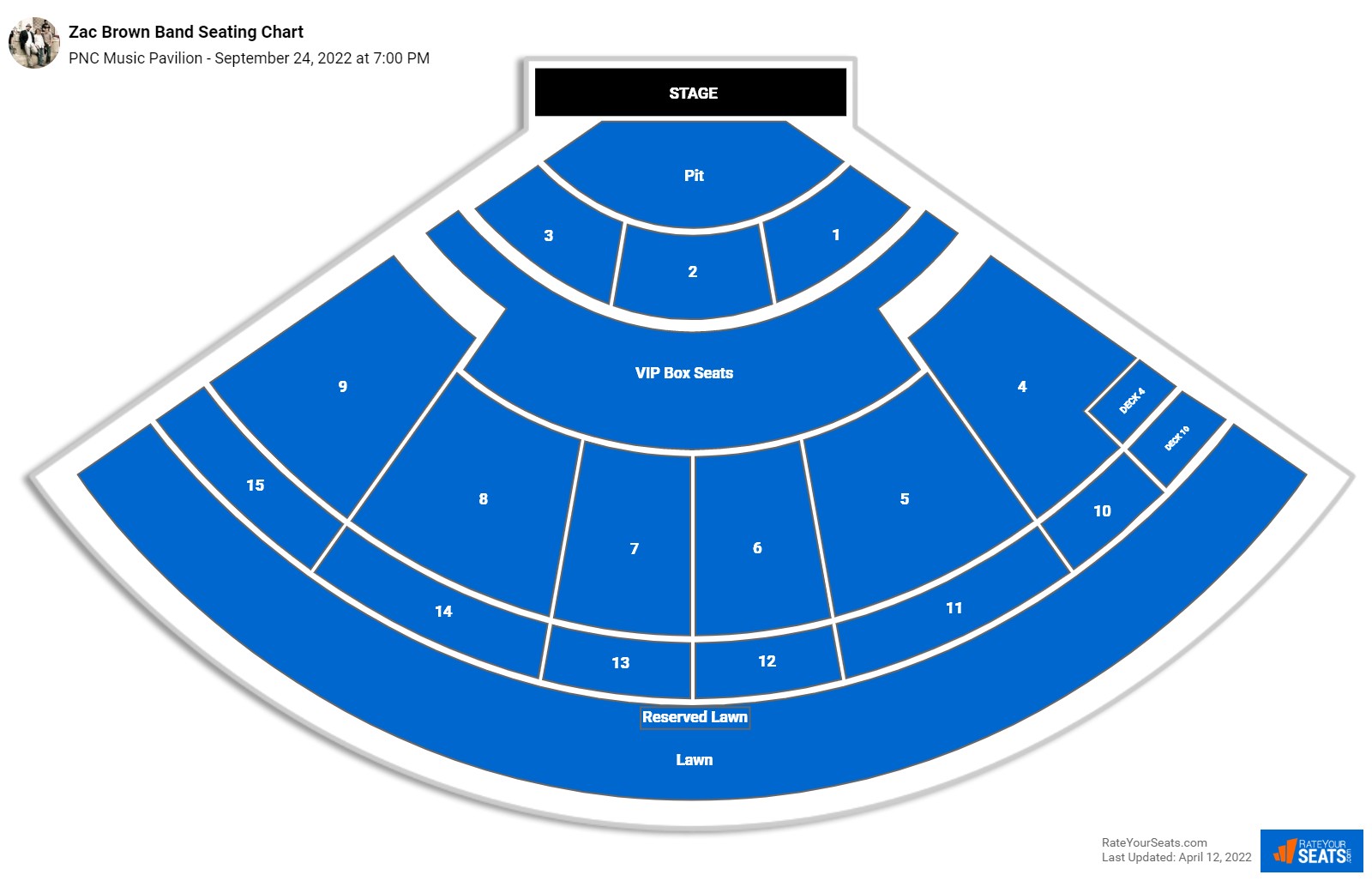 Sep 26, 2022 at 7:00 PM
Shinedown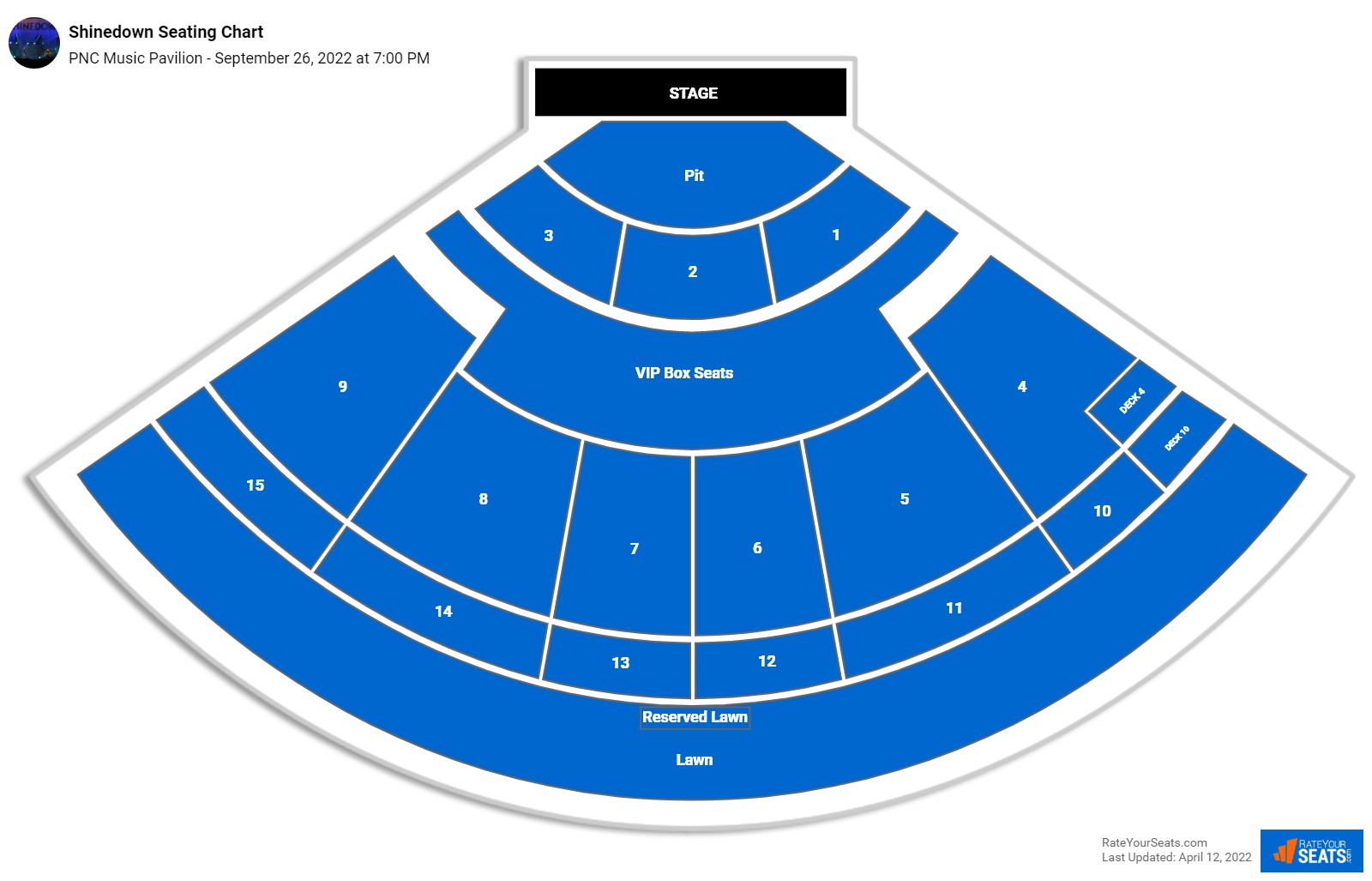 Oct 4, 2022 at 5:30 PM
Alice in Chains with Breaking Benjamin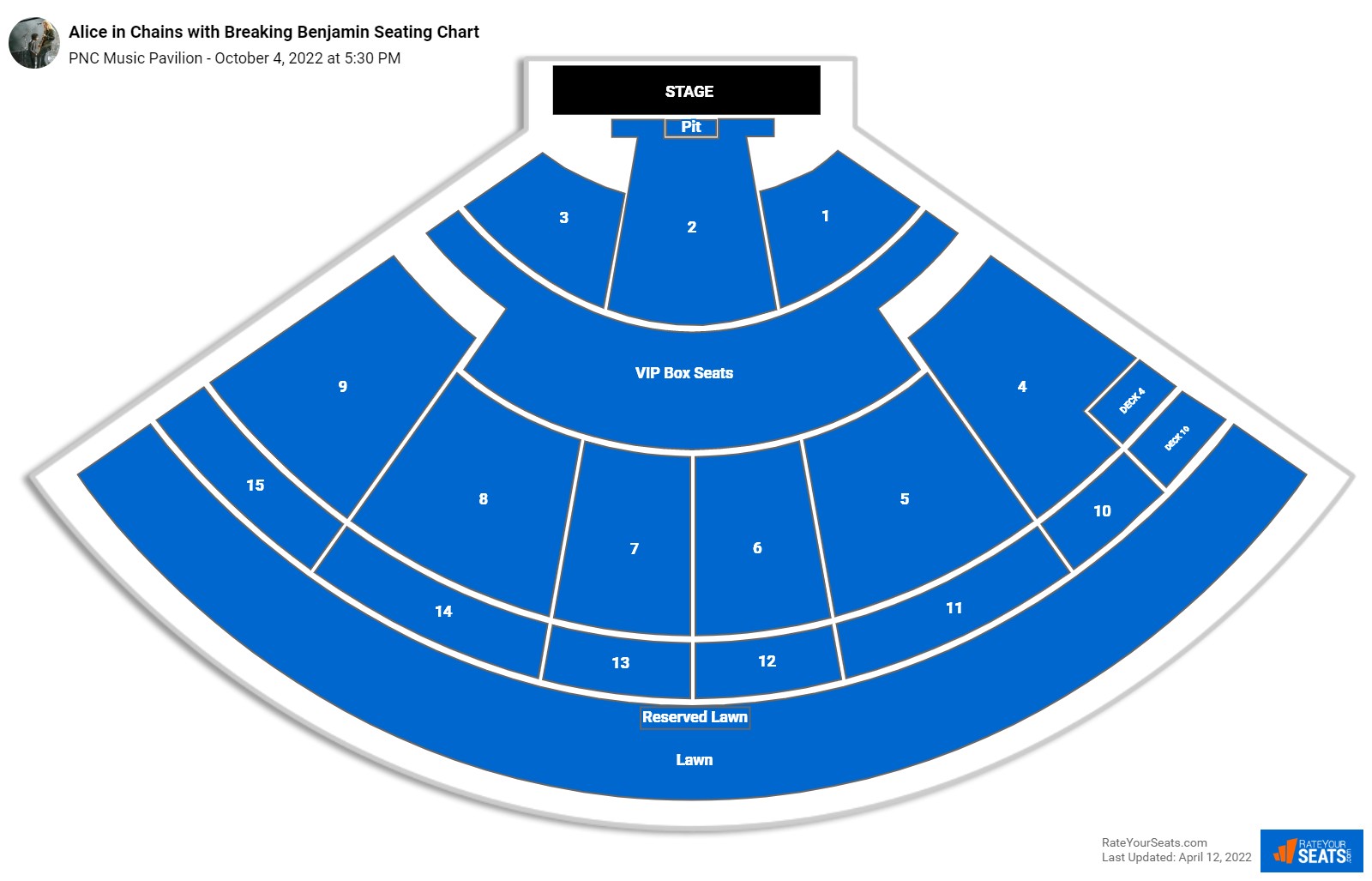 Oct 22, 2022 at 8:00 PM
Stevie Nicks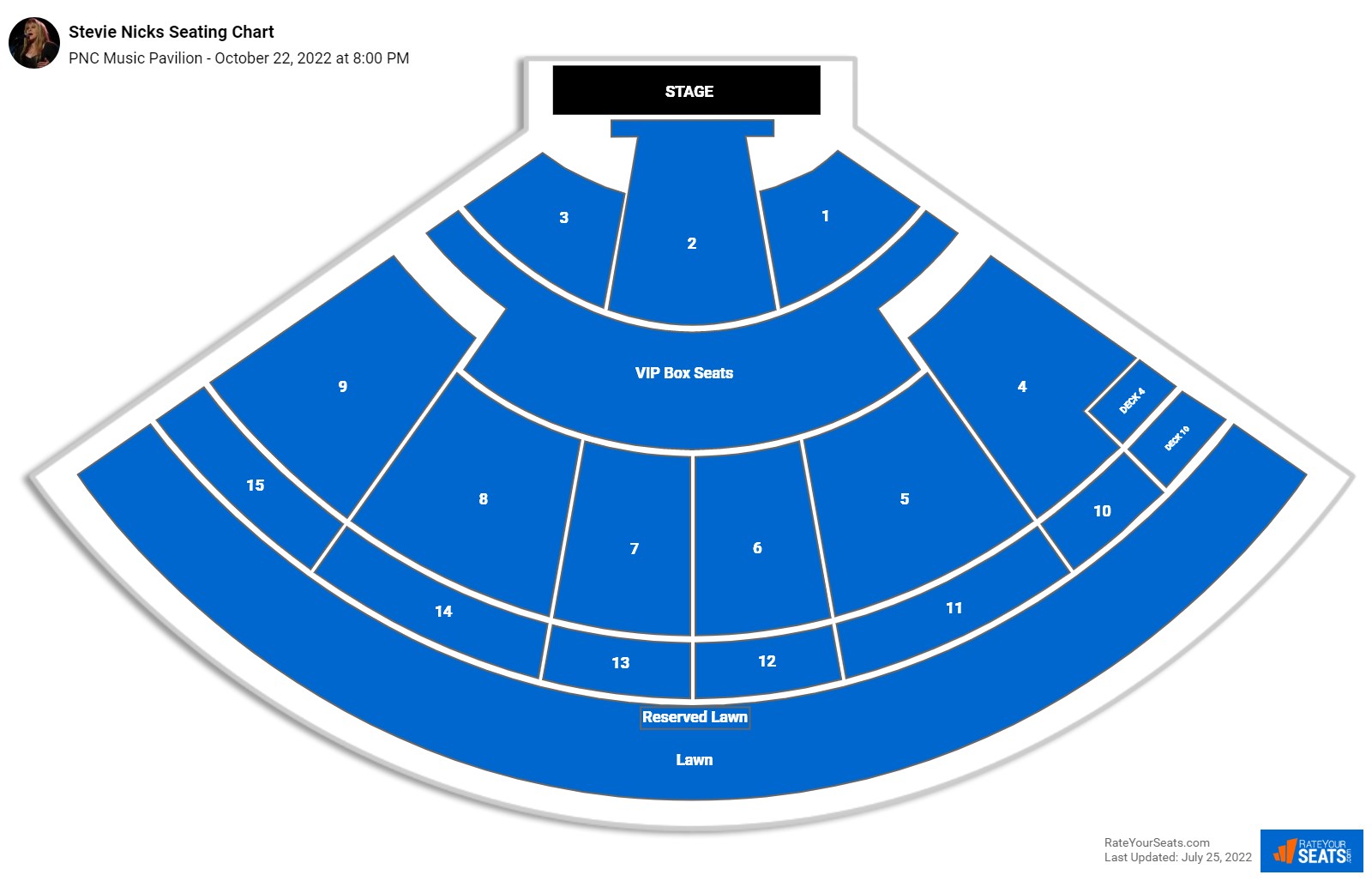 Jul 11, 2023 at 7:30 PM
Matchbox Twenty (Rescheduled from 8/2/2020, 8/1/2021, 7/12/2022)