Features & Amenities
Fans in the corner sections at Michigan Stadium will have a different experience depending on which rows they are seated. In the very front rows, the lack of elevation can make it difficult to see over the sidelines to the opposite end of the field, while the highest rows will have the furthest and least desirable views for a football game.
As each section has up to 96 rows of seating, choosing a seating row is no easy task. The best elevation for viewing the game can be found near Row 20, but this leaves a lengthy walk for fans to get to the seats (entry tunnels are located at Rows 56 and 74 for Sections 5-7 and 39-41, while all other sections only have a single tunnel at Row 72). Staying in Rows 50-70 provides a safe option that combines a good view and prevents a marathon walk to get to and from the seats.
The seating in all rows consists of bleacher style benches with no back support, providing a less comfortable options than some of the premium areas. Sections 27-30, and 31R are student sections in this location, where fans can expect a loud and rowdy atmosphere throughout the season.
Note: These seats are highlighted on the map
Interactive Seating Chart
Corner Seating Chart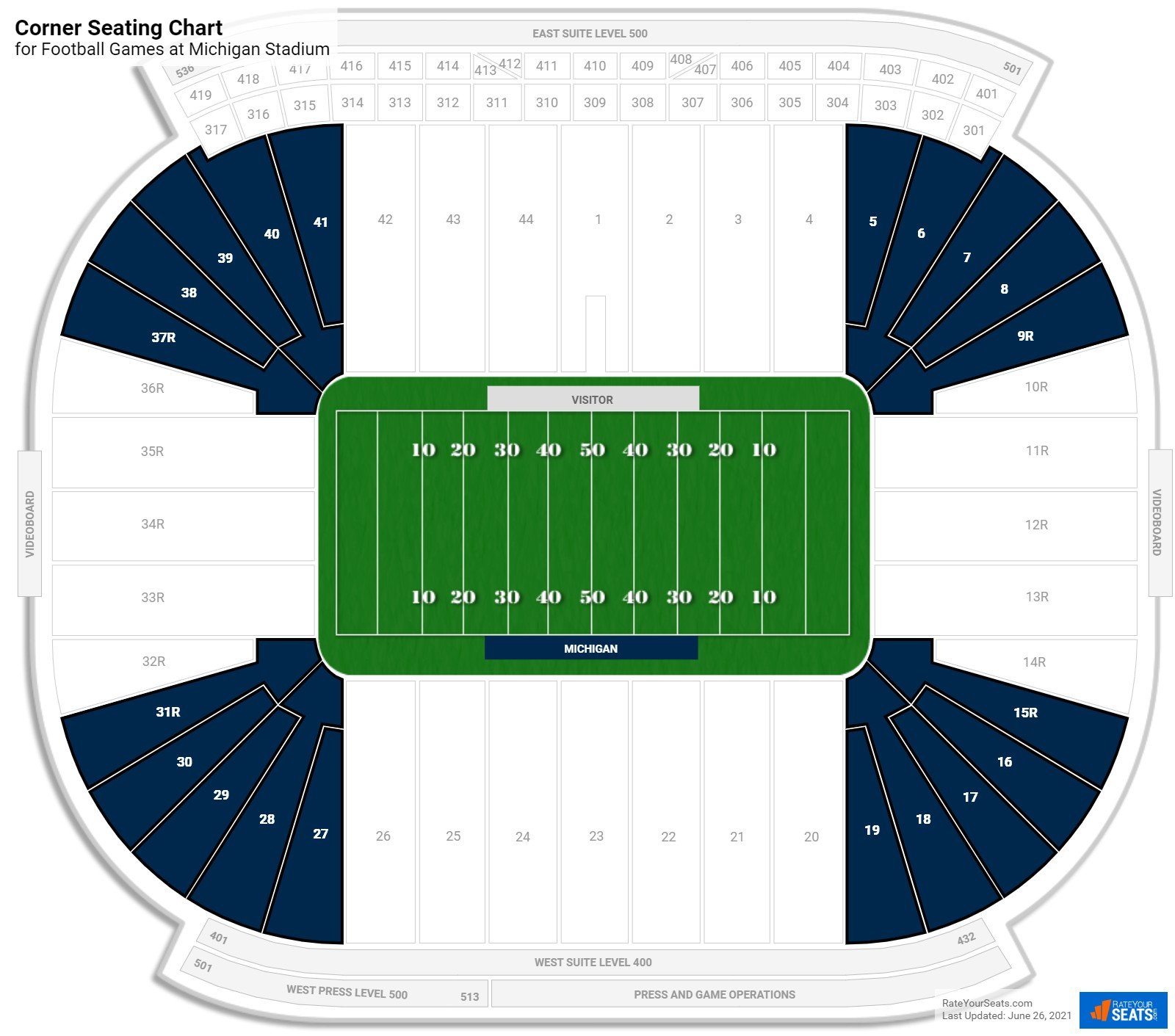 Corner Reviews
Ratings & Reviews From Similar Seats

"Michigan vs. Ohio State"

(Section 9R) - -

There were a lot of Ohio State fans in this section. Didn't attempt to get concessions or go to the restroom. The stadium is massive!

"Illinois Fighting Illini at Michigan Wolverines - Nov 19, 2022"

(Section 5) - -

Good price for the seats.

"Student Section is nuts"

(Section 28) - -

Was pretty high up but everyone was going wild. Not much space per person (seats are on a bench) but didn't matter since we were standing the whole time.
More Seating at Michigan Stadium