Outdoor Club Seats at Memorial Stadium (Nebraska)
Features & Amenities
If you want to enjoy Nebraska football comfortably and still be outdoors, look no further than the outdoor club seats on either side of Memorial Stadium. Seats on both sides of the stadium are stadium-style red chairback seats located along each sideline.
Ticketholders will have access to a climate-controlled club lounge with private restrooms, upscale food and beverage options, plasma televisions and unique views of the field.
West Side Club Seats
Club seats on the west side of the stadium are 200 level club seats and are located just above lower level seating on the visitor side of the field. These seats, along with 100 level seats on the east side, are at the perfect elevation for seeing the field. The best views in Memorial Stadium are found at midfield in these sections.
East Side Club Seats
400 level seats on the east side of the field are also outdoor club seats and offer a slightly different experience than west side seats. This is the sunny side of the field, but the seats are fully covered (unlike the west side), which makes them popular on hot or wet days. The 400 level is slightly higher than the 200 level, so while the views are still fantastic, the best sitelines are on the other side of the field.
Amenities available for Nebraska home games. For other events, some amenities may not be available or offered.
Please note: Due to health and safety protocols in 2023, food availability, club access, wait service and other amenities are subject to change without notice.
Note: These seats are highlighted on the map
Interactive Seating Chart
Outdoor Club Seats Seating Chart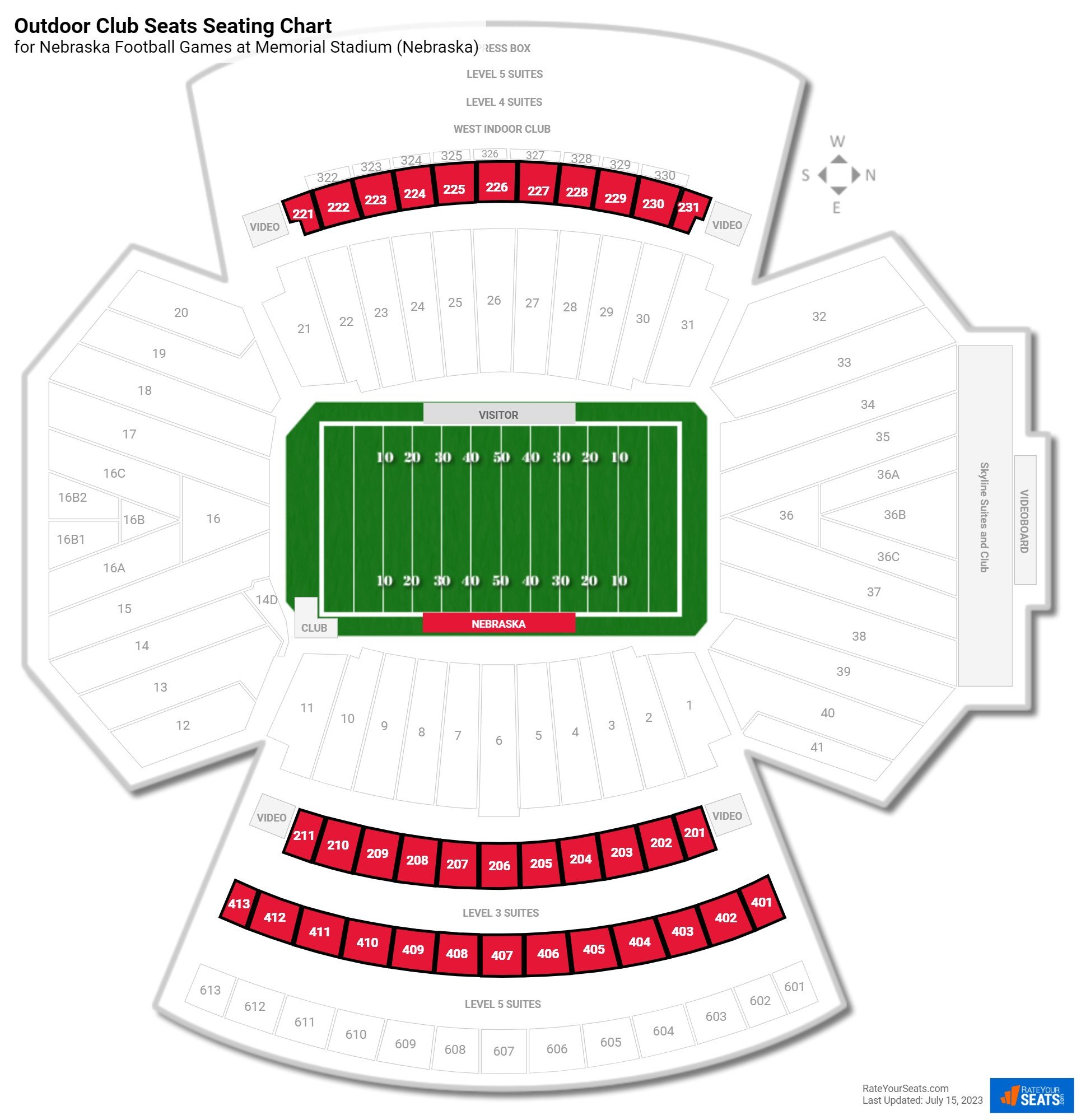 Outdoor Club Seats Sections
More Seating at Memorial Stadium