Memorial Stadium (Nebraska) 600 Level
Features & Amenities
The cheapest tickets for a Cornhuskers football game are typically found in the 600 level at Memorial Stadium. These are among the highest elevated seats in any football stadium - college or pro.
Despite being so high up, these sections are remarkably close to the field. The east side of the stadium was built almost straight up at a steep angle instead of rising slowly away from the field. As a result, you look straight down onto the field instead of straight across. This is neither a good thing or bad thing, but it will offer some unique sitelines.
All views from the 600 level are completely unobstructed and you can see the whole field clearly in a single glance. Sitting close to row 1 will give you a view similar to the 500 level suites and will have the shortest walk from the section tunnel. Behind the first two rows, you'll find accessible seating in row 3. Then the row numbers progress as high as 15.
Though the views are far, there are much worse sitelines in other parts of the stadium. On a nice day, some might argue that these upper deck seats offer tremendous value. You'll just have to be careful on the less temperate occasions. These seats are directly in the sun and are not covered. On hot and sunny days early in the season, you'll want to bring the necessary protection. Similarly, these seats are heavily exposed to the cold and especially the wind. Sitting in the center of the upper deck in a lower row will keep you slightly more protected, but you'll still want to bundle up for cold games in November.
Note: These seats are highlighted on the map
Interactive Seating Chart
600 Level Seating Chart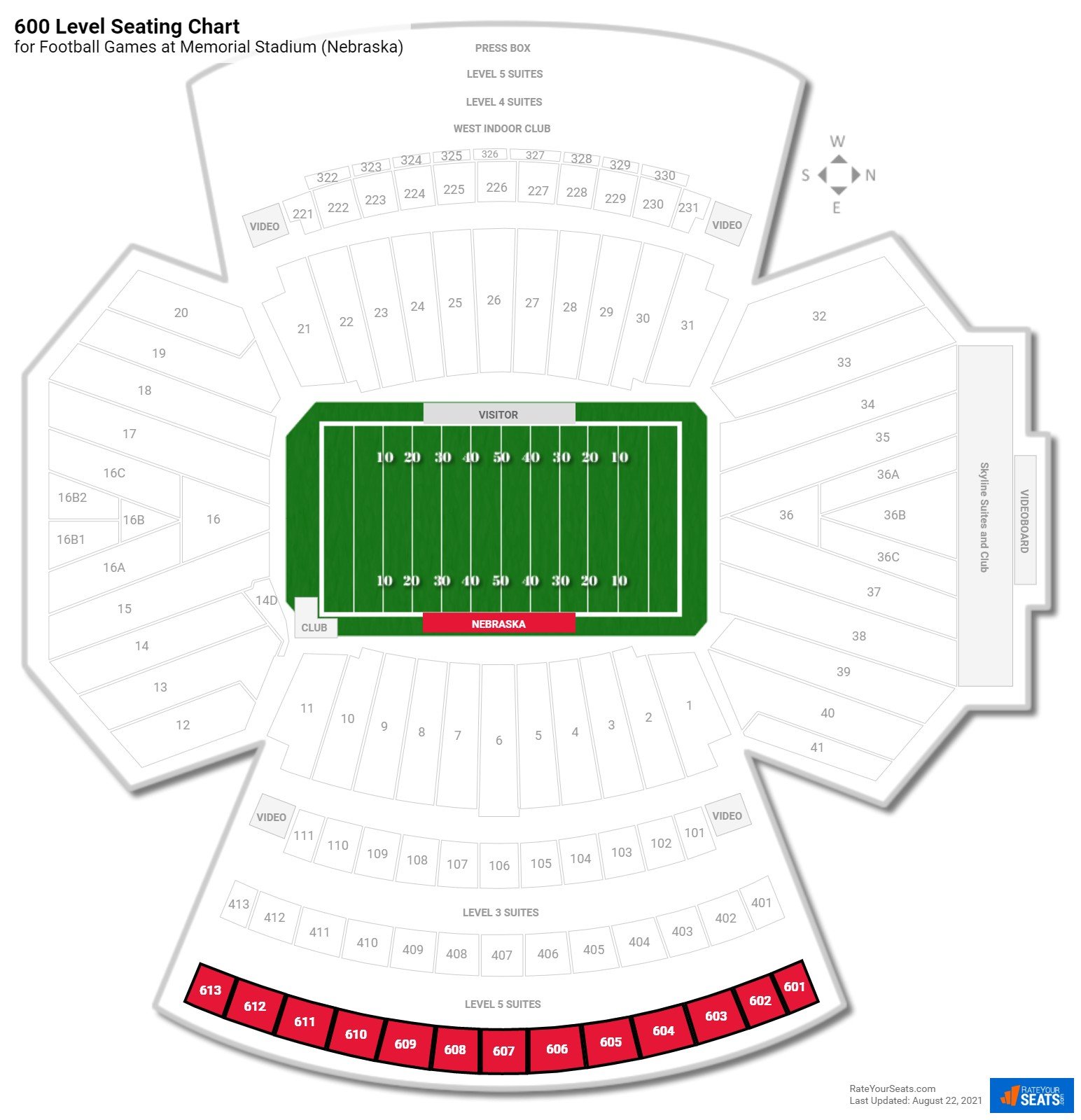 600 Level Reviews
Ratings & Reviews From Similar Seats

"Great view"

(Section 601) - -

600 level seats are highly underrated. Easy access to concessions, seat backs (no knees in your back), and the seats are very roomy. It's higher up, but you don't feel like you are too high once up there and the view is amazing. I highly recommend if you haven't sat in the 600 level if you haven't t...
More Seating at Memorial Stadium