Jiffy Lube Live Seating Chart
Interactive Seating Chart
Explore the Interactive Map
Janet Jackson

May 6

Dead and Company

Jun 3

TLC and Shaggy

Jun 9

Kehlani, Syd and UMI

Jun 17

Kane Brown

Jun 24

Fall Out Boy

Jul 19

Mudvayne

Jul 25

Matchbox Twenty

Jul 27

Dierks Bentley

Jul 29

Snoop Dogg, Wiz Khalifa, and Too Short

Aug 1

Eric Church with Cody Jinks

Aug 5

Disturbed

Aug 9

Jelly Roll

Aug 11

Pentatonix

Aug 12

The Offspring with Sum 41 and Simple Plan

Aug 19

Ghost with Amon Amarth

Aug 24

Nickelback

Aug 26

Pantera

Sep 15
Seating Chart for Concerts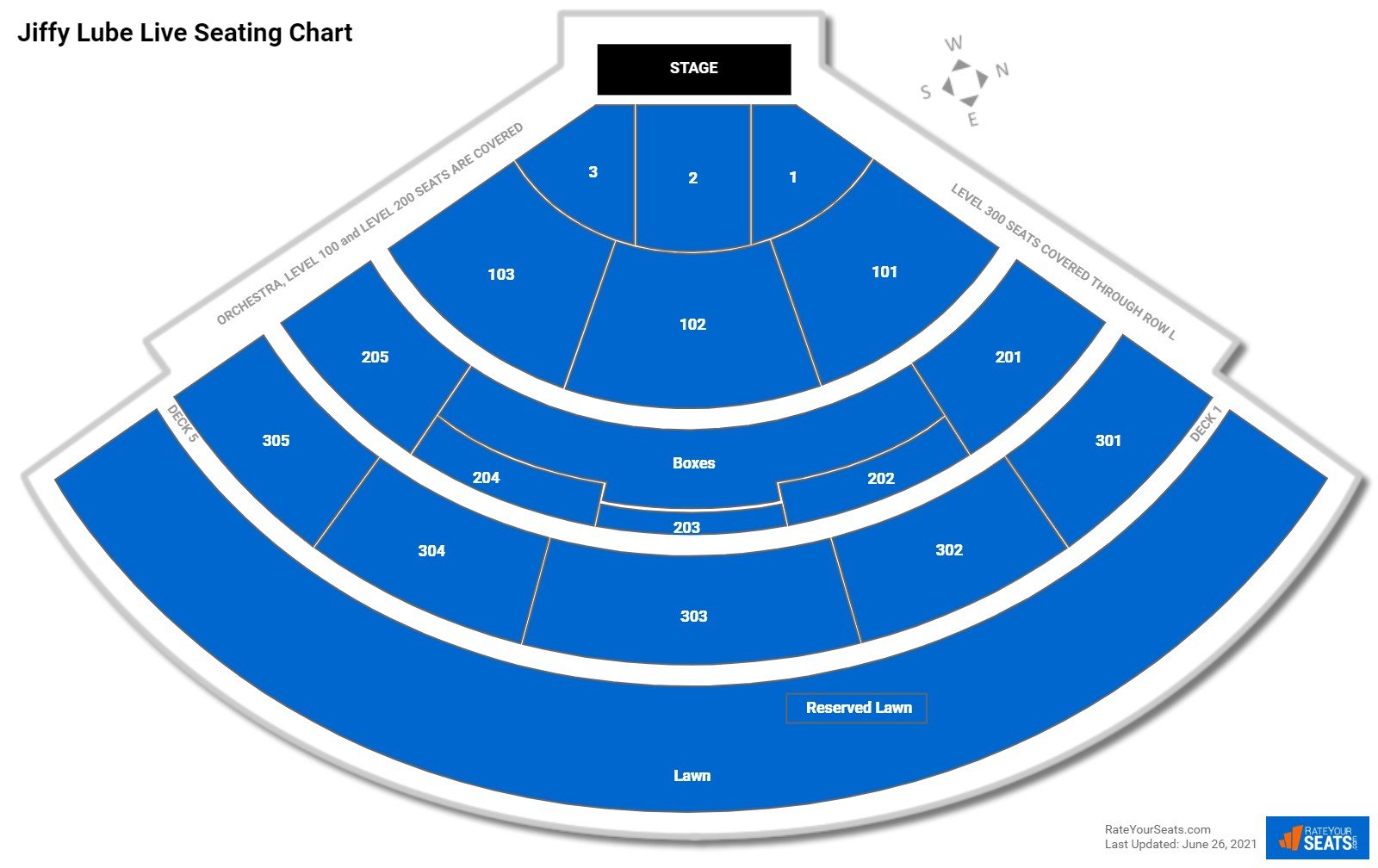 Jiffy Lube Live concert seating charts vary by performance. This chart represents the most common setup for concerts at Jiffy Lube Live, but some sections may be removed or altered for individual shows. Check out the seating chart for your show for the most accurate layout.
Jiffy Lube Live Seating Chart With Row Numbers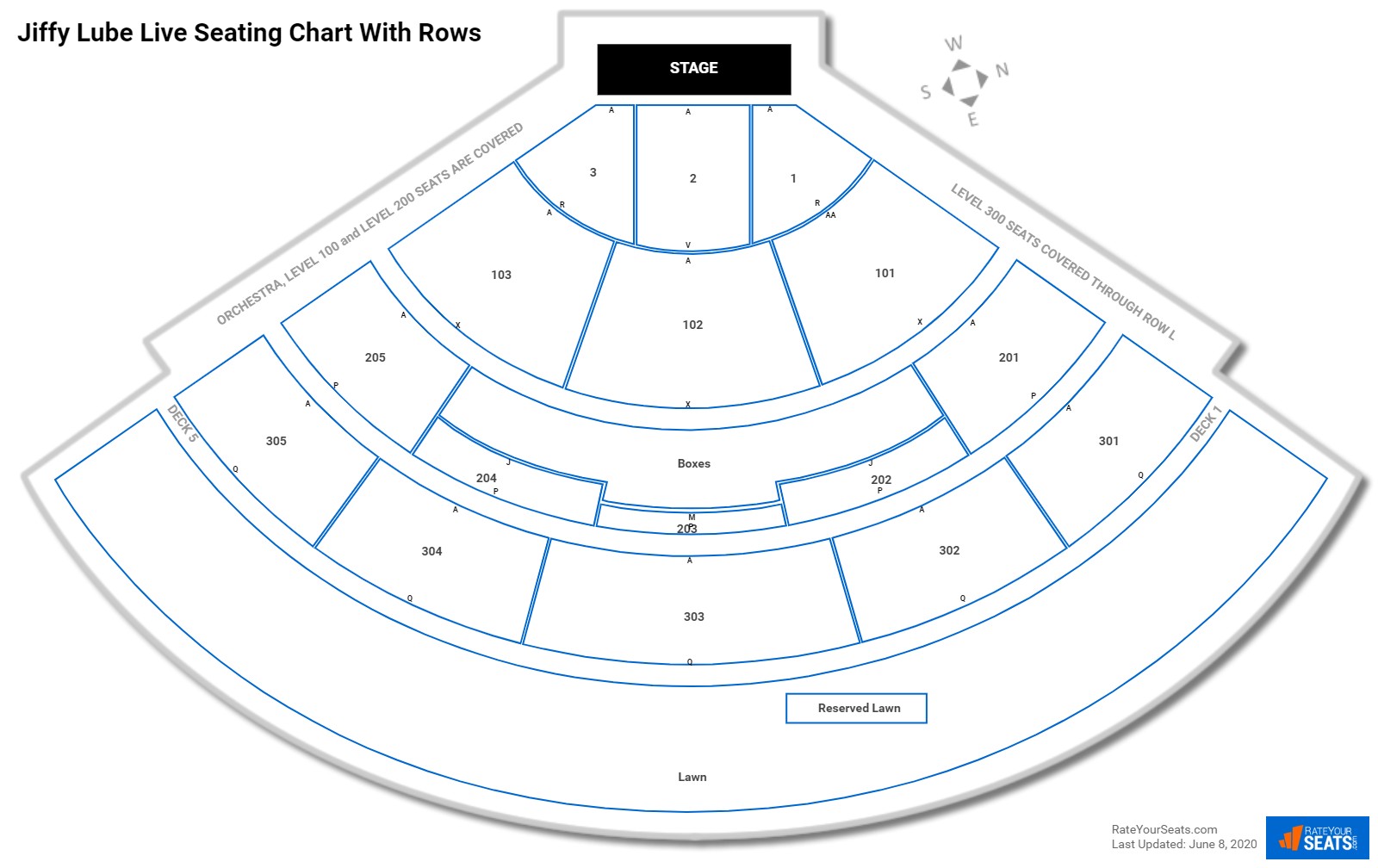 Jiffy Lube Live Seat Numbers
Seat numbers at Jiffy Lube Live go from right-to-left. When seated looking at the stage, the lowest number seat (typically seat 1) will be on the far right of each section.

Lower Level sections ORCH1-3 range from 22 seats (ORCH 1) to 27 seats (ORCH3) and lastly 30 seats in ORCH 3.

Sections 101-103 have 60 seats starting with seat number 1.

In the middle of Jiffy Lube Live, sections 201 and 205 on the outside have 48 seats. Sections 202 and 204 towards the middle each have 50 seats. In the very middle section 203 has 30 seats.

In the back reserved sections of Jiffy Lube Live, sections 301 and 305 on the outside have 51 seats. Sections 302 and 304 towards the middle have 58 seats. In the very middle of the back reserved section 303 has 80 seats. All sections start with seat number 1.

Seating Charts for Upcoming Shows
May 6, 2023 at 8:00 PM
Janet Jackson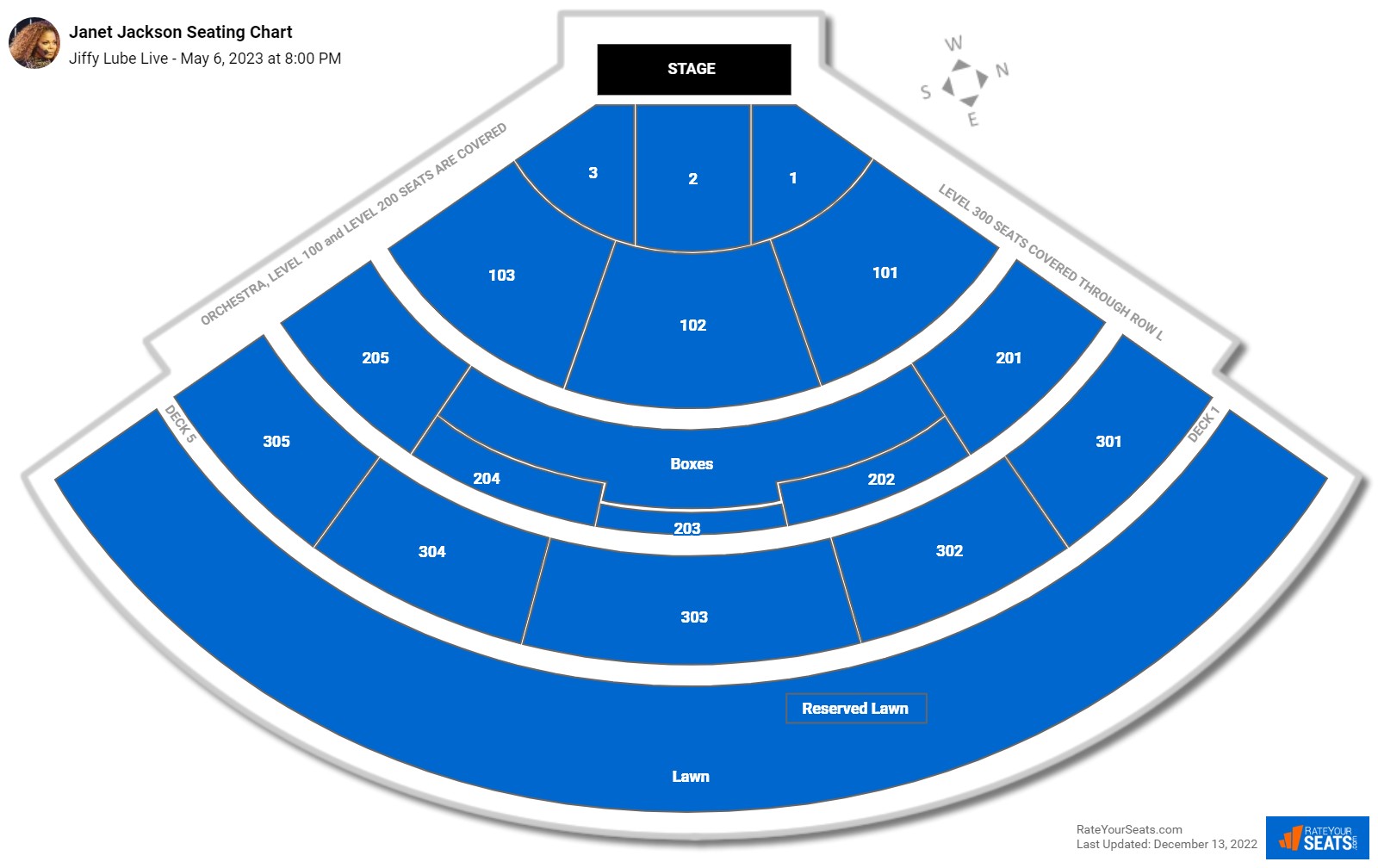 Jun 3, 2023 at 7:00 PM
Dead and Company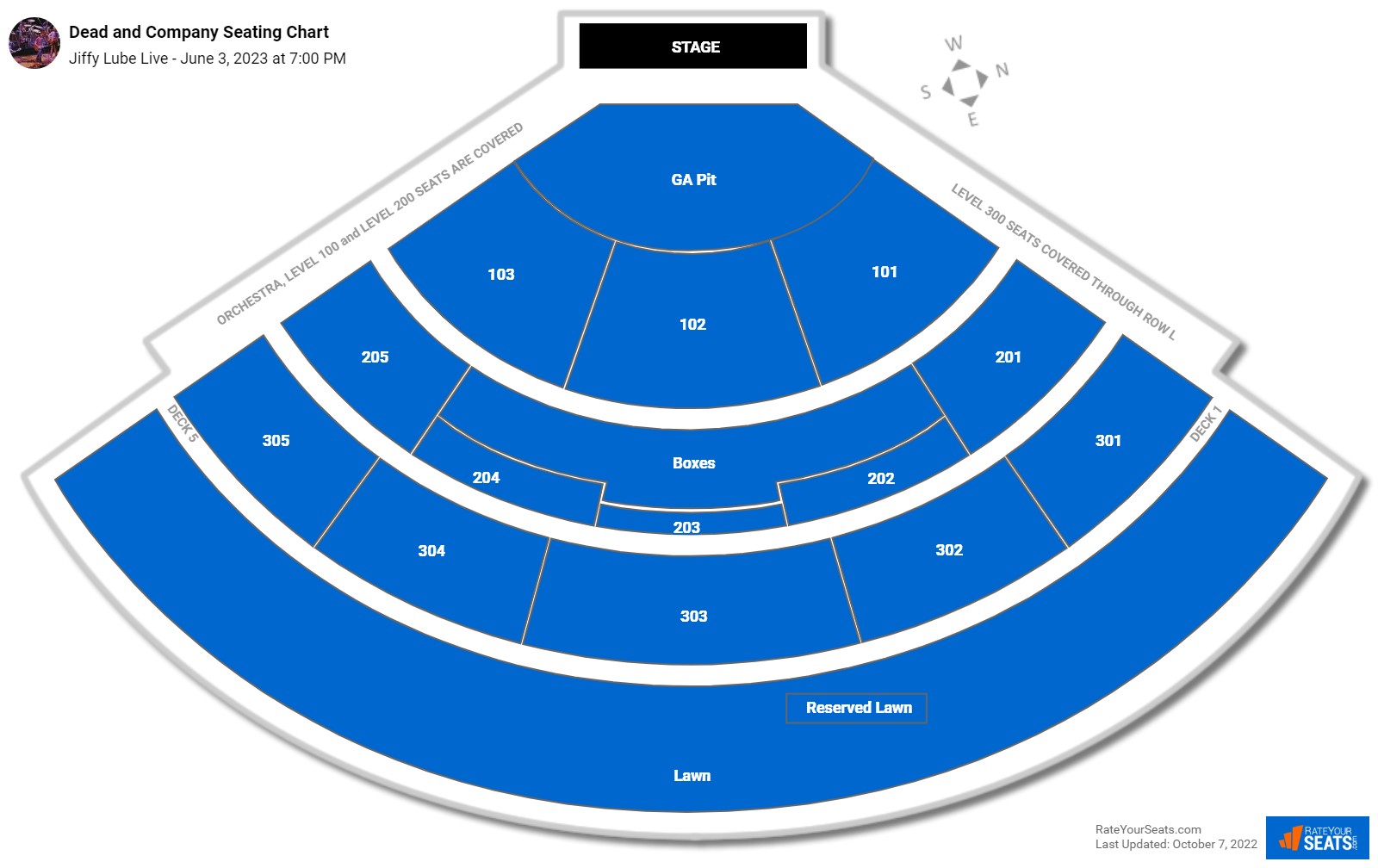 Jun 9, 2023 at 7:00 PM
TLC and Shaggy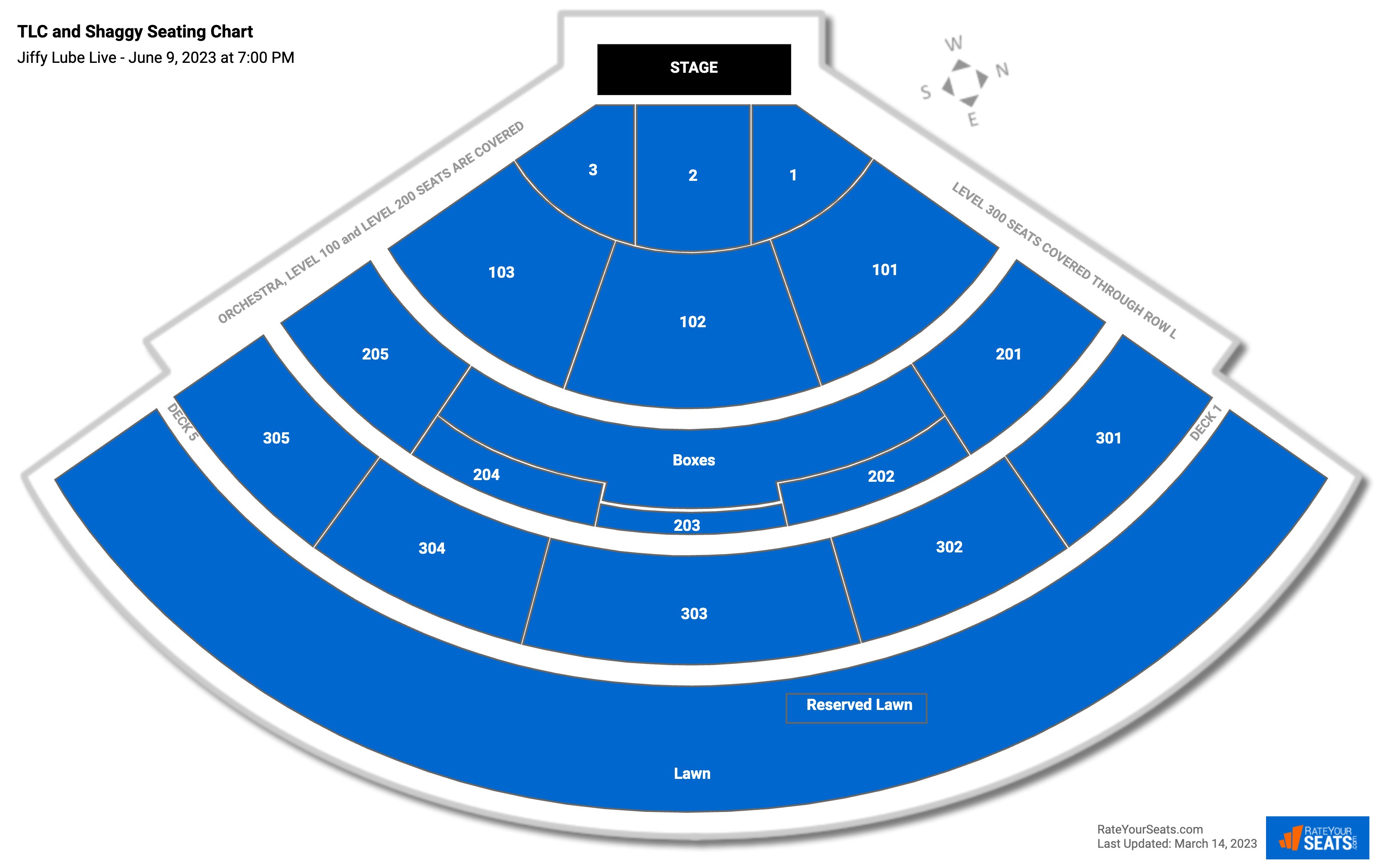 Jun 17, 2023 at 6:00 PM
Kehlani, Syd and UMI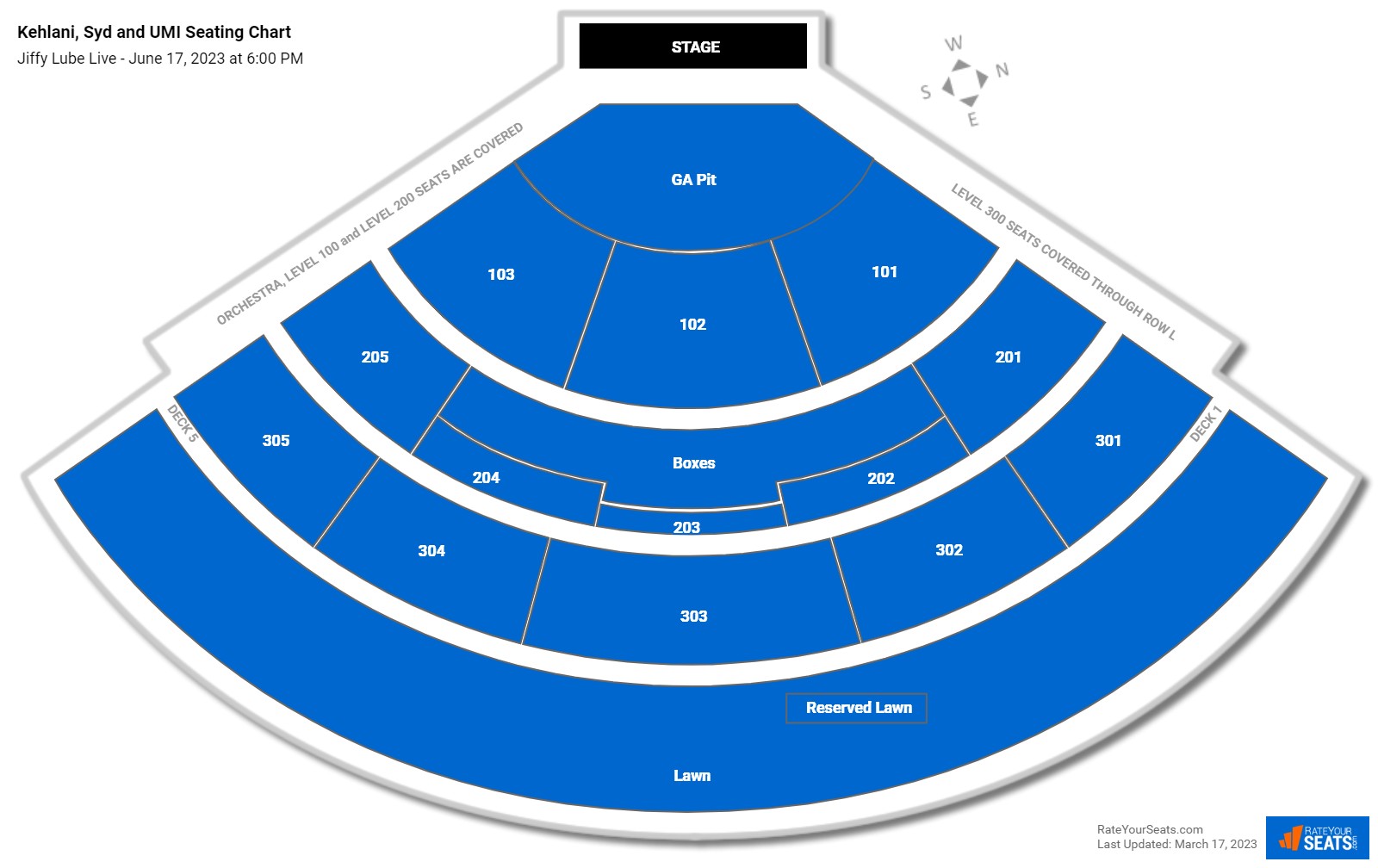 Jun 24, 2023 at 7:00 PM
Kane Brown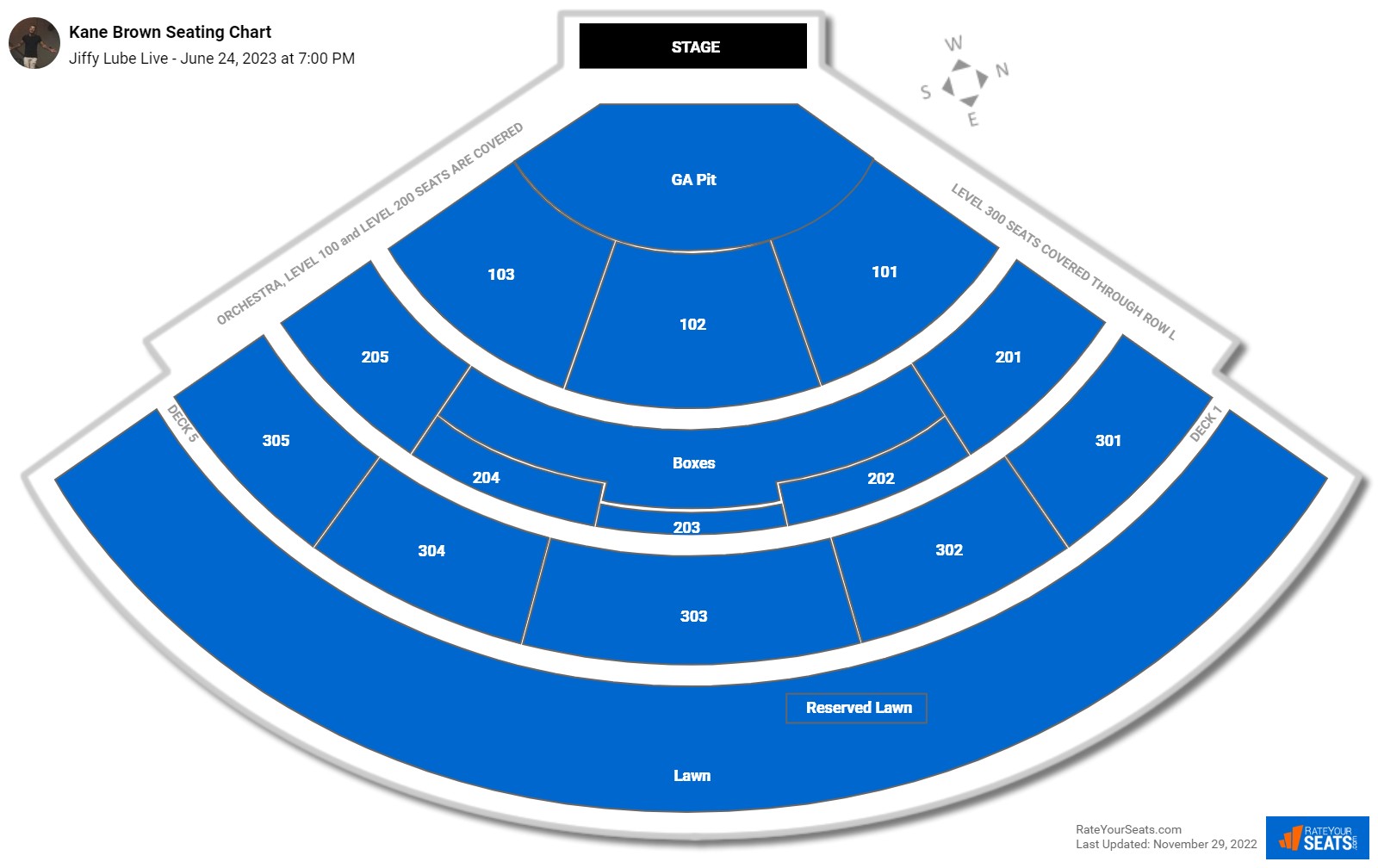 Jul 19, 2023 at 7:30 PM
Fall Out Boy
Jul 25, 2023 at 5:30 PM
Mudvayne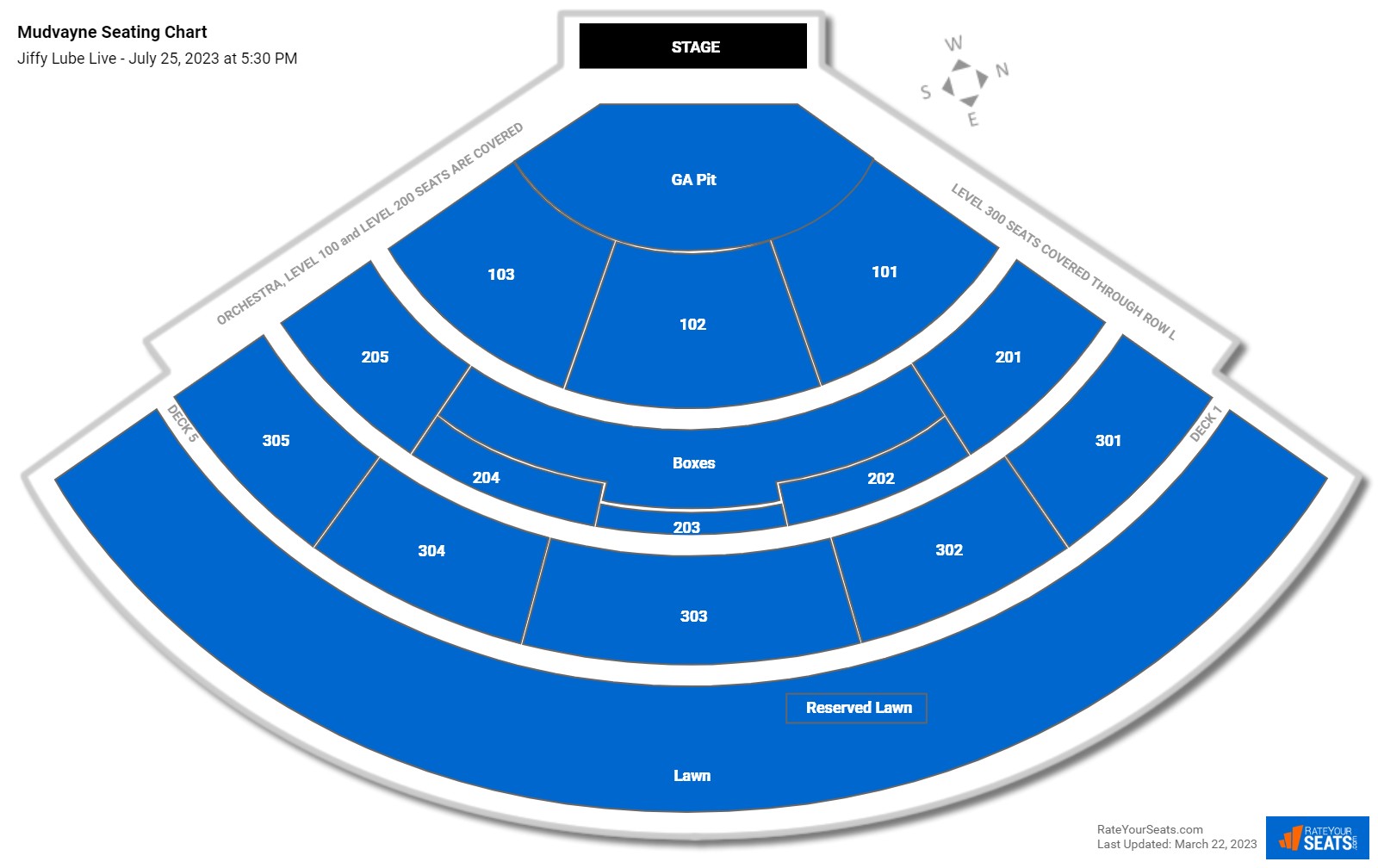 Jul 27, 2023 at 7:30 PM
Matchbox Twenty (Rescheduled from 7/29/2020, 7/28/2021, 7/28/2022)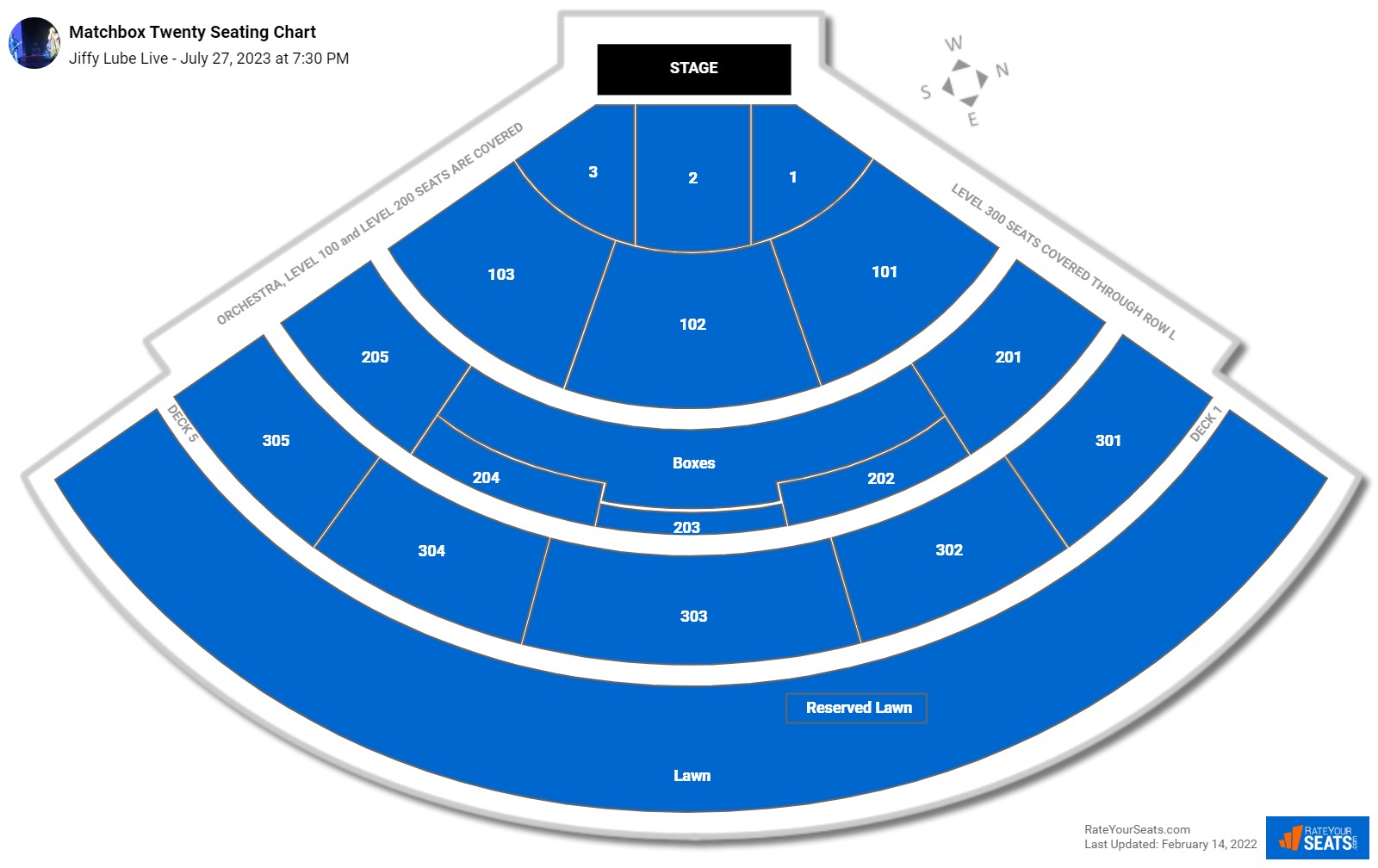 Jul 29, 2023 at 7:00 PM
Dierks Bentley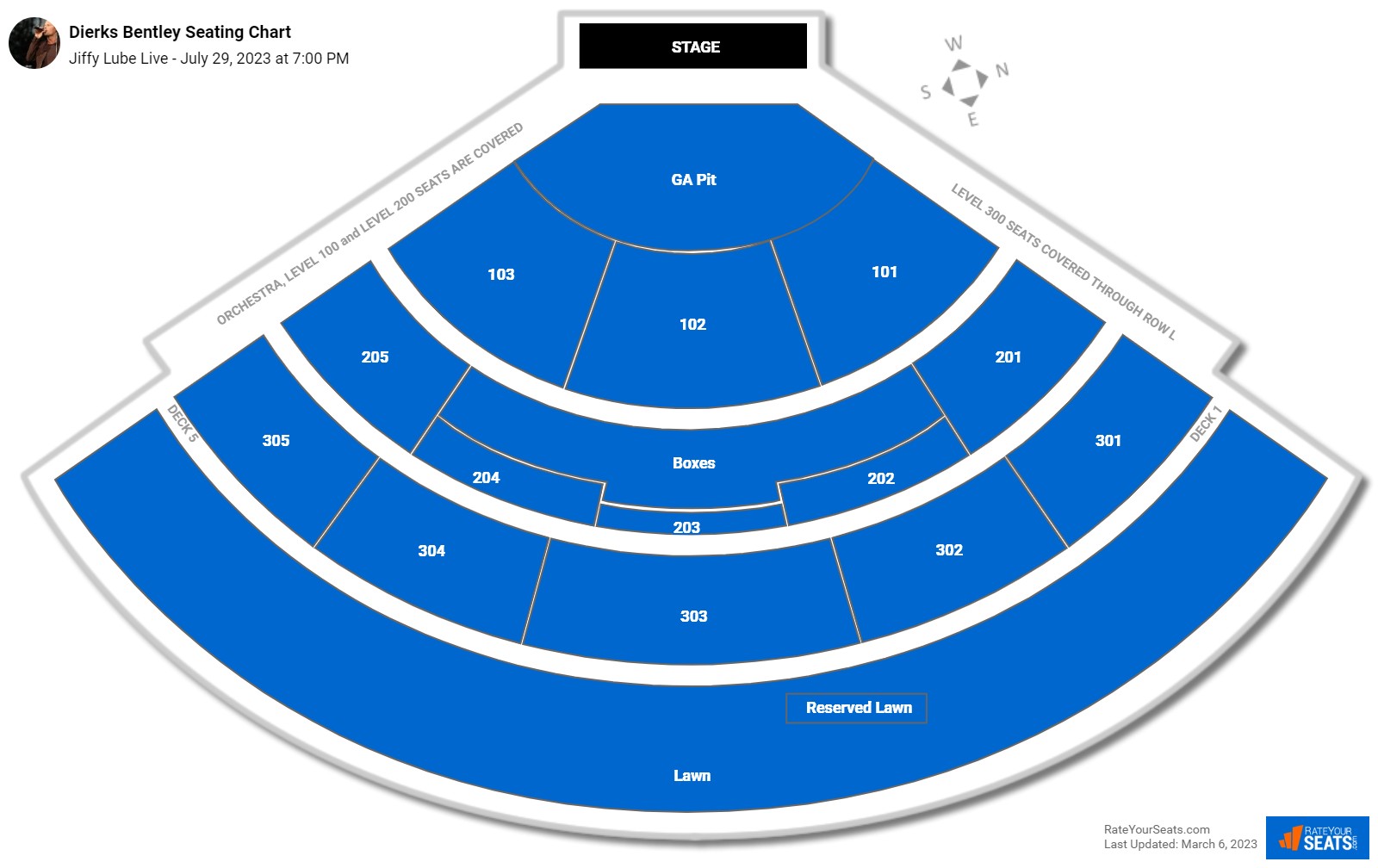 Aug 1, 2023 at 6:00 PM
Snoop Dogg, Wiz Khalifa, and Too Short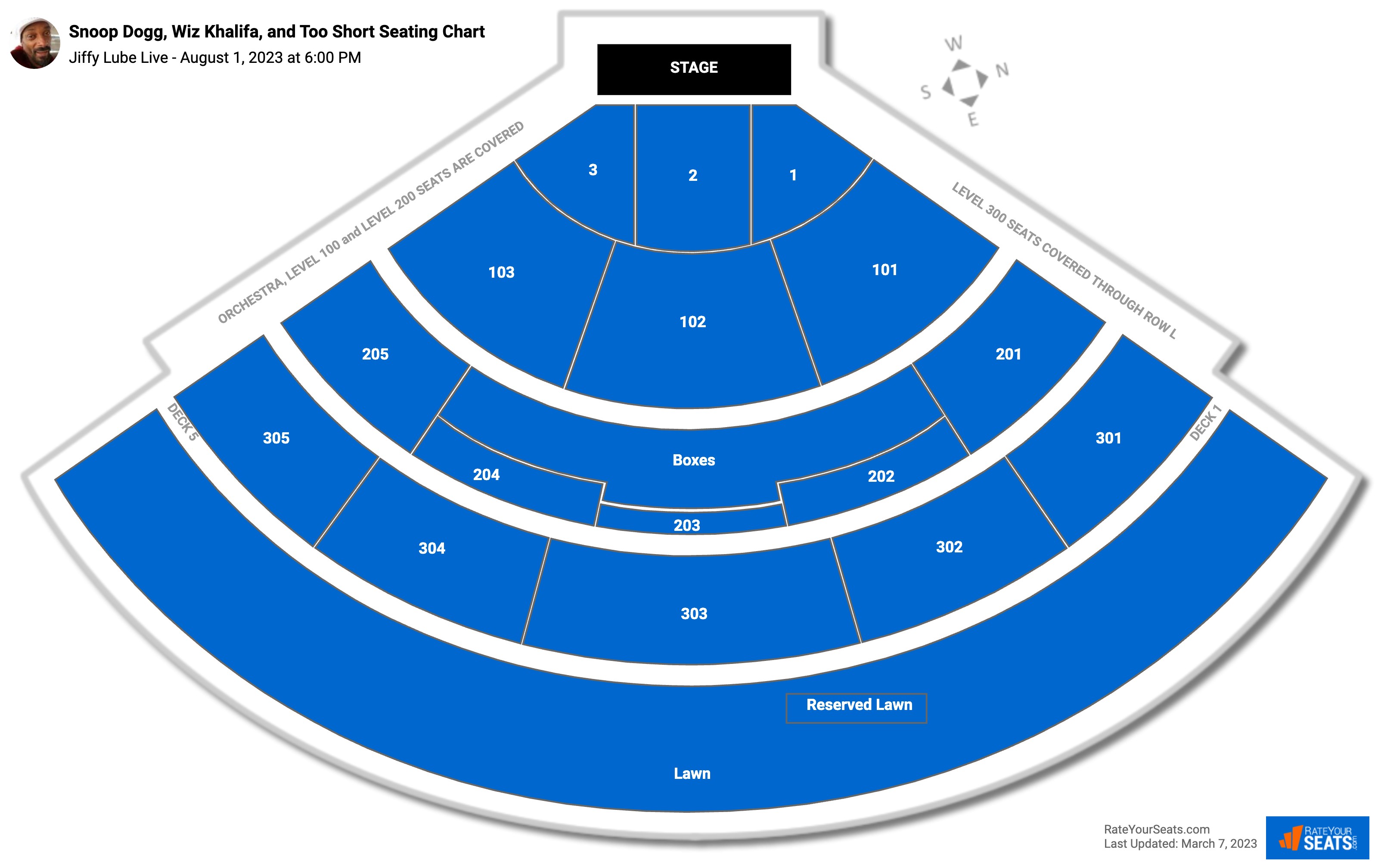 Aug 5, 2023 at 7:30 PM
Eric Church with Cody Jinks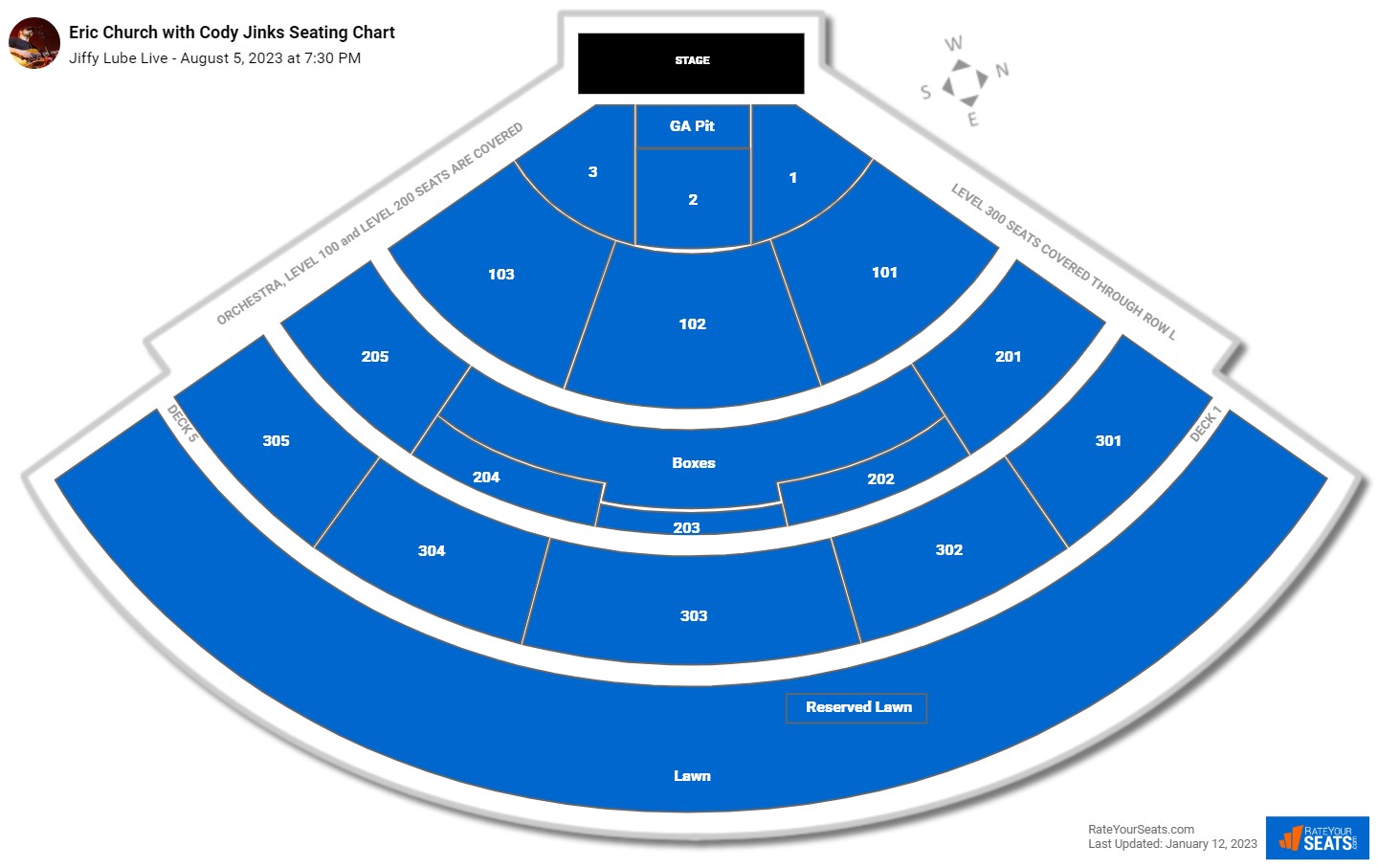 Aug 9, 2023 at 6:30 PM
Disturbed
Aug 11, 2023 at 7:30 PM
Jelly Roll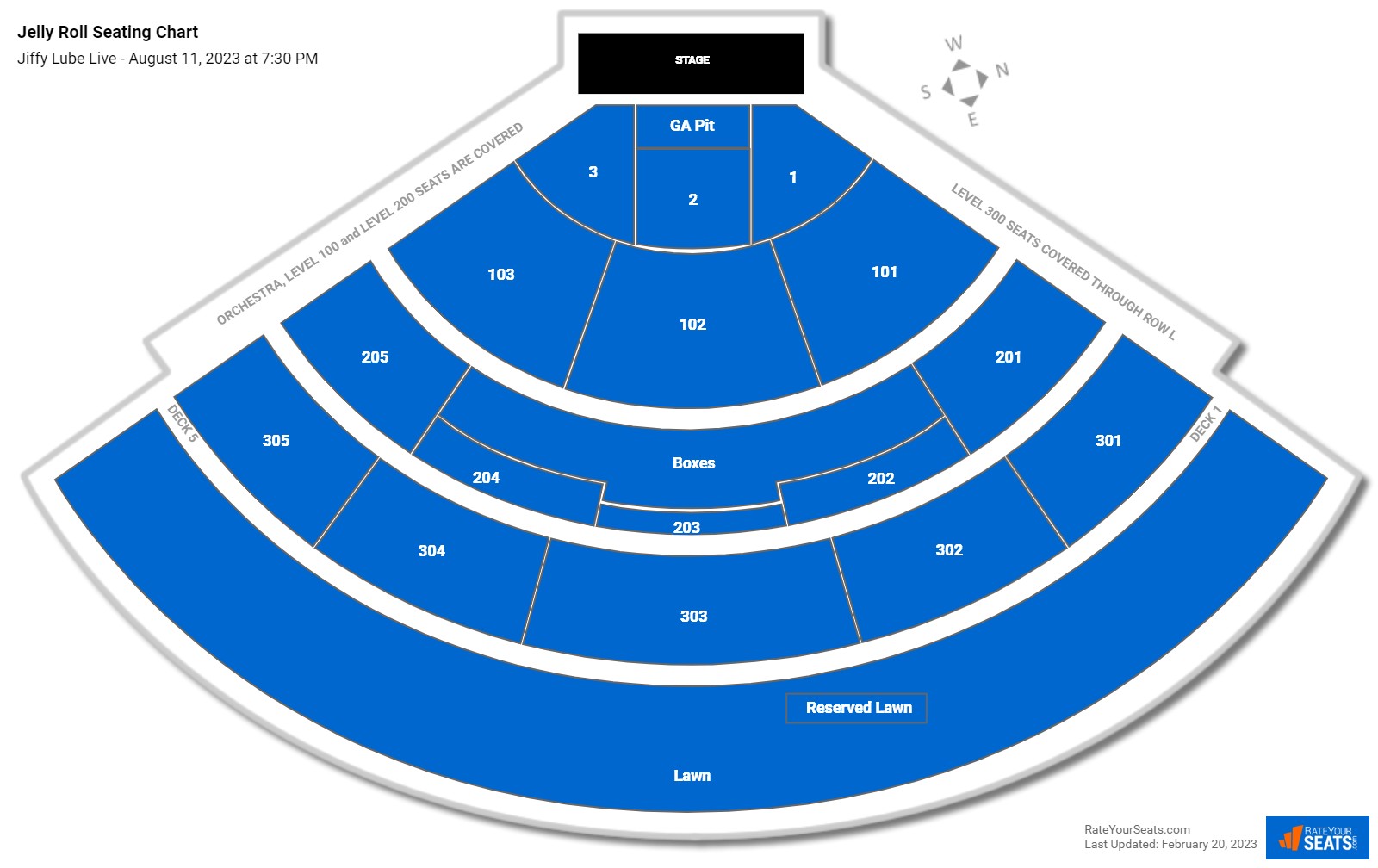 Aug 12, 2023 at 8:00 PM
Pentatonix
Aug 19, 2023 at 7:00 PM
The Offspring with Sum 41 and Simple Plan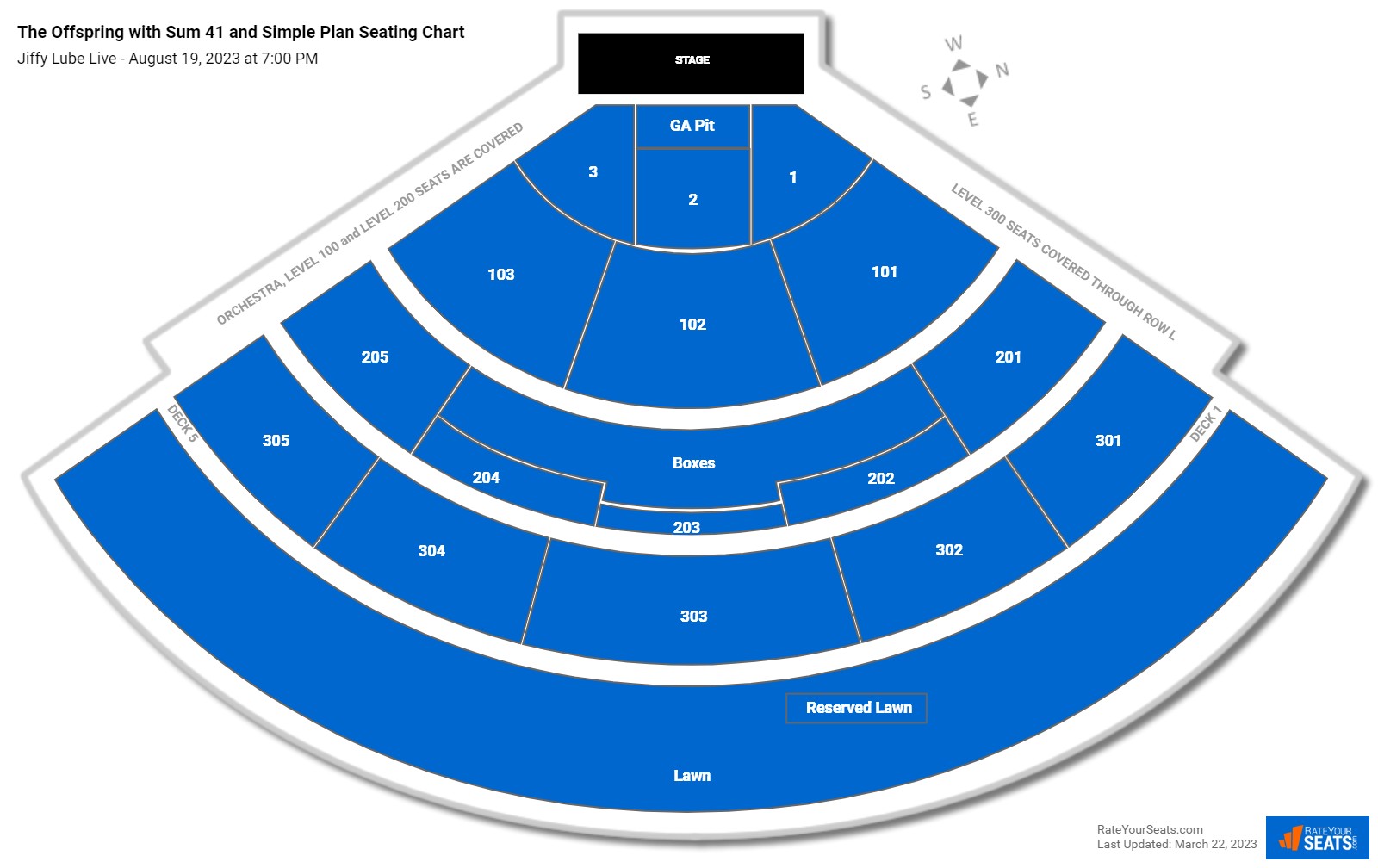 Aug 24, 2023 at 7:30 PM
Ghost with Amon Amarth
Aug 26, 2023 at 6:30 PM
Nickelback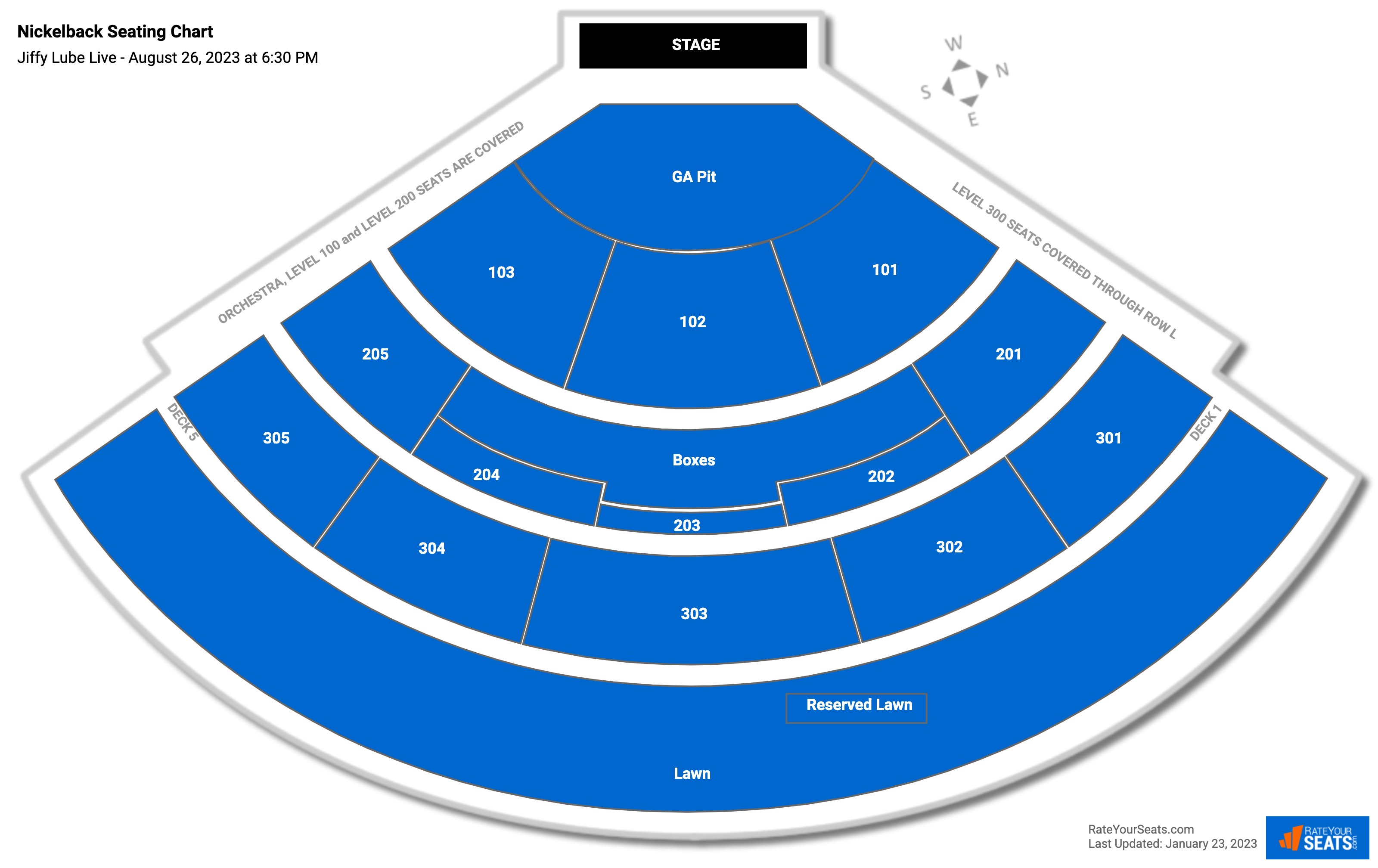 Sep 15, 2023 at 7:00 PM
Pantera