iTHINK Financial Amphitheatre Seating Chart
Interactive Seating Chart
Explore the Interactive Map
Rib Round Up - Lainey Wilson, Nate Smith, Warren Zeiders

Mar 2

Chris Stapleton

May 9

Hozier

May 10

Red Hot Chili Peppers

Jun 18

Alanis Morissette

Jun 20

Sammy Hagar

Jul 13

Styx and Foreigner

Jul 19

New Kids on the Block

Jul 20

Limp Bizkit

Aug 6

Earth Wind and Fire and Chicago

Aug 17

Thirty Seconds To Mars

Aug 23

Creed

Sep 21

Hootie and The Blowfish

Sep 28
Seating Chart for Concerts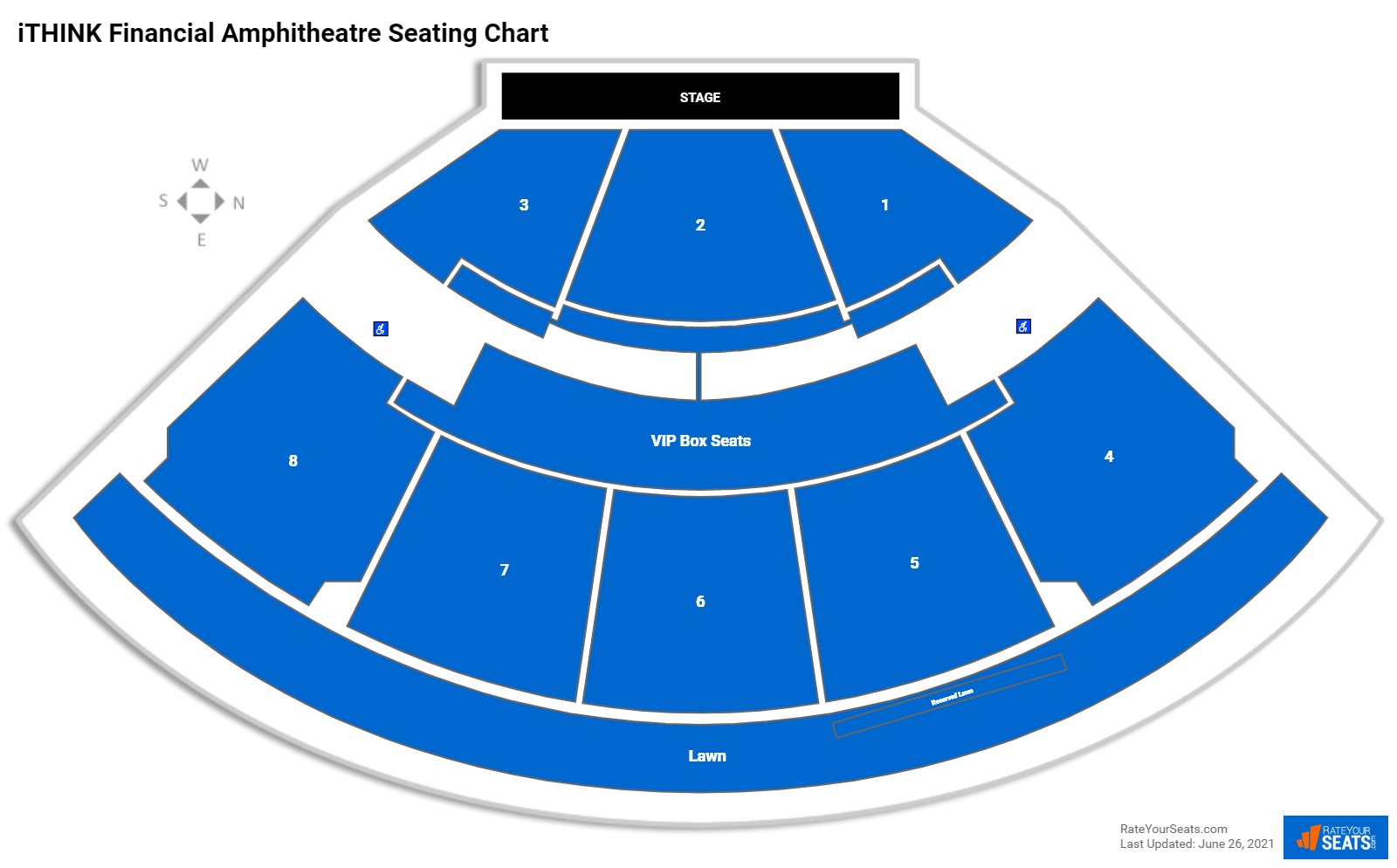 iTHINK Financial Amphitheatre concert seating charts vary by performance. This chart represents the most common setup for concerts at iTHINK Financial Amphitheatre, but some sections may be removed or altered for individual shows. Check out the seating chart for your show for the most accurate layout.
iTHINK Financial Amphitheatre Seating Chart With Row Numbers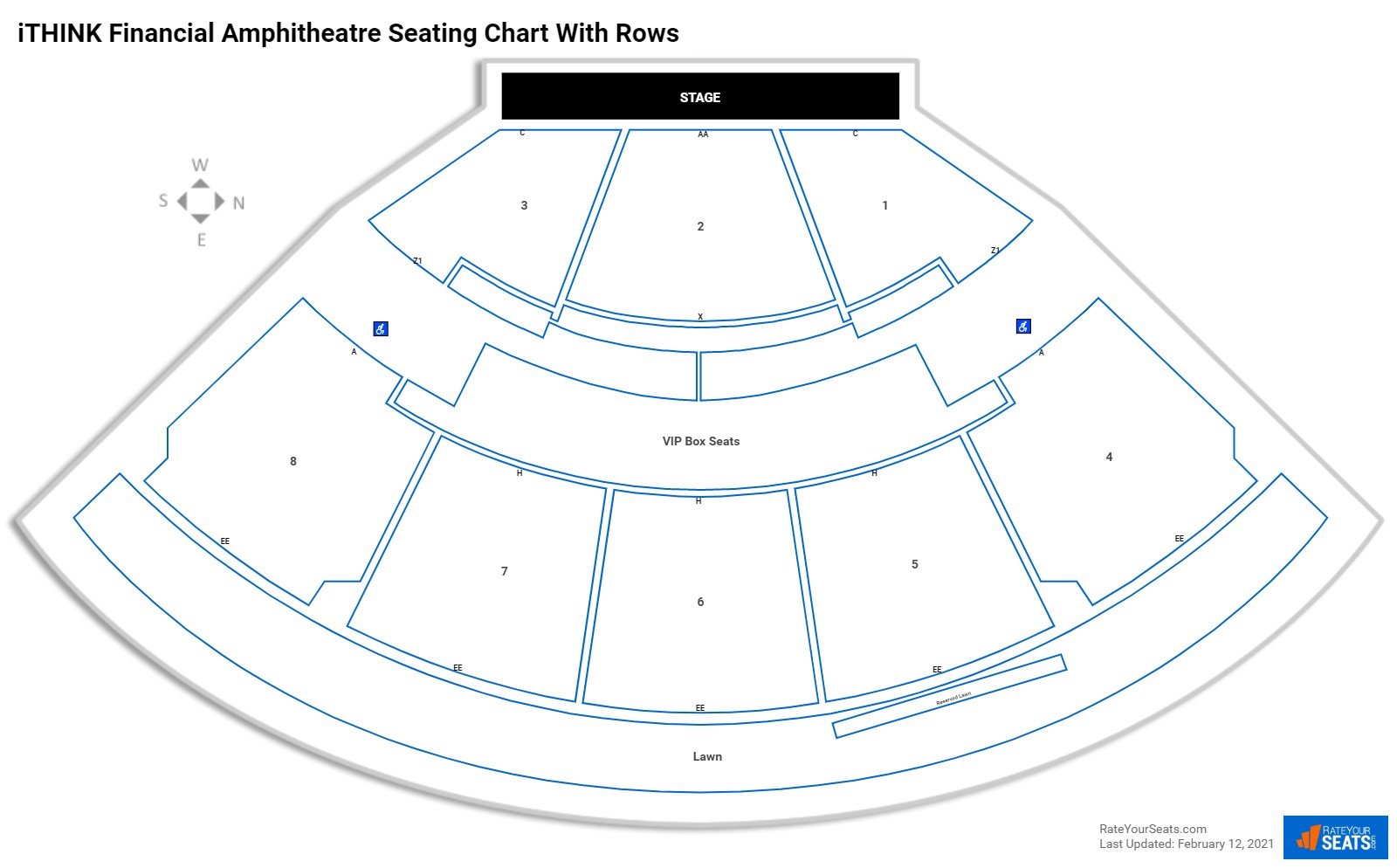 iTHINK Financial Amphitheatre Seat Numbers
Seat numbers at iTHINK Financial Amphitheatre will differ depending on which side of the pavilion you are on. When seated looking at the stage the seat numbers in sections 1, 4, and 5 will go from left-to-right with the lowest seat number being on the far left. For all other sections, 2, 3, 6, 7, and 8, the seat numbers go from right-to-left with lowest seat number being on the far right.

In sections 1 and 3 the number of seats in the first row is 1-6. The number of seats will increase the higher the row you are seated in, with the longest row in these sections having 37 seats.

The number of seats in the rows in sections 4-8 will range from 23 seats in the shortest row to 46 seats in the longest rows. These back sections have the largest seating capacity, but also some very long rows, which could make it difficult to get in and out of your seats.
Seating Charts for Upcoming Shows
May 9, 2024 at 7:00 PM
Chris Stapleton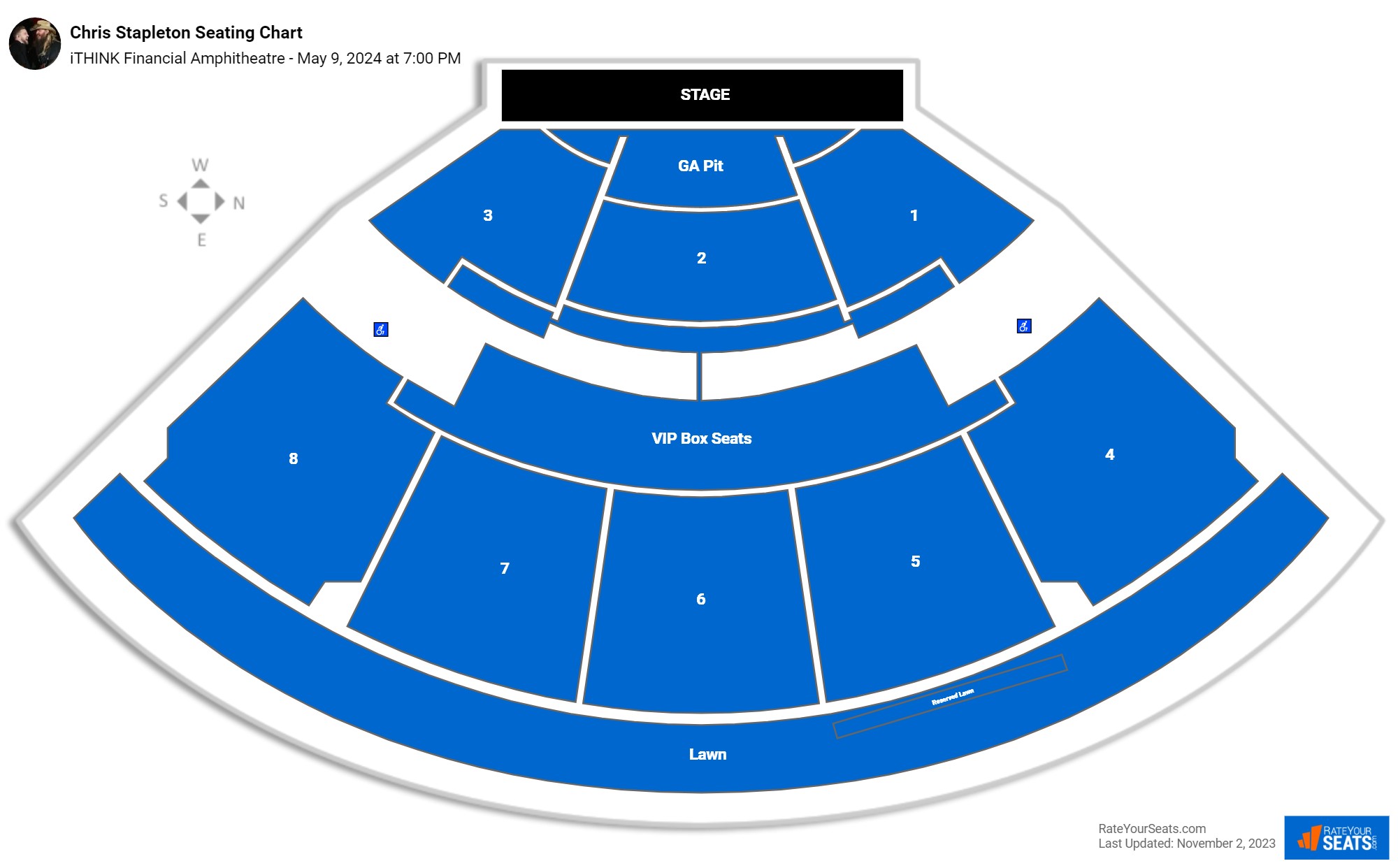 May 10, 2024 at 8:00 PM
Hozier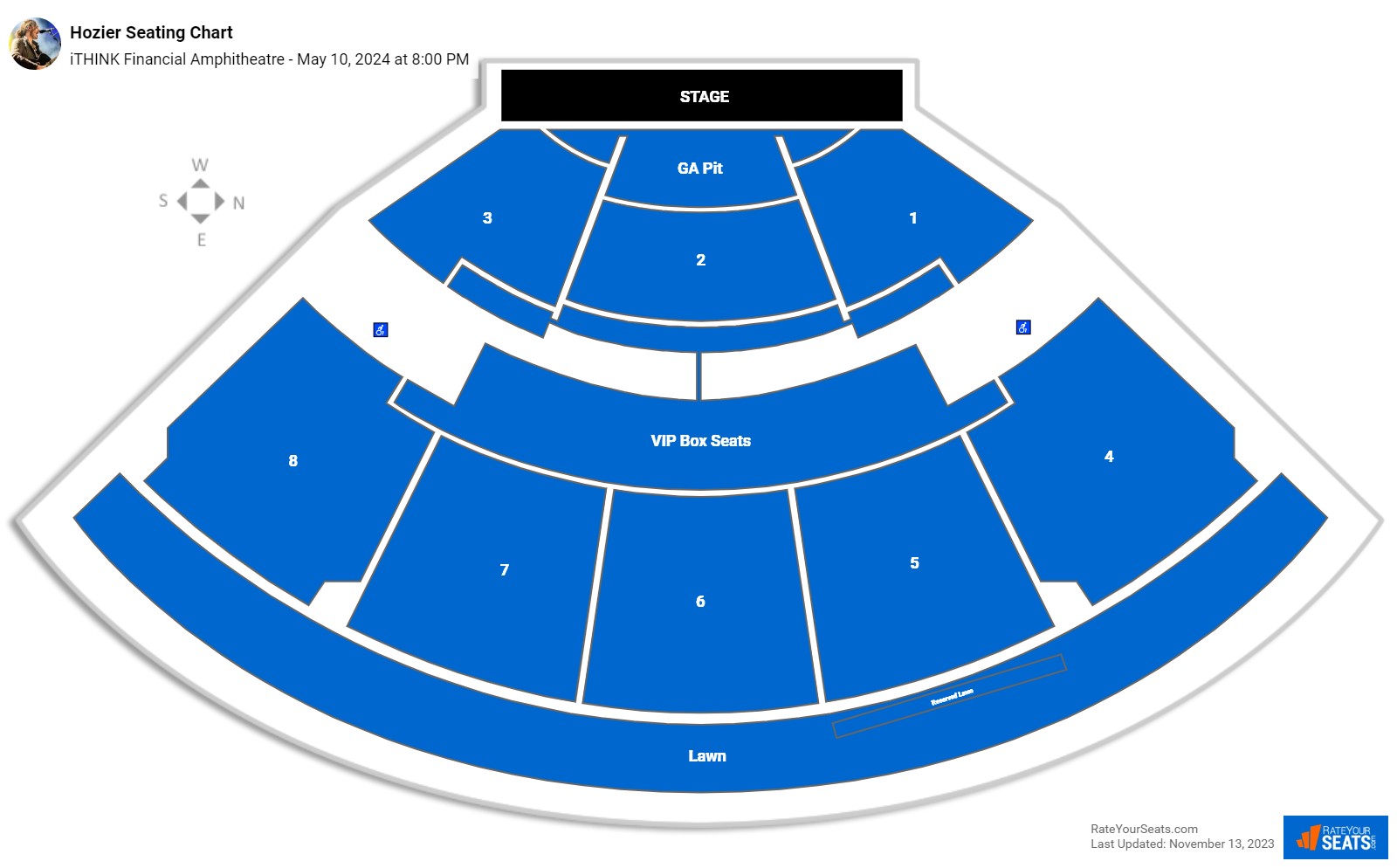 Jun 20, 2024 at 7:00 PM
Alanis Morissette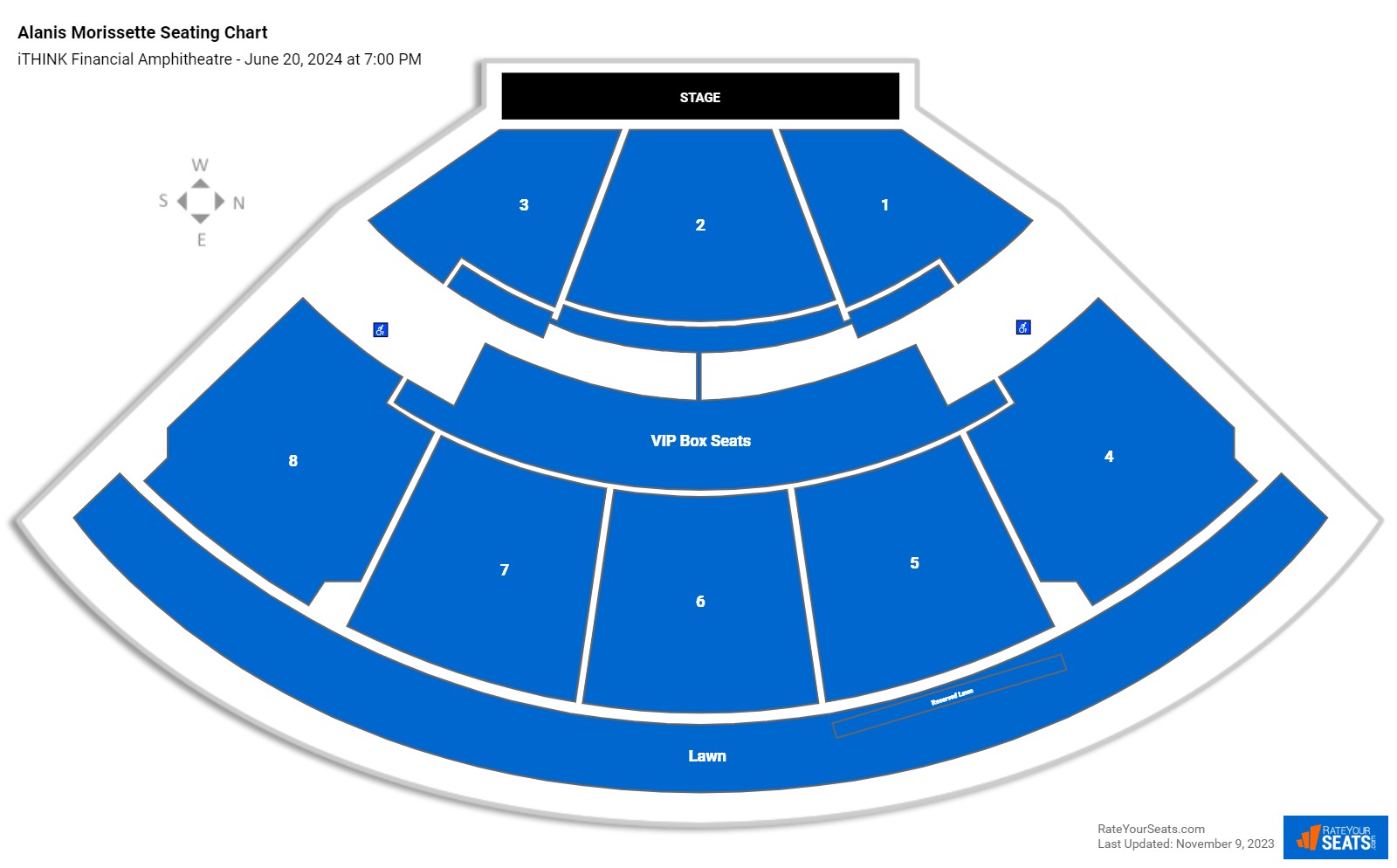 Jul 13, 2024 at 7:00 PM
Sammy Hagar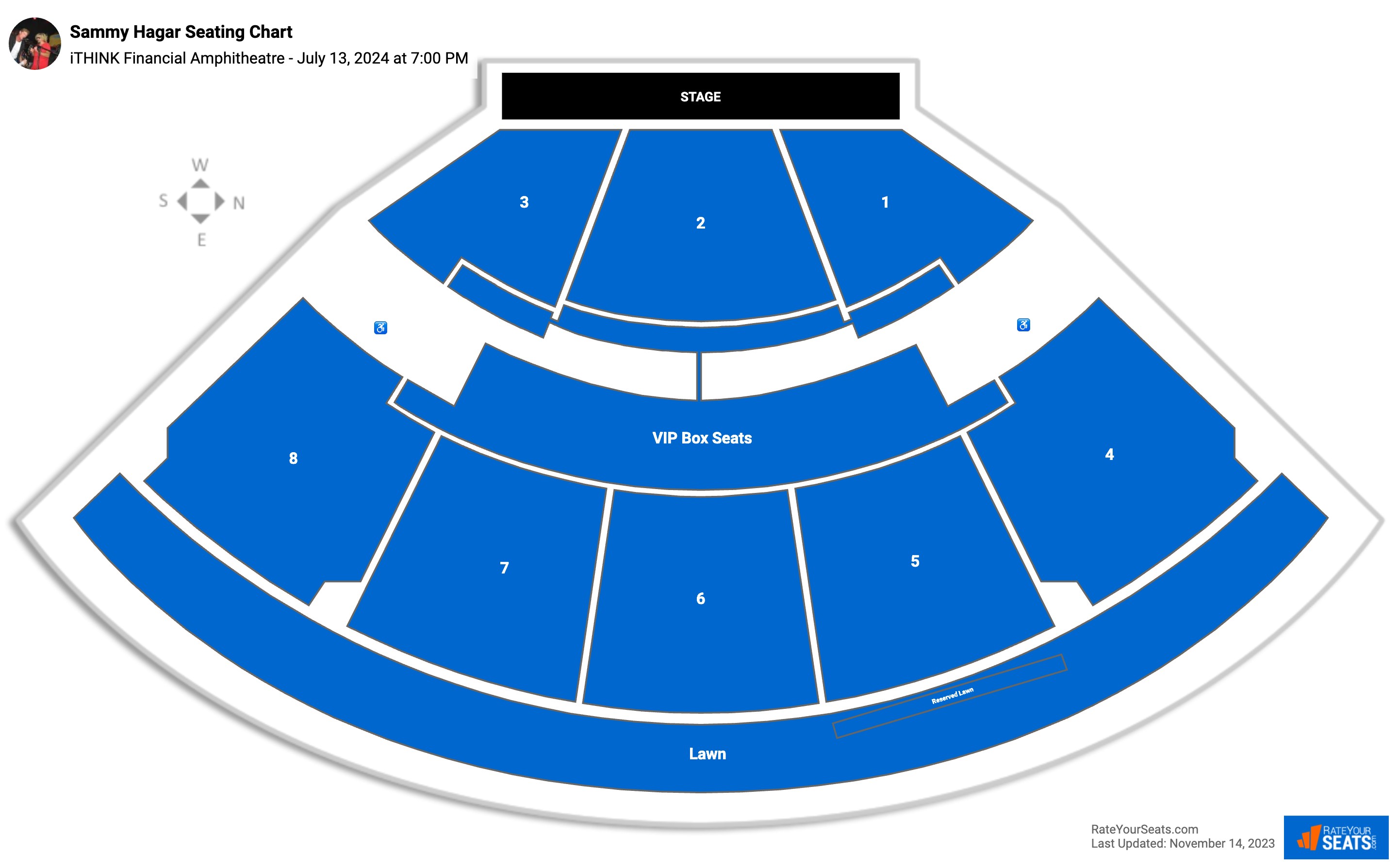 Jul 19, 2024 at 6:45 PM
Styx and Foreigner
Jul 20, 2024 at 7:00 PM
New Kids on the Block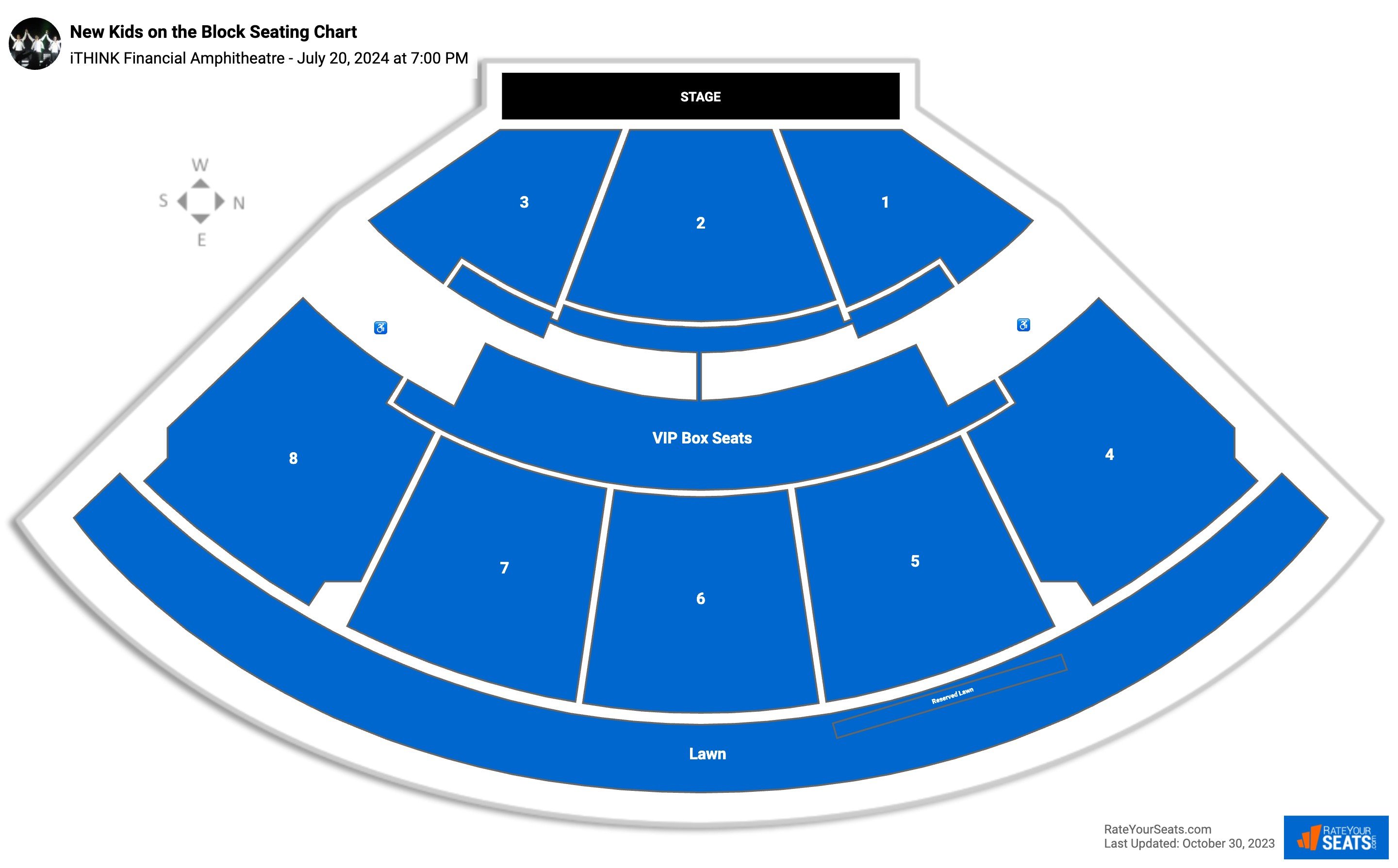 Aug 17, 2024 at 7:30 PM
Earth Wind and Fire and Chicago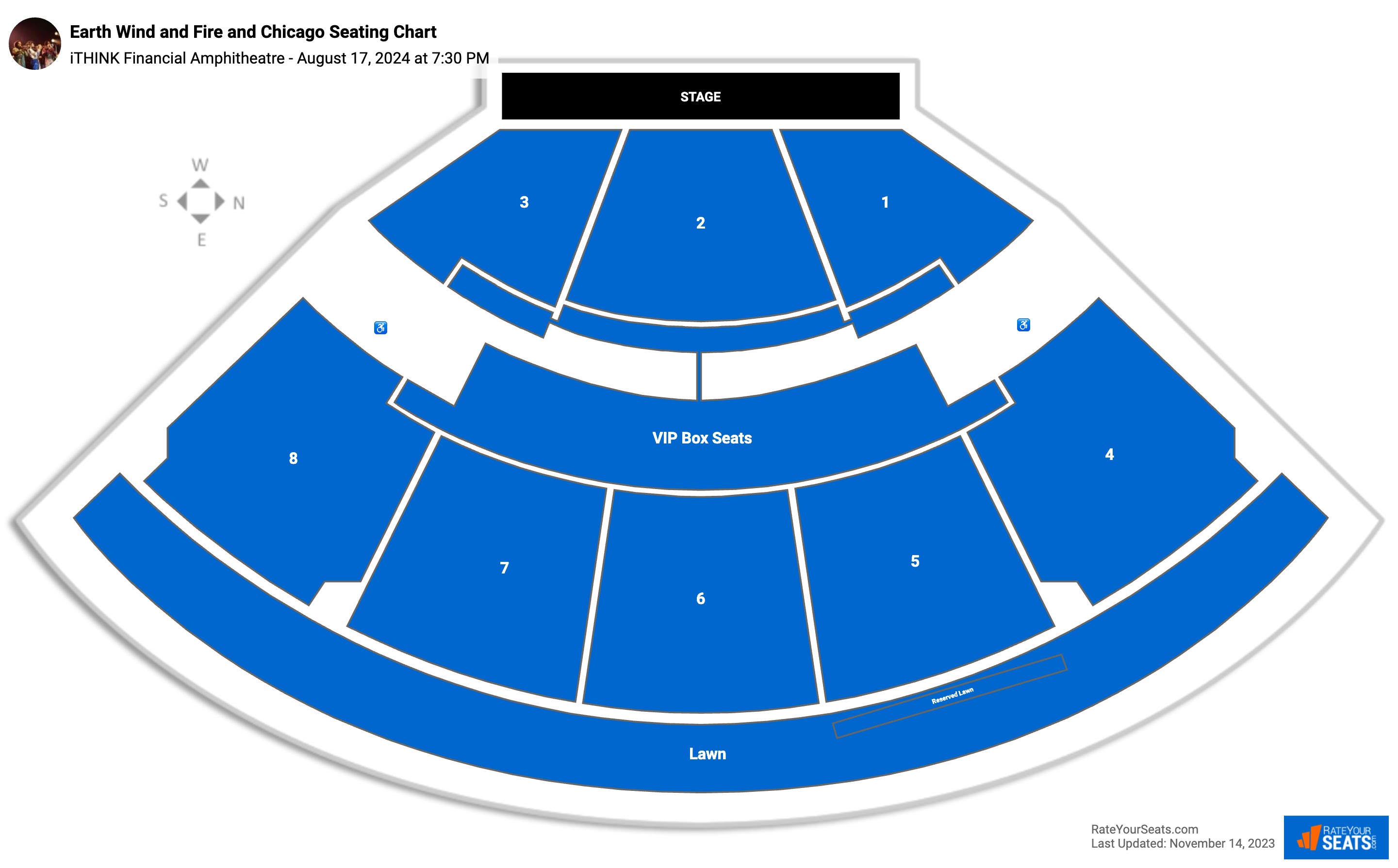 Aug 23, 2024 at 7:00 PM
Thirty Seconds To Mars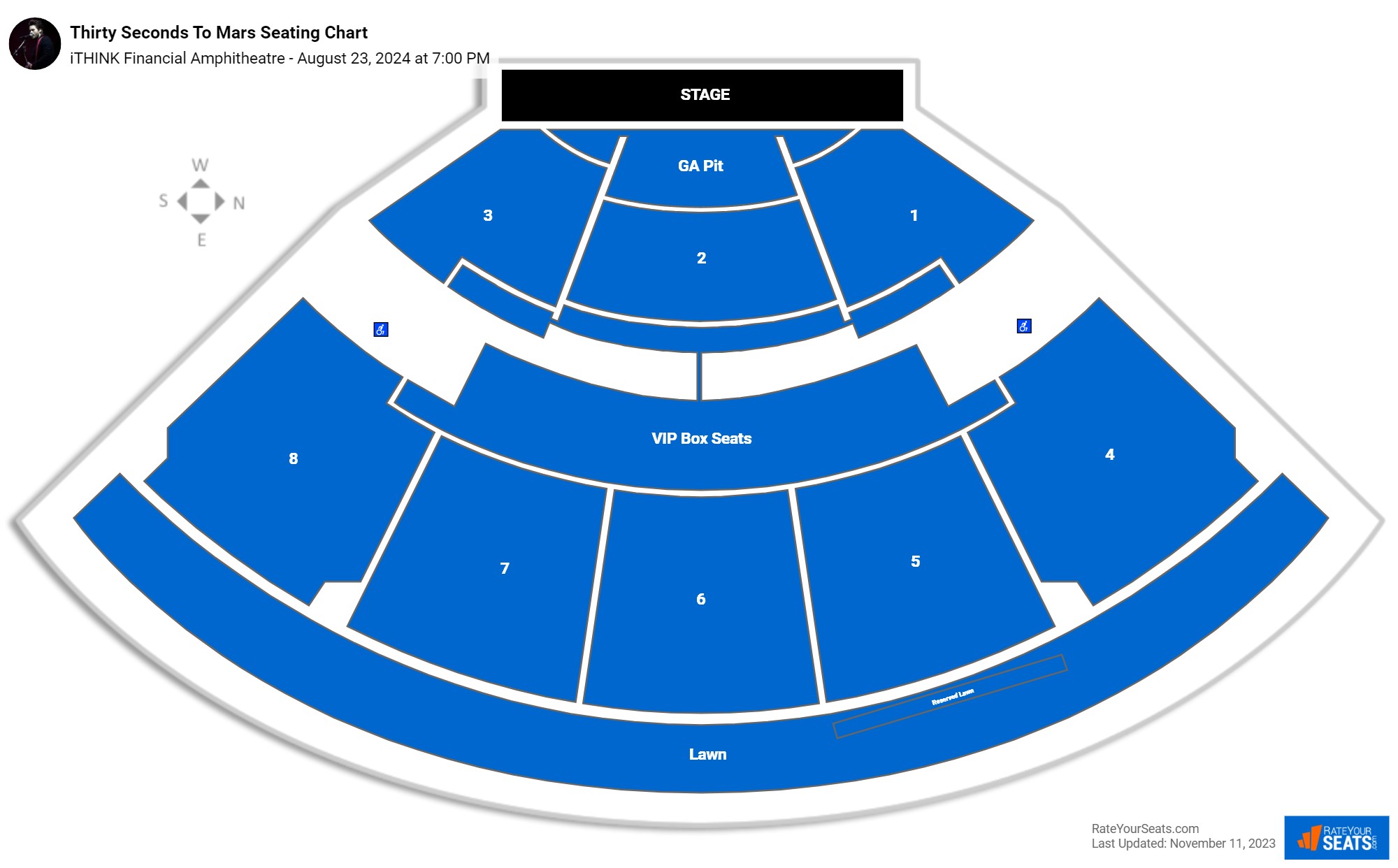 Sep 21, 2024 at 7:00 PM
Creed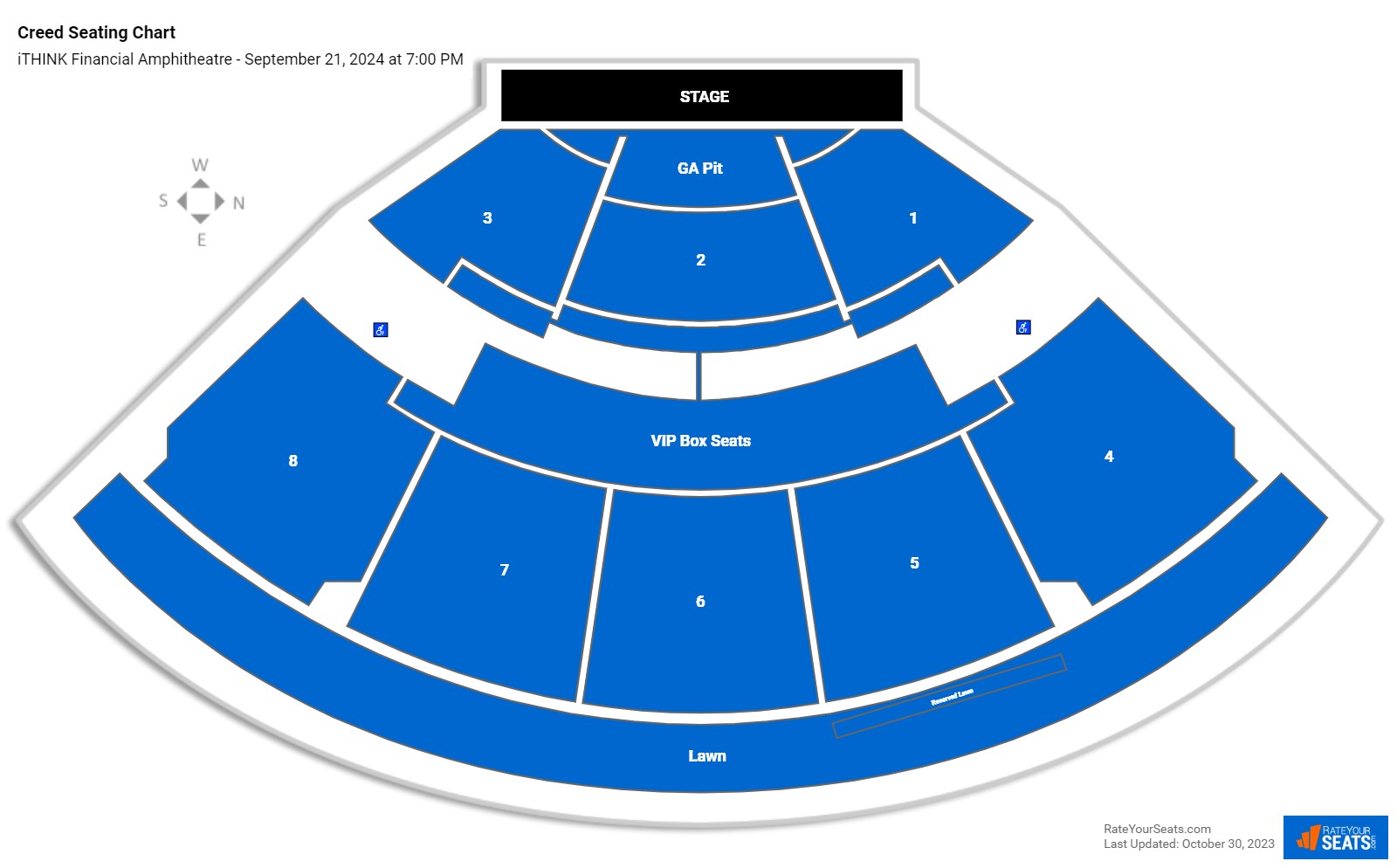 Sep 28, 2024 at 7:00 PM
Hootie and The Blowfish