Hollywood Casino Amphitheatre St. Louis Reserved Seating
Features & Amenities
Hollywood Casino Amphitheatre in St. Louis has five reserved sections. Each section is named with its location relative to the stage. Reserved tickets bring the benefit of having an assigned stadium-style seat with a cupholder.
All seats in rows A-Z and AA-LL are covered by the pavilion roof. Rows MM-ZZ will be open air and exposed.
Center Reserved

For fans who prefer reserved seating, the best seats can be found in the Center section that looks head-on to the stage. This section features more than 50 rows of seating and is broken at Row S by the VIP Boxes.
Lower Center: Rows A-S
Upper Center: Rows X-Z and AA-ZZ
Adjacent to the Upper Center seats are Left and Right Center seating. The front rows of these sections (through about Row HH) are covered by the roof - making these seats highly sought-after for summer shows.
Side Reserved

The sharpest angles to the stage come from sections Left and Right. While the centered sections provide superior views, sitting in the reserved side sections will still bring fans closer to the stage than the Lawn.
Note: These seats are highlighted on the map
Interactive Seating Chart
Reserved Seating Seating Chart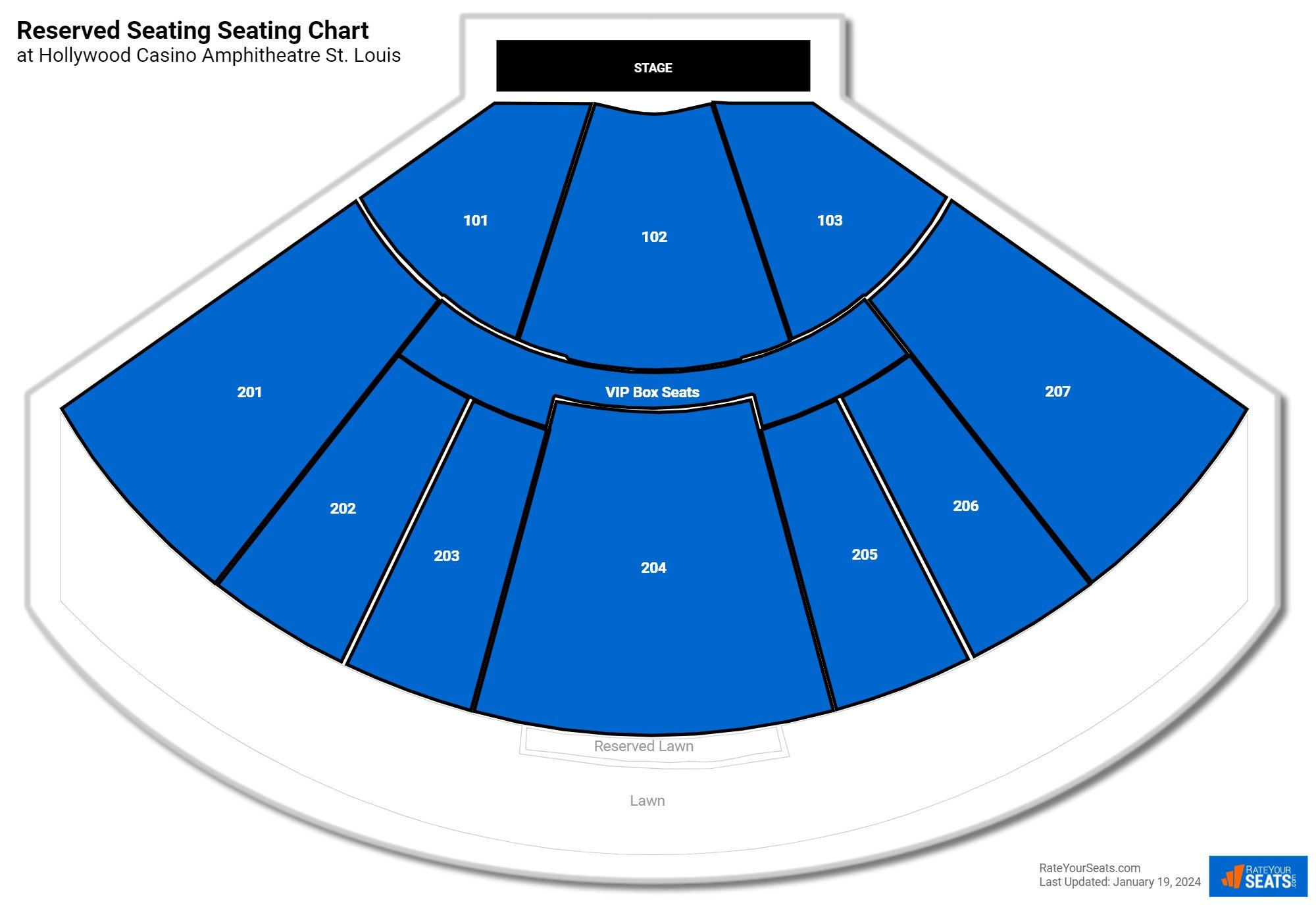 Reserved Seating Reviews
Ratings & Reviews From Similar Seats

"Would have Preferred the Lawn"

(Right Center) - -

I could see OK but the support beam was a distraction for me. If I would have seen this view before I probably wouldn't have paid extra for a reserved seat. I would have preferred the lawn since I could have picked my view there.

"Good for reserved"

(Section Right) - -

These seats were off to the side, but I didn't feel like I missed anything because of it. Be aware if it looks like it's going to rain, because you are not covered back here.

"Great For Standing"

(Left Center) - -

These seats were just what I needed for the show. They are about the middle of the pavilion and under cover (thanks rateyourseats). I could see all the bands perfectly. Just overall solid.
Reserved Seating Sections
More Seating at Hollywood Casino Amphitheatre St. Louis
Event Schedule
4Jun

Shania Twain

Hollywood Casino Amphitheatre St. Louis - Maryland Heights, MO

Sunday, June 4 at 7:30 PM

7Jun

Dead and Company

Hollywood Casino Amphitheatre St. Louis - Maryland Heights, MO

Wednesday, June 7 at 7:00 PM

9Jun

Tyler Childers

Hollywood Casino Amphitheatre St. Louis - Maryland Heights, MO

Friday, June 9 at 6:30 PM

16Jun

Hank Williams Jr

Hollywood Casino Amphitheatre St. Louis - Maryland Heights, MO

Friday, June 16 at 7:00 PM

20Jun

Matchbox Twenty

Hollywood Casino Amphitheatre St. Louis - Maryland Heights, MO

Tuesday, June 20 at 7:30 PM

23Jun

Fall Out Boy

Hollywood Casino Amphitheatre St. Louis - Maryland Heights, MO

Friday, June 23 at 6:30 PM

25Jun

Outlaw Music Festival - Willie Nelson, Robert Plant & Alison Krauss, Trampled By Turtles

Hollywood Casino Amphitheatre St. Louis - Maryland Heights, MO

Sunday, June 25 at 4:15 PM

28Jun

TLC and Shaggy

Hollywood Casino Amphitheatre St. Louis - Maryland Heights, MO

Wednesday, June 28 at 7:00 PM

8Jul

El Monstero

Hollywood Casino Amphitheatre St. Louis - Maryland Heights, MO

Saturday, July 8 at 7:00 PM

13Jul

Tears For Fears

Hollywood Casino Amphitheatre St. Louis - Maryland Heights, MO

Thursday, July 13 at 7:30 PM

14Jul

Post Malone

Hollywood Casino Amphitheatre St. Louis - Maryland Heights, MO

Friday, July 14 at 8:00 PM

15Jul

Eric Church with Travis Tritt

Hollywood Casino Amphitheatre St. Louis - Maryland Heights, MO

Saturday, July 15 at 7:00 PM

16Jul

Snoop Dogg, Wiz Khalifa, and Too Short

Hollywood Casino Amphitheatre St. Louis - Maryland Heights, MO

Sunday, July 16 at 6:00 PM

18Jul

Godsmack

Hollywood Casino Amphitheatre St. Louis - Maryland Heights, MO

Tuesday, July 18 at 7:00 PM

19Jul

Foreigner

Hollywood Casino Amphitheatre St. Louis - Maryland Heights, MO

Wednesday, July 19 at 7:00 PM

20Jul

Chris Stapleton

Hollywood Casino Amphitheatre St. Louis - Maryland Heights, MO

Thursday, July 20 at 7:00 PM

25Jul

50 Cent

Hollywood Casino Amphitheatre St. Louis - Maryland Heights, MO

Tuesday, July 25 at 7:00 PM

28Jul

Bret Michaels

Hollywood Casino Amphitheatre St. Louis - Maryland Heights, MO

Friday, July 28 at 7:00 PM

29Jul

Sam Hunt

Hollywood Casino Amphitheatre St. Louis - Maryland Heights, MO

Saturday, July 29 at 7:00 PM

3Aug

Nickelback

Hollywood Casino Amphitheatre St. Louis - Maryland Heights, MO

Thursday, August 3 at 6:30 PM

11Aug

Ghost with Amon Amarth

Hollywood Casino Amphitheatre St. Louis - Maryland Heights, MO

Friday, August 11 at 7:30 PM

15Aug

Jodeci

Hollywood Casino Amphitheatre St. Louis - Maryland Heights, MO

Tuesday, August 15 at 7:30 PM

17Aug

Lynyrd Skynyrd and ZZ Top

Hollywood Casino Amphitheatre St. Louis - Maryland Heights, MO

Thursday, August 17 at 6:30 PM

18Aug

Lil Durk

Hollywood Casino Amphitheatre St. Louis - Maryland Heights, MO

Friday, August 18 at 7:00 PM

19Aug

Jelly Roll

Hollywood Casino Amphitheatre St. Louis - Maryland Heights, MO

Saturday, August 19 at 7:00 PM

20Aug

Kidz Bop Live

Hollywood Casino Amphitheatre St. Louis - Maryland Heights, MO

Sunday, August 20 at 4:00 PM

26Aug

Luke Bryan

Hollywood Casino Amphitheatre St. Louis - Maryland Heights, MO

Saturday, August 26 at 7:00 PM

27Aug

The Offspring with Sum 41 and Simple Plan

Hollywood Casino Amphitheatre St. Louis - Maryland Heights, MO

Sunday, August 27 at 7:00 PM

28Aug

Pentatonix

Hollywood Casino Amphitheatre St. Louis - Maryland Heights, MO

Monday, August 28 at 8:00 PM

29Aug

Disturbed

Hollywood Casino Amphitheatre St. Louis - Maryland Heights, MO

Tuesday, August 29 at 6:30 PM

3Sep

Shinedown and Papa Roach

Hollywood Casino Amphitheatre St. Louis - Maryland Heights, MO

Sunday, September 3 at 6:50 PM

15Sep

Jason Aldean

Hollywood Casino Amphitheatre St. Louis - Maryland Heights, MO

Friday, September 15 at 7:30 PM

25Sep

Avenged Sevenfold

Hollywood Casino Amphitheatre St. Louis - Maryland Heights, MO

Monday, September 25 at 6:30 PM