Hollywood Casino Amphitheatre St. Louis Pit Tickets
Features & Amenities
For most shows, a Pit area is located closest to the stage. Fans with Pit tickets should be prepared to stand during the duration of the show as this will be a high-energy area with the most rabid attendees.
Because the Pit is general admission for most shows, it is recommended that you arrive early to stake a claim to your preferred spot.
Occasionally, the Pit will be broken into Left and Right Pit areas of reserved seating.
Note: These seats are highlighted on the map
Interactive Seating Chart
Pit Tickets Seating Chart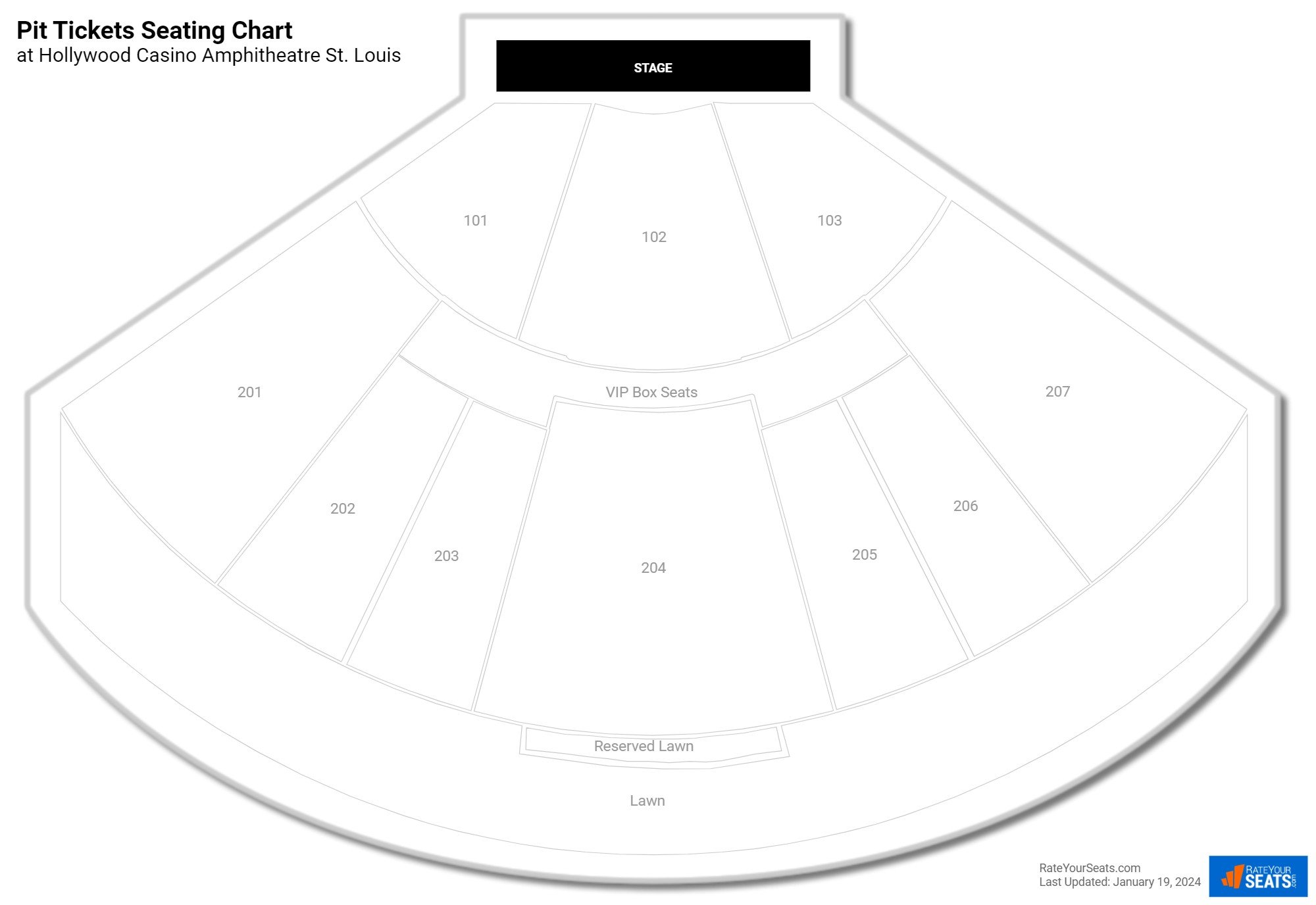 More Seating at Hollywood Casino Amphitheatre St. Louis
Event Schedule
Shania Twain

Hollywood Casino Amphitheatre St. Louis - Maryland Heights, MO

Sunday, June 4 at 7:30 PM

Dead and Company

Hollywood Casino Amphitheatre St. Louis - Maryland Heights, MO

Wednesday, June 7 at 7:00 PM

Tyler Childers

Hollywood Casino Amphitheatre St. Louis - Maryland Heights, MO

Friday, June 9 at 6:30 PM

Hank Williams Jr

Hollywood Casino Amphitheatre St. Louis - Maryland Heights, MO

Friday, June 16 at 7:00 PM

Matchbox Twenty

Hollywood Casino Amphitheatre St. Louis - Maryland Heights, MO

Tuesday, June 20 at 7:30 PM

Fall Out Boy

Hollywood Casino Amphitheatre St. Louis - Maryland Heights, MO

Friday, June 23 at 6:30 PM

Outlaw Music Festival - Willie Nelson, Robert Plant & Alison Krauss, Trampled By Turtles

Hollywood Casino Amphitheatre St. Louis - Maryland Heights, MO

Sunday, June 25 at 4:15 PM

TLC and Shaggy

Hollywood Casino Amphitheatre St. Louis - Maryland Heights, MO

Wednesday, June 28 at 7:00 PM

El Monstero

Hollywood Casino Amphitheatre St. Louis - Maryland Heights, MO

Saturday, July 8 at 7:00 PM

Tears For Fears

Hollywood Casino Amphitheatre St. Louis - Maryland Heights, MO

Thursday, July 13 at 7:30 PM

Post Malone

Hollywood Casino Amphitheatre St. Louis - Maryland Heights, MO

Friday, July 14 at 8:00 PM

Eric Church with Travis Tritt

Hollywood Casino Amphitheatre St. Louis - Maryland Heights, MO

Saturday, July 15 at 7:00 PM

Snoop Dogg, Wiz Khalifa, and Too Short

Hollywood Casino Amphitheatre St. Louis - Maryland Heights, MO

Sunday, July 16 at 6:00 PM

Godsmack

Hollywood Casino Amphitheatre St. Louis - Maryland Heights, MO

Tuesday, July 18 at 7:00 PM

Foreigner

Hollywood Casino Amphitheatre St. Louis - Maryland Heights, MO

Wednesday, July 19 at 7:00 PM

Chris Stapleton

Hollywood Casino Amphitheatre St. Louis - Maryland Heights, MO

Thursday, July 20 at 7:00 PM

50 Cent

Hollywood Casino Amphitheatre St. Louis - Maryland Heights, MO

Tuesday, July 25 at 7:00 PM

Bret Michaels

Hollywood Casino Amphitheatre St. Louis - Maryland Heights, MO

Friday, July 28 at 7:00 PM

Sam Hunt

Hollywood Casino Amphitheatre St. Louis - Maryland Heights, MO

Saturday, July 29 at 7:00 PM

Nickelback

Hollywood Casino Amphitheatre St. Louis - Maryland Heights, MO

Thursday, August 3 at 6:30 PM

Ghost with Amon Amarth

Hollywood Casino Amphitheatre St. Louis - Maryland Heights, MO

Friday, August 11 at 7:30 PM

Jodeci

Hollywood Casino Amphitheatre St. Louis - Maryland Heights, MO

Tuesday, August 15 at 7:30 PM

Lynyrd Skynyrd and ZZ Top

Hollywood Casino Amphitheatre St. Louis - Maryland Heights, MO

Thursday, August 17 at 6:30 PM

Lil Durk

Hollywood Casino Amphitheatre St. Louis - Maryland Heights, MO

Friday, August 18 at 7:00 PM

Jelly Roll

Hollywood Casino Amphitheatre St. Louis - Maryland Heights, MO

Saturday, August 19 at 7:00 PM

Kidz Bop Live

Hollywood Casino Amphitheatre St. Louis - Maryland Heights, MO

Sunday, August 20 at 4:00 PM

Luke Bryan

Hollywood Casino Amphitheatre St. Louis - Maryland Heights, MO

Saturday, August 26 at 7:00 PM

The Offspring with Sum 41 and Simple Plan

Hollywood Casino Amphitheatre St. Louis - Maryland Heights, MO

Sunday, August 27 at 7:00 PM

Pentatonix

Hollywood Casino Amphitheatre St. Louis - Maryland Heights, MO

Monday, August 28 at 8:00 PM

Disturbed

Hollywood Casino Amphitheatre St. Louis - Maryland Heights, MO

Tuesday, August 29 at 6:30 PM

Shinedown and Papa Roach

Hollywood Casino Amphitheatre St. Louis - Maryland Heights, MO

Sunday, September 3 at 6:50 PM

Jason Aldean

Hollywood Casino Amphitheatre St. Louis - Maryland Heights, MO

Friday, September 15 at 7:30 PM

Avenged Sevenfold

Hollywood Casino Amphitheatre St. Louis - Maryland Heights, MO

Monday, September 25 at 6:30 PM