Cameron Indoor Stadium Floor Level
Features & Amenities
Cameron Crazies

Section 17 is one of the most energetic seating locations in all of sports. This section is home to the Cameron Crazies, 1200 of Duke's most passionate undergraduate students. All seating in Section 17 is general admission, but is reserved for Duke students.
Seats Behind the Player Benches

On the other side of the court is Section 19. The seats behind the Duke bench are reserved for Duke gusts and graduate students, while seats behind the visitor bench are reserved for visiting team guests.
Section 19 has 10 rows of seating with A being the row closest to the court. None of the seats in these sections have a chairback.
Baseline Sections

Sections 18 and 20 are located downstairs behind the basket on either side of the court. Section 20 is closer to the Duke player bench, while Section 18 is closer to the visitor bench.
The first row in each of these section is AA, while Row CC in Section 20 is reserved for handicap accessible seating.
The seats in double-lettered rows are on folding chairs. The other rows in these sections are reserved for graduate students and the Duke band, which occupies about a third of Section 18.
Note: These seats are highlighted on the map
Interactive Seating Chart
Floor Level Seating Chart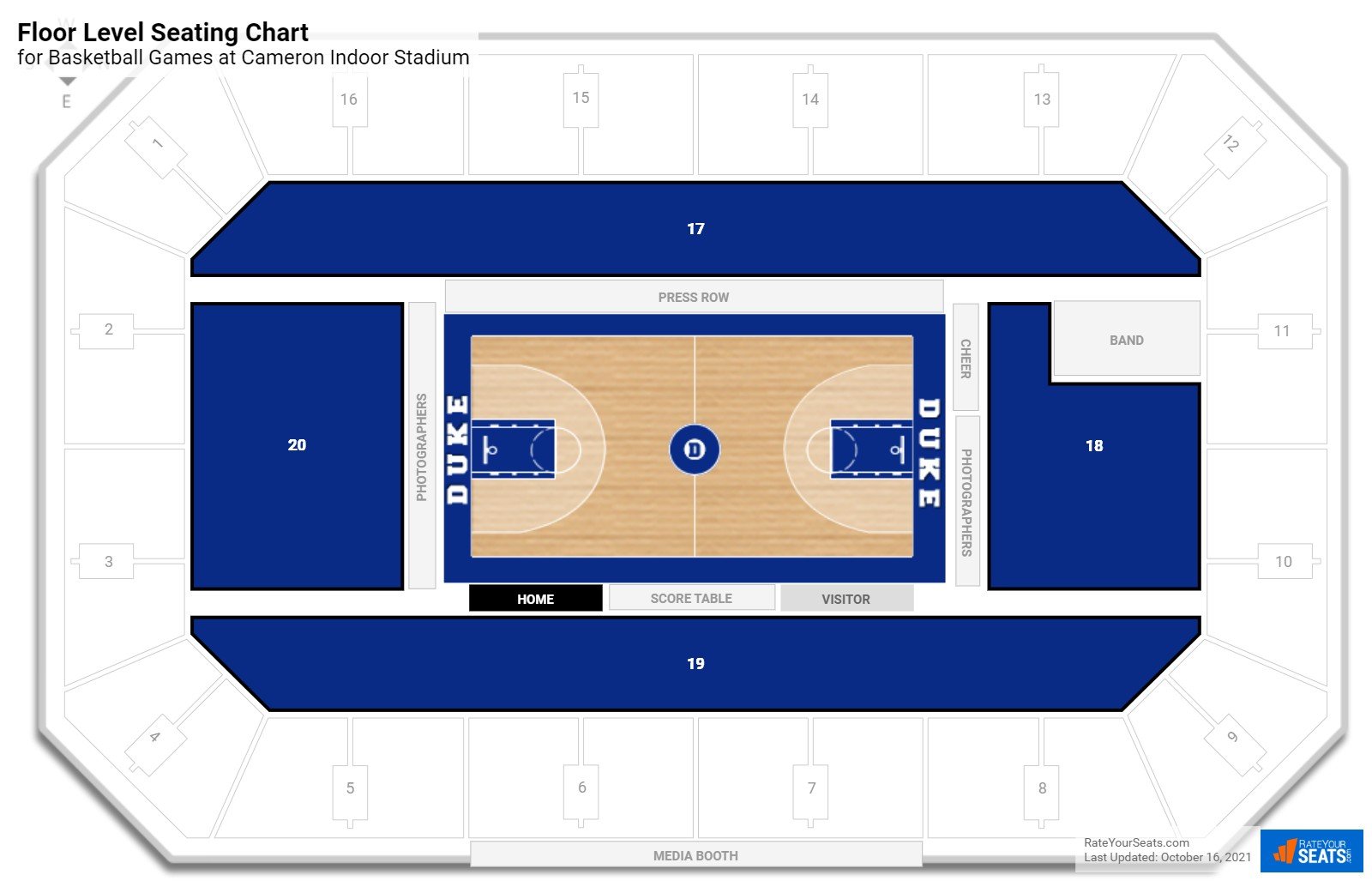 Floor Level Reviews
Ratings & Reviews From Similar Seats

"Amazing experience sitting here for a game, but know what to expect!"

(Section 17) - -

Sitting in section 17 at Cameron Indoor is amazing. Be prepared for a loud student section and to stand the whole game if this is a men's game! Just be aware that it's nearly impossible to move within this section, especially during the game. The aisles are non existent, and the bleachers are ti...

"Student section (GA 17)"

(Section 17) - -

Doesn't get any better than the Cameron Crazies section, which is General Admission (no assigned or reserved seats, first come first served). Paid face value, so not cheap, and to get close to the floor, you have to line up even before the gate opens (which is 90 minutes before tipoff). It helped th...
More Seating at Cameron Indoor Stadium