The RateYourSeats.com team is thrilled to announce the launch of our new product: 360° Interactive Seat View Photos! This new addition to our state-of-the-art seat selection tool suite provides the most authentic, in-game seat view experience outside of live event attendance. We're proud that our team's diligence and technical savvy continues to help further our mission of reducing the stress and anxiety that can come with purchasing live event tickets. After all, shouldn't live events be fun?
There's nothing worse than being disappointed with your seat at a stellar concert or sold-out baseball game—we designed our interactive 360° seat view photos to put the focus back on fun.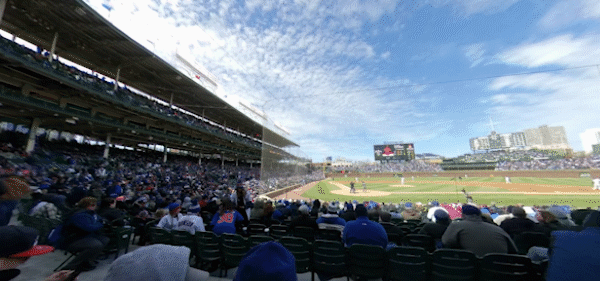 Seat Selection Is A Blast With Interactive 360º Seat View Photos
Fully interactive, 360º photos let you choose what aspect of a seat's view to experience
Smartphone user movement is integrated for an immersive VR experience
HDRI support provides stunning, high-definition images on all device types
Fully functional across desktop and mobile devices
Coverage provided for 99% of seats at all 30 MLB stadiums
How 360° Seat View Photos Work
If you're skeptical and worried that VR and 360º photos may just become the next hassle in the frustrating process of seat selection, we understand (but also worry you're spending too much time on competitor sites). Other 360º-enabled photos require you to download and register for an app, or incorporate low-quality computer-generated images that mostly just make us glad 90s tech is no longer with us.
We think our 360º Seat View Photos are the most accessible and user-friendly immersive experience around. But, since our word is our bond, here are some instructions so you can get the most out of the 360º Seat View Photo experience:
Access any of our Seat Selection Charts for any of the 30 MLB Stadiums
Browse the seats
Pick one that appeals to you
Click the 360° image that pops up
Browse every angle from a 360° perspective.
If you're using an iPhone, be sure to grant Motion & Fitness permissions
Immerse Yourself in 360º Seat Views
As our CEO Keith Hanson puts it, "No other 360º stadium seat view product provides as rich an experience or works as seamlessly as ours does". Find out for yourself by playing around in one of our team's favorite hometown MLB stadiums: